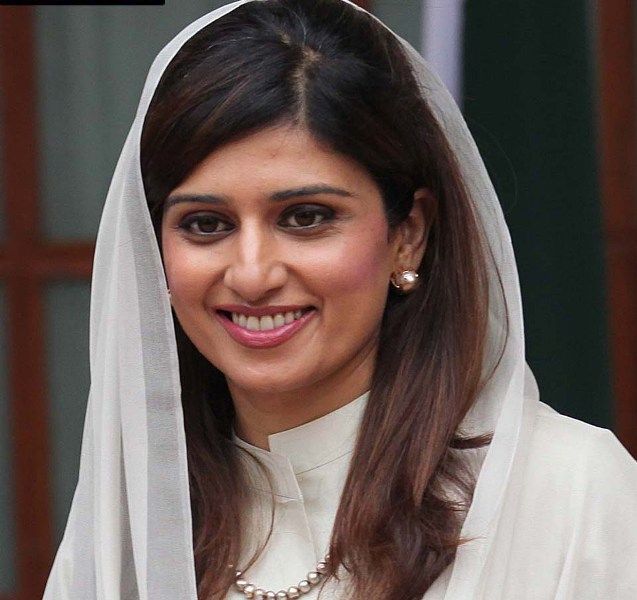 Hina Rabbani Khar is a Pakistani politician who served as Pakistan's Foreign Minister from 2011 to 2013. She is Pakistan's youngest and first woman to hold the post of foreign minister.
Wiki/Biography
Hina Rabbani Khar was born on Saturday, 19 November 1977 (age 45 years; as of 2022) in Multan, Punjab, Pakistan. Her zodiac sign is Scorpio. She attended schools in Mehmood Kot and Sanawan towns in Pakistan. [1]Herald Hina pursued a Bachelor of Science in Economics (1999) at the Lahore University of Management Sciences (LUMS) in Pakistan. Hina holds a Master of Science degree in Business Management (2002) from the University of Massachusetts Amherst in the United States.
Physical Appearance
Height (approx.): 5′ 6″
Hair Colour: Black
Eye Colour: Dark Brown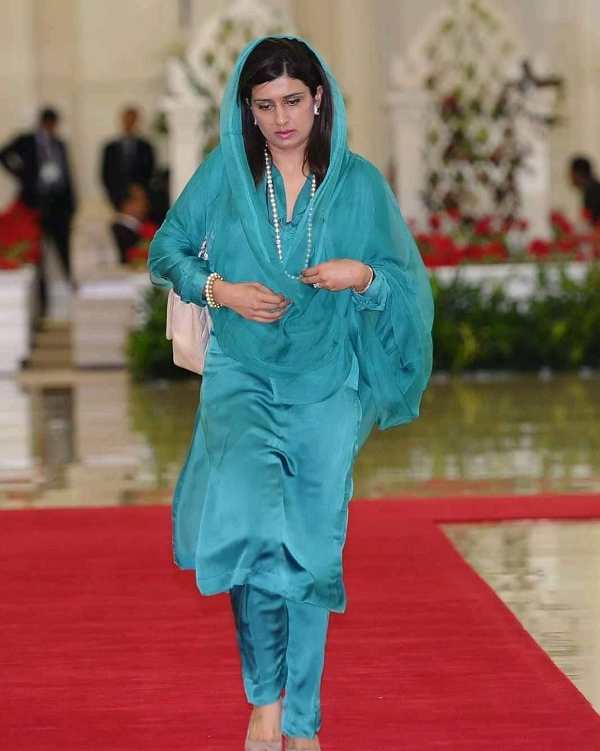 Family
Hina belongs to a conservative Muslim feudal political family in Muzaffargarh, Pakistan.
Parents & Siblings
Her father's name is Ghulam Noor Rabbani Khar (deceased), and her mother's name is Sumaira Rabbani Khar. Hina's father was a veteran politician. He died in 2022 in a hospital in Lahore, Pakistan due to coronavirus complications. Hina has seven siblings including two brothers and five sisters. One of her brothers' names is Malik Raza Rabbani.
Her uncle, Ghulam Mustafa Khar, has served as a governor and chief minister of Punjab, Pakistan.
Husband & Children
Hina Rabbani Khar got married to Feroze Gulzar, a Pakistani businessman, on 24 November 1999.
The couple has a son named Ahmed Gulzar, and two daughters named Dina Gulzar and Annaya Gulzar.
Relationships/Affairs
Reportedly, Hina Rabbani Khar was dating Bilawal Bhutto Zardari, a Pakistani politician and in 2012, Hina and Bilawal were planning to marry each other and move to Switzerland. According to sources, the alleged affair between Bilawal Bhutto and Hina Rabbani Khar came to the knowledge of Bilawal's father, Asif Ali Zardari, when the couple was caught in a compromising position inside the official residence of President Zardari. [2]Firstpost
Religion
Hina Rabbani Khar follows Islam.
Address
140-A, Defence Housing Authority Lahore Rabbani Farm, Khar Garbi, Teh: Kot Addu, Distt. Muzaffargarh, Pakistan
Career
Politics
Hina Rabbani Khar entered politics in 2002 when her father could not contest the 2002 general election because of President Pervez Musharraf's condition for election candidates to be graduates. At that time, she had just returned to Pakistan after receiving a master's degree from the University of Massachusetts Amherst in the United States following which her father asked her to contest the polls in his place.
Member of the National Assembly of Pakistan
On 16 November 2002, Hina was elected as the Member of the National Assembly of Pakistan on a ticket from the Pakistan Muslim League (Q) party, representing the NA-177 (Muzaffargarh-II) constituency in Punjab. She held the post till 15 November 2007. In 2007, Khar joined the Pakistan People's Party (PPP) and was re-elected as the Member of the National Assembly of Pakistan from the NA-177 (Muzaffargarh-II) constituency on 17 March 2008; she served the position till 16 March 2013. On 13 August 2018, she won the National Assembly elections on reserved seats for women from the Pakistan People's Party (PPP).
Minister
On 24 March 2008, Hina Rabbani Khar was appointed as the Minister of State for Finance and Economic Affair. She became the first female politician to present the federal budget in the National Assembly on 13 June 2009. Khar made significant contributions during her tenure as Minister of State for Finance and Economic Affairs, working on financial budget planning and economic policies. On 11 February 2011, she was appointed as the Minister of State for Foreign Affairs, a post she served till 18 July 2011. This appointment was made as part of a cabinet reshuffle under the leadership of Yusuf Raza Gilani. Interestingly, Shah Mehmood Qureshi, who was the foreign minister at the time, was not reappointed, resulting in a vacant position. During this interim period, Khar filled the role of acting foreign minister for five months. Hina was appointed as the Foreign Minister on 19 July 2011, a position she held until 16 March 2013.
Hina Rabbani's Diplomatic Efforts as Foreign Minister of Pakistan
After assuming office as the Minister of Foreign Affairs, Khar travelled to India to hold peace talks with her Indian counterpart, S. M. Krishna, in 2011. The relationship between the two countries had been strained since the 2008 Mumbai attacks, and diplomatic ties only resumed five months prior to her visit. Reportedly, Khar met with the leaders of the All Parties Hurriyat Conference (APHC), formed by the amalgamation of several political, social, and religious organisations as a united political front to raise the cause of Kashmiri separatism in the Kashmir conflict, before meeting Indian government officials, drawing criticism from the supporters of the Bharatiya Janata Party (BJP), who claimed it was a breach of protocol and demanded an inquiry. In 2011, she led an effort to grant the Most Favoured Nation (MFN) status to India; however, she did not disclose the details about its finalisation.
In August 2011, Khar visited China and met with Yang Jiechi, the Chinese Foreign Minister. Her reception in China was notably different from her experience in India with the Chinese media largely ignoring her visit. On 21 January 2012, Hina Rabbani Khar made a secret visit to Moscow to improve bilateral relations amid the strained relationship between Pakistan and the United States. During her visit, she extended an invitation to the Russian leadership to visit Pakistan and emphasized the need to maintain cooperation and commitment to supporting peace in Afghanistan, which should be led by Afghans. At the 16th Summit of the Non-Aligned Movement in Tehran, Iran, Khar addressed the increasing tensions regarding Iran's nuclear program and highlighted that regional stability was at stake. She emphasized the importance of a peaceful resolution of this issue through reciprocal confidence-building measures and security assurances against external threats with Iran's government. On 9 November 2012, during a brief visit to Bangladesh, Hina Rabbani Khar was approached by the Bangladeshi Foreign Minister, Dipu Moni, to address the post-independence issues between the two countries. Khar emphasized the need for both countries to move forward together to resolve the outstanding issues. Khar was also a significant member of the Central Executive Committee of the Pakistan Peoples Party from 2008 to 2013. Her significant contribution to Pakistani politics and high-profile status made her one of the most notable women in Pakistani politics. Hina was again appointed as the Minister of State for Foreign Affairs on 19 April 2022.
Controversy
Implicated in Forgery Case
Hina Rabbani Khar and her family members, including her father Ghulam Noor Rabbani Khar, mother Sumaira Abdullah (also known as Sumaira Rabbani Khar), brother Malik Raza Rabbani, and four sisters, were implicated in a forgery case in 2018. The case was filed by Hina's stepbrother Malik Abdul Khaliq Rabbani Khar and resulted in charges under several sections of the Pakistani Penal Code and the Anti-Corruption Establishment (ACE) Act. According to the complaint, Noor Rabbani Khar had separated from Zaibun Nisa, the mother of the complainant, and subsequently transferred 1,535 kanal of land to his new family using political influence.
Expensive Things/Valuables
Hina Rabbani has a great fondness for bags as she possesses an extensive collection of branded bags. She can often be seen carrying them during her official trips to different countries and meetings. Among various brands, she owns Birkin, Louis Vuitton, Ferragamo, and Prada.
Net Worth
Hina Rabbani Khar's net worth for the year 2013 was estimated to be 13.37 million Pakistani Rupees.
Facts/Trivia
Hina is the co-owner of an outdoor restaurant named The Polo Lounge located in the Saidpur village area of Islamabad, Pakistan. The restaurant boasts stunning views of the Margalla Hills. In addition to her restaurant venture, Hina's family owns several mango orchards and sugarcane fields, reflecting their involvement in the agriculture sector.
She is a polo enthusiast and has a stable. In an interview, she revealed that she was the only female in the family who had played the sport. This fact held great significance for her, given that the sport is largely perceived as a male-dominated pursuit in Pakistan, and despite this, her father allowed her to play it.
Hina Rabbani Khar loves trekking and has explored various treks including K2 and Nanga Parbat. In an interview, she talked about this and said that she started trekking after she graduated from the Lahore University of Management Sciences (LUMS). She further added that she would set out on long treks that could last up to 20 days every year.
While talking about the education system of Pakistan, in an interview, Hina revealed that a boys' school in her village was closed due to the lack of demand for education. This incident ignited a spark in her mother, Sumaira Rabbani Khar, who had a vision of establishing a girls' school in the area; however, some people tried to discourage her, citing conservative attitudes and a lack of demand for education from families in the area. Sumaira, however, opened a girls' school for about 50 girls, providing free and quality education. Over time, the number of students grew significantly and more than 250 students got enrolled in the school.
Hina Rabbani Khar has been known for her style and fashion sense, often referred to as a fashionista. During her visit to India in 2011, shortly after she was appointed as the Foreign Minister, the Indian media took a keen interest in her fashion choices and appearance including her Birkin bag, sunglasses, Jimmy Choo stilettos, and pearl necklace. Her unique and sophisticated style has been admired by many and has made her a fashion icon in Pakistan.