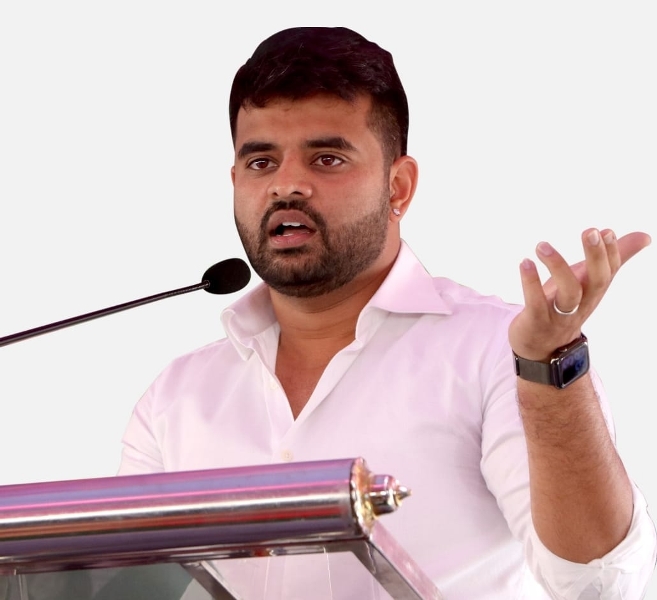 Prajwal Revanna is an Indian politician and member of the Janata Dal (Secular) party who was elected as MP from Hassan in Karnataka in 2019. He is the grandson of former Prime Minister of India H. D. Deve Gowda and son of JD(S) politician H. D. Revanna.
Wiki/Biography
Prajwal Revanna was born on Sunday, 5 August 1990 (age 33 years; as of 2023) in Hassan, Karnataka, India. His zodiac sign is Leo. Prajwal was pursuing an MTech in Australia, but he dropped it to come back home to assist his family in the 2014 Lok Sabha polls. He actively campaigned for his father in Holenarsipura in the elections. Thereafter, he pursued a Bachelor of Engineering (Mechanical) at the Bengaluru Institute of Technology in Karnataka. [1]MyNeta
Physical Appearance
Height (approx.): 5′ 10″
Hair Colour: Black
Eye Colour: Black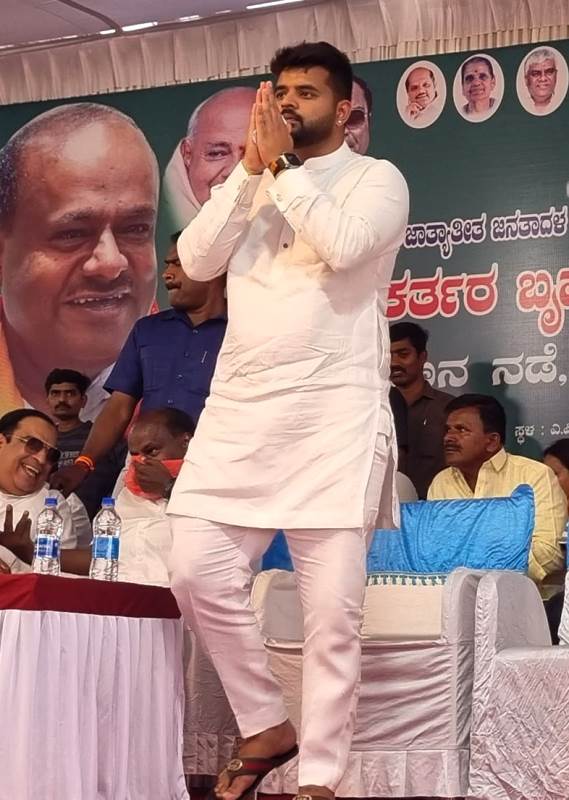 Family
Parents & Siblings
His father, H. D. Revanna, is a politician and member of JD(S), who served as Minister of the Public Works Department, Government of Karnataka from 2018 to 2019. His mother, Bhavani Revanna, comes from a political family in KR Nagar. His brother, Suraj Revanna, is a politician and physician. He started serving as a Member of Karnataka Legislative Council from Hassan district in 2022.
Wife 
He is unmarried.
Others
Prajwal's grandfather, H. D. Deve Gowda, is an Indian politician and founder of the Janata Dal (Secular) party who served as the 11th Prime Minister of India (1 June 1996-21 April 1997).
Gowda and his wife, Chennamma, have 5 children, 3 sons, H. D. Revanna, H. D. Kumaraswamy, and H.D. Ramesh, and two daughters, Anusuya and Shylaja.
Kumaraswamy has twice served as the Chief Minister of Karnataka (2006-2007 and 2018-2019). Prajwal's paternal aunt Anitha Kumaraswamy (H. D. Kumaraswamy's wife) served as MLA from Ramanagara in Karnataka from 2018 to 2023. Prajwal's cousin Nikhil Kumar (H. D. Kumaraswamy's son) is an actor and politician known for his work in Kannada films.
Religion/Religious Views
Prajwal Revanna follows Hinduism. Ahead of the 2019 general election, Prajwal Revanna, along with his parents and elder brother, offered prayers at five temples before filing his nomination for the Hassan constituency. [2]The Week
Caste
He belongs to the Vokkaliga community, a group of closely-related castes, from the Indian state of Karnataka. [3]The Quint Vokkaliga is categorised in the Other Backward Classes in Karnataka. However, it is an influential caste like the Lingayats in the state, which form 16 percent of its population.
Address
His permanent address is House No. 43, Village Padavalahippe, Hole Narsipur taluka of Hassan district in Karnataka – 573211.
Signature/Autograph
Career
He ventured into politics in 2015 when he enrolled himself as a member of the JD(S). The party denied him a ticket for the 2018 Karnataka Vidhan Sabha elections. He was appointed JD(S) state general secretary on 27 November 2019. Prajwal won the Hassan seat in Karnataka in the 2019 Lok Sabha elections, defeating the BJP candidate A. Manju by 1,41,224 votes.
The seat had been a stronghold of JD(S) for several years from where H. D. Deve Gowda was elected five times. Gowda gave up the family stronghold for Prajwal's debut into electoral politics and contested from Tumkur. In the elections, the JD(S) contested 6 out of the 28 Lok Sabha seats, and Prajwal emerged as the only winner. Prajwal, saddened by his grandfather's defeat from Tumkur, offered to resign the Hassan parliamentary seat to get his grandfather re-elected. He announced,
As my grandfather is the founder and builder of the JD(S), I want to resign and get him re-elected from the Hassan seat through a bye-election."
However, he was advised not to tender his resignation by Gowda and the party.
In 2023, Karnataka HC disqualified Prajwal as MP for not disclosing all the assets and providing the wrong disclosure on his assets. The court also rejected the plea of A. Manju to declare him as a returned candidate in place of Prajwal saying that Manju too was indulged in corrupt practices, which were established from the materials provided by Prajawal in his recrimination petition.
Controversies
Accusing JD(S) of Encouraging Suitcase Politics
In 2017, while addressing a party workers' meeting in Hunsur (Mysuru district), Prajwal accused JD(S) of "suitcase culture," alleging that people with money were preferred over grassroots workers during ticket distribution. He said that loyal workers were made to sit at the back and those who came with suitcases (i.e. money) got a seat in the front row. At that time, Prajwal was working in Hunsur and had plans to contest from the constituency in the 2018 assembly polls. Embarrassed, H. D. Deve Gowda played down Prajwal's comments saying that a few of his grandson's followers were misleading the young scion. However, Prajwal was given a stern warning by the party. [4]The Times of India
Booked For Seeking Votes In the Name of Caste
In 2019, an FIR was filed against Prajwal by officers of the flying squad of Hassan parliamentary constituency at Halli Mysore police station for seeking votes in the name of caste. The action was taken following directions from Deputy Commissioner Priyanka Mary Francis in the aftermath of a speech delivered by Prajwal at Doddakadanuru village in Karnataka on 7 April 2019. The JD (S) candidate tried to woo voters by mentioning Veerashaivas (or Lingayatism). Sources revealed that Prajwal highly praised the contributions of Veerashiava community leaders of Belur taluk of Hassan while delivering a speech at Alagatta Village in Kadur Taluk. [5]Deccan Chronicle
Misappropriation of Assets
On 1 September 2023, Prajwal Revanna was disqualified as the MP from Hassan by the Karnataka High Court, over irregularities in his affidavit for the 2019 general polls. The decision was made by a single Bench judge, K Natarajan. The HC also directed the Election Commission of India to take action against Revanna as per the Conduct of Election Process Rules. In September 2019, petitions were filed by BJP politician A Manju, who had unsuccessfully contested the Hassan seat in 2019, and G Devarajegowda, a Congress leader, against Prajwal over the submission of fake documents during the nomination procedure for the 2019 elections. [6]The New Indian Express In January 2020, the Karnataka High Court dismissed the petitions filed by Manju and Devarajegowda citing technical and other compliance procedure reasons. The trial was later taken up after a Supreme Court order had directed to examine petitions in December 2021. Prajwal had given false information and false market value of some of the properties declared in the list of his assets and had concealed the actual balance in his bank account by declaring only Rs. 5.78 lakhs as balance as against the actual balance of Rs. 49.09 lakhs as on the date of filing of his nomination. Additionally, he did not disclose the pendency of a petition in the court in which he had challenged an FIR registered against him. He had suppressed Rs. 50 lakh loan, which was credited to his bank account, taken from Rajya Sabha member Kuppendra Reddy. The court also said that as against the Rs. 70 lakh expenditure limit fixed by the ECI,  Prajwal had spent more than Rs 1 crore on the election but declared only Rs. 63 lakh as expenditure. Meanwhile, Prajwal's father, H. D. Revanna, misused his official position as district-in-charge Minister for other development works and diverted the funds allocated to Cauvery Neeravari Nigama Limited to ensure that electors voted for his son due to these development works. Furthermore, a sum of Rs. 1.2 lakh in cash was confiscated from Prajwal's brother, Suraj Revanna. Suraj was found in possession of the money while travelling in a government-provided car allocated to his father. The court rejected Prajwal's argument that the cash was intended for purchasing cattle feed and groceries for his mother, asserting that it was evidently intended for election-related distribution. Pointing out that H.D. Revanna and his other son Suraj Revanna too had helped Prajwal win the election, the HC  asked them to show cause why they should not be declared as indulging in corrupt practices in the election process. [7]The Indian Express
Assets & Properties
Moveable Assets
Deposits in Banks: Rs 11,41,269.84
Bonds, Debentures and Shares in Companies: Rs 91,10,435
Personal loans: Rs 85,20,000
Motor Vehicles: Rs 5,00,000
Other assets: Rs 4,45,000
Immovable Assets
Agricultural Land: Rs 3,60,62,000
Non-Agricultural Land: Rs 2,75,00,000
Commercial Buildings: Rs 1,90,00,000
Note: The given estimates of movable and immovable assets are according to the financial year 2018-2019. [8]MyNeta
Net Worth
His net worth in 2019 was Rs. 6,05,95,422. [9]MyNeta