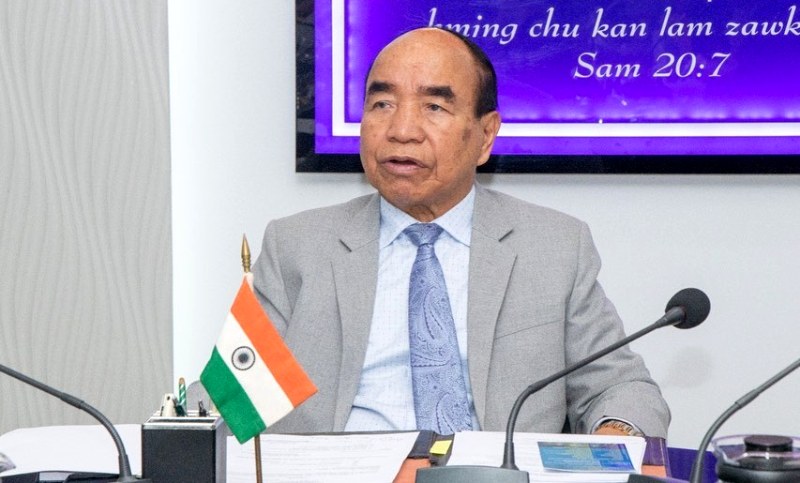 Zoramthanga is an Indian politician and a member of the Mizo National Front (MNF). He served as the Chief Minister of Mizoram for ten years, from 1998 to 2008, and again assumed the charge in 2018. He was a dreaded militant and second-in-command to separatist Laldenga during the MNF uprising in 1996, a revolt against the government of India aimed at establishing a sovereign nation-state for the Mizo people. He became the president of MNF following Laldenga's death in 1990.
Wiki/Biography
Zoramthanga was born on Thursday, 13 July 1944 (age 79 years; as of 2023) in Samthang, Assam Province, British India (Samthang village, Champhai district, Mizoram, India). His zodiac sign is Cancer. Till Class 6, he attended Govt Khawbung Middle School, South Khawbung. In 1957, he enrolled Govt Gandhi Memorial Higher Secondary School in Champhai as a student of standard seven. After completing his Pre-University Course (PUC) in 1962, he pursued a BA (Hons.) in English at DM College of Arts in Imphal, Manipur. [1]MyNeta He completed his formal education in 1966 and joined the Mizo movement. He went underground for 20 years (1966-1986), living in hideouts in Chittagong (now in Bangladesh), Arakan (Myanmar) and Islamabad before the Mizo Accord was signed on 30 June 1986. Thereafter, he joined politics.
Physical Appearance
Height (approx.): 5′ 3″
Hair Colour: Black (half bald)
Eye Colour: Black
Family
Parents & Siblings
His father's name is Darphunga, and his mother's name is Vanhnuaichhingi He is the second among eight siblings– five brothers and three sisters.
His younger brother Vanlalchhuana was convicted in a corruption case in 2023. Vanlalchhuana and five others had received lakhs of rupees as compensation for the acquisition of lands submerged in the construction of the 60-megawatt Tuirial Hydro Electric Project undertaken by the North East Electric Power Corporation (NEEPCO) Ltd. [2]The Times of India
Zoramthanga's elder sister Lalvuani died of Covid-19 in 2021. Lalvuani was the third eldest of eight siblings.
Wife & Children
On 2 February 1988, he got married to Roneihsangi. She is a government employee. Together, they have two children, a Ramthansiama (Siamtea), and a daughter, Milari Chhangte (Mimi).
Religion/Religious Views
Zoramthanga follows Christianity and is a member of the Mizoram Presbyterian Church Synod. [3]The NorthEast Stories – A Journal of People and Places [4]Nagaland Page
Caste
He belongs to a family of Scheduled Tribes (ST).
Address
His permanent address is B-11, Ramhlun Venglai, Aizawl, Mizoram, India.
Signature/Autograph
1996 Mizo National Front Uprising
In the late 1950s, separatist Laldenga founded Mizo National Famine Front (MNFF), a civil society organisation to protest against the inaction of the Government of India towards the famine situation caused by Mautâm in the Mizo Hills of the Assam state. Mautâm is a recurring ecological occurrence observed in Northeast India every 48–50 years. Approximately 30% area in this region is covered by wild bamboo forests. In the mautâm period, a bamboo species known as Melocanna baccifera simultaneously blooms over a large area. The phenomenon leads to a significant increase in the rat population, which triggers a widespread famine in these affected areas. MNFF soon evolved into a political organisation and ultimately became the Mizo National Front (MNF) on 22 October 1961. In 1965, Zoramthanga joined the MNF underground movement while he was a student at DM College, Imphal. In the following year, he went underground and remained so for 20 years.
Zoramthanga extensively travelled with the party chief Laldenga to Pakistan and Europe during that time. Initially, he was handling the affairs of the northern part of Mizoram. Till the beginning of 1969, he was roaming around in the forests of Mizoram. After that, they shifted their base to East Pakistan. Zoramthanga, along with other MNF insurgents, escaped to East Pakistan through Rangoon and through the Arakan forest. Apparently, between 1963 and 1966, East Pakistan provided military training and shelter to the Mizo fighters. On 1 March 1966, the MNF made a declaration of independence, after launching coordinated attacks on the Government offices and security forces posts in different parts of the Mizo district in Assam. The revolt against the government of India aimed at establishing a sovereign nation-state for the Mizo people. Zoramthanga was second-in-command to Laldenga during the movement. In 1969, Zoramthanga became secretary to MNF president Laldenga.
In 1971, the government converted the Mizo Hills into a Union Territory, which became Mizoram in 1972. Sometime in 1971, when the Bangladesh war was yet to begin, Zoramthanga was sent to Dhaka (then in East Pakistan) to hold discussions with an officer from R&AW. However, soon the war started, and the talks were halted. During the war, they fled from Dhaka and started living in Chittagong. During a raid by Indian forces in the Chittagong hills, various MNF insurgents mixed with commandoes of East Pakistan were captured by Lieutenant General JS Arora, but MNF guerrillas managed to escape. They escaped to Arakan Hills (in Myanmar) before reaching West Pakistan. They joined a group of refugees and somehow reached the Akyab (now called Sittwe, a famous port in Myanmar). Finally, they took a Pakistani flight from Rangoon to Karachi. They were based out of Islamabad between 1972 and 1975. In 1970, Zoramthanga accompanied party president Laldenga to China. It was a secret mission from Dhaka to Beijing. There, they had a talk with the then-Chinese premier Zhou Enlai and other important functionaries.
Laldenga and Zoramthanga would send batches of MNF boys to China through Kachin (Myanmar) for getting arms training. With the fall of East Pakistan in 1971, Laldenga's men scattered to Myanmar while he moved to Pakistan. While in Pakistan, between 1972 and 1975, Laldenga and Zoramthanga held a number of secret talks with R&AW officials. They came back to Delhi in 1976. In 1979, Zoramthanga became the vice president of MNF. After secret meetings in Europe with Indian officials, Laldenga returned seeking a peaceful resolution of the problem when Rajiv Gandhi became the Prime Minister of India in 1984. Zoramthanga's played a crucial role in the peace talks with the Indian government in 1986. On 30 June 1986, a peace accord was signed between MNF and the Indian government. Thereafter, they came overground. MNF was offered to run an interim state government for six months with Laldenga as the CM in which Zoramthanga was appointed as one of the Cabinet Ministers. Mizoram was granted statehood in February 1987 and MNF became a recognised political party.
Politics
Zoramthanga contested and won the Champhai assembly seat in the 1987 Mizoram Legislative Assembly elections. MNF won the majority of seats in elections and Laldenga became the first Chief Minister of Mizoram as a federated state. He inducted Zoramthanga into his cabinet as a minister and gave him portfolios like education and finance. Within 18 months, there were defections from the party by members who wanted Cabinet positions, which reduced the government to a minority in the Assembly. President's rule was imposed on Mizoram in September 1988 and elections were called for in 1989.
Zoramthanga again contested and won the Champhai assembly seat in 1989. The Indian National Congress (INC) won the majority of seats in the elections and its leader in Mizoram Lal Thanhawla was appointed as the CM.  Zoramthanga's turn to lead MNF came when the party faced a setback when Laldenga died due to lung cancer on 7 July 1990. Zoramthanga was re-elected as MLA from Champhai in 1993. INC won the majority of seats and Lal Thanhawla was appointed as the CM of Mizoram for the third time. Zoramthanga became the Leader of the Opposition in the State legislature. In 1998, Zoramthanga was re-elected as MLA from Champhai, while MNF formed the government in Mizoram under his leadership. On 3 December 1998, Zoramthanga was sworn in as Chief Minister of Mizoram for the first time. He continued to hold the position after the 2003 Assembly polls.
In 2003, Zoramthanga again led MNF to form the government in Mizoram. He was elected as MLA from two constituencies, Champhai and Kolasib. Thereafter, he was sworn in as the Chief Minister of Mizoram for the second time. MNF lost the 2008 Assembly elections, overcome by INC. MNF managed to win only three seats in the elections. Zoramthanga contested and lost from both Champhai North and Champhai South constituencies. MNF again faced heavy defeat to the Congress party in the 2013 assembly elections. In 2018, he won the Aizawl East 1 Assembly seat, defeating ZPM candidate K. Sapdanga by 2,504 votes. The MNF came back in power after 10 years, bagging 26 of the 40 seats in the state, while the ruling Congress could manage only five. On 15 December 2018, Zoramthanga was sworn in as the Chief Minister of Mizoram for the third time.
Controversies
Corruption Charges
Alleged Misuse of Power
In 2009, Zoramthanga was accused of misusing his position as a public servant to obtain angle iron posts and goat-proof wire mesh from the agriculture department for his farm in the Aii puk area, Sihphir in 2007. The allegations were brought against him by two organizations: the anti-corruption watchdog People Right to Information and Development Implementing Society of Mizoram (PRISM) and the senior citizens' association Mizoram Upa Pawl. In 2021, Zoramthanga was acquitted of the charges by a special court operating under the Prevention of Corruption Act. The presiding judge, Vanlalenmawia, stated that the materials obtained from the agricultural department were legitimately issued to support farmers in need. He explained that there was a provision for distributing such fencing materials under the Assistance to Small Marginal Farmers scheme. [5]India Today
Disproportionate Assets
The state Anti Corruption Bureau (ACB) filed an additional charge sheet accusing Zoramthanga of possessing assets beyond what could be accounted for by his known sources of income. According to the charge sheet, in 2003, Zoramthanga declared assets amounting to Rs 54.18 lakh in his affidavit. However, before the 2008 elections, the value of his assets grew to over Rs 1.38 crore, and no legitimate sources of income were registered to explain this increase. In 2021, a special court operating under the Prevention of Corruption Act acquitted Zoramthanga in this case. Judge Vanlalenmawia clarified that there was insufficient evidence to establish that the accused had assets disproportionate to his known sources of income, and as a result, he could not be convicted under Section 13(2) of the Prevention of Corruption Act, 1988. [6]India Today
Mizoram Intodelhna Project Case
In December 2009, the state Anti-Corruption Bureau filed a case against Zoramthanga, along with former Agriculture minister H Rammawi, former CM adviser Lalhuapzauva, and two firm owners Vanlalruata Chenkuala and K K Shah. The case was related to the alleged mismanagement of the Agriculture Department, where free interest loans were granted for a three-month period (which could not be extended beyond six months) under the Mizoram Intodelhna Programme, 2006. This program was a significant initiative of the Mizo National Government during 1998-2008 which aimed at revolutionising farming practices in the state. The accused individuals and firms owners were allegedly involved in the disbursement of Rs 218.5 lakh in free interest loans to four firms – Mizoram Venus Bamboo Product (P) Ltd, Hnahlan Grape Growers' Society, Champhai Grape Growers' Society, and Mizo Organic Producers' Company Limited. In April 2021, a special court in Aizawl acquitted Zoramthanga, former Agriculture Minister H. Rammawi, and two others in this 11-year-old corruption case. [7]The Assam Tribune
Murder Allegations of Rev Chanchinmawia
Rev Chanchinmawia, who was the moderator of Mizoram Presbyterian Church Synod and Chairman of Mizoram People's Forum, was found dead in his residence at Khatla, Aizawl, Mizoram on 1 October 2007. His body had several cut wounds and bruises, and a hammer and a knife covered in blood were found nearby. The police report concluded it was a suicide, but his son Ramdinpuia, supported by the church, believed it was a murder. In 2008, the case was reopened, and the Central Bureau of Investigation (CBI) was assigned to investigate. However, the CBI made little progress in the case. In 2018, a newsletter called Congress Thlifim, a mouthpiece of the ruling Congress, published information suggesting that Chanchinmawia's death was a murder and that Zoramthanga was allegedly behind the assassination plot. The newsletter cited a criminal suspect named Muanhlua, who claimed to know six people paid by Zoramthanga to commit the murder, and there was also a voice recording of Muanhlua demanding a large sum of money from Zoramthanga to keep silent. In March 2017, members of the Mizo National Front (MNF) and B. Zorampara, president of the Peace Accord MNF Returnees Association, filed a case against Thansanga, an informant for the newsletter. Thansanga had also implicated Zorampara as the one who recruited the murderers from Manipur. On 17 May 2017, Zoramthanga filed a defamation case against Thansanga, James Thanghmingliana (the publisher), and David M. Thangliana (the editor) of the newsletter. [8]The Times of India
Car Collection
Assets & Properties
Moveabale Assets
Deposits in Banks: Rs 24,52,542
Motor Vehicles: Rs 23,00,000
Immovable Assets
Agricultural Land: Rs 20,00,000
Non-Agricultural Land: Rs 1,25,00,000
Note: The given estimates of the moveable and immovable assets are according to the financial year 2017-2018. It does not include the assets owned by his wife and dependents. [9]MyNeta
Net Worth
His net worth in 2018 was Rs 2,02,52,542. It does not include the net worth of his wife and dependents. [10]MyNeta
Facts/Trivia
He is fond of playing badminton and is often seen playing badminton at Kulikawn Indoor Stadium in the southern part of Aizawl.
His main agenda during the 2018 elections was a ban on liquor.
In 2018, he announced that he had penned his autobiography 'MILARI,' a two-volume book in the Mizo language. He dictated the autobiography to his stenographer, who typed it for him. Named after his daughter, the book narrates the chief minister's birth and childhood in Samthang in Champai district, his graduation at Imphal, and detailed descriptions of his 20 years of underground days. The controversial book revealed that Pakistan and the Chinese government gave support to the Mizo insurgency. He revealed that MNF cadres were mixed with commandoes of East Pakistan and were captured by Lieutenant General JS Arora, but later all escaped and went into the jungle. In an interview, while explaining that the title of the book is also a collection of initials of different words, he said,


MI stands for Mizoram, LA stands for Lalpa that means Lord and R stands for arrangements — Remruatna arrangement. The last one 'I' took it for myself. That is, Mizoram — the lord's arrangements and myself. And the book is going to be called MILARI."

Zoramthanga is an eloquent debater.
Under his chief ministership, Mizoram received Rs 182.45 crore as a bonus from the central government in 2000. Extended by the Atal Bihari Vajpayee government, it came to be known as a "peace bonus" and was awarded to Mizoram for being the most peaceful state in the Northeast.
In 2022, a video went viral on the internet in which Zoramthanga's daughter Milari Chhangte was seen hitting Aizawl-based dermatologist Dr Zonunasanga when the latter refused her a consultation without a prior appointment. [11]

NDTV Thereafter, the CM took to social media and issued a public apology saying that the family was "wholly in the wrong."