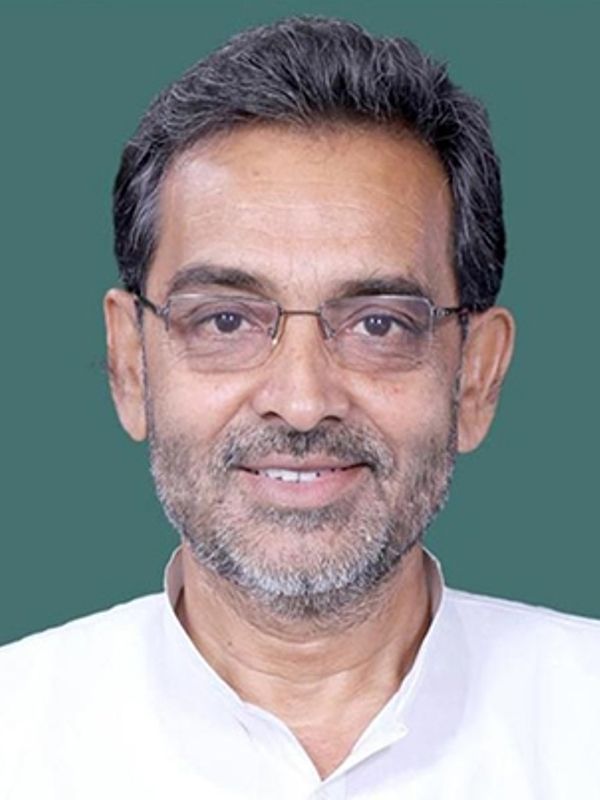 Upendra Kushwaha is an Indian politician and former Minister of State for Human Resources and Development (2014-2018). He is also a former Member of Parliament. He became a member of the Bihar Legislative Council in 2010. On 3 March 2013, he formed his party 'the Rashtriya Lok Samata Party.'
Wiki/Biography
Upendra Singh was born on Saturday, 6 February 1960 (age 63 years; as of 2023) in Vaishali, Bihar, India. His zodiac sign is Aquarius. He did his schooling at R. A. S. High School in Hazrat Jandaha, Bihar. In 1976, he graduated from the L.S. College in Muzaffarpur, Bihar. In 1978, he graduated with a Bachelor of Arts degree in Political Science from Patna Science College, Bihar. In 1981, he pursued a Master of Arts in Political Science at Babasaheb Bhimrao Ambedkar Bihar University in Muzaffarpur, Bihar.
Physical Appearance
Hair Colour: Salt & Pepper
Eye Colour: Dark Brown
Family
Parents & Siblings
His father's name was Muneshwar Singh (deceased), and his mother's name is Muneshwari Devi.
Wife/Children 
On 26 February 1982, he got married to Snehlata Sinha. The couple has a son and a daughter.
Address
Vill. and P.O. Javaj, Distt. Vaishali, Bihar
Signature/Autograph
Career
Politics Lecturer
After Upendra graduated from the B. R. Ambedkar Bihar University, he was appointed as a lecturer at Samata College in its politics department.
Politics
State Legislative Council
In 1985, he joined the youth wing of the Lok Dal and was appointed as the state general secretary of Yuva Lok Dal from 1985 to 1988. In 1988, he served as the National General-Secretary of Yuva Janata Dal till 1993. From 1994 to 2002, he worked as the General-Secretary for the Samata Party, an offshoot of the Janata Dal.
In 2021, Kushwaha along with 12 other people was nominated to the Legislative Council by the Bihar Governor Phagu Chauhan. [1]Asian News International
State Legislative Assembly
In 2000, he contested and won the Assembly Elections from the Jandaha Assembly constituency on Janata Dal (United) ticket. In 2007, he was dismissed from the Janata Dal (United) for allegedly indulging in "anti-party" activities. In February 2009, he founded his own party Rashtriya Samata Party. In November 2009, the Rashtriya Samata Party merged with the Janata Dal (United) with the reconciliation of relations between Upendra Kushwaha and Nitish Kumar, the Janata Dal (United) leader. In 2020, Kushwaha announced the formation of a third front in partnership with the Bahujan Samaj Party ahead of the Bihar Assembly elections, which contested on all 243 seats against three other political fronts namely BJP-led National Democratic Alliance (NDA), INC-led United Progressive Alliance (UPA), and one another alliance which contained various small parties led by Jan Adhikar Party. [2]The Times of India
Prior to the 2020 Bihar Legislative Assembly election, RLSP merged again with JD(U) following which Kushwaha was appointed as the chairman of the National Parliamentary Board of JD(U) in 2021. [3]Zee News
Member of Parliament
In 2010, he became a member of the Rajya Sabha and served on the Standing Committee on Agriculture from August 2010 to January 2013. In 2013, he resigned from the Janata Dal (United). On 3 March 2013, he launched another party and named it the Rashtriya Lok Samata Party (RLSP).
During the time of the formation of RLSP, Kushwaha announced that the party will attempt to overthrow the National Democratic Alliance in Bihar; however, Janata Dal (United) left this alliance and RLSP joined National Democratic Alliance. In 2014, he contested and won the 16th Lok Sabha elections from the Karakat constituency on the Bharatiya Janata Party ticket. On 26 May 2014, Upendra Kushwaha took an oath as Minister of State in a Swearing-in Ceremony, which was held in the presence of the then President of India Pranab Mukherjee at Rashtrapati Bhavan in New Delhi.
He was then appointed as Minister of State in the Human Resource Development ministry and later, he served the Ministry of Rural Development; under the Ministry of Panchayati Raj and the Ministry of Drinking Water and Sanitation. In December 2018, he resigned from the ministry and quit the National Democratic Alliance. In 2019, RLSP fled from the NDA alliance. Kushwaha joined the Indian National Congress-led United Progressive Alliance front, which included Rashtriya Janata Dal, Hindustani Awam Morcha, and Vikassheel Insaan Party. In 2019, he contested the 17th Lok Sabha election from both the Karakat and Ujiyarpur constituencies on an Indian National Congress ticket. Upendra lost to Mahabali Singh of Janata Dal (United) by 84,542 votes for the Karakat Lok Sabha constituency and lost to Nityanand Rai of the Bharatiya Janata Party by 2,77,278 votes for the Ujiarpur Lok Sabha constituency.
Rashtriya Lok Janata Dal
On 20 February 2023, he quit the JD(U) and launched a new party, Rashtriya Lok Janata Dal. [4]India Today
Controversies
Cases Pending
1 charge related to Voluntarily causing hurt to deter a public servant from his duty (IPC Section-332)
1 charge related to Punishment for criminal intimidation (IPC Section-506)
2 charges related to Assault or criminal force to deter a public servant from discharge of his duty (IPC Section-353)
1 charge related to Punishment for assault or criminal force otherwise than on grave provocation (IPC Section-352)
1 charge related to Punishment for wrongful restraint (IPC Section-341)
Cases where Convicted
1 charge related to Punishment for wrongful Confinement (IPC Section-342)
1 charge related to Punishment for voluntarily causing hurt (IPC Section-323)
1 charge related to Mischief causing damage to the amount of fifty rupees (IPC Section-427)
1 charge related to Rash driving or riding on a public way (IPC Section-279)
1 charge related to Acts done by several persons in furtherance of common intention (IPC Section-34)
1 charge related to Punishment for Rioting (IPC Section-147)
1 charge related to Rioting, armed with a deadly weapon (IPC Section-148)
1 charge related to Every member of unlawful assembly guilty of an offence committed in prosecution of a common object (IPC Section-149)
1 charge related to Disobedience to order duly promulgated by a public servant (IPC Section-188)
Verbal spat with Nitish Kumar
In January 2023, Upendra Kushwaha indicted Nitish Kumar for making derogatory comments against him when he was appointed as the JD(U) Parliamentary Board chairman and accused him of ignoring his advice when he held the said post. While the verbal spat between Upendra and Nitish was making the news headlines, Upendra Kushwaha's car was pelted with stones by some of the protestors. Reportedly, on 30 January 2023, after Kushwaha reached Arrah from Buxarin Bihar, some people stood near Upendra Kushwaha's car holding black flags. During this, there was a fuss generated between the protestors and Upendra's supporters in which the protestors pelted stones at Kushwaha's car. After this, the workers of Kushwaha Samaj beat up the protestors. [5]ABP Live Following this, he took it on his social media and tweeted,
Some anti-social elements attacked my car at Nayka Tola, Jagdishpur (Bhojpur). They ran away when security personnel tried to chase them."
अभी भोजपुर जिला के जगदीशपुर में नयका टोला मोड़ के पास से गुजर रहे काफिला में शामिल मेरी गाड़ी पर कुछ असामाजिक तत्वों ने अचानक हमला कर दिया, पत्थर फेंका। सुरक्षाकर्मियों के दौड़ने पर सभी भाग निकले।@NitishKumar @bihar_police

— Upendra Kushwaha (@UpendraKushJDU) January 30, 2023
In an interview, while talking about this incident, Kushwaha said,
While some of the persons pelting stones had covered their ..faces with mufflers , others had uncovered faces. I will tell everything about these people at an appropriate time."
Following this, on 31 January 2023, Bihar's Chief Minister Nitish Kumar announced his deputy and RJD leader Tejashwi Yadav as his successor for the 2025 state polls, which urged Kushwaha to go against Nitish Kumar. [6]The Times of India In an interview on 31 January 2023, Upendra, who is at loggerheads with Nitish Kumar, outbursted at him and said,
I was given a lot of respect as I was made the chairman of the Parliamentary Board. But it was a 'jhunjhuna.' Even after being the chairman of the Parliamentary Board, I cannot nominate a member. No attention was paid to my suggestions." [7]News9Live
"Blood would flow on the streets"
After the defeat of the 2019 Lok Sabha elections, Kushwaha made a controversial statement in which he warned NDA leadership that if the result of the elections deteriorated, the blood would flow on the streets; however, after he received a notice from Election Commission, he clarified that his intention was not of provoking violence. [8]NDTV
Car Collection
He owns a Bolero.
Assets & Properties
Movable Assets
Bank Deposits: Rs. 1,341,470
Motor Vehicles: Rs. 5,00,000
Immovable Assets
Agricultural Land: Rs. 32,40,000
Residential Buildings: Rs. 15,00,000
Note: The given estimates of movable and immovable assets are according to the year 2019. It excludes the assets owned by his wife and dependents (minor). [9]MyNeta
Net Worth
Upendra Kushwaha's net worth for the financial year 2019 was estimated to be Rs. 67 lakhs. It excludes the net worth of his wife and dependents (minors). [10]MyNeta
Facts/Trivia
During his graduation days, Upendra learned his political ropes from the dear friends of Upendra's father, Jayaprakash Narayan and Karpoori Thakur. The two-time Bihar Chief Minister Karpoori Thakur guided Upendra while he was staying with him at his residence.
In 1985, when Upendra joined the youth wing of the Lok Dal, he was a junior to Nitish Kumar, co-founder of the Janata Dal (United). Upendra was fascinated by Kumar and hence, on his suggestion, he added Kushwaha to his name as according to Kumar, the name would help boost his political standing.
Upendra has left Janata Dal (United) three times in 17 years and has turned back.