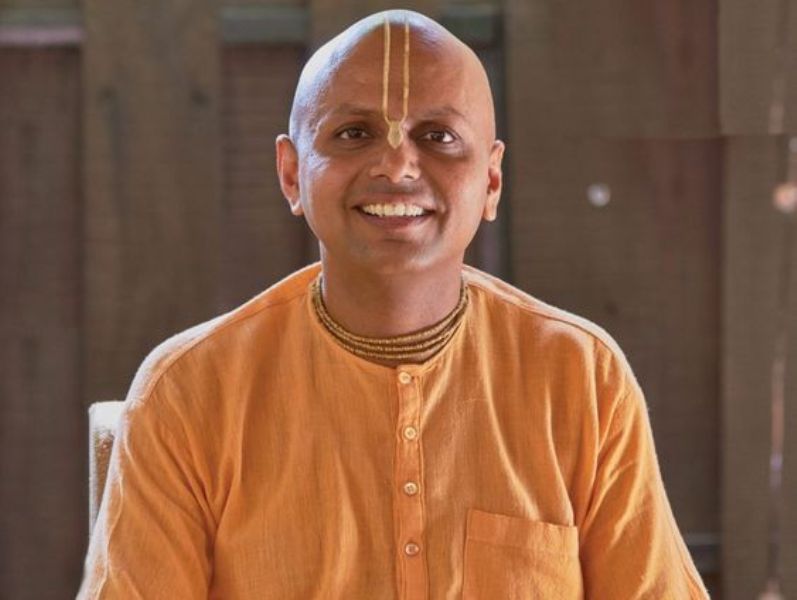 Gaur Gopal Das is an Indian monk, lifestyle coach, motivational speaker, author, and former electrical engineer who is globally known for sharing deeper spiritual, corporate, and personal insights with the world. He is considered to be one of the most famous monks in India. His teachings relate to the Vedas, which he shares through practicality, logical reasoning, and a subtle form of humour with the followers. Das is a disciple of Radhanath Swami and a senior saint in the International Society for Krishna Consciousness (ISKCON).
Wiki/Biography
Gaur Gopal Das was born on Monday, 24 December 1973 (age 49 years; as of 2022) in Wambori (also spelt as Vambori) village of Ahmadnagar district in Maharashtra, India. His zodiac sign in Capricorn. He grew up in Pune. Das pursued a diploma in electrical engineering at The Cusrow Wadia Institute of Technology in Pune, Maharashtra. He earned a bachelor's degree in Electrical Engineering (1992-1995) from COEP Technological University in Pune.
Physical Appearance
Height (approx.): 5′ 7″
Hair Colour: Bald
Eye Colour: Black
Family
Gaur Gopal Das belongs to a middle-class Marwari Jain family in Wambori, Maharashtra.
Parents & Siblings
His father worked for the Meteorological Department of India. In 2009, he lost his father, who was suffering from Parkinson's disease. Gaur Gopal Das has a younger sister.
Wife 
He is a celibate.
Religion & Sect
Gaur Gopal Das follows Vaishnavism (Gaudiya Vaishnavism), one of the major Hindu denominations.
Signature
Career
Electrical Engineer
Gaur Gopal Das worked as an electrical engineer at Hewlett Packard (HP), an American multinational information technology company. In 1996, he resigned from the company and decided to upgrade his career to become a monk and a lifestyle coach.
Monk
In 1996, Gaur Gopal took Diksha (Initiation) from his religious teacher Radhanath Swami.
Monastery
Gaur Gopal started his religious career by entering a monastery in Mumbai in 1996. Das, who had experienced great achievements in academics, was surprised to see many intellectual monks in the monastery with more great achievements in different fields of life. In an interview, Gaur Gopal Das talked about his journey in the monastery and revealed that he faced humility when he entered the monastery, where he saw around thirty monks with excellent academic backgrounds; however, when he was the disciple of Radhanath Swami, he learnt that humility is an incredible quality for growth in any field including professional, spiritual, and professional.
Daily Monestry Routine
Gaur's regular days in the monastery start around 3 a.m. in the morning following a group meditation, which continues till a quarter past 7 and ṭhen followed by breakfast. After breakfast, everyone in the monastery would gather for discussion on scriptures and spiritual principles that take place till 9 am after which everyone performs their respective work since the monastery is an institution, where everyone is engaged in different things such as taking online classes, handling the digital platform, and attending guests. After having lunch at around 2:30 pm, the monks come together for some discussions again and then some of them would go out in the evening to share it with students of different universities; Gaur, in an interview, revealed that he shared his teachings with people by reaching out to them just like other monks for around four to five years, and then he switched to the online mode of teaching and started sharing his experiences and teachings to the people through a digital platform. Before going to bed, Gaur Gopal Das practices gratitude, recounting all the things that happened during the day. [1]BeerBiceps – YouTube
Meditation
Gaur Gopal Das, who used to find meditating hard with complete presence of mind, spends around one and a half hours meditating regularly. In an interview, he revealed that during his initial days in the monastery, he was taught mantra meditation, which is chanting on beads. He added that it was hard for him to be present mentally in the sound of chanting and to meditate with a calm mind. While talking about his meditation routine in an interview, Gaur Gopal Das, who eats one meal a day by himself, training his mind to be present in the moment, revealed that he believes performing daily tasks is itself a meditation which automatically affects the mainstream of meditation practice. [2]BeerBiceps – YouTube
Teachings
Gaur Gopal Das shifted his teachings to the online mode and started sharing his spiritual and personal teachings with millions on the internet. In 2005, he started travelling to address people from different fields of work at various events organised in different cities. Gaur is more into the corporate world, and most of his flights are for corporate teachings. He has spoken at various prestigious academic institutions and corporate firms in many countries including the United States and England.
Awards & Honours
February 2016:  Rotary International's 'Super Achiever Award' issued by Rotary Club Mumbai, India for outstanding contribution to the field of spirituality and inspiration
 June 2017: 'YouTube Silver Creator Award' issued by YouTube for crossing 100,000 subscribers on the YouTube channel 'Gaur Gopal Das'
January 2018: 'Ideal Youth Spiritual Guru Award' by MIT World Peace University, Pune to recognise contributions in motivating and guiding the world in the values of simple living and high thinking
March 2018: 'Best Spiritual/Motivational Show On The Web' by Indian Wiki Media, Alt Balaji for the best spiritual content on the web
October 2018: 'YouTube Gold Play Button' by YouTube for crossing a million subscribers on the YouTube channel
October 2018: 'Gandhi Peace Prize' by Bharat Nirman Foundation at the 10th Asiad Literature Festival at Ethiraj College for Women in Chennai, Tamil Nadu for spreading peace and harmony in the world
November 2018: 'Doctor of Letters (Honoris Causa)' by Kalinga Institute of Industrial Technology (KIIT), Bhubaneswar, Odisha in recognition of outstanding and distinguished personality and motivating skill to make people think logically with reasoning
February 2019: 'The Extraordinaire Spiritual Leader Award' by Brand Vision and Nex Brands in partnership with Times Network and Kamdhenu Nxt for extraordinary spiritual leadership
February 2019: 'IMAI Award' by The Kaizen Institute India for leadership in promoting personal excellence
April 2019: 'Bharat Shiromani Award,' an award given to those Indians who have achieved excellence in their respective field, by the Shiromani Institute
May 2019: 'Mahatma Gandhi Leadership Award' by NRI Welfare Society for extraordinary achievement in spreading awareness of value-based leadership around the world
June 2019: 'Certificate of Recognition' by  California State Assembly, the lower house of the California State Legislature, for promoting world peace and global harmony
October 2019: 'Man of the Year' award by Junior Chamber International (JCI), a non-profit international non-governmental organization, Marine Drive, Mumbai to recognise the work done for the society
November 2019: ' Atta Galatta-Bangalore Literature Festival Book Prize' by Atta Galatta Book Stores (Bangalore Literature Festival) for the book "Life's Amazing Secrets: How to Find Balance and Purpose in Your Life" for the popular choice in the category of nonfiction
December 2019: 'Most Stylish International Life Coach' by Lokmat Media Pvt. Ltd., a media house, for making wisdom contemporary relevant and stylish
January 2020: 'Diamond of Cusrow Wadia Institute of Technology' by Cusrow Wadia Institute of Technology (CWIT) Alumni Association to honour and recognise the best alumnus of the college doing exceptional work in the world
January 2020: 'Crossword Book Award' (Popular Choice Award) by Crossword Book Stores for the book 'Life's Amazing Secrets: How to Find Balance and Purpose in Your Life'
February 2020: 'Most Influential Global Speaker Leader' by the Arts For Peace Awards, Beverly Hills California for excellence in conveying messages of wisdom and arts
February 2020: 'Dadasaheb Phalke Global Change Maker of the Year 2020' by Dadasaheb Phalke International Film Festival (DPIFF) for spreading transformational wisdom and bringing change globally
February 2020: 'American Eagle Award' by the Jewish Community of Beverly Hills, California for being an iconic global peace leader
February 2020: Listed amongst the 101 most fabulous global coaching leaders by the 'World HRD Congress,' a leadership platform for human resource leaders, 'ET Now,' an English-language business and finance news channel in India, and 'Canadian University Dubai,' a university in Dubai, United Arab Emirates
December 2021: 'Bharat Gaurav Award' by Sanskriti Yuva Sanstha for distinguished service to the nation and outstanding individual achievements
March 2022: 'Hall of Fame 2022 Award' by Pune Times Mirror, an Indian tabloid daily edition newspaper published in the English language, for the significant contribution made as a lifestyle and motivational strategist
March 2022: 'Global Leader, The Extraordinaire' by 'NexBrands Inc,' a marketing consultancy company, and 'Brand Vision Marketing,' a Canadian marketing agency, in recognition of the global impact created by thought leadership
April 2022: 'Most Positive Social Media Influencer' by India Today, a weekly Indian English-language news magazine, and RPG Group, an Indian industrial and services conglomerate, for influencing people's lives with positivity and happiness
September 2022: 'COEP Abhimaan Award' by the alumni association of the College of Engineering, Pune for being a distinguished alumnus of the College of Engineering, Pune (COEP)
Notable Work
In 2018, Gaur Gopal Das wrote his first book 'Life's Amazing Secrets: How to Find Balance and Purpose in Your Life,' which is an extract of his experiences and lessons from life that help readers to align their life the way they want.
In 2020, he wrote 'The Way of the Monk: The Four Steps to Peace, Purpose and Lasting Happiness,' a book about how to make life happier and easier even in hard times.
In 2022, Gaur Gopal wrote a book titled 'Energize Your Mind: A Monk's Guide to Mindful Living,' which is about how the mind works.
Facts/Trivia
During childhood, Das pictured himself as someone who would try to make an impact in the world through his work.
As a child, Gaur Gopal Das used to be a pampered boy, who never ate a meal at home if it wasn't made according to his taste and preference. [3]

BeerBiceps – YouTube
Gaur Gopal Das is a vocalist and a guitarist.
In an interview, Gaur Gopal Das talked about his inspirations and said that he feels fortunate enough to be surrounded by people who worked selflessly to make an impact in the world. He revealed that one of his neighbours, who was a school teacher, used to teach many students from vernacular backgrounds, who would come to his home for four days a week in the evenings to learn English grammar and spoken English. Later, Gaur Gopal found out that the teacher was doing that for free. In the interview, Gopal added that when he grew up, there was a group of around 60 youngsters of the 18-24 age group near his house, who told their mothers to save a fist full of rice every single time they would cook it and once a month, the youngsters would bring all the rice together, gather some money from their parents to buy ingredients to cook khichadi, sambar, or dal, and would share it among the needy. Gaur Gopal Das added that he was inspired by his father, who would work extra hours to give his best at work so that someone somewhere would get its benefit.
Following such experiences, Gaur Gopal Das, while pursuing a degree in engineering, decided to try something like that for which he went to two necessitous 10th-grade students and taught them Mathematics two hours a day for a year as they were not good at it. According to Gaur, this was his first experience of helping someone. [4]

BeerBiceps – YouTube
After entering a monastery in Mumbai, Das faced some difficulties to get adjusted. Gaur Gopal Das, who ate at home only if the meal was cooked according to his taste and preference as a kid, had to eat whatever is cooked in the community kitchen of the monastery. During his initial years of training, the monasteries did not have enough money to prepare different meals in a week because of which the same vegetable was cooked for five days a week. Gaur adapted to such changes in his lifestyle and soon realised that he did not come to the monastery for living a luxurious life but with the purpose of deepening his own spiritual calling and sharing it with other people, which was much more important than such things, and as soon as he started focusing on his purpose of coming to the monastery, such things stopped bothering him that much.
He considers Sruti Dharma Das as his mentor;  Sruti Dharma is the Temple President of ISKCON's Bhaktivedanta Manor in the United Kingdom.
Gaur Gopal Das actively contributes to the welfare of society and has spoken at many charity events to raise funds for social initiatives in the field of education and rural development.
He has spoken at the House of Commons of the United Kingdom.
He holds the title of 'The Ideal Young Spiritual Guru,' conferred upon him by the Indian Student Parliament, MIT Pune.
Gaur Gopal has partnered with many institutions like Google, Salesforce, Bombay Stock Exchange, CII, and Young Presidents' Organisation (YPO) among others.