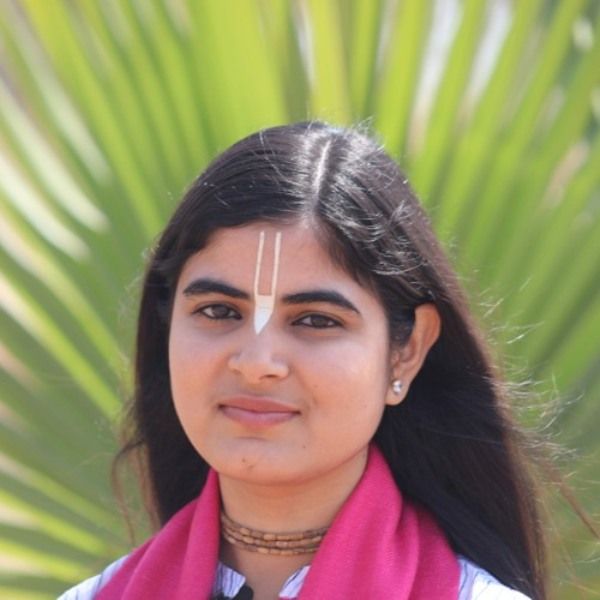 Devi Chitralekha is a popular Indian spiritual saint, Bhagwat preacher, and motivational speaker. She is one of the youngest spiritual saints in India.
Wiki/Biography
Devi Chitralekha was born on Sunday, 19 January 1997 (age 23 years; as in 2020), in the Khambi village of Palwal District, Haryana. Her zodiac sign is Capricorn. She did her schooling from a local government school in her village.
Physical Appearance
Height (approx.): 5′ 3″
Eye Colour: Black
Hair Colour: Black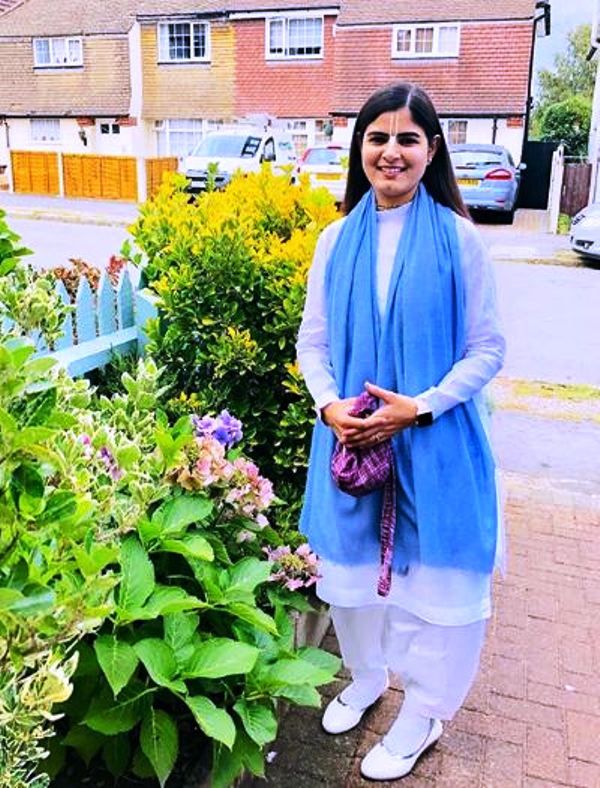 Family & Caste
She was born in a Brahmin family. [1]World Sankirtan
Parents & Siblings
Her father's name is Tukaram Sharma, and her mother's name is Chameli Devi. She has an elder brother, Partyaksh Sharma. Her grandfather's name is Late Radha Krishan Sharma and grandmother's name is Kishnadei.
Husband
On 23 May 2017, she got married to Madhav Prabhu Ji (Madhav Tiwari) at Gau Seva Dham Hospital in Palwal, Haryana. Madhav Prabhu hails from Bilaspur, Chattisgarh, and later, they got settled in Palwal, Haryana.
Beginning of the Spiritual Life
After Devi Chitralekha was born, many renowned saints and hermits visited her house. The saints used to feel that there is something special about her and started calling her a miraculous child. Once a saint said,
She would surprise the people around the world as a great "enlightened person" in the near future."
Her parents and grandparents were spiritually inclined, so they used to take her at various spiritual events. At the age of 4, she was initiated into the procession of 'Gaudiya Vaishnavism.' Gaudiya Vaishnavism is a Vaishnava Hindu religious movement inspired by Chaitanya Mahaprabhu under the guidance of a Bengali saint called 'Shri Shri Girdhari Baba.' When she was 6 years old, she attended the preaching event of an esteemed saint of Brij, Ramesh Baba. While the preaching was about to finish, Ramesh Baba handed over the mike to Devi Chitralekha and asked her to say something. She made everyone spellbound by sharing her spiritual views for almost half an hour. This marked the beginning of her journey as a spiritual and motivational speaker.
Journey as a Spiritual Saint and Motivational Speaker
She started reciting Kathas and Pravachans at various religious events. Her first 7 days long "Shri Bhagwat Katha" was organised by her guruji in Tapovan near Vrindavan, Uttar Pradesh. Her parents were not sure about how she will manage to deliver a speech in such a long event. They asked her guruji to organise 2 days preaching program instead of 7 days long 'Shri Bhagwat Katha.' Devi Chitralekha's guru had a belief that she will successfully deliver 7 days long "Shri Bhagwat Katha." He said,
It is my blessing that 7 days Shri Bhagwat Katha will remain successful because "Radha Mata" has shown me in my dream that flowers rain will fall here from heaven."
Later, she organised many "Shri Bhagwat Kathas," and became one of the most popular spiritual speakers in India. Her spiritual speeches are telecasted on many religious TV channels. Through most of her Pravacahns, she tries to spread the wave of 'Radhe Krishna and Hare Krishna Mantra.'
She has delivered pravachans in India and abroad. She recites pravachans along with bhajans, which are quite popular. Some of her famous Bhajans are – 'Mera Aapki Kripa Se,' 'Krishna Krishna,' 'Ek Tera Sahara,' 'Jab Koi Nahi Aata,' 'Lakhon Mahfil', 'Radhe Radhe,' 'Gopi Geet,' and 'Mera Jeevan Hai Tere Hawale.'
Working for the Welfare of Cows
On 10 March 2008, she started 'World Sankirtan Yatra Trust' in Palwal, Haryana. The mission of the trust is to 'preserve Hindu culture and heritage of India,' 'disseminating the holy name of God,' 'preaching Bhagwat Katha all over the world,' and 'gau seva.'
Once, Devi Chitralekha saw an injured cow lying on the roadside. She immediately provided first aid to the cow. She then decided to do something for the welfare of the abandoned and injured cows. In 2013, she started 'Gau Seva Dham Hospital' in Palwal, Haryana. She visits the centre regularly to keep a check on the condition of cows.
Facts/Trivia
She does not like that people call her 'Devi,' because she considers herself a preacher of God.
She is given the name 'Devi' by her followers. Her birth name is Chitralekha Sharma.
She loves to play the harmonium.
Many renowned celebrities appear as a guest on her various religious events.
She even shed tears while reciting pravachans; as she gets deeply involved while reciting them.
She has more than one million subscribers on her YouTube channel.
In 2019, she was honoured by the "World Book Of Records" for being the youthful Bhagwat preacher.