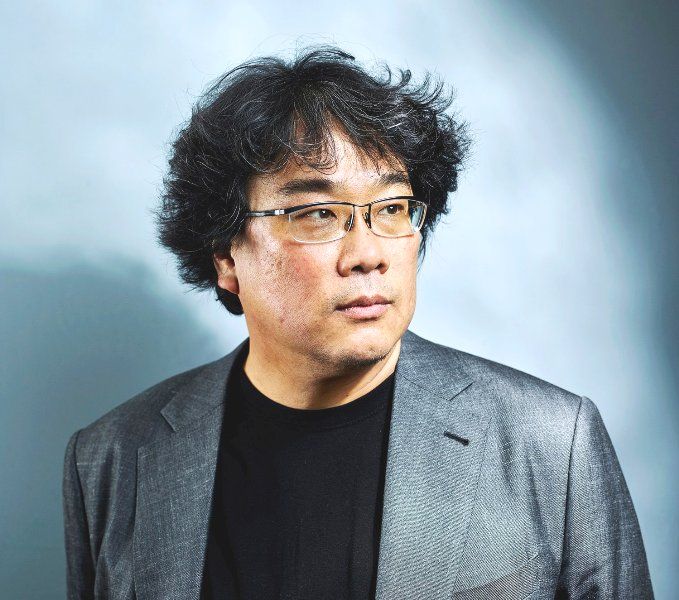 Bong Joon-ho is a South Korean film director, screenwriter, and producer who is known to make films on social themes, genre-mixing, black humour, and mood shifts that may send one to a roller coaster ride of emotions. He has been nicknamed 'Bong Tae-il' by the insiders in the Korean film industry. 'Bong Tae-il,' when pronounced in Korean, makes a similar sound as the word 'detail.'
Wiki/Biography
Bong Joon-ho was born on Sunday, 14 September 1969 (age 50 years; as in 2019) Bongdeok-dong, Nam District – Daegu, North Gyeongsang Province, South Korea. His zodiac sign is Virgo. While Bong was studying in elementary school, his family relocated to Jamsil-dong in Seoul. From there, he did his schooling from Jamsil High School, Songpa-gu, Seoul. He enrolled at Yonsei University, Seoul in 1988 to do his majors in Sociology. In 1992, Bong returned from his mandatory military service and completed his graduation in 1995.  He completed a two-year program in filmmaking from Korean Academy of Film Arts (KAFA), Busan.
Physical Appearance
Height (approx.): 6′
Eye Colour: Black
Hair Colour: Black
Family & Ethnicity
Ethnicity
Bong Joon-ho belongs to a Catholic Family. [1]BFI-Sight & Sound
Family & Siblings
His father, Bong Sang-kyun (died in 2017) was a graphic designer, a professor of Applied Arts at Seoul National University of Science and Technology, and his mother, Park So-young was a homemaker.
He is the youngest of the four siblings (2 brothers and 2 sisters). His brother, Bong Joon-soo is an English Professor at Seoul National University. His sister, Bong Ji-hee is a fashion designer and a Professor of Fashion Designer at Hanyang University.
Wife and Children
He got married to the screenwriter Jung Sun-young in 1995. The couple has a son named Bong Hyo-min.
Career
Short Films
During his college days, he formed a film club called "Yellow Door" with the students from neighbouring colleges like Hongik University, Ewha Womans University, and Sogang University.  He made short films with them; the first ones being, "Paradise" (1994) and "Baeksaekin (White Man)" (1994). Out of which, the latter was screened at the Vancouver and Hong Kong international film festivals. He made some more short films such as "Incoherence" (1994), "The Memories in My Frame" (1994), Twentidentity (2003; segment- Sink & Rise), Digital Short Films by Three Directors (2004; segment- Influenza), Tokyo! (2008; segment- Shaking Tokyo), and 3.11 A Sense of Home (2011; segment- Iki). He also collaborated several times with his classmates including working as a cinematographer in highly acclaimed 2001 Jang Joon-hwan's short film "Imagine" and Hur Jae-young's short film "A Hat." He also worked as a lightening director in "Sounds From Heaven and Earth" by Choi Equan, and "The Love of a Grape Seed."
Feature Films – Director and Producer
After his graduation, he worked with other directors in various filmmaking capacities. He received partial credit as a screenwriter for the  1996 film "Seven Reasons Why Beer is Better Than My Lover." In 1997, Bong Joon-ho made his debut as a screenwriter with the 1997 film "Motel Cactus."
He made his directorial debut with the film "Barking Dogs Never Bite" (2000).
He rose to international prominence with his film "The Host" (2006). The film received an ecstatic premiere in the Director's Fortnight section at the 2006 Cannes Festival. His first English-language film "Snowpiercer" was released in 2013. He directed and wrote the screenplay of many films such as Memories of Murder (2003), Antarctic Journal (2005), The Host (2006), Mother (2009), Snowpiercer (2013), Sea Fog (2014), Okja (2017), and Parasite (2019). He made his debut as a producer with the film "Sea Fog" (2014). He has also produced the films Okja (2017), and Parasite (2019).
Television
He made his television debut as an executive producer of the 2020 American television drama series "Snowpiercer."
He is also the executive producer of the upcoming American TV show "Parasite." He has appeared in the American TV show, Late Night with Jimmy Fallon in December 2019.
Other Works
He acted for the first time in his own short film "Incoherence" (1994) as a 'Delivery Boy.'
He made cameo appearances in the films like No Blood No Tears (2002), Crush and Blush (2008), Can I Borrow a Light (2009), and Doomsday Book (2012). He also made appearances in the documentaries such as Two or Three Things I Know about Kim Ki-young (2006), Kurosawa's Way (2011), Ari Ari the Korean Cinema (2012).
Awards & Honours
British Academy Film Awards – Best Original Screenplay and Best Film Not in the English Language for "Parasite" in 2020
Writers Guild of America Awards for Best Original Screenplay for the film "Parasite" in 2020
Critics' Choice Movie Awards for Best Director for the film "Parasite" in 2020
Australian Academy of Cinema and Television Arts (AACTA) Award for Best Asian Film for "Parasite" in 2020
Eungwan Order of Cultural Merit (the second highest class of national cultural medals) by the Ministry of Culture, Sports, and Tourism (South Korea) in 2019
Los Angeles Film Critics Association Award for Best Director for the film "Parasite" in 2019
Asia Pacific Screen Awards for Best Feature Film for "Parasite" in 2019
Cannes Film Festival for Palme d'Or for the film  "Parasite" in 2019
Ordre des Arts et des Lettres – Officier in 2016
Academy Awards
Best Picture for "Parasite" in 2020
Best Director for the film "Parasite" in 2020
Best Original Screenplay for the film "Parasite" in 2020
Blue Dragon Film Awards
Audience Choice Award for the film "Memories of Murder" in 2003
Best Film for "The Host" in 2006
Audience Choice Award for the film "The Host" in 2006
Best Film for "Mother" in 2009
Best Director for the film "Snowpiercer" in 2013
Best Film for "Parasite" in 2019
Best Director for the film "Parasite" in 2019
Buil Film Awards
Best Film for "Mother" in 2009
Best Film for "Snowpiercer" in 2013
Best Film for "Parasite" in 2019
Best Screenplay for the film "Parasite" in 2019
Grand Bell Awards
Best Film for "Memories of Murder" in 2003
Best Director for the film "Memories of Murder" in 2003
Best Director for the film "The Host" in 2007
Korean Association of Film Critics Awards
Best Film for "Memories of Murder" in 2003
Best Director for the film "Memories of Murder" in 2003
Best Film for "Mother" in 2009
Best Screenplay for the film "Mother" in 2009
Best Film for "Snowpiercer" in 2013
Best Director for the film "Snowpiercer" in 2013
FIPRESCI Award for the film "Okja" in 2017
Best Film for "Parasite" in 2019
Best Director for the film "Parasite" in 2019
Controversies
Actress Kim Hye-ja, at the screening of the black and white version of the film "Mother" (2009) said that Bong Joon-ho had allegedly asked the actor, Won Bin to touch her breast; when the scene was not in the script. The issue was brought up in 2019, with social media users and various media outlets terming the incident as her 'MeToo Story.' When the things went out of hands, Hye-ja, clearing the matter, said, [2]

Soompi


I was absolutely flabbergasted when I saw the articles and comments. I have blisters on my lips because I've been so upset. It was my mistake trying to explain it in a fun way, but to say that it was 'Me Too' as if I had witnessed something big? To say that director Bong and Won Bin planned to fool me and sexually harassed me? I feel scared and embarrassed even saying this. Mother' was a film where I talked a lot with director Bong and he said to me, 'I'm not a mom so I think you'll probably know the mind of the mom in the film more than me.'" Explaining the situation at the time, she said, "Now that I think about it, director Bong said to me before filming began, 'Do Joon could put his hand on his mom's breast,' and I said, 'So what if he puts his hand on it. A mentally challenged son can sleep while touching his mom's breast.'" According to the actress, she spoke with the director before filming the scene, and it proceeded after it was discussed in advance."
In 2012, The Weinstein Company brought the distribution rights to the film "Snowpiercer" (2013) from CJ Entertainment with a plan of a wide release in North America, the United Kingdom, Australia, New Zealand, and South Africa. Harvey Weinstein, an owner of The Weinstein Company, requested 20 minutes of the footage from the film to be edited and opening and closing monologues to be added, but Bong disagreed. This resulted in a delay on the part of the film's release. Eventually, Bong succeeded in getting the film released in an uncut form. However, the distributor of the film was switched to TWC later. [3]

Indiewire
Signature
Favourite Things
Filmmakers: Edward Yang, Hou Hsiao-Hsien, Shohei Imamura, John Frankenheimer, Sidney Lumet, and John Schlesinger, Martin Scorcese
Film: The Wages of Fear (1953)
Net Worth
He has an estimated net worth is Rs. 214.53 crores (as in 2020). [4]International Business Times
Facts/Trivia
He likes watching film and collecting blu-rays.
Bong Joon-ho's artistic sense comes from his family. His father was a graphic designer, and his maternal grandfather, Park Taewon was a renowned Korean writer.
He never got a chance to meet his maternal grandfather; because their family had separated after the Korean War. His grandfather lived the rest of his life in Pyongyang, North Korea. His mother's sister's also lived there and reunited in 2006 after 56 years.
Since his childhood, he loved watching movies. When he was in middle school, he decided to become a film director.
He was a part of the student demonstrations for the South Korean democracy movement, where Yonsei University had become one of the hotbeds for the movement. Bong, as a student activist, demonstrated for expansion of democratic rights, labour unions, and reunification with North Korea. Talking about it, he says,


We hated going to class. Every day was the same: protest during the day, drink at night. Except for a few people, we didn't have much faith in the professors at the time. So we formed study groups of our own covering politics, aesthetics, history. We'd drink until late at night, talking and debating." He adds, "I'm not the kind of person who likes to be stuck in a group, so even while we were protesting, I would leave and go watch a movie. The lead organizers probably thought I was a bad activist."
During his years as an activist, Bong, along with the other protesters, used to make Molotov cocktails from a mixture of paint thinner and water, which were visually explosive but less dangerous as compared to those made with gasoline. He was even arrested for hurling the explosives.
During demonstrations, the protestors used to throw rocks and police used to throw tear gas canisters from cannon. He was also subjected to tear gas in the first two years of his college, describing the experience, Bong said,


It was a very traumatic smell. It's impossible to describe: nauseating, stinging, hot. It's strange, sometimes I smell it in my dreams. Usually, dreams are images, but I sometimes have this sensation of smelling it. It's really horrible, but I guess that's the way it would be.
During his college days, Joon-ho used to teach the children from a wealthy background in his locality.
He was once a member of now dysfunctional New Progressive Party and is seen supporting the Democratic Labor Party.
Many of the American celebrities like Chris Evans, Brad Pitt, and Quentin Tarantino talk about Bong Joon-ho and express their desire to work with Bong. In an interview, Quentin Tarantino, talking about Bong said,


Of all the filmmakers out there in the last 20 years, he has something that [1970s] Spielberg has. There is this level of entertainment and comedy in his films. [The Host and Memories of Murder] are both masterpieces … great in their own way."
In an interview, Bong confessed that he writes his scripts and does the storyboarding himself. In addition, he said that he wanted to become a cartoonist in his next life; as he loved manga.
Bong's movies take years to plan; as the idea of his Oscar-winning film "Paradise" (2019) came to him back in 2013.
During his award acceptance speech at Oscars, Bong Joon-ho told that he grew up watching the films by Martin Scorcese and also quoted a phrase of Scorcese,


The most personal is the most creative.