Indradyumna Swami is an American religious scholar of Lord Krishna bhakti and an ISKCON preacher. He served as a marine commando before participating in ISKCON. He was initiated by Swami Prabhupada, the founder of ISKCON, and has travelled across different countries of the world spreading the message of Krishna Bhakti. He gives lectures, organises religious congregations known as sankirtanas, festivals, and tours of Vrindavana. He is regarded as one of the most active preachers of ISKCON. He is a disciple of the Indian spiritual leader A. C. Bhaktivedanta Swami Prabhupada (Srila Prabhupada). He travels around the world to promote Krishna consciousness through his lectures and kirtans. Through his diary series, he shares his experiences. Based on his lectures, various videos, photos, and books are made.
Wiki/Biography
Indradyumna Swami aka Brian Tidbits was born on Friday, 20 May 1949 (age 73 years; as of 2022) in Palo Alto, California, US. His zodiac sign is Taurus. When he was four years old, he was diagnosed with Spinal Meningitis and recovered after being admitted to the hospital and taking medications for multiple months. When he was six years old, he saw an accident in his neighbourhood in which a dog was crushed to death by a car. He attended the local school; however, he was not interested in his studies. When he was twelve years old, his teachers asked the students to draw the food items which they wanted to eat on Thanksgiving Day. Indradyumna Swami drew only vegetables, which his teachers and friends found hilarious and odd, and he later refused to eat meat for which his father became angry with him and sent him to bed without any food. He used to surf on the waves of Stinson Beach, near San Francisco. He was selected in the Marine Corps in the US Army and fought in Vietnam during the US-Vietnam war. He killed many people before refusing in front of his superiors to fight anymore for which he was immediately jailed. After a few days, he was released from jail and discharged from the US Army.
Physical Appearance
Height (approx.): 5′ 11″
Weight (approx.): 75 kg
Hair Colour: Bald
Eye Colour: Black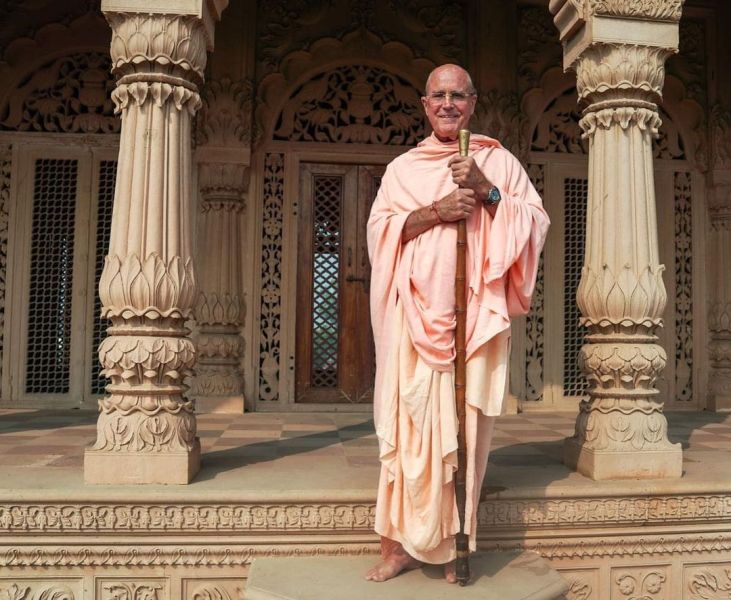 Family
He was born into a Christian family.
Parents & Siblings
Although his mother was not religious, she became a Lord Krishna devotee during the last years of her life and died due to cancer. He has a sister and a brother named Pete.
Wife & Children
He married in 1970 at the age of nineteen. His wife's name is Kapmayee Devadasi. He has a son named Gaura-Sakti.
Religious Views
Indradyumna Swami believes in Lord Krishna bhakti and has established many temples, groups, Prasada (food offering for the god) distribution programs, and kirtanas. He has claimed on many occasions that humans shall practice bhakti yoga. He has also claimed that Indians are running behind the material lives of the west, and the westerners are adopting the traditional living style of Indians. He also speaks about Swami Prabhupada's vision and often encourages his disciples to adopt the Lord Krishna bhakti initiated by Swami Prabhupada like abstaining from drugs and illicit sex, not eating non-vegetarian food, and not indulging in gambling. He described the Vaishanavas as merciful while talking to his disciples and said that Lord Krishna is behind the creation of every living entity in the universe and said,
Vaisnava's are the embodiment of compassion. This is all accomplished by chanting Hare Krishna Hare Krishna Krishna Krishna Hare Hare, Hare Rama Hare Rama Rama Rama Hare Hare So this incarnation, this maha-mantra appeared from the lotus lips of Caitanya Mahaprabhu 500 years ago and slowly spread around Navadvip and Mayapur. Then Mahaprabhu spread it to South India but His desire was that this holy name would go to every town and village of the world. Why? Because Krishna is the seed giving father of all living entities. He is not just the God of the Hindus! No! All living entities, even the bugs and the germs are Krishna's devotees."
First encounter with Hare Krishna Movement (ISKCON)
After Indradyumna Swami was released from the US Army, he prayed one day to god to give him shelter. At that time, he was nineteen years old and working as a gardener at the house of the President of the University of Michigan. Indradyumna Swami's wife was a good friend of the University President's wife, and she suggested they visit the exhibition of Eastern culture and traditions. The very next day, the couple went to the museum to watch the antique artefacts, and he saw a Rajasthani painting there named Kanha and His Milkmaids enjoying in Heaven depicting the Hindu God, Lord Krishna as a bluish boy dancing with various ladies. He asked a security guard standing there about the painting who did not know much about it. He then tried to find someone else to explain the details of the painting to him; however, it was the museum's closing time, and he left in disappointment. When he came out of the museum, he saw four monks wearing orange robes on a lawn in front of the museum speaking to a crowd around them. He went to the monks and listened to them chanting the praise of Lord Krishna and saw the pictures of A. C. Bhaktivedanta Swami Prabhupada for the first time in the book Sri Isponishad written by Swami Prabhupada. He was amazed at the dresses, chantings, and praise of Lord Krishna and Swami Prabhupada. He suddenly noticed that one of the monks named Subala was not wearing any shoes, and when he asked Subala why he was not wearing the shoes, he replied that he did not have money and Lord Krishna would provide the shoes for him. After a few minutes of this conversation, a person passed by them and asked the crowd if anyone needed size nine tennis shoes. Subala told the person that he wore a size nine, and the person handed over the shoes to him. Subala then waved at Indradyumna Swami and showed his shoes to him, which amazed him. He later asked the monks named Vinayjana, Subala, Gargamuni, and Brahmananda to accompany him to his house, which they accepted, and on the way, he paid the bill of the ingredients bought by the monks for the Prasada, food offerings to Lord Krishna. Monks stayed with him for three days and taught him about the religious practices, Prasada, and the Hare Krishna movement (ISKCON). When the monks left, they left behind a picture of Lord Krishna, a picture of Swami Prabhupada, and a silver spoon for Indradyumna Swami.
Initiation & Sanyasa
After the monks left, Indradyumna Swami went to the Hare Krishna Temple in Florida; however, when a monk at the temple said that Vinayjana was not welcome at the temple, he became angry and left the temple. He later decided to go back to the temple to know more about Lord Krishna. He started participating in the religious congregations known as Kirtana, distributed religious books such as Bhagavad-gita and Srimad-Bhagavatam and gradually became more inclined towards the teaching of Swami Prabhupada and decided to become a preacher himself. He later attended many religious sessions of Swami Prabhupada and travelled across various cities with him. Swami Prabhupada named him Indradyumna Das and initiated him into the Hare Krishna movement in December 1971. [1]ISKCON Tree
He left the US in 1972 and went to Europe where he helped to open new centres in France, Belgium, Italy, and Switzerland. He lived at the New Mayapura Ashram in (France) with his wife Kripamayee Devadasi and son Gaura Shakti. He preached the teachings of Swami Prabhupada, sang the Kirtanas on the streets of Paris and distributed many books. In 1979, he adopted Sanyas and took the vows in a function held at the Gaura Purnima festival at Sreedhama Mayapura, India and was renamed His Holiness Indradyumna Swami Maharaja.
Following the direct guidance of his teacher, A.C. Bhaktivedanta Swami Prabhupada, Indradyumna Swami has travelled around the world more than 35 times to share the teachings of Krishna consciousness. He does this primarily through his large-scale festival events. These include his yearly Festival of India tour in Poland, the annual Sadhu Sanga Kirtan retreat in the United States (which brings in over 2,000 participants each year), and the Rishikesh Kirtan Fest. The Rishikesh Kirtan Fest is a special event focused on introducing the spiritual principles and practices of Bhakti Yoga to the many yoga enthusiasts who gather in Rishikesh.
Religious Tours
After becoming a Sanyasi in India in 1979, he returned back to France and became the Temple President of the New Mayapura Ashram in 1983. In 1979, he found a travelling festival group that toured all over France sharing India's spiritual teachings and cultural traditions of music, dance, and food. Inspired by that group, he started the Polish "Festival of India" tour in 1990 and spent two months doing Kirtanas and distributing literature based on the life of Lord Krishna. He also toured various countries including Czechoslovakia, Hungary, Yugoslavia and Russia. He also spread the Festival of India to Australia, Brazil, and the USA touring as Le Carnival Spirituel. These events attracted between 5,000 and 10,000 attendees at a time. Since its inception, the "Festival of India" tour has travelled to ten countries across six continents. In 1988, he toured many South American Countries including Salvador, Recife, and Belem. During that same tour, he became the first ISKCON Sanyasi to travel to the Amazon forest to spread the messages of Lord Krishna. In 1992, he was travelling in South Africa, he was hit by a car and took many months to recover from the injuries. In 1995, he travelled to Russia, Baku, Azerbaijan, and Kazakhstan. He was injured in a bomb blast and recovered in 2 months. In 1996, his Polish Festival of India team participated in the Przystanek Woodstock free music festival organized over the first weekend in August each year by Jurek Owsak of the Great Orchestra of Christmas Charity and set up a spiritual tent called "Krishna's Village of Peace." In this event, Indradyumna Swami and his Festival of India team, consisting of more than 500 volunteers, established a spiritual haven called "Krishna's Village of Peace." In the early 1980s, he served as the temple president of the New Mayapur temple and farm near Châteauroux in France. In 2001, he travelled to Russia, South Africa, Poland, and India. In 2003, he toured Poland and Ukraine. His younger brother Pete who had become a drug addict accompanied him on a tour to Vrindavana, India. In 2004, he travelled to Argentina and Paraguay. In 2006, he toured Australia, Mauritius, and England, and took part in the Lord Jagannath Rath Yatra in Puri, India. In 2008, he toured Hong Kong, Poland, the US, and Australia. In 2011, he toured Brazil, England, and India. In 2013, he toured South Africa, India and Poland. He tours India and Poland on a regular basis and preaches the teachings of Swami Prabhupada and organises kirtanas.
Charity Activities
After the Tsunami in India and Sri Lanka in 2001, Indradyumna Swami managed the operations of Food for Life's international relief effort to provide hot meals to 250,000 tsunami survivors in Sri Lanka.
Diary Series
Indradyumna Swami has been writing a famous series called "Diary of a Traveling Monk" since 1995. When he is not organizing festivals, writing, or giving talks, he meets with spiritual and political leaders like the Dalai Lama, the King of the Zulu Nation, and the late Nelson Mandela. To share his teachings with more people, in 2020, Indradyumna Swami started making weekly videos on YouTube. These videos focus on Sri Vrindavan Dhama, which is a special place connected to Lord Krishna in India. These videos turned into a new book series called "The Traveling Monk in Sacred Places," based on what he talks about in his videos. Starting in 2021, Indradyumna Swami has been working to protect the sacred writings of the Gaudiya Vaisnava tradition. He is helping to take care of these ancient texts kept in the Vrindavan Research Institute. This place has more than 32,000 Gaudiya Vaisnava writings, including works by important thinkers like Srila Rupa Goswami, Srila Jiva Goswami, Srila Sanatana Goswami, and Srila Narottam das Thakur. Indradyumna Swami is like a spiritual guide for many people worldwide, including his students, followers, and well-wishers. He spends a lot of his time travelling to holy places in India and living in Vrindavan, a sacred area. Every year, he organizes a special event called Kartika Parikrama. During the holy month of Kartika, they visit many special places in Vrindavan. Hundreds of Bhakti Yoga practitioners come and join in chanting the holy names of Krishna (kirtan) and learning about the spiritual meaning of these places.
His books include:
Diary of a Traveling Monk, Indradyumna Swami; Publisher: Torchlight,
ongoing series
Diary of a Traveling Preacher, Vols. 1-2 (May 1995-November 1996)
Diary of a Traveling Preacher, Vol. 3 (April 2001-January 2002)
Diary of a Traveling Preacher, Vol. 4 (September 2001-April 2003)
Diary of a Traveling Preacher, Vol. 5 (May 2003-November 2004)
Diary of a Traveling Preacher, Vol. 6 (November 2004-December 2005)
Diary of a Traveling Preacher, Vol. 7 (January 2006-November 2006)
Diary of a Traveling Preacher, Vol. 8 (January 2007-January 2008)
Diary of a Traveling Preacher, Vol. 9 (January 2008-November 2008)
Diary of a Traveling Monk, Vol. 10 (November 2010-October 2009)
Diary of a Traveling Monk, Vol. 11 (November 2009-March 2012)
Diary of a Traveling Monk, Vol. 12 (October 2011-March 2012); online only
Diary of a Traveling Monk, Vol. 13 (August 2012-December 2013); online
only
Diary of a Traveling Monk, Vol. 14 (February 2014-November 2018);
online only
Diary of a Traveling Monk, Vol. 15 (February 2019-August 2022); online
only
Vraja-lila, Indradyumna Swami; Publisher: Torchlight (1997 and 2009) Govardhana (The Traveling Monk in Sacred Places), Indradyumna Swami; Publisher: Thomson Press (2019), ongoing series Drums Along the Amazon, Indradyumna Swami; Publisher: Torchlight (2019), ISBN: 9781937731311. Among other international destinations in 2001, he headed up Food for Life's international relief effort to provide hot meals to 250,000 tsunami survivors in Sri Lanka.
Facts/Trivia
He was once surfing in the waves near Rodgers Bay in San Francisco and hit a coral reef while surfing. He was saved from drowning by some people present nearby.
Swami Prabhupada accepted Indradyumna Swami as his duly-initiated disciple by writing a letter dated 10 December 1971 to the Temple President of the temple in East Jefferson, Detroit. Indradyumna Swami considers his initiation date as his birthday as he believes that his journey started on this day. [2]

ISKCON Tree
His name Indradyumna is based on a saintly king described in ancient Indian literature.
Indradyumna Swami was once told by an astrologer that he was a King in present-day Karnataka, India about 1000 years ago and had 2 wives. He donated much of his wealth to hospitals, schools, and temples during his previous life and went to the forest when he became old. The astrologer also said that he prayed during his previous birth to become a sanyasi(a religious man who has denounced the material world), not a grihastha (a married person), and Indradyumna Swami will live a full life and will die a natural death, not from a prolonged illness. [3]

ISKCON Tree
When Indradyumna Swami went to Brazil in 1988, he wanted to go inside the Amazon forest to preach; however, he was not sure how he would manage the expenses and arrange the items for Prasada and medicines. He met the wife of the governor of Amazon state, Mrs Tarcila Mendez who used to come to the Krishna temple. She got excited after hearing her idea and arranged for the boat, food, medicines, books and crew after which he went into the Amazon forests. He became ill on the tour, and his body started turning blue. When he came back to the city after 2 months, he recovered in 3 months from the illness.
He travelled to Russia in 1995, and his bodyguard was Kartikeya Das who was the personal bodyguard of then-Russian President Boris Yeltsin and was given one month's leave to travel with Indradyumna Swami.
In 1979, Indradyumna Swami went to Ahovalam (also known as Ahobilam) in Andhra Pradesh, India, which is known as the land where Lord Narasimha, an incarnation of Lord Vishnu, killed the Demon King Hiranyakashipu and saved Lord Vishnu's devotee and Hiranyakashipu's son Prahlada. His journey inspired many people to go to Ahovalam.
Although Indradyumna Swami's mother was not a religious person; one day, she called him late in the night asking him to take her to the Vrindavana in Mathura, India. He was surprised at her request; however, told her that he would call her back the next day. When he called her the next day, his brother Pete answered the phone and told him that she had passed away. Taking this as a signal from his guru Swami Prabhupada, he dispersed his mother's ashes in the Yamuna river in Vrindavana.
Once Swami Prabhupada gave Indradyumna Swami his dhoti, a piece of cloth, which made Indradyumna very happy. He used to wear that dhoti like a chaddar, a sheet covering his chest.
Indradyumna Swami organises a pilgrimage trip to Vrindavana every year in the month of Karthika, a Hindu terminology for a month, with a group of about 300 pilgrims.
Once he was roaming in the New Vrindavana ashram in France with his son Gaura Shakti. Gaura Shakti was very small and was sitting on the shoulders of Indradyumna Swami. When Gaura saw Swami Prabhupada, he exclaimed with joy and pointed at Swami Prabhupada. In a lecture, Swami Prabhupada referred to Gaura's actions and said that Indradyumna's son Gaura is a divine soul.
Indradyumna Swami has given the Hindu scripture Bhagavad Gita to many eminent personalities like Nelson Mandela.