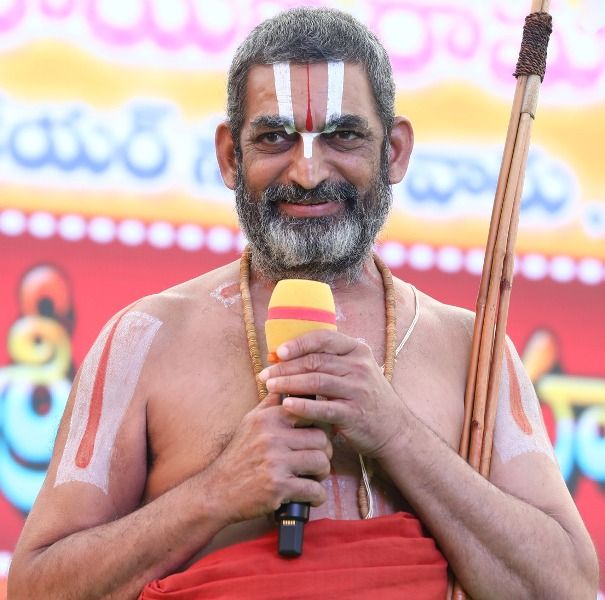 Chinna Jeeyar Swamy is an Indian religious guru and yogi who is well-known for his spiritual discourses on Sri Vaishnavism. He is one of the youngest acharyas in India who have mastered different branches of the Vedic Dharma. In 2023, he was conferred with Padma Bhushan.
Wiki/Biography
Chinna Jeeyar Swamy was born as Arthamuri Sriman Narayana Charyulu on Saturday, 3 November 1956 (age 66 years; as of 2022) in Arthamuru village in East Godavari district of Andhra Pradesh, India. His zodiac sign according to his date of birth is Scorpio; however, according to his official website, his zodiac sign is Libra. He did his schooling at Sri Gowthami Vidya Petam Oriental High School in Rajahmundry, Andhra Pradesh. After the demise of his father, Chinna Jeeyar began saving money to sustain his family.
Physical Appearance
Height: 5′ 7"
Hair Colour: Salt & Pepper
Eye Colour: Brown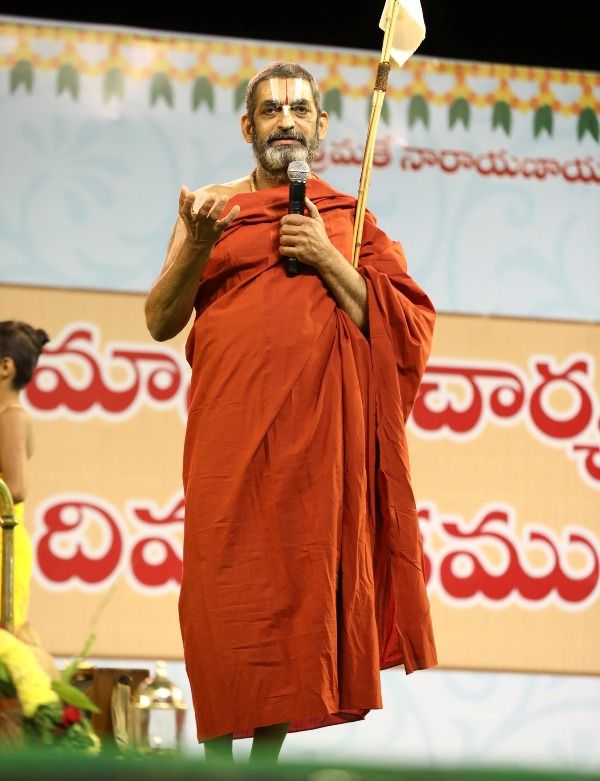 Family & Caste
He belongs to a Tamil family.
Parents & Siblings
His father, Akulamannada Chilakamarri Venkatacharyulu, passed away when Chinna Jeeyar was very young. Chinna Jeeyar's mother, Akulamannada Chilakamarri Alivelu Manga Thayaru, passed away at Chinna Jeeyar Swami Ashram in Muchinthal, Shamshabad Mandal on 11 September 2020.
Chinna Jeeyar has three sisters and a brother.
Wife 
There is not much information about his marital status.
Other relatives 
His grandfather, Tridandi Srimannarayana Ramanuja Jeeyar, also known as Peeda Jeeyar Swami, mentored him and educated him in Sri Vaishnava Sanskrit and Tamil and other Hindu scriptures.
Religion
Chinna Jeeyar Swamy follows the Thenkalai tradition of Sri Vaishnavism, which is a sect within the Vaishnavism tradition of Hinduism. Thenkalai tradition is regarded with reverence to the goddess Lakshmi and the god Vishnu.
Career
Adopting Asceticism
Jeeyar was trained in the Vaishnava tradition by his grandfather, Pedda Jeeyar Swamy. After he died in 1981, Chinna Jeeyar adopted Asceticism at the age of 23 and became the head of Srimad Ubhaya Vedantha Acharya Peetam in Nadigadapalem, a village in Andhra Pradesh. Since then, he has performed thousands of samasrayanams. According to him, his understanding of kainkarya (service) includes modern social services such as providing education for tribal children and shelter for the elderly, orphans, handicapped, and underprivileged. He has conducted many Vedic rituals, yajnas, and homams for humanity's prosperity and welfare. He has enlisted youngsters to propagate the message of Sri Ramanuja and has given discourses on a variety of subjects.
Establishing organizations
Jeeyar Educational Trust (JET)
Jeeyar Educational Trust is a non-profit organisation which was established by Chinna Jeeyar Swamy in 1982. Since then, the organisation has been providing charitable and philanthropic services within India and internationally as well. JET has established various Vedic Research schools, and has provided education to many Vedic scholars. Later, Jeeyar Educational Trust expanded its branches in many places including Hyderabad (1983), Narayankund Nepal (1985), Rajahmundry India (1991), Madras India (1993), and JET USA Inc. USA (1995). The trust helps educate students in Vedic tradition. In 1984, Chinna Jeeyar Swamy established Jeeyar Educational Trust Vedic University on the Southern banks of the river Krishna in Sitanagaram, Guntur district. The school began with 70 students. On 3 May 1987, he established Pancharathra Agama school in the Kakatiya Cements premises, Jagayyapeta, Andhra Pradesh.
Vikasa Tarangini
In 1992, he established another non-profit service organisation called Vikasa Tarangini. The organisation provides free education to the blind and underprivileged tribal and fishermen kids, health care services, free cancer screening camps for women, disaster relief activities, pure drinking water, clothes and free food services, and animal welfare camps. He has spearheaded many spiritual and service activities under the wings of Vikasa Tarangini, which has benefitted several communities.
Controversies
Calling out the tribal goddesses 
In 2022, the Telangana Rashtra Samithi supporters showcased their anger towards Chinna Jeeyar Swamy for 'disrespecting' K. Chandrasekhar Rao, an Indian politician, during the inauguration of the Ramanujacharya's 'Statue of Equality.'  Reportedly, KCR's name was removed from the commemorative plaque of the statue, which was unveiled by Narendra Modi due to which Rao kept himself away from the inaugural event and also the ceremonies that were followed by the inauguration. On 16 March 2022, a video of Chinna Jeeyar surfaced online in which the Veda philosopher was seen mocking Sammakka-Sarakka, tribal goddess Jatara. Chinna Jeeyar questioned the origin and relevance of Sammakka and Sarakka as according to him, they did not descend from heaven, unlike other Brahminical gods. In the video, he was seen calling the goddesses "just forest gods" and said,
It is unfortunate that even politicians and big business people are running after these cheap deities."
Reportedly, Chinna Jeeyar's comments hurt the sentiments of the Adivasi community following which the association lodged a complaint against him at the Chikkadpally police station in Hyderabad. [1]The Siasat Daily Several Adivasi and tribal associations lashed out at Chinna Jeeyar Swamy for insulting their traditional deities Sammakka and Saralamma, and insisted that he should apologise for his comments and said, [2]GreatAndhra
It is the biggest tribal festival in entire Asia. He has insulted lakhs of tribals."
In an interview, Chinna Jeeyar defended himself by saying that he did not insult Adivasi people and also said,
Vikasa Tarangini trust has probably done more for the Adivasi community than any other trust in India and they don't discriminate on the basis of religion or caste. I might have said something, but I wouldn't say it today. I might have said it about 20 years ago."
Hatred towards Non-vegetarians
On 17 January 2022, leaders of Kula Vivaksha Porata Samiti, Telangana Vidyavanthula Vedika, Inti Party, Madiga Reservation Porata Samiti, Yerukala Sangam, and several organisations representing SC/ST problems petitioned Nalgonda Town-II police to arrest Sri Vaishnava pontiff Chinna Jeeyar Swamy for mocking eating habits of certain communities after a video of Chinna Swamy went viral in which he is laughing and saying,
Honours
In 2023, he was conferred with Padma Bhushan under the spiritualism category for the services rendered to millions of people for more than four decades. [4]Deccan Chronicle
Facts/Trivia
According to his official website, he was born on the day of Diwali.
After he became an ascetic, his name was changed to Sri Tridandi Srimannarayana Ramanuja Chinna Jeeyar Swami.
Chinna Jeeywar Swamy carries the Tridanda with him everywhere he goes as it is carried by those who have abode the Tridandi Sanyasa.
Chinna Jeeyar Swamy performed Maha Yajna with 1008 kundas at Tirumala hills, which is said to have reverberated through seven hills. The 108 Sri Rama Krathus were started by Sri Pedda Jeeyar Swamiji (his grandfather) but after he attained Siddhi, Chinna Jeeyar Swamy completed them and fulfilled their Acharya's desire.
He is an ardent follower of Ramanujacharya, an Indian Hindu philosopher, guru, and social reformer.
He is fluent in multiple languages including Tamil and English.
He is one of the few Jiyars who accept non-brahmin disciples.
He is the torch bearer of the Sri Vaishnava tradition.
In 2017, he proposed a celebration programme to celebrate the 1000th birth anniversary of Ramanuja Charya Swami to Narendra Modi and also talked about the installation of a 216-foot metal statue of Ramanuja Charya Swami in Hyderabad on the occasion.
He designed and planned the 'Statue of Equality,' a statue dedicated to Ramanujacharya in Hyderabad, India. The statue was inaugurated by Narendra Modi on 5 February 2022.
He is also a pioneer in the animal welfare arena and often conducts free veterinary camps and animal preservation camps.
In 1981, Chinna Jeeyar Swamy went to Badarinath the abode of Lord Narayana and did penance, reciting the Ashtakshari Maha Manthram.
In 2013, he presided over the inaugural ceremony of the 32nd state conferences of the Akhil Bharatiya Vidyarthi Parishad (ABVP). [5]

Deccan Chronicle)
Many Many celebrated people across the globe have shared their notes of admiration for the leader after attending events organized by the Jeeyar Educational Trust. On 17 June 2012, Mr Masanori Nakano, the Consul General of the Japan Embassy, his wife, and Mr Tsuyoshi Yamane visited Chinna Jeeyar Swamiji, paid their respects, and expressed their gratitude to JET for providing proper aid when they were in trouble during a tsunami. They said,


We are deeply touched by the concern and help you have extended. Our people are deeply touched by the help."