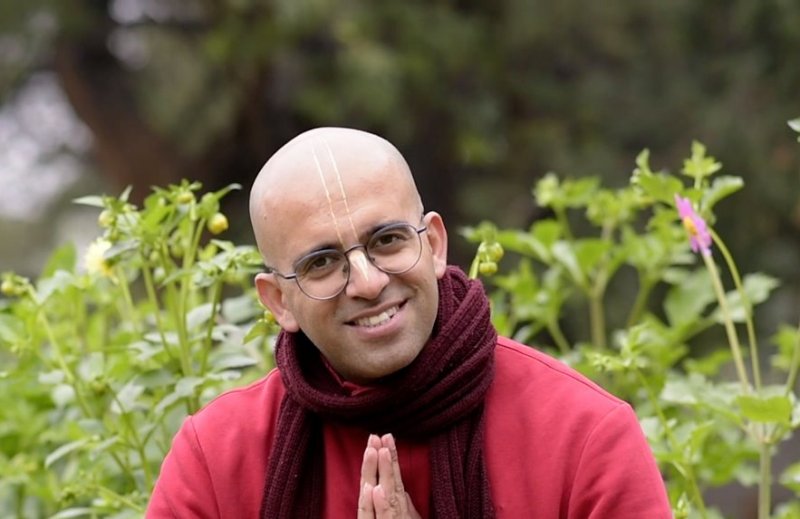 Amogh Lila Das is an Indian monk, lifestyle coach, motivational speaker, and engineer. He is known for his engaging and insightful speeches, often peppered with light humour. Das serves as the vice president at the ISKCON Temple in Dwarka, Delhi.
Wiki/Biography
Amogh Lila Das also known as Amogh Lila Prabhu was born as Ashish Arora on Wednesday, 2 July 1980 (age 43 years; as of 2023) in Lucknow, Uttar Pradesh. His zodiac sign is Cancer. Das spent part of his childhood in Northeast India due to his father's transferable job. His spiritual quest led him to leave home during his 12th grade, though he later returned. Das then went on to pursue a Bachelor of Technology degree in Computer Science at Delhi College of Engineering (now Delhi Technological University). [1]Amogh Lila Das – LinkedIn
Family
Amogh Lila Das belongs to a Punjabi family.
Parents & Siblings
His father is a retired government officer; however, there is not much information about his mother.
Das has a sister, who works in a multinational corporation.
Wife 
He is a celibate.
Religion & Sect
Amogh Lila Das follows Vaishnavism (Gaudiya Vaishnavism), one of the major Hindu denominations.
Career
Engineer-Turned-Monk
In an interview, Das shared the intriguing journey that led him to become a monk. After leaving home in the 12th grade, he went to the Laxmi Narayan Temple, also known as Birla Mandir, in Delhi, where he encountered a group of Marwaris who invited him to Jaipur. He, however, chose to explore Hyderabad, Telangana, travelling on trains while avoiding ticket checks due to lack of funds. Afterwards, he considered visiting Haridwar and Rishikesh in Uttarakhand. In Haridwar, Das met Ankur Vaidya, a spiritual aspirant, who had abandoned his tech job. Das also met a group of international Krishna devotees. Deep philosophical discussions with them inspired Das to consider monastic life. To pursue this, he visited the ISKCON Temple East of Kailash, Delhi, and requested to join them as a monk. Initially, the monks asked Das to demonstrate his commitment by attending the temple regularly. Undeterred, Das insisted on joining immediately or vowed to live on the temple's doorstep. Consequently, they allowed him to reside in the temple. In 2000, after a few months at the ISKCON Temple, Das returned home at his parents' insistence. He began preparing for engineering entrance exams, and he graduated from Delhi College of Engineering in 2004. He then worked at a software company and had the opportunity to visit the United States, where he interacted with more devotees. This experience cemented his resolve to become a monk after a few more years of work. In 2010, during the Janmashtami festival, Das finally joined the ISKCON Temple in the East of Kailash as a monk. He donned saffron robes on Radhastami, fifteen days later. After three years, he was transferred to the ISKCON Temple in Dwarka, Delhi, where he was later appointed Vice President.
Controversy
Banished from ISKCON over Controversial Remarks
In July 2023, Amogh Lila Das stirred up controversy due to his derogatory remarks about Swami Vivekananda and his guru Ramakrishna Paramhansa during one of his pravachanas. As a result of this, he was banned for a month from the ISKCON organisation. Das reportedly criticized Swami Vivekananda for consuming fish, implying that virtuous individuals would refrain from harming animals.
ISKCON punishes monk Amogh Lila Das for making derogatory & outrageous comments against Ramkrishna Paramhansa & Swami Vivekananda by banning him for one month. Monk Amogh Das will remain in the hills of Govardhan for one month & completely seclude himself from the public life… pic.twitter.com/hLx1AvPvqg

— Pooja Mehta (@pooja_news) July 11, 2023
ISKCON officials mandated a month of atonement for Das in the Govardhan hills in response to his remarks. [2]Hindustan Times In an interview, ISKCON officials addressed this issue and said,
Taking note of this serious mistake committed by him, ISKCON has decided to ban him for 1 month. We have communicated our decision to him. Amogh Lila Das has begged for forgiveness for his comments, and he is realizing what a great disservice he has done. He has taken a vow to go on 'prayaschit' (atonement) for 1 month in the hills of Govardhan and will completely seclude himself from the public life with immediate effect."
Facts/Trivia
In an interview, Das reflected on the childhood introspection that sparked his spiritual quest. He described a feeling mix of satisfaction from his achievements and guilt for taking God's blessings for granted, feeling he hadn't given anything in return. This tug-of-war of emotions pushed him toward seeking a deeper connection with God. [3]

Josh Talks – YouTube
According to Das, he was amazed by a verse from the Bhagavad Gita that he encountered in his 7th-grade NCERT Sanskrit textbook. The verse, which discussed the nature of the human mind, resonated deeply with him. While talking about this, in an interview, he said that he asked his teacher how a book could articulate his inner thoughts so precisely. In response, the teacher informed him that this verse was just one of the 700 in the Bhagavad Gita. This revelation left Das in awe, prompting him to delve deeper into the Bhagavad Gita, believing the remaining verses would provide further introspective insights. [4]

Josh Talks – YouTube
Amogh Lila Das has spoken at various events including Josh Talks.
He has served as a co-faculty at the Indian Institute of Management Ahmedabad (IIMA).