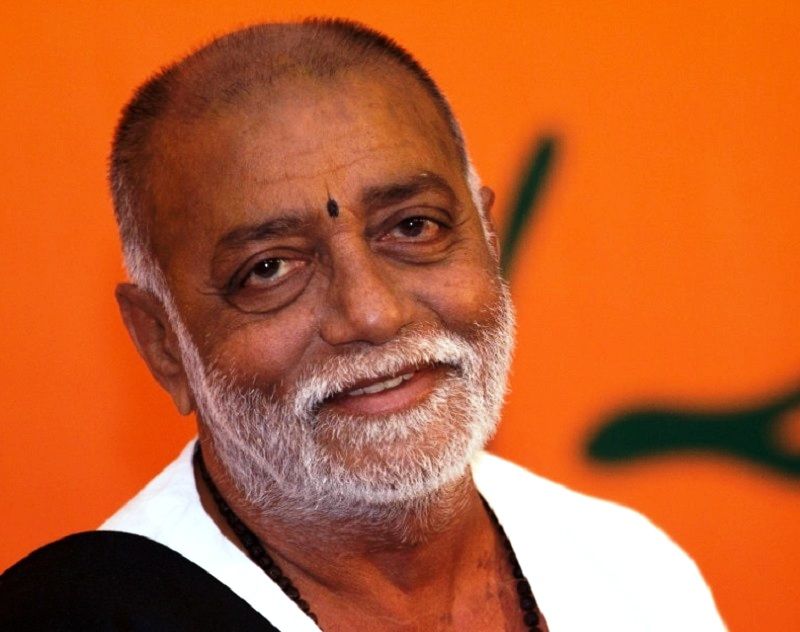 Morari Bapu is an Indian spiritual leader and preacher. He is famous for reciting the Ramcharitmanas across various nations.
Wiki/Biography
Morari Bapu was born on Wednesday, 25 September 1946 (age 74 years; as in 2020), in Talgajarda, Bhavnagar District, Gujarat. His zodiac sign is Virgo. He did his schooling from a higher secondary school in Talgajarda. Later, he studied lectureship from Shahpur Training School in Junagadh, Gujarat. [1]Google Books
Physical Appearance
Height (approx.): 5′ 5″
Eye Colour: Dark Brown
Hair Colour: Grey (Semi Bald)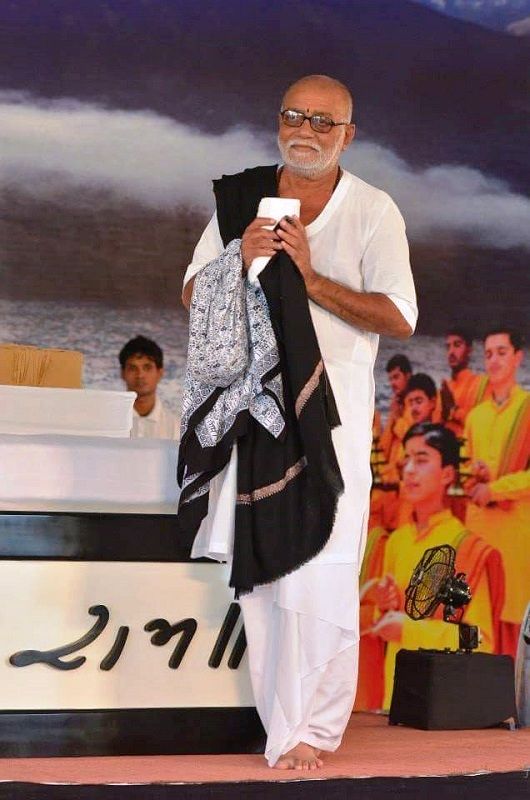 Family & Caste
He was born in a Hindu family and followed Nimbarka Sampradaya, a Hindu Vaishnava tradition. [2]Google Books
Parents & Siblings
His father's name is Prabhudas Bapu Hariyani, and his mother's name is Savitri Ben Hariyani. He has six brothers and two sisters. One of his brothers' is Late Jadgishbhai Hariyani. His grandfather's name is Tribhovandas Hariyani. and his grandmother's name is Amrit Ma. His paternal great grandfather, Mahamandleshwar Vishnu was known as Giriji Maharaj of Kailas Ashram in Rishikesh.
Relationships, Wife & Children
He is married to Narmadaben Hariyani, and the couple has three daughters; Bhavana Modi, Prasanna Patel, Sobhana Hariyani and one son, Parthiv Hariyani.
Beginning of the Spiritual Life
The beginning of his spiritual journey starts when he was mere 5 years of age. He used to sit next to his grandparents, and his grandfather taught him Ramcharitmanas. Morari Bapu's grandfather used to teach him five hymns (Chaupais) of Ramcharitmanas daily, and Bapu used to recite it on the way to his school. He used to listen to his grandmother's folktales and spiritual stories. At a very young age, he memorised the chaupais (couplets), and he memorised the whole Ramayana by the age of twelve.
Spiritual Saint and Reciter
At the age of 14, he orated the Ramayana for the first time in 1960 at the 'Ramji Mandir' in Talgajarda.
Internationally, his first Katha event was held in Nairobi in the year 1976. He has recited Kathas in more than 800 events in India and abroad including countries like Sri Lanka, Indonesia, South Africa and Kenya to the United Kingdom, United States, Brazil, Australia, Israel, and Japan. In 2011, Morari Bapu's katha recited Ram Kathas at the foothills of Mount Kailas, in Tibet. Apart from Ram Kathas, he has also orated 19 kathas on Gopi Geet, during the nine days of Navratri.
Philanthropist
In December 2016, he organised a Ram Katha in Mumbai for the third gender. He was supported by the popular Indian LGBT activist, Laxmi Narayan Tripathi. In an interview, Laxmi said,
No spiritual or religious leader in the world has ever done this kind of a community event for us and for that, I'm grateful to him."
He has been working for the welfare of women of red light areas. In December 2018, he organised the Ram Katha for such women in Ayodhya and distributed Rs 6.92 crore for their welfare including Rs 11 lakh of his own. Morari Bapu is one of the first spiritual leaders in India to meet women of red light areas in Mumbai.
He has always come out in the support of constructing the temple of Lord Rama in Ayodhya. He attended an event organised by the Rashtriya Swayamsevak Sangh in 1992 and appealed the youth to give their support for the construction of Rama temple in Ayodhya. In one of his online Kathas in 2020, he appealed people to donate at least 5 crores but received a donation of more than 18 within 6 days of his appeal. [3]Bhaskar
He has always supported the soldiers of India and praised their contribution in his various kathas and speeches. He has visited the Indian soldiers at Wagha, Ferozpur, and Amarnath. He has always helped the families of the martyred soldiers, and in 2019, he announced an aid of ₹1 lakh to the families of martyred soldiers of the Pulwama attack.
He has involved in various other social activities like organising kathas for the construction of public toilets in Bardoli in 2005, Ram Katha in Jaipur for drought in 2003, Ram Katha & donation for Akshaya Patra Foundation, and organised Ram Katha in Surat (2015) for the "Beti Bachao" Abhiyan (Save Girl Child). He has also provided financial aid at various occasions including 10 crores to Uttarakhand floods and re-construction of Kedarnath temple in 2014, financial aid to cancer affected patients & kidney patients, and Rs 4 crores for Akshaya Patra Foundation.
Controversies
In 2017, a man was found to be a terrorist at the Sardar Patel Hospital; where Morari Bapu has donated funds and has organised kathas to raise funds for the hospital. Reportedly, he was doubted to be an anti-nationalist. [4]

Janta Ka Reporter
A statement given by Morari Bapu created a huge controversy in India. In 2019, he passed a controversial statement in one of his kathas, he said,
Lord Shiva was the only true Neelkanth and not "ones that had eaten laddus."
The Swaminarayan sect did not like his statement as they offer Ladudi (Ladoo) is offered as Prasad, and one of the Swaminarayan is also Neelkanth. Ultimately, it became a dispute of Sanatan Dharma vs Swaminarayan. [5]BBC
He made controversial remarks against Lord Krishna in June 2020, he said,
Krishna failed to establish Dharma."
The devotees of Lord Krishna did not like his statement. Later, he apologised for this statement. Upset by his statement the former BJP MLA, Pabubha Manek's video went viral in which he was seen rushing towards Bapu, who was talking to the media at the Circuit House after visiting the Dwarkadheesh temple. [7]YouTube [8]India Today
Address
Shree Chitrakutdham Trust, VIII, Talgajarda, Mahuva, District- Bhavnagar, Gujarat
Net Worth
His net worth is around Rs 550 crore; as in 2018. [9]Mangalore Today
Signature
Facts/Trivia
According to the Hindu calendar, the day he was born was the eve of Shivratri.
He considers his grandfather, Tribhovandas Dada as his spiritual guru. He used to keep a 300-year-old copy of Ramayana with him which his grandfather gave him. Morari Bapu used to follow a vow of silence on every Saturday.
His hobbies include listening to Indian classical music, singing couplets of Urdu, and playing cricket.
He was born in 'Vaishnava Bava Sadhu Nimbarka lineage;' in which every child is referred to Bapu.
He is a well-known Indian spiritual leader and various top leader and other celebrities visit him for his blessings.
His morning routine starts with Puja or Yagya.
In 2009, he organised the 'World Religions Dialogue and Symphony Conference' in Mahuva which was inaugurated by the 14th Dalai Lama.
With an aim to spread equality of religions, he attended various events organised by the Muslim community including 'Yaad-e-Hussain.'
On 17 September 2016, he recited Ram Katha at Adu Dhabi and, he was welcomed by and the Sultan Mohammad-Bin-Jayad-Al-Nahyan.
Despite the protest of Shiv Sena supporters for the performance of Pakistani ghazal singer, Ustad Ghulam Ali at the 'Sangeet Samaroh' in 'SankatMochan' temple, Varanasi, Morari Bapu came out in Ustad Ghulam Ali's support.
In an interview, he shared one of the motives of his life, he said,
My motive is to make Ram Katha (Story of Rama) accessible to the neglected, exploited and marginalised segments of society, just as Ram himself went to the Shabris, Nishads and Sugareevas of that time."
Reportedly, he advocated bringing changes in Hindu reforms by providing girls with the right to perform the last rites.
He also organises group marriage ceremonies for the poor families irrespective of their religion.
As per some sources, he once used to support the organizations like Vishwa Hindu Parishad in the Ram-Janmabhoomi movement.
During the Gujarat riots in 2002, he had organised a peace meeting in the Muslim area of Ahmedabad.
In one of his documentaries, when he was asked why he wears a black shawl and covers his hand with a black and white shawl on which Ram is written, he said,
It is not for any specific reason my grandmother used to wear black clothes and is used to sleep in her lap. The colour of god is also black."
Morari Bapu sits behind the Ram Charit Manas (Poothiji), which is wrapped in an orange hand-spun cotton cloth. He lays a piece of it underneath Poothiji and keeps his black and white Ram Nam shawl in his lap.
A spiritual leader from Punjab has named himself as "Chhote Morari Bapu" and follows the same dressing style like Morari Bapu including the black shawl.
In 2019, he appeared in the popular Indian news show, 'Aap Ki Adalat with Rajat Sharma.' While talking to the famous Indian journalist, Rajat Sharma he praised the Indian Prime Minister, Narendra Modi. He said,
Politicians mostly resort to 'saam, daam, dand, bhed' (carrot, stick, bargain, divide). But nobody can question the patriotism (rashtra-bhakti) of our Prime Minister. Much good work has been done by Prime Minister Narendra Modi's government, but it is difficult to fulfill the demands of all. I am not a politician to tell people whom to vote. It is for the voters to listen to their own conscience and vote for whom they prefer."