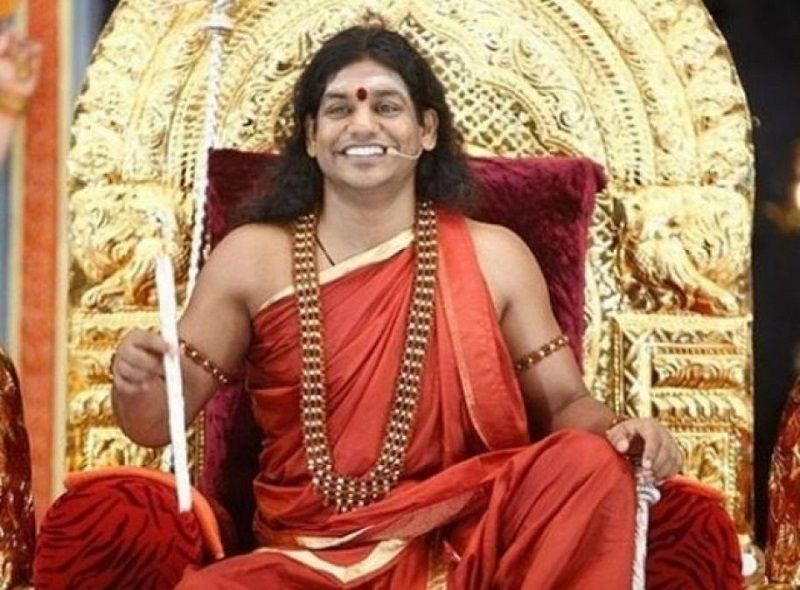 Nithyananda is an Indian Hindu guru, godman, and cult leader known for being involved in various controversies like rape cases and abduction.
Wiki/Biography
Nithyananda born as Arunachalam Rajasekaran [1]Deccan Herald was born in Tiruvannamalai, Tamil Nadu. His real age has been a matter of controversy. According to some sources, he was born on Sunday, 13 March 1977 (age 45 years; as of 2023) whereas some sources say that he was born on Sunday, 1 January 1978 (age 44 years; as of 2022). He was issued a US visa in 2003 which stated that he was born on 13 March 1977, but he mentioned he was born on 1 January 1978 in a petition filed in the Karnataka High Court. [2]Deccan Herald
Physical Appearance
Height (approx.): 5′ 7″
Hair Colour: Black
Eye Colour: Black
Family
Parents & Siblings
Nithyananda's father's name is Arunachalam. His mother's name is Lokanayaki. He has two brothers. After his father's death, his mother started living with him in his ashram.
Wife & Children
As of 2022, he is unmarried.
Religion
Nithyananda follows Hinduism. [3]The Week
Ethnicity
Nithyananda belongs to the Saiva Vellala community. [4]The Hindu
Career
Guru/Godman
He was noticed by Yogiraj Yogananda Puri at the age of three and claimed that when he was 12 years old, he had spiritual experiences. At the age of 22, he received enlightenment. When he was seventeen years old, he wandered for eight years and then settled in Banglore. He was given the name Nithyananda by Mahavatar Babaji and he started his public life with this name at the age of 24. In 2003, he established his own ashram in Bidadi, Banglore under the name Dhyanapeetam. In 2012, Nithyananda's name was listed in the '100 Most Spiritually Influential Living People' by Watkins Mind Body Spirit magazine. In February 2013, he was given the title of Mahamandaleshwar in a ceremony by the Panchayati Mahanirvani Akhara. Some of the sources reveal that he worked as the chairman of the Florida-based Hindu University of America. The religious organization Nithyananda Dhyanapeetam founded by him contributes to various temples, gurukuls, and ashrams in many countries. It also hosts cultural events in the United States and India. His organization has won two records- the Guinness World Record for one of the largest rope yoga classes, and another for the largest pole yoga class. Nithyananda has learned various scriptures including Brahma Sutras, Patanjali's Yoga Sutras, Shiva Sutras and the Bhagavad Gita. According to some reports, he has made many unbelievable claims. Once, he claimed that he delayed the sunrise by 40 minutes because he could not reach an event on time. He said that he could make cows, horses and monkeys speak in Tamil and Sanskrit. He also said that he could prove the mass-energy equivalence formula E = mc2 wrong. In some of the events, he claimed that he had specialization in more than 60 powers including kundalini and third-eye awakening. He also claims to have experience with paranormal activities. According to him, he could open the third eye of any person so that people could use it to walk through walls and smog. He also suggested the opening of the third eye to blind children. His claims were challenged by sceptic Narendra Nayak. He declared that he and his followers could perform activities like extrasensory perception, materialisation, body scanning, increasing height, remote viewing, and finding lost objects. Nithyananda has published more than 500 books based on his teachings. The books are written in 27 languages.
Making of Kailaasa
In 2019, he asserted the creation of a new "Hindu nation" Kailaasa. He also stated that if someone had to visit the nation, they would require and passport. The nation also had its own currency.  In his announcement he said,
Kailaasa is a nation without borders created by dispossessed Hindus around the world who lost the right to practice Hinduism authentically in their own countries."
In August 2020, he launched the Reserve Bank of Kailaasa and released his own currency Kailashian dollar which was designed based on the currency of the ancient 56 Hindu nations. In December 2020, he announced that people who wanted to visit Kailaasa were supposed to get a visa to Australia and from there they would be taken to Kailaasa in a private plane. On 19 April 2021, he banned travel from India, Brazil, the European Union, and Malaysia to Kailaasa during the pandemic. On 7 June 2021, he said that if India would accept him with full respect, he would return to India. He also said that if he came to India, covid would disappear from India.
Controversies
Controversial video tape with actress Ranjitha
In 2010, the Tamil television channel Sun TV played a video of Nithyananda with his follower Tamil actress Ranjita in a hotel room. The video was claimed to be morphed by Nithyananda and Ranjitha and they also accused Sun TV of extortion. The video was sent to the forensic sciences laboratory in Bengaluru that claimed that it was Nityananda and Ranjitha in the video. Later, the channels apologized to Ranjitha for breaching her privacy after she filed a complaint with the High Court of Karnataka against Sun TV. [5]NDTV
Rape accusations against Nithyananda
In 2010, Nithyananda was accused of raping a girl from the United States, who was his preacher. The girl claimed that Nithyananda raped her in India and US for five continuous years. She filed a complaint at Ann Arbor Police Department and Karnataka Police in India against him and five other accused, but there was no investigation against him. On 19 February 2018, the Third Additional District and Sessions Court in Ramanagara started an investigation into the case, but on 16 May 2018, they were released from custody. The case was later taken to the Supreme Court of India and on 1 June 2018, they were released from custody due to lack of evidence. On 4 June 2018, a complaint was registered against him in the Ramanagara court and he was issued a non-bailable warrant in August 2022 by the Third Additional District and Sessions Court in Ramanagara. In 2021, after the death of Madurai Adheenam Arungirinatha Desika Paramacharya Swamigal in August, Nithyananda was made the 293rd Pontiff of Madurai Adheenam. In a social media post, he announced this and wrote,
All the spiritual, dharmic, traditional rituals as per the cosmic laws of Kailasa and official formalities of succession as the 293rd pontiff of the Madurai Aadheenam are completed."
His appointment as the pontiff of Madurai Adheenam was challenged by the Madras High Court. In an interview, Nithyananda talked about Madras High Court order to restrain his appointment and said that his fundamental right to worship and religion were harmed. [6]The News Minute
Accused of abduction of girls
In 2019, Nityananda was accused of taking two girls to his ashram in Ahmedabad without permission from their parents. The couple from Tamil Nadu approached the High Court of Gujarat and asked them to give their children back. On 17 November 2019, the Gujarat Police filed an FIR against him on charges of abduction. The girls claimed that their father's complaint was wrong and said that they were not taken forcibly. The girls further added that their father made such complaints because he was accused in an embezzlement case. [7]The Times of India
Kidnap of children by Nithyananda
In 2021, two children of age 8 and 9 accused that they were taken to the ashram and tortured there. They further added that they were kept in a flat for ten days and were made to work there. After the complaints, he left India, but two other accused were arrested by the police. The principal of the Delhi Public School near Ahmedabad was also arrested because he allowed Nithyananda to set up the ashram in the school. [8]Hindustan Times
Accused of dating a woman
In 2010, a woman named Aarti Rao claimed that she dated Nithyananda for five years. In an interview, he clarified the allegation and said,
She was never a resident of my organisation. Even if she was having an affair with me, how could she have hidden it from her husband or her parents? Her parents were staying in my ashram and whenever she visited she stayed with them."
He also said that Aarti wanted him to cure her of a sexually-transmitted disease. [9]The Telegraph
Condoms and tiger skin rescued from ashram
In 2010, after a raid in his ashram, it was found that Nithyananda kept tiger skin and elephant tusks in his ashram. In the raid, they also found condoms in his ashram. In an interview, he talked about this and said,
There were no condoms. If I wanted to indulge in such activities, I would have got married." [10]The Telegaph
Facts/Trivia
He is also known by the name Nithyananda Paramashivam by his followers. [11]

India Today
Nithyananda is a very controversial guru and has been accused in many cases. In 2019, when he was unable to attend the court hearings, the Gujarat Police claimed that he had fled India. Later, he accepted the accusation and said that he left India because he was worried about being mob lynched and assassinated in India. According to the police, he went to Ecuador to establish his own nation Kailaasa, but the Embassy of Ecuador said that it "categorically denies the statement wherever published that Nithyananda was given asylum by Ecuador or has been helped by the Government of Ecuador in purchasing any land or island in South America." Later, the embassy agreed to Nithyananda visiting the country but said that he left because his international personal protection (refuge) request was rejected.
In August 2022, Nithyananda was unwell and required asylum, so, one of his representatives requested the President of Sri Lankan Ranil Wickremesinghe to help him set an asylum in his country. He said that Nithyananda would contribute to Sri Lanka if he is offered help. He further suggested that Kailaasa should have a political tie with Sri Lanka so that his treatment could take place.
In October 2022, the British representative of Nityananda, Atmadaya went to the House of Parliament to attend a function. At the party, a full-page advertisement about Nithyananda was distributed among the attendees by Nithyananda's organisation, 'Nithyananda Dhyanapeetam' or 'Nithyananda Meditation Academy.' The attendees were not happy about the invitation to Atmadya.
In 2022, he received an Interpol blue notice from the International Criminal Police Organization and a non-bailable warrant from the court on rape charges that were running against him.
Many celebrities came to the limelight for having links with Nithyananda. In January 2011, Bollywood actress Juhi Chawla went to his ashram in Banglore and stayed there for 4 days. It was reported that she wanted to take his blessings for her brother who was in a coma at that time.
In an interview, he said that when he was 12 years old, a genetic mutation occurred in his body that neither makes him male nor female. In the interview, he further added,


But I am neither a male nor a female. My body underwent psychological and physiological mutation. I am not capable of doing the acts I've been charged with. I am ready for any kind of tests on my body."
In 2022, a web series 'My Daughter Joined A Cult' on Discovery+was released based on crimes done by Nithyananda.
In 2022, a South Indian actress, Priya Anand, in an interview said that she wanted to get married to Nityananda. She also said that didn't have to change her last name if she married him because their last name was the same.