Vishen Lakhiani is a Malaysian self-help guru and entrepreneur who is best known for founding Mindvalley – an award-winning education and spiritual movement with over 10 million members worldwide. Vishen is also a renowned Keynote speaker, activist, and a two times New York Times bestselling author who founded A-Fest and Mindvalley University, two global events in the field of personal transformation. He also founded Omnava, which is a meditation app. His book "The Code of the Extraordinary Mind" was translated into more than 25 languages.
Wiki/Biography
Vishen Lakhiani was born on Wednesday, 14 January 1976 (age 45 years; as of 2021) in Kuala Lumpur, Malaysia under the zodiac sign Capricorn. The Malaysian attended the government school in his hometown Kuala Lumpur and then moved to the US in 1996 to attain his bachelor's degree in Electrical Engineering and Computer Science from the University of Michigan. [1]LinkedIn – Vishen Lakhiani
Physical Appearance
Height (approx.): 5′ 9″
Hair Colour: Black
Eye Colour: Black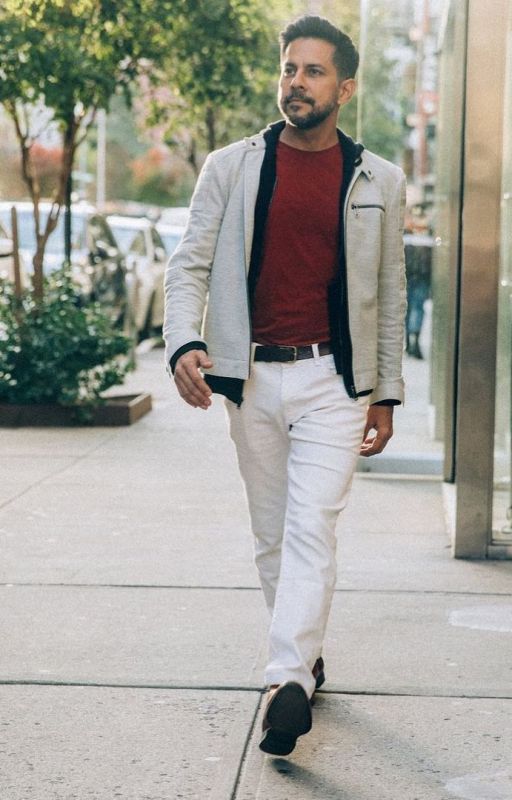 Family
Parents & Siblings
Vishen Lakhiani's father Mohan Lakhiani is an entrepreneur who deals in the export-import at a warehouse in Malaysia and has been a former manager in a department store in Kuala Lumpur. Roopi Mohandas, Vishen's mother, is a public school teacher in Kuala Lumpur, and Vishen is their only child.
Wife & Children
Vishen Lakhiani is divorced. On 9 May 2003, he got married to his now ex-wife Kristina Mänd-Lakhiani, who is an Estonian woman from the Lutheran faith. Kristina is the co-founder of Mindvalley, who expanded the company in the Russian region. She is also a serial entrepreneur, speaker, philanthropist, and philosopher as well. The couple has two children, a daughter Eve Lakhiani and a son Hayden Lakhiani.
After being together for 19 years and being married for 16 years, Vishen and Kristina officially got separated on 16 February 2019. Their divorce announcement, or as Vishen said in his Instagram post – "getting consciously uncoupled," was followed by a celebration that was attended by over 50 guests, including Vishen and Kristina's kids, parents, and friends. [2]Instagram – Vishen In July 2020, the ex-partners, along with their children, moved from Malaysia to Tallinn in Estonia, Europe. [3]Facebook – Vishen Lakhiani
Relationships/Affairs
Vishen was in a relationship with his ex-wife Kristina Mänd-Lakhiani for three years before they got married.
Religion/Religious Views
Vishen Lakhiani was born in a Hindu family and he spent his earlier years under the influence of Muslim culture since he lived in Malaysia, which is a Mulsim-dominant country; however, according to Lakhiani, he no longer identifies as a Hindu but still believes in God. As Vishen got acquainted with spirituality after having outgrown religion, he realized that he wanted to explore spirituality 'as a phenomenon with the power to reconnect with his true nature.' He set on this path by adopting practices and beliefs that remained consistent with his experiences in the real world. [4]Vishen- official website Also, Vishen's wife was raised Orthodox and Lutheran, so the couple decided to raise their children without teaching them about organised religion. [5]Medium
Signature/Autograph
Career
Initial Years
In 1999, as soon as Vishen graduated from the University of Michigan, he started interning at Microsoft that he left after 11 weeks. He then moved cities and joined AIESEC, a global student exchange organization in New York to work for a salary that was even below the poverty line. After his seven years in the States, Vishen yearned to become an entrepreneur and decided to move again, and this time he went to the Silicon Valley, only to lose everything. The failed attempt at becoming an entrepreneur left Lakhiani broke and forced him to take up a job with minimal pay. [6]LinkedIn – Vishen Lakhiani [7]Vishen Lakhiani – official website
Spiritual Entrepreneur
In 2003, the entrepreneur, with just $700 started his venture "Mindvalley" in Times Square in New York City. He started the company as a small website to teach meditation initially and gradually he started selling meditation CDs on it. In a year Lakhani starting dedicating his time and energy to Mindvalley and left his sales job. With time, Mindvalley became a self-running media company that built websites for authors. [8]Mixergy [9]Vishen Lakhiani – official website In 2010, after 7 years of starting Mindvalley, Lakhiani made a comeback by launching A-Fest, which is an annual global transformational festival organised in 5-star locations across the world.
The entrepreneur further expanded his business with a popular health transformation program called "Wildfit," which he rolled out in August 2016. Two months later, Vishen came up with his industry-leading learning platform called Mindvalley Quests, and in 2013, Lakhiani launched Mindvalley's new vertical, the Mindvalley Academy, after consolidating all the websites Mindvalley was building for authors. He then merged the A-Fest with Mindvalley, and by July 2017, Vishen had already started his Mindvalley University City Campus in Barcelona, Spain. [10]Vishen Lakhiani – official website
Author
In May 2016, Vishen debuted as the New York Times best-seller with his first self-help book "The Code of the Extraordinary Mind." His first published book allowed Vishen to overtake authors like JK Rowling and Stephen King by twice becoming the number two author in the world on Amazon Kindle. The book was translated into more than 25 languages and it has been a best-seller on Amazon five times. Vishen's debut book also got featured on several magazine covers in Malaysia, and in addition, it also received several awards. [11]Natfluence Four years later in June 2020, Lakhiani published his second book in the same genre "The Buddha and the Badass: The Secret Spiritual Art of Succeeding at Work" by the Penguin-Random House. The book went on to fetch the number one spot on the Wall Street Journal Business Hardcover List and the ninth spot on the New York Times How-To list. In his Instagram post Vishen announced his upcoming books, which include "Superhuman at Work" in 2021, and "6 Phase Meditation" and "Unfuckwithable" for 2022. [12]Vishen Lakhiani – official website [13]Instagram – Vishen Lakhiani
The Struggle
In around 2010, Vishen Lakhiani invested $2 million in his tech startup that failed two years later. It became a period of failure for the budding entrepreneur as most of his several ventures didn't survive. [14]Vishen- official website After the 9/11 attacks in the US, Vishen and his business' survival became even more difficult, as he belonged to a Muslim country. Vishen revealed in an interview that the US immigration authorities didn't extend his visa, which forced him and his then-wife Kristina to leave the country and settle in Malaysia. It also meant that Lakhiani's budding venture Mindvalley needed to be set up in his home country, so Lakhiani and his then business partner moved the Mindvalley headquarters to Kuala Lumpur. Since then, Vishen has spent his next 20 years travelling between the US and Malaysia, every six weeks. [15]BBC [16] Indonesia Tatler Vishen faced another setback in 2015 when he was done giving profits to his Mindvalley ex-partner according to a deal he had made three years before. Even after Vishen had all the profits to his name, the company was still running on losses till 2016.
Controversy
On 24 January 2018, the spiritual entrepreneur attracted controversy after he posted a video of him in which he claimed that Nestle's product "Milo" consisted of 40 per cent sugar. The video infuriated Nestle, and soon the company issued a clarification stating that Vishen's video was misleading. [17]Business Standard Vishen; however, expressed his dissatisfaction over Nestle's ambiguous clarification and released another video in which he explained the ingredients of several Nestle products. The company then again responded with a statement of nutritionist Nurul Iliani Ahmad defending Milo. [18]World of Buzz Vishen's videos received over 90,000 views as of 2021. [19]Facebook – Vishen Lakhiani
Awards, Honours, Achievements
Vishen has been receiving the WorldBlu Award for "World's Most Democratic Workplace" every year since 2008.
In October 2011, Vishen was listed in "Top 40 Under 40" of Prestige Magazine.
Vishen won the audience's vote for the best new XPRIZE Idea at XPRIZE's Visioneering Event in 2015.
In 2017, Vishen was named the "Most Strategic Entrepreneur" in the SME & Entrepreneurship Business Awards held in Malaysia.
He was awarded the Foreign Founder of the Year and the Bootstrap Badger of the Year at the 2020 Estonian Startup Awards.
Favourites
Personalities: Sir Richard Branson, Michael Beckwith, Jay Shetty, Ken Wilber, Arianna Huffington, Steve Jobs
Place: Tallinn in Estonia
Quote: "If you want to change the world, change education" by Nelson Mandela
Facts/Trivia
Vishen revealed on his website that he had poor eyesight, bad skin, and Aspergers as a kid which made him feel awkward. [21]

Vishen- official website
The Malaysian is a non-vegetarian and enjoys alcoholic drinks.
Reading, doing photography, or attending the theatre are Vishen's favourite past-times.
Lakhiani also had a terrible schooling experience in Malaysia, which according to him, drove him towards evolving the existing traditional education system.
In 2003, Vishen got introduced to meditation when he attended a class called the Silvan Method, and he soon started to experience the immense power of the activity on his performance. According to Vishen, it was meditation that got him promoted three times in four months in a tech firm in the US and led him to start teaching meditation in the evenings. [23]

Mixergy
In 2011, Vishen's business partner who helped him build Mindvalley for seven years tried kicking Lakhiani out of the venture. To safeguard his career, Vishen, in return, struck a deal with his partner by offering him all the profits for the next 3 years. [24]

Vishen- official website
Mindvalley's courses cost relatively on the higher end – ranging from a few hundred dollars to as high as $15,000. For a Mindvalley certificate of completion, a member needs to pay $399 and if a member needs an all-access pass to all Mindvalley quests for a year, they need to shell out around $595. [25]

South China Morning Post
In September 2018, days before Vishen was scheduled to speak at the UN, he underwent an expensive surgery to treat the torn meniscus of his knee and he was advised to rest completely for 4 weeks. [27]

Instagram – Vishen Lakhiani
The entrepreneur has also involved his 7-year-old daughter Eve in Mindvalley's new Health Coaching Certification since July 2021. On every Sunday since then, Eve trains for 10X Fitness with Vishen at home using elastic bands, the video of which is a part of Vishen's masterclass. [28]

Instagram – Vishen Lakhiani
Vishen revealed that Mindvalley grew at a rate of 500 per cent between 2016 and 2019 with more than 10 million users on its media channels. As per Vishen's official website, Mindvalley stood strong with around 300 people from 54 countries as of 2021. [29]

Vishen- official website
References

↑

1,

↑

6
LinkedIn – Vishen Lakhiani

↑

2
Instagram – Vishen

↑

3
Facebook – Vishen Lakhiani

↑

4,

↑

14,

↑

21,

↑

24,

↑

29
Vishen- official website

↑

5
Medium

↑

7,

↑

9,

↑

10
Vishen Lakhiani – official website

↑

8,

↑

22,

↑

23
Mixergy

↑

11
Natfluence

↑

12
Vishen Lakhiani – official website

↑

13
Instagram – Vishen Lakhiani

↑

15
BBC

↑

16
Indonesia Tatler

↑

17
Business Standard

↑

18
World of Buzz

↑

19
Facebook – Vishen Lakhiani

↑

20
Instagram – Vishen Lakhiani

↑

25,

↑

30
South China Morning Post

↑

26
Instagram – Vishen Lakhiani

↑

27
Instagram – Vishen Lakhiani

↑

28
Instagram – Vishen Lakhiani