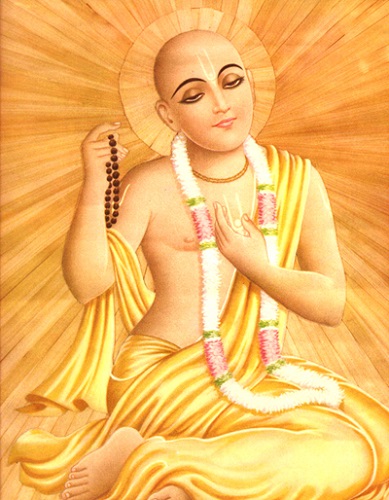 Chaitanya Mahaprabhu (1486-1533) was an Indian saint of the 15th century. He is considered the incarnation of the combined form of Lord Krishna and Radharani. [1]Krishna.org He founded the Vaishnava Hindu religious movement Gaudiya Vaishnavism and the school of Vedanta Achintya Bheda Abheda. In the Bengali religious manuscript named Caitanya-Mangala, it is mentioned that he left the world on 14 June 1533 in Puri, Gajapati Kingdom (present-day Odisha, India).
Wiki/Biography
According to some sources, Chaitanya Mahaprabhu (also spelt as Caitanya Mahaprabhu) aka Vishvambhar Misra [2]Jansatta was born on Thursday, 18 February 1486 [3]Bhakti Prasad, whereas according to some other sources, he was born on Thursday, 4 February 1486 [4]The Divine Life Society (age 47 years; at the time of death) in Nabadwip, Bengal Sultanate (present-day West Bengal, India). He was born on the night of the full moon under a neem tree. His zodiac sign is Aquarius.
He studied navya nyaya or new logic at the school of the Indian philosopher Vasudeva Sarvabhauma, who was also a scholar of Nyaya Shastra. He studied elementary Sanskrit and vernacular with his teacher Sudarshan. He completed his studies under his guru Pandit Gangadas.
Family
Parents & Siblings
His father's name is Pandit Jagannath Misra. His mother, Sachi Devi, was the daughter of the Indian scholar Nilamber Chakravarti. Mahaprabhu was the tenth child of his parents. Before him, his eight sisters had died soon after their birth. His ninth sibling was a brother named Viswarup, who at the age of 16, moved to a South Indian monastery after he was forced to get married.
Wife & Children
At a very young age, Chaitanya got married to his childhood friend Lakshmipriya, who was the daughter of a pandit named Vallabhacharya. However, his mother was not ready to get him married at such a young age, but at Chaitanya's will, she agreed to it.
Later, when he returned home from his spiritual visit to Eastern Bengal, he got the news that his wife had passed away due to a snake bite. His mother then insisted him to get married for the second time to Bisnupriya aka Visnupriya, the daughter of the famous Pandit Santana of Nadia. However, Chaitanya Mahaprabhu was not willing to get married for the second time, but his mother had given her word to Bisnupriya's father, so Mahaprabhu agreed to the marriage.
Caste
Chaitanya Mahaprabhu belonged to a Brahmin Hindu family of the Vaidik sub-caste. [5]The Divine Life Society
Chaitanya Mahaprabhu and Raghunath
While he was studying under his guru Vasudeva Sarvabhauma, an author named Raghunath noticed that Mahaprabhu was a very intelligent child. Raghunath even realised that Mahaprabhu was more intelligent than his teacher Sarvabhauma. Raghunath wanted to be considered the most intelligent man in the world, but when he met Chaitanya, he started fearing of Chaitanya's intelligence. At that time, Mahaprabhu was writing a commentary on Nyaya. Raghunath wanted to read the commentary, but he doubted whether Mahaprabhu would show him his commentary. Later, while they were in a boat, crossing a river, Raghunath requested him to show his commentary. On reading it, Raghunath realised that it was a masterpiece of original exposition, and his dream of becoming the most intelligent man and occupying first place in the world of Nyaya professors was shattered. Raghunath then started weeping. When Mahaprabhu asked him the reason behind shedding the tears, Raghunath said,
Brother Gauranga (Chaitanya Mahaprabhu), I have a strong ambition that I should attain the first place in the whole world as a professor of Nyaya. With this hope I have written a book on Nyaya thinking that it will beat out all the existing books. But my hope is entirely gone now, because your book really excels my book. It is concise, clear and original. It is indeed a scholarly production. This is the reason why I wept."
On hearing this, Chaitanya also started crying and said,
Is that all? Then do not weep, my dear brother. Nyaya is after all a dry philosophy. I will not be benefited much."
Chaitanya then threw his composition's manuscript into the river and from that day, he left the study of Nyaya.
Chaitanya Mahaprabhu and Swami Isvara Puri
In 1509, after his father's demise, he went to Gaya to perform Śrāddha ceremony of his father. There, he met the Indian saint Swami Isvara Puri. He took him as his guru and learned the preachings of Lord Krishna. He gradually became an ardent devotee of Krishna. He used to chant Krishna, Krishna! Hari Bol, Hari Bol! and remained indulged in the devotion of Krishna. According to various sources, he once saw the footprints of Lord Krishna in the Gadadhar temple, and after watching the footprints, he became motionless like he was absorbed in meditation. His eyes started shedding tears in the love of God. He then became unconscious, and when he was about to fall, Swami Isvara rushed towards him and stopped him from falling down. After coming back to consciousness, Mahaprabhu said to Swami,
Oh venerable Guru, have mercy on me. Extricate me from the quagmire of Samsara. Initiate me into the mysteries of Radha's love for Krishna. Let me develop pure Prem for Lord Krishna. Let me drink the nectar of Krishna-prema-rasa."
Puri ji then gave him a ten-lettered Mantra of Lord Krishna. Chaitanya then started living in a meditative mood, he used to forget to take food and often cried in the love of Lord Krishna. He used to utter,
Lord Krishna, my Father! Where art Thou? I cannot live without Thee. Thou art my sole refuge, my solace. Thou art my real father, mother, friend, relative and Guru. Reveal Thy form to me always."
He then started living in his own world, unconscious of his surroundings. Later, he expressed his intense desire to go to Vrindavan, but his companions took him to his village in Nabadwip.
Chaitanya Mahaprabhu and Nitai aka Nityananda
Chaitanya then met a Brahmin named Nitai alias Nityananda, who was also a devotee of Lord Krishna. Nitai lived in Vrindavan for a few months, but he could not feel the connection with Lord Krishna there. Chaitanya once took Nitai to his home and while introducing him to his mother, Chaitanya said,
Mother, here is another son of yours. He is my elder brother. The lost Viswarup has come back to you now. Take him as your Viswarup."
Chaitanya and Nitai then organised various religious marches on streets in which the devotees of Lord Krishna used to sing and dance on the streets. With the religious marches, Mahaprabhu spread the message of love for god. He used to preach that one should dance in love, breathe in love, sing in love, and walk in love.
Chaitanya Mahaprabhu and Pandit Sreebas
An Indian pandit named Sreebas was an ardent devotee of Chaitanya. The kirtans of Chaitanya were usually performed in the courtyard of Sreebas' house. The religious manuscript named Chaitanya Bhagavata was written by Sreebas's grandson in his house. One day, a grand kirtan was organised at Sreebas' house, and Chaitanya, along with other devotees, was dancing in joy in the courtyard. The maid of Sreebas came to the courtyard where all were dancing and made a sign to Sreebas to follow her. When Sreebas followed her from the kitchen to the room, he found out that his only son was ailing from cholera and was in a dying condition. Sreebas' wife was also weeping in sorrow. Sreebas then consoled his wife and said,
Do not weep. This will disturb the joy of our Lord. It is a great fortune that our son is dying when Hari's Kirtan is being done in the house."
Within a few minutes, his son passed away. Sreebas was not affected by his son's death and he rejoined the kirtan. When the devotees came to know about his son's demise, they stopped the kirtan. Chaitanya, who was unaware of the death came towards Sreebas and said that he was not feeling the joy in kirtan. Chaitanya asked Sreeebas,
How is it that I do not experience much joy today? Has anything serious happened today?"
Sreebas replied,
Can I have any danger when the Lord is doing Kirtan in my house?"
Another devotee interrupted and shared the news of the death with Chaitanya. On hearing the news, Chaitanya burst into tears and asked Sreeebas to bring his son from the room to the courtyard. When Chaitanya asked Sreeebas' dead son to speak, his son's soul re-entered the body and he said,
I am leaving this body for a better existence. O Lord, may my soul cling to Thy lotus feet!"
The soul again left his body. Chaitanya then consoled Sreebas and his wife and said,
I and Nityananda will take the place of your departed child. Be not troubled. Be not anxious."
Chaitanya Mahaprabhu and Washerman
One day, Mahaprabhu, along with his associates, went to a washerman, who was washing clothes near a river. Mahaprabhu asked him to say 'Hari Bol.' The washerman got scared and thought that they would ask for money from him. The washerman said,
Oh mendicant, I am very poor. I have nothing to give you."
Chaitanya replied,
I do not want anything from you. Say 'Hari Bol!' at least once."
The washerman again refused and said,
I am very poor. I cannot give up beating the cloth in order to utter the name you have given to me."
Chaitanya then said that he would wash the clothes for him and asked him to say Hari Bol. Washerman agreed to it and said Hari Bol. When the washerman repeated it twice, a fire of devotion started inside him. He moved into a trance of devotion and started dancing raising both his bands. When washerman's wife came there, she called his name again and again, but he was unconscious of his surroundings. His wife got afraid and ran towards the village and asked her neighbours for help. She said to her neighbours,
A ghost has taken possession of my husband. Please help me. Drive away the ghost from him."
When washerman's neighbours and relatives rushed towards him to help him, they stopped a few metres away from him as they were afraid to see him dancing in ecstasy. A man then went near him and hold his hand and tried to stop him dancing, but the divine power became contagious, and the man also started dancing and singing 'Hari Bol! Hari Bol!' Gradually, everyone present there felt the divine power and started singing and dancing.
Chaitanya Mahaprabhu- A Sanyasi
After various divine experiences, people started developing a deep faith in Mahaprabhu. However, he was opposed and hated by some orthodox people. Chaitanya then decided to become a sanyasi for the salvation of people whom he had converted. According to a religious manuscript, Chaitanya thought,
As I must get salvation for all these proud scholars and orthodox householders, I must become a Sannyasin. They will undoubtedly bow to me when they see me as a Sannyasin, and thus they will be purified, and their hearts will be filled with devotion. There is no other way of securing emancipation for them."
At the age of 24, the Indian saint Swami Keshava Bharati changed Chaitanya's name from Vishvambhar Misra to Krishna Chaitanya or Chaitanya. However, Chaitanya's mother was not happy with his decision, but he consoled his mother and promised her that he would take care of her till her last breath. After becoming a sanyasi, he abandoned all pleasures and strictly follows the rules of a sanyasi life. He was once asked to have a conversation or interview with Raja Pratap Rudra of Orissa, but Mahaprabhu denied it as according to the Sanyasi rules, it was a sin to meet or see a king. It was believed that if a Sanyasi meets a king, he would get attracted to his luxurious life. Also, seeing a woman's face was considered a sin. After becoming a sanyasi, he never looked at the face of a woman. He did not even allow any woman to approach him.
Chaitanya Mahaprabhu- A Preacher
Chaitanya Mahaprabhu used to promote the teachings of Vaishnavism. A few other Indian saints like Nityananda, Sanatan, Rupa, Swarup Damodar, Advaitacharya, Sribas, Haridas, Murari, and Gadadhar helped him spread the message of Vaishnavism. Chaitanya, along with his friend Nityananda, moved from one place to another to spread the message of Vaishnavism. They went from Puri to Tirupathi hills, Kancheepuram and then to Srirangam on the banks of the Cauvery. Then they proceeded to Madurai, Rameswaram and Kanyakumari. They also bathed in various sacred rivers during their visit to different places. After visiting Brindavan and Nabadwip, Chaitanya settled in Puri, and he spent his last days there.
Converted the Sinners Jagai and Madhai
Jagai and Madhai were two brothers, who were considered one of the worst sinners in Indian history. They were also the Kotwals of Mahaprabhu's village Nabadwip. They were involved in various criminal activities like looting the rich, troubling women, and committing murders. To stop the increasing crimes of Jagai and Madhai, Chaitanya and Nitai decided to bring a change in the hearts of the two brothers. Chaitanya, along with Nitai and other devotees, then started organising kirtans near the tents of the two brothers. In one of their religious marches, Nitai led the march to the camps of the two brothers. When Nitai met the two brothers, he said,
Pray, dear brothers, take Krishna's name and serve Krishna, for He is the Supreme Lord."
Madhai got angry over this and with a broken neck of an earthen jar, he hit Nitai on the forehead. Nitai's forehead started bleeding, and he hold the wound with his hands. Madhai again tried to hit Nitai, but his brother Jagai hold his hand and said,
Hold Madhai. You are very cruel. What is the merit of killing a Sannyasin? It will do you no good."
After seeing this, one of the devotees rushed towards Chaitanya, who was at the end of the march and informed Chaitanya that Madhai was hitting Nitai. Chaitanya then ran towards Nitai and covered his wound with a piece of cloth. Chaitanya hugged Jagai for stopping his brother from hitting Nitai. After hugging Chaitanya, Jagai went into a state of trance, and Madhai felt guilty for his actions. Madhai then fell at the feet of Chaitanya and said,
O Lord, I am a great sinner. Have mercy on me."
Chaitanya asked him to apologise to Nitai, whom Madhai had hit brutally. Nitai forgave him and hugged him. On hugging Nitai, Madhai also went into a state of trance. This incident changed the two brothers, and they became holy saints. They then started apologising to people for their misdeeds by bending on their knees before everybody who went to the river for bathing. Later, Madhai and Jagai prepared a bathing ghat in Nabadwip, which is popularly known as Madhai Ghat.
Conversion of Vedantic Scholar Sarvabhauma
Once, while Chaitanya was in Jagannath temple, he rushed towards the idol of Lord Krishna to embrace it in an ecstatic mood. He was so overjoyed that he became unconscious and fell down on the ground. The security guards there rushed towards him to beat him, but a Vedantic scholar Sarvabhauma Bhattacharya (minister of King Pratap Rudra of Orissa) stopped them and asked his students to carry Chaitanya to Sarvabhauma's house. His students utter 'Hari' in Chaitanya's ears, and after hearing Hari's name, he became conscious. Initially, Sarvabhauma thought that Chaitanya did not have any control over passion and knowledge of Vedanta. Sarvabhauma did not like Kirtan and Nritya and wanted to re-initiate Chaitanya. Chaitanya listened to him humbly for a few days. One day, Sarvabhauma explained a verse to Chaitanya in nine different ways, but Sarvabhauma was shocked when Chaitanya explained to him the same verse in sixty-one different ways. The verse was,
Atmaramascha Munayo Nigranthapi Urukrame, Kurvanty Ahaitukim Bhaktim Ithambhuta Guno Hari"
Which means,
Hari's qualities are so charming that the Atmarama Yogis–though they are Nigranthas (i.e., outside the influence of illusion or Shastraic injunctions)–become contemplative and are attracted by the same into adoring the Urukrama Hari with selfless love and devotion."
Gradually, Chaitanya humbly converted Sarvabhauma to his faith. Sarvabhauma also started understanding the true meaning of devotion and spirituality. When Chaitanya embraced Sarvabhauma, Sarvabhauma went into a trance state, and he then started dancing in joy. He bowed down to the feet of Chaitanya and said,
Oh venerable Master! Logic had made my heart as hard as iron. I had no devotion. Thou hast melted me. Salutations unto thee, O powerful Lord!."
Gradually, Chaitanya converted all the leaders and heads of the Vaishnavas. He converted Prakasananda (Advaitacharya of Varanasi) and the ministers of the King of Gour. Even the King of Orissa became an ardent devotee of Chaitanya and recognised Chaitanya as an avatar of Lord Krishna.
Healed a Leper Named Vasudeva
A Brahmin named Vasudeva was once detected with leprosy after which he was forced to live away from his friends and relatives. He was so generous that he used to pick the maggots that fell from his sores and place them back on the sore. He used to believe that the maggots have equal rights to live, and he had no right to stop them from having their food. Vasudeva, who used to live near the Kurma Temple at Jagannath, once heard that Chaitanya Mahaprabhu was visiting the temple. When he reached the temple to meet Chaitanya, he came to know that Chaitanya had already left the temple. Vasudeva became so disappointed that he fell down on the ground in disappointment and shouted,
O Lord Krishna, hast Thou forsaken me?"
His cry was heard by Chaitanya, who was near to the temple. Chaitanya ran towards Vasudeva, lifted him up, and hugged him. It is believed that as soon as he hugged Vasudeva, Vasudeva's leprosy disappeared. Vasudeva then said,
Oh Lord! Thou hast embraced me! All people fled from me due to the stench of my body. I came here to pay my respects to Thee and see Thy lotus feet. Certainly I did not come here with any idea of being healed. The loathsome malady taught me to be humble and compassionate and to remember the Lord at all times. But a healthy body will again generate pride and vanity and I will forget the Lord."
On consoling Vasudeva, Chaitanya said,
O Vasudeva! My child! You have the grace of Lord Krishna. You will never again be puffed up with vanity and pride. Lord Krishna has already accepted you on account of your extreme humility and compassion towards all living creatures and even to those worms which fed on your body. Repeat Lord Krishna's Name and save men by making them also repeat Krishna's Name."
Death/Disappearance
Various Indian authors have quoted different stories of Chaitanya Mahaprabhu's disappearance. An Indian author named Lochan Das Thakur from Bengal was a close associate of Mahaprabhu, who in the third volume of his book named Shri Shri Chaitanya Mangal has talked about Chaitanya's disappearance. According to his book,
In the month of Ashaad, on Saptami, the seventh tithi, (a Sunday) in the afternoon at Gunjabari (Gundicha Mandir), Shriman Mahaprabhu entered the sanctum of Shri Jagannath and embraced Him tightly and vanished from sight instantly."
Further in the book, it is written that a few associates of Chaitanya saw him entering the Lord Jagannath temple, and as soon as he entered the temple, the doors of the temple closed, and Mahaprabhu did not return. When he did not come out for a long time, his associates asked a Brahmin panda there to open the door of the temple. The panda said that Chaitanya was not inside the door but the panda saw him embracing the idol of Jagannath. Whereas, Shri Chaitanya Charitamrita quoted that he disappeared in the year 1455 on the seventh day of the new moon. In the Oria literature Shunya Samhita, written by Shri Achuytananda, a contemporary and disciple of Mahaprabhu, it is stated that while Chaitanya was at the premises of Lord Jagannath Temple, he was dancing and singing Radhe Radhe. Suddenly, he disappeared into the idol of Lord Jagannath like a flash of light. [6]Sri Gauranga Ashram
It is also believed that on 14 June 1533, he disappeared from the world of humans. According to a few religious manuscripts, in his last days, while talking to his devotees, Chaitanya said that the way to attain Lord Krishna's feet in Kalyuga was through chanting Krishna's name. He said that the person who chants Krishna's name must be humbler than a blade of grass which is flattened upon, who is like a tree which sacrifices everything for others' welfare, and who respects others is a true devotee of Lord Krishna. According to religious manuscripts, his last words were,
Oh Lord, I ask not for wealth or followers, or for poetic genius. May my motiveless devotion to Thee continue in me whenever I take birth."
Chaitanya Mahaprabhu- Incarnation of Lord Krishna
In various biographies published in the 16th century, the authors wrote that Chaitanya unveiled his universal form just like Lord Krishna did which was also experienced by Advaita Ācārya and Nityānanda Prabhu. When the Indian devotional teacher Rupa Goswami met him for the first time, he experienced divinity in him. Rupa Goswami then penned down the verse on him, which reads,
O most munificent incarnation! You are Krishna Himself appearing as Sri Krishna Caitanya Mahaprabhu. You have assumed the golden colour of Srimati Radharani, and You are widely distributing the pure love of Krishna. We offer our respectful obeisances unto You."
It is also believed in the religious book Srimad Bhagavatam, there is evidence that Lord Krishna would incarnate in the age of Kali. According to Srimad Bhagavatam,
In the Age of Kali, intelligent persons perform congregational chanting to worship the incarnation of the Godhead who constantly sings the names of Kṛṣṇa. Although his complexion is not blackish, He is Kṛṣṇa himself. He is accompanied by his associates, servants, weapons and confidential companions."
A few other Hindu religious scriptures like Vishnu Sahasranama, Bhavishya Purana, Padma Purana, and Garuda Purana mentioned the incarnation of Lord Krishna. The Gaudiya Vaishnavas consider him the incarnation of Lord Krishna. The Chaitanya Upanisad has also mentioned Chaitanya's identity.
Teachings of Chaitanya Mahaprabhu
Chaitanya Mahaprabhu's teachings are mentioned in Sri Siksastakam in Sanskrit, which contains eight verses. In it, he has written about the benefits of chanting Hare Krishna. He gave dus mula (ten root principles) in which he talked about Lord Krishna. His dus mula are:
The statements of amnaya (scripture) are the chief proof
Krishna is the supreme absolute truth
Krishna is endowed with all energies.
Krishna is the source of all rasa- flavour, quality, or spiritual rapture/emotions
The jivas (individual souls) are all separated parts of the Lord
In the bound state (non-liberated) the jivas are under the influence of matter, due to their tatastha (marginal) nature
In the liberated state, the jivas are free from the influence of matter
The jivas and the material world are both different from and identical to the Lord
Pure devotion is the only way to attain liberation
Pure love of Krishna is the ultimate goal
Traditions and Legacy of Chaitanya Mahaprabhu
Chaitanya Mahaprabhu was the disciple of Isvara Puri, who was the disciple of Madhavendra Puri. Madhavendra Puri was the disciple of Lakshmipati Tirtha, who was the disciple of Madhvacharya's Sampradaya. Even after being initiated in the Madhvacharya tradition and becoming a sanyasi under Shankara's tradition, it is believed that Chaitanya's philosophy was not inspired by them, and he made his own tradition based on Vaishnava teachings. According to various religious manuscripts, Mahaprabhu took Mantra Upadesa from Isvara Puri and Sanyasa Diksha from Keshava Bharati.
Temples
At the birthplace of Chaitanya Mahaprabhu, a temple has been built named Mayapur & Nabadwip Dham.
In the temple, a 60 feet idol of Chaitanya Mahaprabhu is installed.
His other idol is installed in Prachin Mayapur, Nabadwip.
At the ISKCON temple in Mayapur, an idol of Chaitanya Mahaprabhu (middle), along with Sri Sri Radha Madhava, Jagannath, Balarama, and Subhadra, is installed.
His pictures and idols are also placed at various branches of the ISKCON temple. At Ganga Mata Math in Puri, the deity of Chaitanya Mahaprabhu with the name Shadabhuja Gauranga is placed.
Six Goswamis
He had selected only six of his followers to present the theology of bhakti and systematising Gaudiya Vaishnava theology, which he had taught him. His six followers were Rupa Goswami, Sanatana Goswami, Gopala Bhatta Goswami, Raghunatha Bhatta Goswami, Raghunatha Dasa Goswami, and Jiva Goswami. Later, the students of Jiva Goswami named Narottama Dasa, Srinivasa Acharya, and Shyamananda Mandal propagated the teachings of the six Goswamis in Bengal, Odisha, and other regions of eastern India.
Promoted the Chaitanya Traditions
In the early 17 century, another follower of Chaitanya named Kalachand Vidyalankar promoted the teachings of Mahaprabhu. Kalachand promoted the message of anti-untouchability, social justice, and mass education among the people. In eastern Bengal, he started Pankti Bhojon and Krishna Sankirtan. His preachings were appreciated by the Dalits in Bengal, who were neglected and considered underprivileged at that time in Bengal. The disciples of Kalachand were called Kalachandi Sampraday, who promoted education and eradicated casteism. Kalachand is also considered the Father of Rationalism in East Bengal (Purba Banga). Later, the festival of Kheturi was started by the wife of Nityananda (a close associate of Chaitanya) named Jahnava Thakurani. At the festival, various leaders of Chaitanya's followers came together. The disciples and descendants of Nityananda and Advaita Acharya then started vamsa, a family lineage to maintain the tradition started by Mahaprabhu. A few other disciples of Chaitanya who maintained the tradition of Mahaprabhu were Gopala Guru Goswami, Haridasa Thakur, and Sri Ramakrishna Paramahamsa.
Chaitanya Mahaprabhu's Teachings in West
In 1902, an Indian saint named Baba Premananda Bharati started a Krishna Samaj society in New York City and built a temple in Los Angeles. However, the society functioned for a very short time.
He was one of the disciples of the Indian saint Prabhu Jagadbandhu, whose teachings were similar to the ISKCON mission. In 1904, Baba Premananda Bharati published a book named Sree Krishna- The Lord of Love in English, which was based on Gaudiya Vaishnavism.
Later, Premananda's followers started an organisation named Order of Living Service and the AUM Temple of Universal Truth (now defunct).
A. C. Bhaktivedanta Swami Prabhupada and the ISKCON Movement
A. C. Bhaktivedanta Swami Prabhupada was an Indian religious leader, scholar, writer, and the founder of the International Society for Krishna Consciousness (ISKCON). He spread the message of Krishna Bhakti of Chaitanya Mahaprabhu in the world and initiated more than 5000 disciples in the Hare Krishna movement. After completing his studies, he was persuaded by his friend Narendranath Mallick to meet Bhaktisiddhanta Sarasvati of the Gaudiya Vaishnava Society.
He then met Sarasvati Swami at his preaching centre in Gauri Bari Lane (now 1, Ultadanga Main Road), who urged Swami Prabhupada to spread the message of Chaitanya Mahaprabhu across the world. He argued with Sarasvati Swami that India needed to gain Independence first before preaching any spiritual message. However, Sarasvati Swami replied that the movement of Chaitanya Mahaprabhu cannot wait, and it was independent of any ruler class. After the meeting, he started to read books based on the life of Chaitanya Mahaprabhu, and he came to know from other devotees of the Gaudiya Vaishnava Society that Bhaktivinoda Thakur Swami was the father of Sarasvati Swami. Bhaktivedanta then moved to the US and lived there for a year. After being in the US for a year, he gained a few followers who spread Chaitanya Mahaprabhu's message and roamed the streets of New York with him doing Sankirtanas (religious chanting) and distributing religious books. On 13 July 1966, he registered his movement of Lord Krishna bhakti as The International Society for Krishna Consciousness (ISKCON) as a non-profit tax-exempt religious organisation with the help of a local lawyer, Stephen Goldsmith. He registered the small storefront as a temple and held an initiation ceremony where his followers accepted him as their spiritual master and took vows of Lord Krishna bhakti. His devotees began doing Sankirtanas daily on the streets. In October 1966, his devotees organised a Sankirtana in Tompkins Square Park in New York City which became widely popular, and the Sankirtana's details were published in The New York Times the next day. Swami Prabhupada then toured various cities in the US, opened many temples, did Sankirtanas, and conducted Rath Yatras across different cities in the US. In 1968, he started a centre known as the New Vrindavana Community Centre in West Virginia, US, and in 1972, he opened a Gurukula with a Vedic style of teaching in Dallas, Texas. During the 1970s, he toured the world 14 times, initiated more than 5000 followers, and opened 108 temples. In 1972, he established the headquarters of ISKCON in Mayapur in West Bengal, India.
Cultural legacy
Chaitanya has influenced the legacy of many states in India especially the eastern states of India including Bengal, Odisha, and Manipur. In some of these states, he is worshipped as an avatar of Lord Krishna, whereas, some consider him the rebirth of Krishna. A famous Bangladeshi linguist once said,
Sixteenth-century is the time of Chaitanya Dev, and it is the beginning of Modernism in Bengal. The concept of 'humanity' that came into fruition is contemporaneous with that of Europe."
In Popular Culture
TV Series
In 2017, a Bengali TV series 'Mahaprabhu Sree Chaitanya' was aired on Colors Bangla and streamed on Voot. The Indian child actor Ishaan Sadhukhan portrayed Chaitanya Mahaprabhu in the TV serial.
In 2020, another Bengali TV series 'Mahaprabhu' was aired on Star Jalsha. The famous Bengali actor Jisshu Sengupta potrayed Chaitanya Mahaprabhu in the serial.
Films
Hindi
In 1954, the Indian actor Bharat Bhushan portrayed Chaitanya Mahaprabhu in the Hindi film 'Shri Chaitanya Mahaprabhu.'
In 2011, a Hindi film titled 'Shri Chaitanya Mahaprabhu' was released on the life of Mahaprabhu.
Bengali
In 1957, a Bengali film titled 'Nilachaley Mahaprabhu' was released in which the Bengali actor Asim Kumar potrayed Chaitanya Mahaprabhu. In 2021, the Bengali actor Parambrata Chatterjee was roped in to portray Chaitanya Mahaprabhu in the Bengali film 'Lawho Gouranger Naam Re.'
Biographies 
Various Indian scholars have published biographies on Mahaprabhu in different languages. Some of his popular biographies are Sri Sri Chaitanya Charitamrita of Krishnadasa Kaviraja and Sri Chaitanya Bhagavata of Vrindavana Dasa Thakura, which were originally written into Bengali and later, it was translated into English, Hindi and other languages.
A few other prominent biographies on Chaitanya Mahaprabhu are Sri Chaitanya Mangala by Lochana Dasa, Caitanya Caritāmṛta Mahākavya by Kavi Karnapura, and Śrī Caitanya Carita Maha Kavya by Murari Gupta.
Some other religious books and manuscripts published on Chaitanya Mahaprabhu are:
Kadcha or chronicle (written in Sanskrit by Svarupa Damodara; personal secretary of Chaitanya)
Govindadaser Kadcha (written in Bengali by Govinda Dāsa)
Chaitanya Bhagavata (written in Bengali by Vrindavana Dasa Thakura in around 1535 or 1546-1550)
Krsna-Caitanya-caritra-mahakavya (written by Kavi Karnapura in around 1535)
Krsna-Caitanya-candrodaya-natakam (written by Kavi Karnapura in around 1535- 1570)
Caitanya-candrodaya-natakam (written by Kavi Karnapura in around in Sanskrit in around 538 or 1540 or 1572 or 1579)
Caitanya-caritāmṛta-kavya (written by Kavi Karnapura in Sanskrit in around 1542-late 1500)
Caitanya-caritāmṛta (written in Bengali by Krishnadasa Kaviraja in around 1557 or 1580 or 1615)
Caitanya-Mangala (written in Bengali by Jayananda  in around 1560 or late 1500)
Chaitanya Mangala (written by Lochana Dasa in around 1560–66 or 1575)
Chaitanya-chandrodaya-kaumudi (written in Bengali by Premadas)
Gaura-ganoddesha-dipika (written by Kavi Karnapura in around 1576)
Chaitanya-samhita (written in Bengali by Bhagirath Bandhu)
Chaitanya-vilasa (written in Odia by Madhava Dasa in around 1500s)
Gauranga-vijay (written by Chundamani Dasa in around 1500s)
Sriman-mahaprabhor-asta-kaliya-lila-smarana-mangala-stotram (written in Sanskrit by Visvanatha Chakravarti in around the late 1600s)
Sri Gauranga-Lilamrta (written in Bengali by Krishna Dasa in the late 1600s-1700s)
Sri Caitanya-caranamrta Bhasva (written by Srila Bhaktivinoda Thakura in 1887)
Amrita-pravaha-bhashya (written in Sanskrit by Bhaktivinoda Thakur in around the late 1800s-early 1900s)
Anubhāsya (written by Bhaktisiddhanta Sarasvati in 1915)
Śrī Caitanya-caritāmṛta (written in English by A. C. Bhaktivedanta Swami in 1974)
Krishna-Caitanya, His Life and His Teachings (written by Walther Eidlitz in German in 2014)
Facts/Trivia
Chaitanya's neighbours used to call him Gaur or Gaur-Hari or Gauranga for his fair complexion. Some used to call him Nimai as he was born underneath a Neem tree. [7]

The Divine Life Society
His birthday is celebrated as Gaura Purnima in India.
His followers regarded him as six-handed divinity. According to a few religious manuscripts, he showed his six-hand divine avatar to his associates Sarvabhauma, Ramananda Ray, and Nitai. In his first two hands, he held a bow and an arrow, in his second two hands, he held a flute, and in his last two hands, he held Danda and Kamandalu.
Once, while Chaitanya was in a devotional trance state, he jumped into a sea at Puri imagining it to be the Yamuna River. However, he did not drown in the river, and his floated body was caught in the net of a fisherman. Later, when his associates sang the name of Hari loudly, only then he came into consciousness.
He enjoyed reading books and swimming.
He was a master of all branches of the Sanskrit language. At the age of 16, he started Tol (a place of learning).
In 1515, he visited Vrindavan to locate the holy places which were related to Lord Krishna. He wandered through various forests of Vrindavan. It is said that with his spiritual power, he located all the places related to Lord Krishna including the seven main temples or Sapta Devalay.
In the religious manuscript Chaitanya Bhagavat, Chaitanya made a prediction that one day Lord Krishna's name would be sung in every town and village of the world.
In one of the religious books, a miracle of Mahaprabhu has described. Once, during a festival in Puri, the vehicle in which the shobha yatra of Lord Jagannath was taken, was not moving. Everyone tried hard to move the vehicle. Even the elephants of Raja of Puri failed to move it. However, when Mahaprabhu pushed the car once, the vehicle started moving. Everyone present there was surprised to see that, and all started singing Hari Bol.
On 13 March 1986, a commemorative stamp of Chaitanya Mahaprabhu was issued by the Indian Postal Department.
In 2015, on the 500th anniversary of Mahaprabhu, a coin was issued by the Indian government which is worth Rs 6007. On the same day, a single coin of Rs 10 was issued by the Indian government which is worth Rs 540.