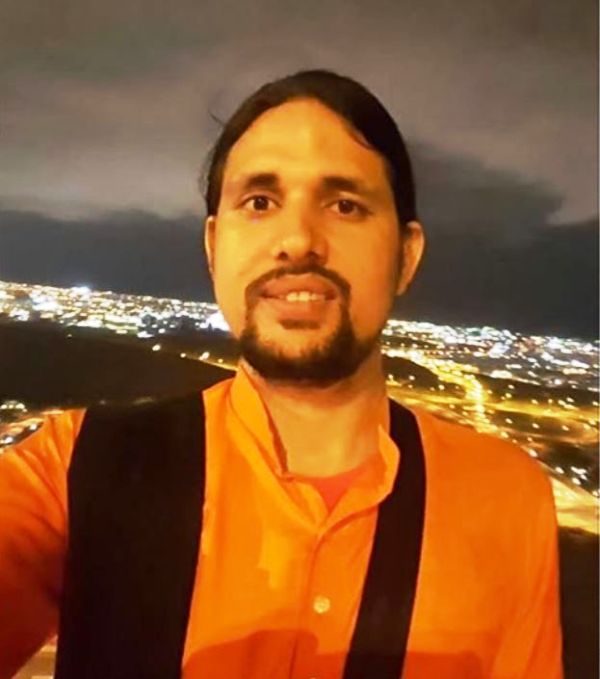 Anand Giri is an Indian self-proclaimed spiritual leader and yoga expert who is known for travelling the world in saffron clothes and for enjoying a lavish lifestyle – quite different from his fellow seers' ascetic life. It is believed that most of Anand's followers belong to the list of the followers of Mahant Narendra Giri, the former National Chief of Akhil Bhartiya Akhara Parishad. Anand also remained the Mahant at Bade Hanuman Temple in Uttar Pradesh's Prayagraj and of the Math Baghambri Gaddi until he became the face of controversy in 2021. The Hindu religious leader has been arrested twice, and it is believed that because of his strong political connections, he managed to get away.
Wiki/Biography
Anand Giri was born as Ashoka Chotia in the Brahamanon ki Sareri village in the Asind tehsil of Bhilwara, Rajasthan. His real age is not confirmed. As per some sources, he was born in 1985 (age 36 years old; as of 2021), [1]ABP Live whereas some other sources state that the yoga guru was born in 1983 (age 38 years old; as of 2021). [2]The Times of India Anand Giri's official website claims that he is a graduate of the Banaras Hindu University of Varanasi in Uttar Pradesh, and he also holds a PhD degree in Yoga Tantra. [3]Anand Giri Yoga
Physical Appearance
Height (approx.): 5′ 8″
Hair Colour: Black
Eye Colour: Black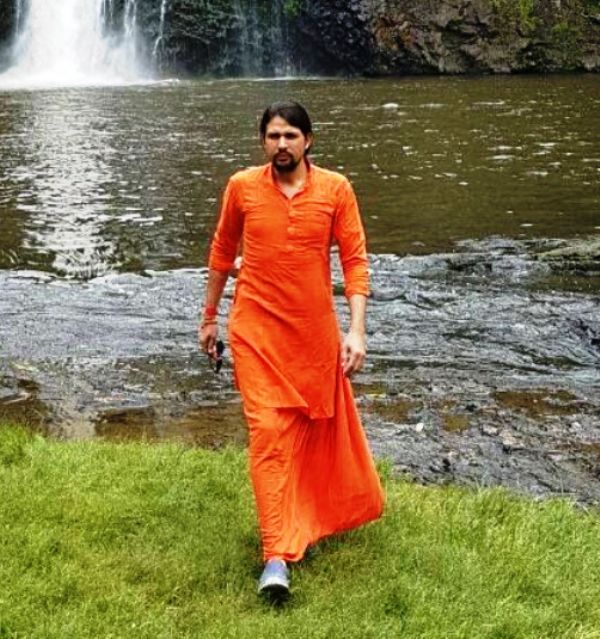 Family & Caste
Anand Giri belongs to a lower-middle-class Brahmin farming family. [4]The Financial Express [5]ABP Live
Parents & Siblings
Anand's father, Rameshwar Lal Chotia, is a farmer. His mother passed away in May 2021. According to Anand's brother, he was extremely close to his mother and sat next to her mother's body for hours after she died. Anand is the youngest sibling. He has three elder brothers, Bhanwar, the eldest one, sells vegetables on a cart, while Anand's other two brothers run a scrap business in Surat. [6]India Today
Wife & Children
Being a sannyasi, Anand Giri is unmarried and has no children.
Religion
Anand Giri practices Hinduism and is a Hindu seer.
Career
Priesthood
Anand Giri's family claims that when he was around 12-years old and was studying in the seventh standard, Anand (or Ashoka at the time), fled his village and went to Haridwar in around 1997 to join the priesthood. Later, the top seer Narendra Giri, the Mahant of the Niranjani Akhada, took him as his disciple. In 2004, when Mahant Narendra Giri was transferred to Baghambari Mutt in Prayagraj, Anand Giri went with him to train under him in spirituality. According to Anand, after leaving his ancestral home, he spent a few years at Kedar and in the Himalayas at Tungnath, Rudranath, and Kalpeshwar. In 2007, Anand was formally inducted into Narendra Giri's Shri Panchayati Akhara Niranjani. [7]Anand Giri Yoga At that time, Anand's family was unaware of his priesthood, until they saw his discourse on a program being telecasted on the TV channel Sanskar. Soon, Anand visited his family back in the village in 2012, accompanying Mahant Narendra Giri who gave Anand (Ashoka) Diksha in front of his family, and Ashoka formally took the name Anand Giri. Mahant also honoured him with the title of 'Swami.' [8]ABP Live
Life in Akhara
Anand Giri was named the 'Mahant Swami' of the Akhil Bharatiya Niranjani Akhada of Prayagraj, and he became the Mahant at Bade Hanuman Temple as well, before he was expelled from his post following a dispute with his guru Narendra Giri in 2021.
Flashy Lifestyle
The "social media savvy" godman is no ordinary seer; he led a non-ascetic lifestyle that became the talk of the town after he made headlines for being accused in the suicide case of his guru Narendra Giri. Anand was seen travelling across the world, riding luxury cars and bikes, and enjoying a lavish lifestyle in luxury hotels and beaches in his photographs that made rounds on social media. According to Anand's yoga website, the seer has travelled to the US, UK, South East Asia, Europe, Kazakhstan, and Turkey. [9]Anand Giri Yoga His Facebook page boasts of over 86,000 followers as of September 2021, which is accredited to Anand's regular live streams to interact with his followers. [10]India Today
Feud With His Guru
Anand Giri has had an ugly fallout with his guru and ABAP chief Mahant Narendra Giri  – a dispute that surfaced in the media after Narendra Giri's alleged suicide. The guru and the disciple first found themselves in a land dispute in 2004-2005 when Anand accused Narendra Giri of selling Baghambari Gaddi Mutt's land – an 8 bigha land that was allegedly sold off at Rs. 40 crore. The dispute again caught fire in May 2021 when the lease of Baghambari Mutt's land was cancelled. Reportedly, the land was for a proposed petrol pump, and it was leased out in the name of Anand Giri; however, Mahant cancelled the lease, citing that a petrol pump could not run there. The incident did not go down well with Anand Giri who then accused Mahant Narendra of wanting to sell off the land. [11]DNA India Further, after Anand was expelled from Baghambari Mutt and akhara in May 2021 after a complaint made by Narendra Giri, Anand retaliated against him and accused him of a number of allegations. The disciple released a video of him, accusing his guru of selling Baghambari Mutt's properties and of massive financial irregularities in the ashram. According to reports, Anand also wrote a letter to PM Narendra Modi and Uttar Pradesh CM Yogi Adityanath, requesting a probe into the death of Ashish Giri, former secretary of Niranjani Akhara, whose body was found in an ashram of the akhara in November 2019. Anand hinted at Narendra Giri being linked to the case and also claimed a threat to his life from Narendra Giri and his close aides. [12]Hindustan Times The 13-days-long dispute ended with Anand asking for forgiveness from his guru by sitting at Narendra Giri's feet. Reportedly, the guru forgave his closest disciple and allowed him to enter the akhara and the Mutt; however, it remained unconfirmed whether Anand had returned from his expulsion. [13]The Times of India
Controversies
Arrested For Sexual Assault
While on a six-week tour of Australia, Anand Giri was arrested on 7 May 2019 in Sydney for sexually assaulting two women on two different occasions. Reportedly, both the women were of south Indian origin, and they already knew Anand. His bail to appear at Parramatta Bail Court on 5 May 2019 was refused after which he was remanded in custody and later appeared at Mt Druitt Local Court on 26 June 2019. The ABAP president Narendra Giri officially released a statement that 'his people' had filed a bail application. [14]Firstpost
Expulsion 
Anand Giri, who was Mahant at the Bade Hanuman temple in Uttar Pradesh's Prayagraj at the time, was expelled from his post at the Baghambari Mutt and from the Niranjani Akhara on 14 May 2021 by Shri Panchayati Akhara Niranjani. The action was taken after his guru Narendra Giri lodged a formal complaint against Anand for maintaining relations with his family, which goes against the set norms for the seers of the akhara. Mahant further accused Anand Giri of misappropriation of funds of the Bade Hanuman temple for his family. [15]The Times of India
Arrested in Narendra Giri's Suicide Case
After the news of the mysterious suicide of his guru Narendra Giri surfaced in media, Swami Anand's name appeared as the prime accused in the case in media. He was arrested for allegedly abetting Mahant's suicide on 20 September 2021. Anand Giri got associated with the suicide case after Narendra Giri named Anand in a handwritten suicide note, which read that Anand "blackmailed" him over a "morphed photo of a girl." [16]The Times of India The guru also accused Anand in a 1-minute long video recovered by the police that Mahant had apparently recorded before his death. On the same day, an FIR was filed against Anand, and he was arrested from Haridwar on the next day. [17]India Today Following his arrest, the 18-member SIT team investigating the suicide case questioned Anand Giri for 12 hours. Reportedly, during the interrogation, Anand firmly denied all the allegations against him and repeatedly claimed that it was all a conspiracy against him. On 22 September, he was sent in 14-day judicial custody in the Naini Central Jail. [18]India Today
Facts/Trivia
 After Anand Giri earned the title of 'Swami' from Narendra Giri, he started referring to himself as Swami Anand Giri. [19]

Anand Giri Yoga
On his official website, Anand claims to be well-versed in Sanskrit Grammar, Ayurveda, and Vedic Philosophies. [20]

Anand Giri Yoga
The spiritual guru has taught as a guest lecturer in many universities, and he is also frequently invited to various schools and colleges for lectures. He also conducts yoga sessions for Army personnel and executives in private sector companies.
Swami also claims to lead the 'Ganga Seva' campaign under 'Sri Maa Ganga Nirmal Sanrakshan Samiti' that works to clean Ganga and make it pollution-free. [22]

Anand Giri Yoga
At the Kumbh Mela of 2013, Anand Giri released his debut book 'Swarn Bhoomi Prayag' in which he talked about the history of the town of Prayagraj in Uttar Pradesh, its cultural significance, and also its transformation.
During the investigation in Narendra Giri's suicide case, the audiotapes of an alleged conversation between Mahant Narendra Giri and Swami Om Bharti, Mahant of the Brahmachari Kuti, were leaked on 22 September 2021 in which the two were talking about Anand Giri. In the tapes, Narendra Giri was heard saying that he was apparently tired of Anand's "politics," while Om Bharti added that he tried to file a police complaint against Anand Giri but could not due to Anand's strong political influence. Swami also revealed in the tapes that in 2020, Anand allegedly leveraged his power to own a Brahmachari Kuti that spanned over 12 bighas in Uttar Pradesh's Noida. [23]

India Today