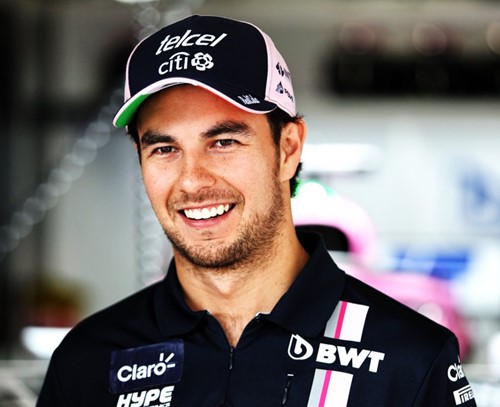 Sergio Perez is a Mexican Formula One racing driver who is a driver for the Red Bull Racing F1 team. Perez is well-known for winning his first F1 championship after completing 190 races, breaking the record of most number of starts before winning a race.
Wiki/Biography
Sergio Michel Pérez Mendoza popularly known as Sergio Perez or Checo Perez was born on Friday, January 26, 1990 (age 31 Years; as of 2021), in Guadalajara, Mexico. His zodiac sign is Aquarius. His family and friends have given him the nickname Checo. Sergio Perez was born in a family with a racing background. His father, Antonio Pérez Garibay, was a former racing driver who had left racing and switched to the field of managing other racers. Sergio Perez was born before the scheduled delivery because the date was clashing with the 1990s 24 hours after the Daytona race. Antonio convinced the doctors to move up the date of the delivery and Sergio was born through cesarean.
Physical Appearance
Height (approx.): 5′ 7″
Eye Color: Black
Hair Color: Black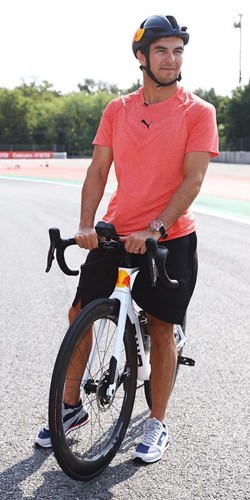 Family
Parents & Siblings
Sergio Perez's father is Antonio Perez Garibay, who was a professional racing driver and now manages other racers as their agent. Sergio's mother is  Marilú Mendoza de Pérez. He has an elder sister, Paola Perez, who is the president of Checo Foundation, and he has an elder brother, Antonio Perez Mendoza, who is a former Mexican stock car racing and NASCAR racing driver.
Wife & Children
Sergio Perez got married to Carola Martinez on June 1, 2018, and together they have two kids- Checo (son) and Carlota (daughter).
Religion
Sergio Perez follows the Roman Catholic church and its ideologies. [1]Reddit
Signature
Sergio Perez is also known by his nickname i.e. Checo Perez. Hence, he has two different signatures.
Career
Debut with Go-karting
Sergio's father was popularly known as Tono in the racing industry. He urged both his sons, Antonio and Sergio, to participate in go-karting from an early age. Sergio made his debut in go-karting at the age of six. Tono believed that Sergio was a natural racer and he would tell everyone that Sergio was the best rookie go-kart racer and one day he would make it to the F1 racing. In 1997, Sergio Perez participated in the Youth Class event for go-karting, where he was the youngest among the other drivers. He managed to finish the championship in fourth place with a win and five podium finishes.
Slowly, Perez shifted from go-karting to bigger engine classes as he attended the National Shifter 125 cc class racing and finished as a runner-up. He grabbed the eleventh position in the Global Shifter 80 cc class. Sergio faced problems at the age of fourteen when he was not allowed to participate in the Cart Grand Prix race at Hermanos Rodriguez racetrack, Mexico. He then met his father's friend and Mexican billionaire businessman, Carlos Slim Domit, who came forward to help Sergio overcome this problem. Slim offered Sergio his financial support and sponsorship from the Mexican telecommunications company, Telmex. The catch of the deal was that Perez would not be allowed to race in Mexico ever again; initially, he was hesitating, but then he accepted the offer.
Entry to Formula Racing
After gaining the sponsorship, Perez moved to the United States to participate in the Skip Barber Championship in 2004. He finished eleventh in the championship, and his remarkable run at the event helped him earn a spot in Germany's Formula BMW ADAC series. Sergio was fifteen when he left for Germany without a return ticket or any other preparations for his stay. During his time in Germany, he stayed at the restaurant that was owned by his team manager for four months. He was racing for 4speed Media, and in a year, he went from fourteenth place to sixth place. In 2006, Perez participated in the 2006-07 A1 Grand Prix season and he was representing the A1 Team Mexico. In an interview with a sports news channel, Slim talked about Sergio's sacrifices and hard work and said-
If anything has set Checo apart from other drivers who have tried to make it to F1, it's his attitude. Not just his talent. That attitude that he himself has adopted is real, 'Never Give Up.' He has never given up and has always performed well. Always. Nobody has given him anything."
Formula 3 to GP2 Series
In 2007, Sergio relocated to Oxford, England, and switched to Formula 3 racing to be a part of the two-year campaign in British Formula 3. In those two years, Sergio bagged the National Class racing for older chassis and stood fourth in the International Class in 2008. After racing in Formula 3, Perez drove for Campos Grand Prix at the 2008-09 GP2 Asia Series. Perez registered his first GP2 win at the Bahrain International Circuit in Sakhir, and his second win was at Losail International Circuit in Qatar. Later, he went for the Formula 1 feeder championship i.e. 2009 GP2 Series, and finished the series at the twelfth position.
Sergio in Sauber (2011-2012)
In October 2010, Sauber, a Swiss motorsport engineering company announced that they had signed Sergio for the 2011 season. Furthermore, they also took Telmex on board as they were Sergio's sponsors. Sergio also joined the Ferrari Driver Academy scheme in the same year. In his first race at the Australian Grand Prix, Perez took a bold step of stopping only once for the pitstop which surprisingly, impressed the viewers, and he managed to finish seventh in the race. Unfortunately, both the team cars were disqualified after the race for violating certain technical regulations. During the Monaco Grand Prix in 2011, Sergio Perez was involved in a crash when he lost control of his car while coming out of the tunnel, and he crashed his car into an impact-absorbing tech pro barrier. Sergio suffered a concussion and a sprained thigh. In an interview, Sergio talked about the accident and said-
Of course I think back to the accident I had in Q3 last year. To me it is like a watershed event in my career. There is a time before and a time after the accident. I learnt a lot from what I had to go through and I think it made me stronger. I really want to show what I can do in Monte Carlo."
In 2012, the beginning of the year was slow as Perez didn't have much success in the first few races. At the Malaysian Grand Prix, Sergio competed with Fernando Alonso for the first position, but he went wide on one of the turns and had to settle for second place. He earned the second podium finish of his career at the Canadian Grand Prix where he stood third in the race. At the British Grand Prix, Pastor Maldonado's aggressive driving style caused a collision between him and Sergio for which Pastor was fined a double penalty and €10,000. Sergio had to retire because of a broken suspension. He later criticized Pastor and said-
Everybody has concerns about him. He is a driver who doesn't know that we are risking our lives and has no respect at all. Just look at the last races. He ruined Hamilton's race (in Valencia), he ruined my race in Monaco by doing stupid things. I don't understand why the stewards don't take a serious decision with him. With Pastor they're not doing anything that will teach him a lesson."
Sergio Perez had his third podium finish of the year 2012 at the Italian Grand Prix. He started the race with hard tires and after completing 29 laps, he took a pitstop and switched to medium tires for the rest of the race. This technique helped him earn a podium finish.
Moving to McLaren for Mercedes (2013)
In 2013, Lewis Hamilton decided to leave McLaren for Mercedes, and as his replacement, Sergio Perez was hired by the team. In the first few GPs, Perez faced some troubles in getting familiar with the car; however, at the Bahrain GP, Sergio started in the twelfth position and finished the race in sixth place. He drove slightly aggressively to mark his win, and this was not appreciated by Jenson Button. In the 2013 Monaco Grand Prix, Sergio got into an accident after he collided with Kimi Räikkönen while overtaking him during the race. Later, Räikkönen criticized Perez and said that he should be punched in the face. After facing criticism from his teammates and other members of the team, Sergio decided to quit McLaren for Mercedes.
Force India (2014-2018)
2014 Formula World Championships
The 2014 championship began with the Australian Grand Prix where Sergio ended in tenth place in the race. He then couldn't participate in the Malaysian Grand Prix due to an unexpected gearbox issue, but a week later, he went for the Bahrain Grand Prix and managed to score the first podium win for Force India since 2009. He managed to finish in third place. At the Monaco Grand Prix, Sergio started in the tenth position, but a collision with Jenson Button in the first lap caused an early retirement. Sergio Perez was struck with bad luck when his car faced braking issues while he was competing for another podium finish. In the last lap of the race, his car collided with the car of Felipe Massa, who rear-ended Perez's car, sending both the cars into the barriers. Later, he was given a five-place penalty for the next race as the officials decided that Perez changed his racing line suddenly and caused a crash. In November 2014, Force India officials declared that they have signed Perez until the 2016 F1 season.
2015 Formula World Championship
In the 2015 F1 championship, Perez ended the races in tenth place in Australia, thirteenth place in Malaysia, eleventh place in China, and eighth place in Bahrain. The best race of the season was when Sergio scored the podium in Russia. By the end of the championship, Sergio was in the ninth position, which was his highest championship position till 2015.
2016 Formula World Championship
The beginning of 2016 was slightly rough for Sergio as his VJM09 vehicle was not upgraded as compared to the other cars. The upgraded version of the car was introduced in Barcelona GP where he managed to finish in seventh place. Perez outdid himself when he won a podium finish at the Monaco Grand Prix in wet and changing conditions.  During the race, he pitted as much as the Ferrari and Red Bull drivers, but tire management played a major role in the race. Another podium finish came for him at the European Grand Prix in Baku, Azerbaijan.
2017 Formula World Championship
It was rumored that for the 2017 season, Perez might move to Williams Racings, Renault, or Haas F1 Team, but at the Malaysian Grand Prix, he proved his commitment towards the team, working along with a new teammate Esteban Ocon. The highest finish he had for 2017 was when he ended up in fourth place at the Spanish Grand Prix. In the Azerbaijan Grand Prix, Sergio was aiming for the win when and competing hard, but he ended up colliding with his teammate Ocon. He was in the seventh position for the rest of the championship.
2018 Formula World Championship
At the 2018 Azerbaijan Grand Prix, Sergio finished in third place making it the eighth podium finish of his career. With this, he became the first driver to finish twice on the podium at the Baku City Circuit. Unfortunate events took place when Force India was put under administration because of some creditors' complaints. These creditors took legal action against the team; Perez explained that the action was taken to save the whole team from shutting down. Before the Belgian Grand Prix, a group of investors led by Lawrence Stroll, father of Williams Racing driver Lance Stroll, purchased the assets of Force India's team to keep the team. The name of the team was rebadged to Racing Point Force India.
The team made a smashing comeback at the Belgian Grand Prix, as both, Perez and Ocon, finished fifth and sixth respectively. Perez performed poorly at the 2018 Singapore Grand Prix as he collided with his teammate in the opening lap causing Ocon to retire from the race. He was given a drive-thru penalty for his irresponsible driving. In October 2018, his car suffered a brake failure, and had to retire from the race.
Racing Point (2019-2020)
2019 Formula One World Championship
In 2019, Racing Point Force India transformed into Racing Point and they kept Sergio Perez as their driver. The season started with a strong sixth-place finish at Azerbaijan Grand Prix, but it was followed by a streak of no-point races. However, in the second half of the season, as he finished in the top ten places while starting from low initial grid positions like a seventh place in the Italian Grand Prix, eighth in the Japanese Grand Prix, and tenth in the United States Grand Prix.
2020 Formula One World Championship
Perez signed a contract with Racing Point under which he was supposed to continue racing for the team until 2022. However, three days before the British Grand Prix, Sergio tested positive for COVID-19, and he was replaced by Nico Hülkenberg. After recovering from COVID, Perez returned for Spanish Grand Prix, where he finished the race in the fifth position. Despite his contract till 2022, Perez announced that he'll be leaving by the end of the 2020 season. He achieved his ninth podium win at the Turkish Grand Prix as he finished second in the race by overtaking Max Verstappen and maintaining a lead against Sebastian Vettel. Since the news of Perez's departure was made public, he received a lot of support from the media and his fans saying it would be an injustice to Perez if he was not a part of the 2021 line-up. Former F1 driver and Sky Sports F1 commentator Martin Brundle suggested that Red Bull Racing should consider hiring Sergio Perez for their team.
Perez won his first race at the Sakhir Grand Prix in Bahrain and became Formula 1's 110th race winner. He became the first Mexican driver to win a series since Pedro Rodriguez, who won the 1970 Belgian Grand Prix.
Red Bull Racing (2021-)
2021 Formula One World Championship
Perez replaced Alex Albon and teamed up with Max Verstappen as he joined the Red Bull Racing team. He made his debut with Red Bull Racing at the 2021 Bahrain Grand Prix. During the 2021 Emilia Romagna Grand Prix, Perez managed to qualify for the front row in second place. This was the first time he was starting on the front row. During the 2021 Azerbaijan Grand Prix, Perez started the race in the sixth position and moved up to third place by lap eight. He then took second place by passing Lewis Hamilton and stayed in that position for a majority of the race. Before the last two laps, Perez took first place and bagged the second win of his career and his first for Red Bull Racing.
At the 2021 French Grand Prix, Perez finished the race by overtaking Valtteri Bottas on lap 49 and finished the race in third place. This was the first time he finished on a podium on consecutive weekends. A week later, at the 2021 Styrian Grand Prix, Perez finished in fourth place, losing the opportunity for a third consecutive podium finish. At the 2021 Belgian Grand Prix, Perez was on his way to the grid when his car crashed into a barrier, as a result, he had to start from the back. However, the race was red-flagged just after two laps and Perez ended the race in nineteenth place.
Facts/Trivia
In 2017, the FIA (Fédération Internationale de l'Automobile) awarded Sergio Perez the 'Best Latin American Driver of 2016' award for his performance in the F1 championships in 2016.
Sergio Perez is a dog lover and he has two pet golden retrievers.
During the COVID-19 lockdown, Checo Perez was quarantined at home and he decided to build a gaming setup for himself. He ordered a racing car simulator setup for his home, and he would often play racing games to replicate the feeling of being in a Formula 1 race car.
The videogame company Codemasters launched the F1 2019 Anniversary Edition CD for PS4. The company used the faces of Lewis Hamilton and Sergio Perez on the cover of the CD cases.
Sergio grew up with no role model in his life despite the fact that his brother and father belonged to the racing world. However, he often considered the Brazilian racing driver Ayrton Senna as his inspiration.
Sergio Perez suffers from a condition called trypophobia which is a fear of a pattern of holes.
Sergio Perez enjoys reading books and his favorite book is written by the Spanish author Risto Mejide. The name of the book is Urbrands.
Sergio Perez eats non-vegetarian food. He loves eating desserts and his favourite is tiramisu of any sort.
Sergio Perez has an interest in collecting watches and he has over 20 watches that signify a special moment of his life.
Sergio loves playing football with his friends. In Mexico, he has a football team with his friends and they play professional matches with local teams. Sergio also loves playing golf in his leisure time.

With his podium finishes and sponsorships, Sergio Perez was doing well financially. In an interview for Formula 1, the reporter asked Perez about his worst purchase over the years, he said-


The list is long – I don't know where to start. Ah, I bought an electric helicopter for my dog."

Sergio has invested his money in stocks to increase his earnings and find an alternate source of income as well. During an interview, he revealed that the first thing he checks in the morning is the CNBC application to check the stock market and to check his investments. He said-


I really enjoy looking at the stock market and I even own some stocks too. If you look at it every single day you go through a lot of emotions, one day is very good, one day is very bad, and it's like with racing, it doesn't matter what you do, it's where you finish. Overall I just really like it and generally I think it's good to investment."

Sergio chose to follow in his father's footsteps and decided to become a racing driver. However, in an interview, he said-


I would like to have been a banker or a lawyer. They both have a lot of adrenaline, similar to the stock market, and that's what I'd say is similar to racing."

In November 2012, Sergio Perez started the Checo Perez Foundation that focused on providing the necessary help to orphans by providing them basic necessities and education. The foundation also helps in providing medical and financial aid to children who are suffering from cancer. Sergio's sister, Paola, is the president of the foundation.