Savitri Devi Mukherji (1905-1982) was a French-born Greek fascist, teacher, writer, and Nazi sympathizer. In 1932, she converted to Hinduism and since then, became a dogmatist who deemed Adolf Hitler as an avatar of the Hindu god, Lord Vishnu. On 22 October 1982, she took her last breath at her friend's house in Sible Hedingham, Essex, UK, before she died of a heart attack.
Wiki/Biography
Savitri Devi Mukherji was born as Maximiani Julia Portaz [1]India Today on Saturday, 30 September 1905 (age 77 years; at the time of death) in Lyon, France. When Maximine was born, she only weighed 930 grams and was not expective to live. As a child, Savitri had developed political views at an early stage and supported animal rights till the time of her death. She graduated from a catholic school in Lyon and earned two Master's degrees in Philosophy and Chemistry from the University of Lyon in France. In 1928, she graduated with a Doctor of Philosophy degree in Liberal Arts from the same university in France. After graduating, she travelled to Greece, where she became familiar with Heinrich Schliemann, a German archaeologist. [2]Smithsonian She was fascinated by his discovery of swastikas in Anatolia. She concluded that the Ancient Greeks belong to the Aryan origin. She became politically associated with Greek nationalism. When Maximine came to India, she learnt the Bengali language at Rabindranath Tagore's Shantiniketan Ashram in Bengal, where she took the pen name, Savitri Devi, at the suggestion of her students.
Physical Appearance
Hair Colour: Dark Brown
Eye Colour: Brown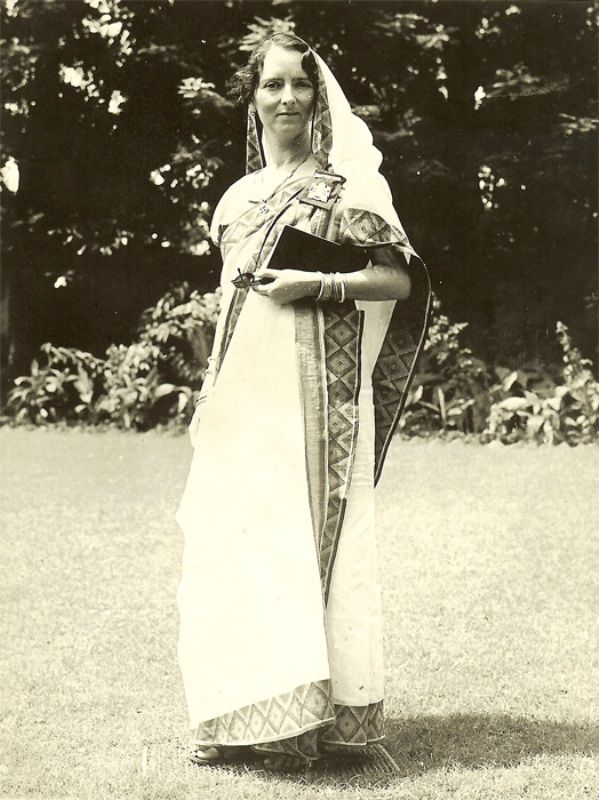 Family
Parents & Siblings
Maximiani Julia Portaz's father, Maxim Portaz, was Greek-Italian. On 24 February 1932, Maxin Portaz died after suffering from paralysis in Lyon, France. Her mother, Julia Portaz, was an English woman of Italian descent. On 25 March 1960, Julia died in Lyons.
Husband & Children
On 9 June 1939, Savitri got married in Calcutta to Asit Krishna Mukherji, a Bengali Brahmin who hailed from Naryanganj, East Bengal. Asit married Savitri so he could protect her from getting deported. Asit published many pro-Axis journals and worked as an editor for the pro-German newspaper called the New Mercury. After The New Mercury was closed down by the British government, Mukherji became the publisher of The Eastern Economist, an Indian business weekly newspaper, in collaboration with the Japanese legation from 1938 to 1941. He made use of his connections with Subhas Chandra Bose, an Indian nationalist, and the Japanese authorities to put them in contact with one another, thus encouraging the formation of the Indian National Army. Later, Asit became a fortune-telling astrologer who published her wife's books. On 21 March 1977, Asit Krishna Mukherji passed away and was survived by Savitri Devi Mukherji who moved to New Delhi to live off her deceased husband's pension.
Relationships/Affairs
Savitri's sexuality has been the subject of some speculation. During her imprisonment in 1962, she grew close to Francoise Dior who was a former Belsen wardress, condemned as a war criminal, and also the niece of fashion designer Christian Ernest Dior. Francoise Dior claimed to be Savitri's lover.
Nationality
Since she was born in France in 1905, Savitri had French citizenship, which she renounced in 1928. Also in 1928, she got citizenship in Greece and had it until the time of her death (1982).
Religious Views
Maximiani religiously followed Hinduism and Nazism. In 1932, she got converted to Hinduism.
Adapting the Nazi ideology
In 1929, Savitri joined a pilgrimage to Palestine during which she witnessed the Palestine riots and sympathised with the Nazis. Later, she decided to convert to a Nazi, which she did. In 1948, Savitri somehow managed to enter Allied-occupied Germany. In 1962, Savitri was among other members who were arrested for distributing thousands of pro-Nazi leaflets that read,
"One day we shall rise and triumph again! Hope and wait! Heil Hitler!"
Years later, she admitted that she was glad to be arrested by the British occupation authorities as Savitri's arrest brought her closer to the other jailed Nazi comrades.
Searching for Paganism and Aryan culture- a Visit to India
In 1932, she travelled to India in search of Paganism. She firmly believed that India represented the best of racial segregation as she was desperate to know more about the Aryan culture. She soon changed her name to Savitri Devi and volunteered to work as an advocate against Judaism and Christianity, which she believed are anti-Aryans. In the 1930s, during the time when Savitri was in Kolkata, she worked for the Hindu Nationalist movement, which served as a centre for all Hindu nationalist campaigns and missionary activities. Along with her husband, Asit, she distributed pro-Axis propaganda and engaged in intelligence gathering on the British in India. She associated with various Hindu groups including Hindu Mahasabha and RSS. During World War II, along with her husband, she helped Subhas Chandra Bose, the leader of the Axis-affiliated Indian National Army, to contact representatives of the Empire of Japan. Meanwhile, Savitri offered her services to the Hindu Mission's director, Swami Satyananda. He allowed Savitri to mix the Nazi propaganda with her talks on Hindu identity and she delivered lectures in Hindi and Bengali language, in which she talked about Aryan values and co-relating them to quotations from Mein Kampf, an autobiographical manifesto by Nazi Party leader Adolf Hitler. Throughout her stay in India, she stayed in several cities such as Madras, Calcutta, Delhi, Jalandhar, and Pondicherry.
The neo-Nazi Animal Rights Activist
Savitri, despite having strong beliefs against the anti-Aryans, had always believed that humans do not stand above animals. In 1959, she authored a book titled 'The Impeachment of Man,' which was based on animal rights in which she presented her ecological views about respecting animals and nature, and executing anybody who disrespected them. She strongly believed vivisection, circuses, slaughter, and fur industries among others did not belong in a civilized society.
Adolf Hitler- an Avatar of the Hindu God Vishnu
In 1915, at the age of 10, she wrote 'A bas les Alliés! Vive l'Allemagne!' ('Down with the Allies! Long live Germany!') on a wall of the Gare des Brotteaux in Lyons with chalk. She became fascinated by the rising Nazi Party in Germany. In 1958, she wrote a book titled 'The Lightning and the Sun,' in which she regarded Adolf Hitler as the greatest European of all time and claimed that Adolf Hitler was an avatar of the God Vishnu, who had been sent to prepare the world for the end of the Kali Yuga ("the age of darkness"), which according to the Hindu scriptures is the last of the Yuga cycle.
Literary works
In 1935, she authored her first French-language book titled 'Essai critique sur Théophile Kaïris,' which was also her first doctoral thesis on the life and thoughts of the Greek educator and philosopher Theophilos Kairis. Her second book was also her doctoral dissertation titled La simplicité mathématique. She penned several other books such as 'A Warning to the Hindus' (1936), 'The Non-Hindu Indians and Indian Unity' (1940), and 'Long-Whiskers and the Two-Legged Goddess or The True Story of a "Most Objectionable Nazi" and… half-a-dozen Cats' (1965).
Death
By the 1970s, Savitri had developed cataracts because of which her eyesight was getting worse. In 1981, she decided to move to Bavaria in Germany; however, her stay in Germany was cut short after she moved back to France the following year. On 22 October 1982, Savitri passed away in Sible Hedingham, Essex, UK, after she suffered from a heart attack and coronary thrombosis at the age of 77. Her ashes were taken to 'Nazi hall of honor' and placed next to those of American-Nazi leader George Lincoln Rockwell at the headquarters of the American Nazi Party in Arlington, Virginia.
Facts/Trivia
Her name is also spelt as Maximiani Julia Portas.
From an early age, she loathed all forms of egalitarianism, which is a principle of treating all persons as equal without any differences due to gender, economic status, and other factors. In 1978, during an interview, while talking to Holocaust denier Ernst Zundel concerning her beliefs, Savitri said,


A beautiful girl is not equal to an ugly girl."
From childhood and throughout her life, Savitri lived a vegetarian life.
When Savitri was residing in Delhi, she used to live in a flat above a garbage site and fed the stray cats. She had a black cat named Black Velvet, another named Long-Whiskers, and yet another named Miu, just to name a few.
In 19947, she spent two nights in Mount Hekla, Iceland, and witness the volcanic eruption. In one of her books, while talking about her experience of Iceland, she wrote,


The original sound of creation is 'Aum.' The volcano says every two or three seconds, 'AUM! AUM! AUM!' and the Earth is trembling under your feet all the time."
Savitri's parents taught her French and English language. As she grew up, she taught herself Modern Greek and Ancient Greek languages. Later, she became fluent in a total of eight languages including Italian, German, Icelandic, Hindi, and Bengali. She was also familiar with the knowledge of around twenty other languages such as Urdu and other Indian languages.
On 8 August 1962, Savitri Devi got banned from Britain after she volunteered at the Cotswold founding camp of the WUNS.
Savitri Devi didn't like when people called her by the name "Devi" only. On 13 May 1979, she wrote a letter to Martin Kerr, an American neo-Nazi, in which she explained to him what her name meant and what she wanted to be called.