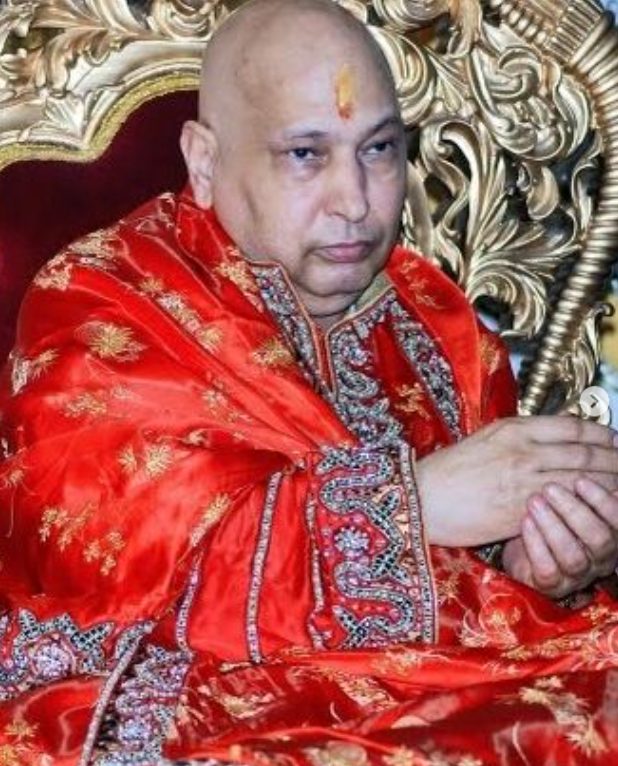 Guru Ji Chattarpur Wale was an Indian spiritual leader.
Wiki/Biography
Guru Ji Chattarpur Wale, also known as Dugri wale Guruji, Shukrana Guruji, and Pyaare Guruji, whose real name is Nirmal Singhji Maharaj, was born on Monday, July 7, 1952, in Dugri village at Malerkotla, Punjab (India.) His zodiac sign is Cancer. He completed his schooling from Govt. Primary School, Dugri. He had a Masters's degree in economics and political science.
Physical Appearance
Height (approx.): 5′ 11″
Hair Colour: Bald
Eye Colour: Black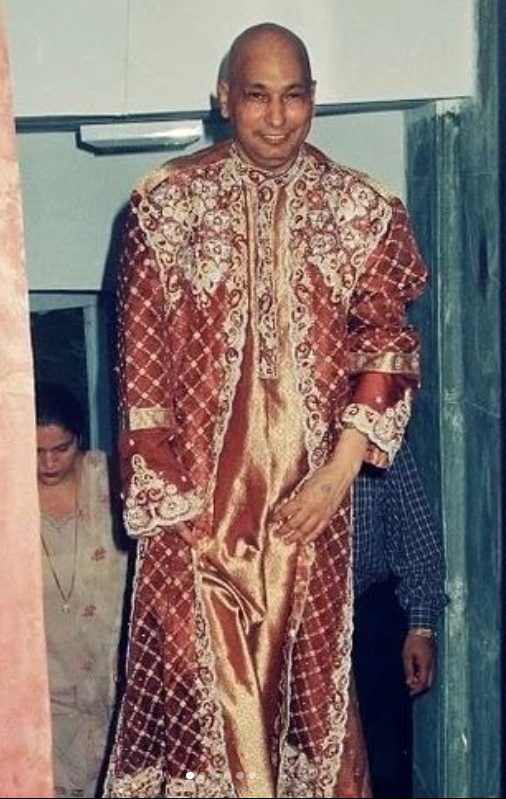 Family & Caste
Parents & Siblings
His father's name is Shri Mast Ramji and his mother's name was Late Smt. Surjit Kaur. His father was a farmer and had an agricultural background.
He has a younger sister named Krishna. He also had a younger and an elder brother.
Wife & Children
The name of his wife is unknown.
Career
Guruji departed from his home after finishing his education to assist people in their spiritual journey. He traveled and sojourned in various locations such as Jalandhar, Chandigarh, Panchkula, Delhi, Mumbai, before eventually settling in a house, now famously known as his temple, situated in Defence Colony, Jalandhar. Until 2002, he frequently commuted between Delhi and Jalandhar, before finally residing in the Chotta Mandir, also known as the Empire Estate house on MG Road in New Delhi.
During the 90s, he established the Shiv Mandir in the Bhatti Mines area in Chattarpur, which is now recognized as the Bade Mandir, and it holds his Samadhi. Furthermore, he founded multiple ashrams across the world.
There are three prominent Guruji temples accessible to the general public in India. The Bada Mandir, located in Delhi, is one of them and draws in numerous devotees each week. It has a colossal granite lingam, which symbolizes the Hindu deity Lord Shiva, on top of it. The Jalandhar Mandir, situated in Punjab, is open every month on Pooranmashi (Full Moon evening).
The Dugri Mandir, situated in Malerkotla, Sangrur, Punjab, is open every first Sunday of the month.
In 1995, Guruji was headquartered in S block Greater Kailash -1, New Delhi. From there, he moved to Empire Estate on Mehrauli Gurgaon Road, Delhi. Nowadays, both the S block Greater Kailash -1 residence and Empire Estate are rarely open to the public. Guru ji also has an ashram in Mumbai.
Guruji temples are now present in various countries, including the United States. The largest temples in the US are located in Somerset and Edison, New Jersey.
Teaching Methodology
Guruji motivates people to focus on their sufferings by meditating on them. He did not advocate idol worship or prescribe any particular customs to his followers. Unlike many Gurus, he does not deliver pravachans (religious sermons) or suggest elaborate rituals. Instead, he promotes practical learning and encourages his followers to establish a direct connection with him through meditation and prayer. Guruji highlights the curative power of prasāda (religious offerings) and discourages wastage. His devotees believe that the langar prasad (communal meal), chai prasad (tea offerings), and jal prasad (water offerings) prepared and served in front of his photograph continue to receive his blessings.
Controversies
Rape Case Against his Nephew
According to allegations, in 2021, Navdeep Singh, also known as Gaurav, the nephew of 'Guruji', sexually assaulted a woman named Asha. Asha claims that she first met Gaurav in 2013 at the temple with her family, and he gradually began to pay more attention to her.
Reportedly, in March 2019, Gaurav called Asha to discuss a dream he had about her and the future of the sect. He requested Asha to meet him on April 4, 2019, and sent his vehicle to pick her up. Allegedly, Asha was taken to a farmhouse near the temple where Gaurav told her that Guruji had appeared in his dream and told him that Asha was destined to be his wife and bear a male child to continue Guruji's legacy. Gaurav allegedly gave Asha a drugged religious offering that made her feel lifeless and lightheaded. Then, he took her to another room and conducted a 'marriage' ceremony by chanting shlokas in front of a 'havan' before allegedly raping her. Over the next several months, Gaurav allegedly took Asha to the farmhouse or a nearby hotel, where he promised her that his divorce would be finalized soon. In September 2019, Asha's husband asked her about her frequent visits outside the home, and she revealed her relationship with Gaurav. Her husband applied for a divorce, and when Gaurav found out that Asha had informed her husband, he reportedly began to avoid her and later threatened her. Asha approached the Vikas Puri police station on September 5, 2020, after recovering from the alleged ordeal, to register a complaint. The final verdict is still pending. [1]National Herald India
Signature
Death
He took 'maha samadhi' on Thursday, May 31, 2007, in Delhi. He was 55 years old at the time of his death.
Tattoos
Guruji has a symbolic tattoo on his hand. It is done with black ink and looks like the Devanagari script of the word 'Om.'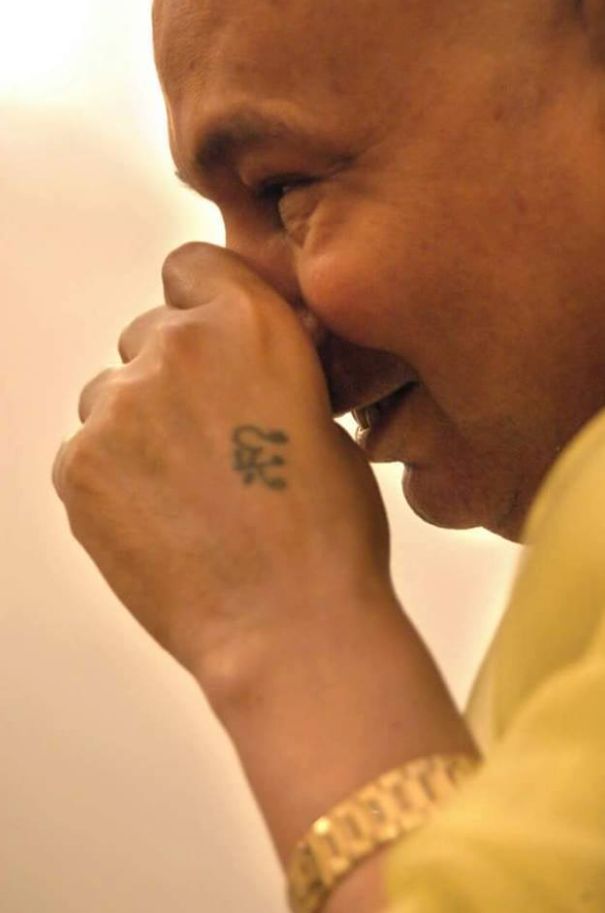 Facts/Trivia
Guruji is believed to be an incarnation of the Hindu deity Lord Shiva.
It is believed that Guruji would often go and sit at the Dera much to the dislike of the family who wanted him to spend time studying rather than sit amongst sages. Guruji's father, like any typical parent, wanted his son to receive a Master of Arts degree, and therefore, Guruji only studied to fulfill his father's wishes.
The tea given in the satsang of Guruji is said to contain magical healing powers.
He is believed to love the fragrance of roses and many people claim that they can smell roses in the temples. It is believed to be a blessing of Guruji and indicates his presence.
Many celebrities have done Guruji's satsangs at their homes including Rishi Kapoor [2]

YouTube and political leaders like Amrik Singh. Celebrities like Jacqueline Fernandez have also paid visits to the Shiv Temple established by Guruji in Delhi.
Guruji's schoolmates have recounted his famous ability to fill empty inkpots by merely touching them with his finger.
Occasionally, he would ask devotees to share their divine experiences of his blessings in front of the congregation to instill faith in the supreme and remove any doubts from their minds.
There is little written documentation on Guruji's early life, and much of the information on it has been passed down orally by his followers. However, his teachings can be found in books such as Pyaare Guruji and the Light of Divinity, which are distributed by his followers. The written literature on Guruji is devotional and hagiographical in nature.
Guruji instructed his disciples to listen to Shabads, Sachi Banis, and Gurbani from the Guru Granth Sahib.
The construction of the Bada Mandir is believed to be miraculous as all problems, such as snakes and rain, were immediately resolved with Guruji's involvement. The soil near the mandir complex is also considered magical, as flowers and trees grow twice their original size in that area. The Shivling on the top of the mandir is considered an architectural miracle too.
According to the Sangat's website, Guruji did not name a successor. However, his nephew Gaurav has taken on the responsibilities of managing the Sangat, including handling the funds, the ashram, and the temple. In 2008, after the death of Nirmal Singh, a devotee filed a case in the Delhi High Court regarding the management of the ashram. The devotee claimed that with only one old trustee alive, the trust would be mismanaged, leading to disputes. [3]National Herald India