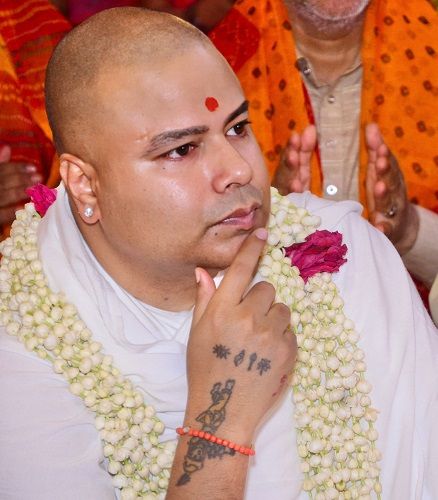 Swami Ramgovind Das "Bhaiji" is a prominent Indian saint and philosopher. He is the founder and head of Hari Sharranam Jun organisation and an exponent of Srimad Bhagwatam & Srimad Bhagwad Gita, a seeker of Sri Vidya and an ace practitioner in astronomy.
Wiki/Biography
"Bhaiji" was born on 15 December 1983 in Haldwani, Uttarakhand. He studied at Jim Corbett School, St. Paul's Senior Secondary School, and School of Advaita. His gurus are Swami Ramsukhdas ji maharaj, Swami Pundrikaksh ji maharaj.
Physical Appearance
Height: 5′ 8″
Weight: 75 Kg
Hair Colour: Black
Eye Colour: Black
Family
Parents & Siblings
His father's name is Ambrish Agrawal, and his mother's name is Pushpa Agrawal. He has two sisters named Sweta Garg, Tanya Jaiswal.
Wife
He is a sanyasi.
Early Life
At the age of 15, he followed the lineage of the ancient sages of India. With a help of an ascetic at Haldwani, he reached Punjab where people were overwhelmed by his divine aura. From a very young age, he started spreading the messages of holy scriptures and helped to make people be good humans by living a pure life. For pilgrimage, at the age of 21, he left Dhuri, Punjab where he was the patron of an ashram there, then he covered the whole of India with all 4 dhams, 12 jyotirlingas, 4 sarovars,7 sacred rivers,7 puris, many sacred mountains, many shakti peetham, upjyotirlingams, Sri Kailash Mansarovar, tapovan, Muktinath etc.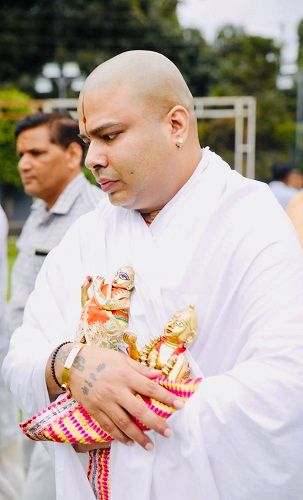 While pilgrimage on 2003 in Rishikesh he met Swami Ramsukhdas Ji Maharaj, one of the prominent saints of India, where Swami Ji Maharaj gave him the name Ramgovind das. When he met Swami Ji Maharaj was 100 years old, Swami Ji Maharaj blessed him with the divine words of Srimad Bhagwad Geeta and of the path of devotion. After Swami Ji Maharaj left his mortal form on 2005 he came back to his birthplace where he started a spiritual organisation called Hari Sharranam Jun, a path of surrender to reach Godhood. Swami Ramgovind das not only read the complete scriptures of Hinduism but thoroughly studied the holy texts of all other major religions. One great Ramanuji saint Swami Pundrikaksh Ji Maharaj bestowed him with the nectar of Srimad Bhagwatam.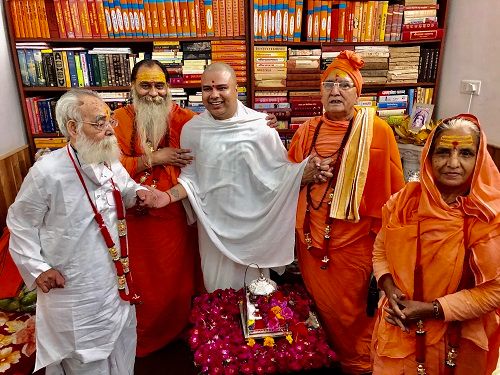 Hari Sharranam Jun
Hari Sharranam 'Jun' is a Hindu institution led by Swami Ramgovind das 'Bhaiji' since 1997, arise from Haldwani (Uttarakhand) creating harmony through various religious and social works globally. Today his organisation Hari Sharranam Jun is not only organising grand religious congregations but also working efficiently in the field of social service giving huge support to the backward class by giving them good health and education.