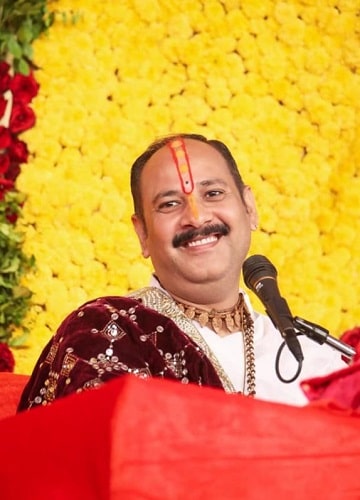 Pandit Pradeep Mishra is an Indian spiritual orator (kathavachak) who is popularly known as Sehore Wale Baba. He is a chief priest at the Kubreshwar Dham in Sehore, Madhya Pradesh.
Wiki/Biography
Pandit Pradeep Mishra aka Raghuram was born on Thursday, 16 June 1977 (age 45 years; as of 2022) in Sehore, Madhya Pradesh. His zodiac sign is Gemini. According to some sources, he is a graduate, whereas according to some other sources, he has completed his intermediate studies. [1]YouTube – Mharo Rajgarh
Physical Appearance
Height (approx.): 5′ 8″
Hair Colour: Brown (semi-bald)
Eye Colour: Brown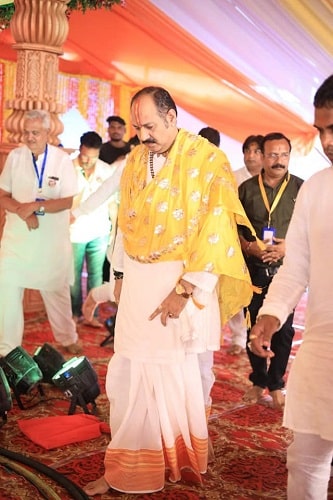 Family
Pandit Pradeep Mishra belongs to a Hindu family.
Parents & Siblings
His father, Rameshwar Dayal Mishra, used to sell black grams on the streets, and he passed away due to cardiac arrest. His mother's name is Seeta Mishra. He has two brothers named Deepak Mishra and Vinay Mishra.
Wife & Children
On 5 December 2004, he got married. The couple has two sons named Madhav Mishra and Raghav Mishra.
Caste
He belongs to a Brahmin family. [2]YouTube – Mharo Rajgarh
Address
Shri Kubereshwar Mahadev Marg, Chitodiya Hema, Sehore, Madhya Pradesh, India, 466001
From Teacher to Sehore Wale Baba
In childhood, Pandit Pradeep Mishra used to accompany his parents to various kathas and pravachans organised in his village. From there, he started inclining towards spirituality. Later, he started working as a teacher in a private school. Simultaneously, he worked as a pandit in his village. After working as a teacher for 10 years, he left the job. In 1999, Pandit Pradeep started reciting kathas at small events in his village.
In one of his kathas, he shared how he started preaching Shrimad Bhagwat Katha. He said that there was a lady named Geeta Bai Parashar in his village who used to cook food at various houses in the village. After her husband's death, she decided to organise a Shrimad Bhagwat Katha at her home. Pandit Pradeep, who was working as a pandit in the village at that time assured her that he would complete her resolution by reciting Shrimad Bhagwat Katha at her home. However, Geeta Bai politely denied the offer and said that Pandit Pradeep did not have deeksha under some guru, so he could not preach the kathas. He then went to Indore and took his guru deeksha under Shree Govardhan Nath. In his katha, while talking about his guru, he said,
It was the Guru who taught us to wear dhoti. Guru gave a potli in my hand and said that wherever you do Katha, your pandal will never remain empty. It is by his grace that so many devotees come to my pandal."
After completing his deeksha, he started reciting Shrimad Bhagwat Katha in his village and nearby areas. Gradually, he started developing an interest in Shiva Purana. During the COVID-19 lockdown in India in 2020, he uploaded his first Shiva Purana video on his YouTube channel titled Pradeep Ji Mishra Sehore Wale. Within a few days, his video gained thousands of views. Gradually, his Shiva Purana kathas started gaining popularity on YouTube.
After the lockdown, he organised Shiva Purana katha in Sehore along with Rudraksha Mahotsav. On the day of the event, thousands of people started gathering at the event. The roads were blocked because of heavy traffic jams. Later, the event was wrapped up in between. Pandit Pradeep did not expect that so many people would gather there only after watching his YouTube videos. In one of his kathas, he even shed tears in the joy of the love of his followers. He even apologised to his followers for not providing them Rudraksha and ending the event a few days before it was scheduled. He then collaborated with the Hindi TV channel Aastha to broadcast his kathas and pravachans. Pandit Pradeep Mishra has built Kubereshwar Dham Temple and has also started Shri Vitthalesh Seva Samiti in Sehore, Madhya Pradesh which helps in providing free food to people, cow welfare services, and free medical facilities.
Controversy
People Died at His Event
In 2023, on the eve of Maha Shivratri, he organised a Rudraksha Mahotsav event in Madhya Pradesh. At the event, more than expected people gathered which created a situation of ruckus in the Mahotsav leading to death for a few people. Some people blamed Pandit Pradeep for not making proper arrangements for handling the crowd whereas some accused the local police and the administration of not handling the crowd properly. In the incident, a woman also complained against Pandit Pradeep's nephew for mishandling her. Considering the situation, the Rudraksha Mahotsav was then wrapped up before the scheduled time. Later, when one of the reporters asked Pandit Pradeep about the situation at his event, he appeared unaware of the situation. [3]ABP Live He further said,
I do not have any clear information in this regard. Whoever has come here has to go, even if it is me."
Controversial Comments During His Kathas
Pandit Pradeep has been in news for a very long time for passing controversial statements during his spiritual events. Reportedly, in one of his pravachans, he insulted the Constitution of India which was not well received by the Bhim Army. Pandit Pradeep even said that India was a 'Hindu Rashtra.' [4]ABP Live In his other pravachan, he said that in India, one son from every house should join Sangh or Bajrang Dal. The local Congress leaders raised questions about his statement. He was once accused of presenting the international organisation All World Gayatri Pariwar's sutra sentence 'Hum badlenge, yug badlega, Hum sudhrenge, yug sudhrega' in a funny tone during Shri Maa Tapti Shivmahapuran Katha. [5]Dainik Bhaskar
Income/Fees
As of 2023, he charges around Rs 1 crore for his one katha out of which Rs 21 lakh to Rs 51 lakh is his fees. [6]Dainik Bhaskar
Facts/Trivia
In his childhood, his family's financial condition was not good. He did not even have money to buy a dhoti which he could wear to his spiritual events. Later, someone gifted him a dhoti which he used for his kathas.
In 2022, his name was entered into the World Book of Records, London for having the highest number of subscribed viewers watching his video online at the same time in the world.
In one of his pravachans, he said that if any child puts honey on bel patra and sticks it to a Shivalinga, he would easily pass the school examinations. Later, a few sources claimed, his son had failed in class 8. He was even mocked for the same on various social media platforms. However, it turned out to be a rumour and Pandit Pradeep Mishra even shared the report card of his son on his social media account. [7]

ABP Live
As of February 2023, he has around 4.35 million subscribers on his YouTube channel Pandit Pradeep Ji Mishra Sehore Wale.
In his leisure time, he loves to read spiritual books and do horse riding.