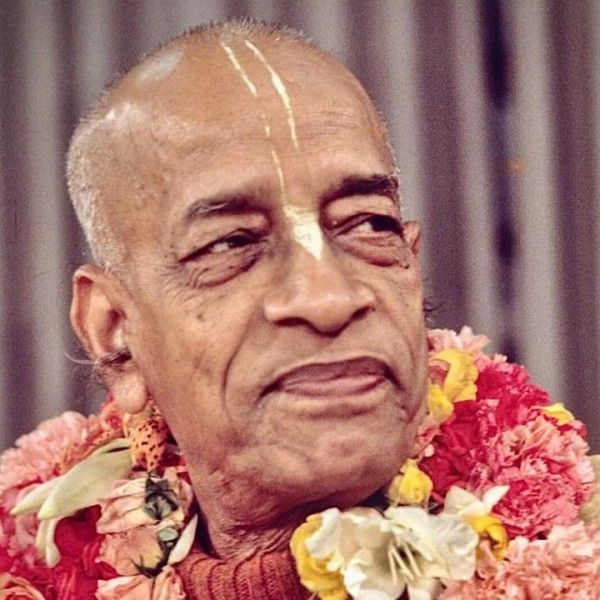 A. C. Bhaktivedanta Swami Prabhupada (1896-1977) was an Indian religious leader, scholar, writer, and the founder of the International Society for Krishna Consciousness (ISKCON). He spread the message of Krishna Bhakti of Chaitanya Mahaprabhu in the world and initiated more than 5000 disciples in the Hare Krishna movement. After working as a businessman to provide for his family for the majority part of his life, he took Sannyasa very late in his life and then toured the world and became famous worldwide for his teachings. He translated major Hindu spiritual texts like Bhagavad Gita and wrote many spiritual books on Lord Krishna bhakti and bhakti yoga.
Wiki/Biography
Abhay Charanaravinda Bhaktivedanta Swami Prabhupada was born Abhay Charan in the Tollygunge suburb in Calcutta (now-Kolkata) in Bengal (now-West Bengal) in India. As per some sources, he was born on Monday, 31 August 1896 (age 81 years; at the time of death), and according to other sources, he was born on Tuesday, 1 September 1896(age 81 years; at the time of death). As per the Bengali tradition then, he was born in his maternal grandparent's house, and he later moved to his home at 151 Harrison Road in Calcutta. His zodiac sign was Virgo. His parents were devotees of Lord Krishna, and he also became a devotee from a very young age. While his friends played, he went to the temple situated near his house and prayed to Lord Krishna. When he was five years old, he conducted a small rath yatra procession pulling the small rath and distributing Prasada (food made as an offering for God) to the onlookers. He was a naughty child during his childhood, and his mother had to hire a person named Damodara for Rs4 per month to take him to kindergarten school and ensure that he did not run away from school. At the age of eight, he was admitted into Mutty Lall Seal Free School. He became an avid cyclist while growing up and used to roam the streets of Kolkata riding his bicycle. When he was twelve years old, he was initiated by a professional guru into bhakti; however, he did not pay much attention to the methods told to him by the guru, and he devoted more time to the religious exercises taught by his father like rath yatra processions and worship of Radha Krishna. His father also wanted Swami Prabhupada to become a good Mridangam (drum) player and kept two teachers for him, one for Mridangam and one for academics. When he was sixteen years old, his mother passed away which deeply upset him; however, his father comforted him by telling him that the soul is eternal, and everything happens by Lord Krishna's will. In 1916, he started pursuing a bachelor's degree in arts from the Scottish College, Kolkata. Swami Prabhupada studied Sanskrit and English in the first year, Sanskrit and Philosophy in the second year, and Philosophy and Economics in the third year. He was liked by his teachers who supported his co-curricular activities, and he played the role of the Indian saint Chaitanya Mahaprabhu in a play named Life of Lord Chaitanya enacted by him and his classmates under the direction of famous storyteller Amritlal Bose. During his college days, he was influenced by Mahatma Gandhi and wanted to participate in the Indian Independence movement. Although he completed his degree, he refused to accept it to demonstrate his protest against the Britishers. His father was always concerned with his actions as he wanted Swami Prabhupada to become a pure devotee and got him married at the age of 22; however, Swami Prabhupada did not like the girl, and he decided to marry for a second time. His father stopped him from marrying for the second time by saying that it was Lord Krishna's will that he was not attached to his wife and family, and it would further help him to attain spiritual advancement.
Physical Appearance
Height (approx.): 5′ 8″
Weight (approx.): 65 kg
Hair Colour: Bald
Eye Colour: Black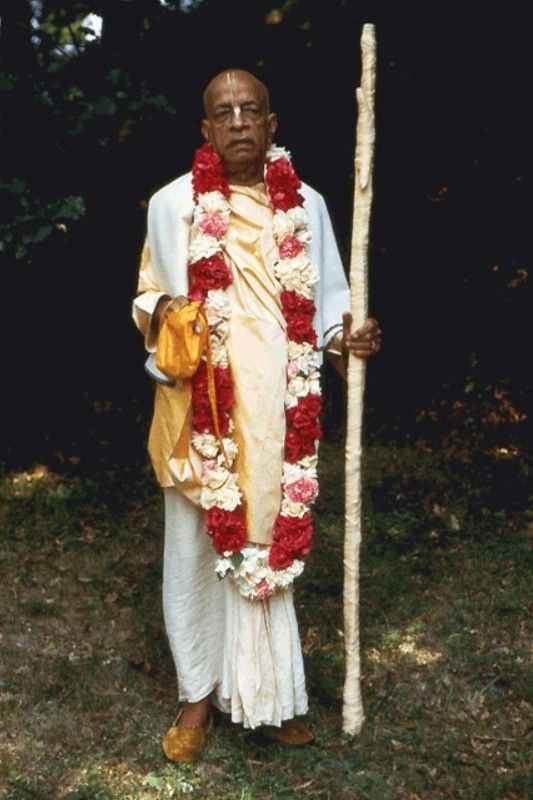 Family
Swami Prabhupada was born in a Suvarna Banik (gold merchants) Vaishnava (followers of lord Vishnu) family.
Parents & Siblings
His father's name was Gaur Mohan De, and his mother's name was Rajani De. He had one brother Krishna Charan De and two sisters named Rajesvari De and Bhavatarini De.
Wife & Children
In 1918, he married Radharani Devi in Kolkata. He was 22 years old at the time, and his wife was 11 years old. His wife passed away in 1984. He had 5 children which included 3 sons and 2 daughters. His oldest son Prayag Raj was born when his wife was 14 years old, and Prayag became mentally disturbed later and died at the age of 30 in Kolkata. His first daughter Sulaxmana lived an ordinary life and lived in Kolkata her whole life. His third child, a son named Mathura Mohan De, was described as very intelligent and beautiful by Swami Prabhupada. Mathura Mohan De later became hostile towards Swami Prabhupada after he took Sannyasa and formed ISKCON. His second daughter Bhaktilata De also resented her father as she did not like the fact that he took Sannyasa before her marriage. His third son Vrindavana Chandra De was in his early teens when Swami Prabhupada took Sannyasa.
Religious Views
Since his childhood, he was inclined towards Lord Krishna. He stated on several occasions that Krishna Bhakti is a part of the Vedic religion which is for all people. He asserted that everyone should follow Sanatana Dharma which is the ancient religion and God is Sanatana. He said that Philosophy means establishing the doctrines and having the power to reason about those doctrines. He said that religion without philosophy is sentiment and sometimes fanaticism. He rejected the term Hindu and Hinduism and stated that it was a name given to the people living in India by outsiders.  He established various ways to seek Lord Krishna bhakti and said that it is not required to become a sannyasi to attain the supreme level of Krishna consciousness. [1]ISKCON Desire Tree [2]Srila Prabhupada Lila Swami Prabhupada also set up the rules for Lord Krishna bhakti, telling his disciples to live a Vsihnav (believer of the Hindu god Lord Vishnu) life, abstain from drugs, smoking, and illicit sex, and told them to conduct religious congregations on a regular basis.
The first job and first meeting with Bhaktisiddhanta Sarasvati
After completing his studies, his father arranged a job for Swami Prabhupada at a close friend's laboratory, The Bose's Laboratory, where he was appointed as a manager and managed the production of soaps, medicines, and other medicinal drugs. At that time, he was persuaded by his friend Narendranath Mallick to meet Bhaktisiddhanta Sarasvati of Gaudiya Vaishnava Society, so he met Sarasvati Swami at his preaching centre in Gauri Bari Lane (now 1, Ultadanga Main Road) who urged Swami Prabhupada to spread the message of Chaitanya Mahaprabhu, all over the world. He argued with Sarasvati Swami that India needed to gain Independence first before preaching any spiritual message; however, Sarasvati Swami replied that the movement of Chaitanya Mahaprabhu cannot wait, and it was independent of any ruler class. After the meeting, he started to read books based on the life of Chaitanya Mahaprabhu, and he came to know from other devotees of the Gaudiya Vaishnava Society that Bhaktivinoda Thakur Swami was the father of Sarasvati Swami.
Moving to Allahabad & Initiation
After studying the different books about Lord Krishna, Swami Prabhupada became more attracted towards Bhaktisiddhanta Sarasvati; however, he had family responsibilities to take care of. He thought that if he could become a successful businessman, he could also contribute to Bhaktisiddhanta Sarasvati's mission and his family, hence, he, along with his family, moved to Allahabad (now Prayagraj in Uttar Pradesh, India) in 1923 and set up a shop named Prayag Pharmacy. He partnered with a Bengali doctor, Dr Ghosh, who agreed to work as a doctor at his pharmacy. As his business grew, Swami Prabhupada travelled across various cities in India. In 1930, after his father's death, he became deeply upset. In 1932, he met Bhaktisiddhanta Sarasvati at Kosi when Sarasvati Swami was doing a tour to Vrindravana to do a month-long Parikrama with a few of his devotees. After a few months, Swami Prabhupad was initiated by Bhaktisiddhanta Sarasvati during a function for the inauguration of a Krishna temple by the Gaudiya Vaishnava Society in Allahabad. Sarasvati Swami accepted him as a disciple and gave him Harinama and Brahmana initiation and also named him Abhay Charanaravinda. Prayag Pharmacy began to incur losses, and he contemplated moving to another city like Bombay (now Mumbai) to set up a new business.
Moving to Bombay & message from Bhaktisiddhanta Sarasvati
In 1936, after moving to Bombay(now Mumbai in Maharashtra, India), he once met his godbrothers from the Gaudiya Vaishnava Society who asked his help to start a new temple in the city. He happily agreed to help and approached many friends to get the funds for the temple. He later wrote a letter to Bhaktisiddhanta Sarasvati asking him if he could do anything to help the mission. Sarasvati Swami replied to him that he should spread the message in English-speaking countries. Bhaktisiddhanta Sarasvati passed away on 1 January 1937, which deeply upset him, and he started thinking of ways to spread his guru's message. In Bombay, he started facing losses in his business and decided to move back to Kolkata.
Moving back to Calcutta & starting 'Back to Godhead' magazine
After moving back to Calcutta (now Kolkata in West Bengal, India), he rented a house at 6 Sita Kanta Banerjee Lane and opened a small chemical laboratory. In the Gaudiya Vaishnava Society, there was a battle for the next head of the society after the death of Bhaktisiddhanta Sarasvati; however, he was only a follower and kept a distance from the administrative issues. He discussed the religious text Srimad Bhagavatam with his senior godbrother Sridhara Maharaj many times and in 1939, he wrote the book Introduction to Gitopnishad. The devotees of the Gaudiya Vaishnava Society read the book and became so happy after reading it that they conferred the title of Bhaktivedanta to him. In 1944, World War 2 was happening around the world, and in Calcutta, many people were killed in a famine so he resided in Calcutta alone and sent his children to Navadvipa (a heritage city in Nadia district in West Bengal). After sending his children away, he began publishing 'Back to Godhead' magazine at his home. He wrote the magazine, got it printed and even distributed it himself without any support from other devotees. In 1945, he saw a dream one night while sleeping in which Bhaktisiddhanta Sarasvati asked him to accept Sannyasa (Renunciation). He was startled by the dream as he had a family and business to take care of and could not take Sannyasa at that time. He later decided to open a new business in Lucknow in Uttar Pradesh, India.
Moving to Lucknow and taking Sannyasa
Swami Prabhupada moved to Lucknow and began a business with Rs 40,000 and named it Abhay Charan De and sons. In 1948, he closed his factory as he was unable to pay salaries to his employees. He later opened several businesses in Lucknow and Allahabad; however, all of them failed. His wife and other family members did not support him in his preachings and discussions about god and also abused him. His wife regularly consumed tea which he did not like, and one day, his wife traded his book Srimad Bhagavatam for some biscuits which angered Swami Prabhupada. He made up his mind and decided to leave his home. When he expressed his desire of leaving home to preach the message of Chaitanya Mahaprabhu, his family thought he would return home soon; however, he never returned and went to Jhansi, Uttar Pradesh, India. He started preaching in a few localities in Jhansi and even initiated a person named Prabhakar Mishra who was a teacher. He formed a group known as the League of Devotees on 16 May 1953; however, he failed to find any full-time disciples who would surrender fully to the cause. When he tried to rent a house in Jhansi, he faced political pressure and financial problems which forced him to leave Jhansi.
He was invited by his godbrothers Keshava Maharaja and Bhakti Saranga Goswami Maharaja to their ashrama (centres) in Mathura and asked for his help in publishing their magazines Gaudiya Patrika and Sajjana Tosani. After spending a few days in Mathura, he then moved to Delhi and stayed at the ashrama of another godbrother Bhakti Saranga Maharaja. After living for a few days at the ashrama, he became distraught with other godbrothers living in the ashrama who, he thought, were not doing enough work to spread the message of Chaitanya Mahaprabhu. He started to live in Delhi on his own and started publishing his Back to Godhead magazine again. He distributed the magazine in the streets of Delhi for a few months. He then moved to Vrindavana, Uttar Pradesh and rented a room for Rs 5 per month on the top of Vansi Gopala Mandir near Keshi Ghat from where he could see the entire city of Vrindavana. He continued writing Back to Godhead magazine and sent them to a printer in Delhi every fortnight. One day, he met his disciple Prabhakar Mishra in Vrindavana who introduced him to a few people who were conducting religious seminars in Bombay. He went to Bombay and tried to revive the League of Devotees; however, his efforts were in vain. He again saw a dream one night while sleeping in which Bhaktisiddhanta Sarasvati urged him again to accept Sannyasa. He had already left his family and there were no business responsibilities now, so he decided to take Sannyasa. He contacted his godbrother Tirtha Maharaja, a leader of Chaitanya Gaudiya Temple in Mayapur and Calcutta for his Sannyasa initiation; however, Tirtha Maharaja replied that Swami Prabhupada needed to join Chaitanya Gaudiya Temple first and the books, which Swami Prabhupada wanted to print, needed to be of service to the Gaudiya Vaishnava Society and everything would depend on the funds raised. Swami Prabhupada did not find the reply favourable, and he approached his godbrother Keshava Maharaja who happily accepted his request. In 1959, he received Sannyasa at Keshavji Gaudiya Temple in Mathura and gave up white clothes and was given the name Abhay Charanaravinda Bhaktivedanta Swami. He later moved back to Vrindavana, and after receiving an invitation from the caretaker of Radha Damodara Ji's temple Gaurachand Goswami, he shifted to a room in Radha Damodara Ji Temple from the room in Vansi Gopala Mandir.
Translation of Srimad Bhagavatam & going to the US
While living in Radha Damodara Ji's temple, he continued writing Back to Godhead magazine; however, when one of his friends suggested that he should publish books instead of magazines which could be easily thrown away, he also began translating Srimad Bhagavatam from Sanskrit into English. He met the Indian Independence activist, magazine editor, and philanthropist Hanuman Prasad Poddar who donated Rs 4000 for the publication of his translation of the book Srimad Bhagavatam. After receiving praise from a few eminent personalities like second Indian president Sarvepalli Radhakrishnan OM and his godbrothers for his book, he decided to go abroad to preach the message of Chaitanya Mahaprabhu. He met Mr Agrawal, whose son, Gopal, who lived in Butler, Pennsylvania, US at that time, agreed to sponsor him for one month. Then, he met the chairperson of  Scindia Steam Navigation Company Sumati Morarjee for a ticket to the US on any of her company's ships. Swami Prabhupada was 69 years old at that time, and at first, Sumati Morarjee declined to give him any ticket due to his age; however, she later agreed to provide him with a seat in one of her cargo ships Jaladutta. One day prior to his departure, he visited the Chaitanya Gaudiya Math in Mayapur to pay obeisances at the samadhi of Bhaktisiddhanta Sarasvati. He left for the US from the ports of Calcutta on 13 August 1965 and carried only a suitcase, an umbrella, and a few kilos of dry cereals. He also carried several trunks of books which were kept separately in the luggage section of the ship.
Landing in the US & living in New York
After a dangerous 35-day journey, he landed at the port of New York on 19 September 1965. He spent the first few days at the house of his sponsor Gopal Agarwal in Butler, Pennsylvania, US where Gopal's wife Sally Agarwal and their child Brij grew very fond of Swami Prabhupada and called him Swamiji. He later moved to New York to live with Dr Rammurti Misra, a yoga teacher and Sanskrit scholar. He lived with Dr Misra in his apartment at 33 Riverside Drive, beside the Hudson River. which was on the fourteenth floor and had large windows facing the river. After a few weeks, Dr Misra shifted Swami Prabhupada to his yoga studio on the fifth floor at 100 West Seventy-second Street, near Columbus Avenue. After living there for a few weeks, he started living on his own at apartment number 307 in the same building and started doing classes where he taught Chaitanya Mahaprabhu's message. He sold his books to earn some money for survival; however, his typewriter and recorder were stolen, and he moved to a makeshift tent where he preached to young people, most of them were addicted to drugs. He later moved to the home of one of his students, Carl Yeargens, where he was not treated well by Carl's wife Eva who did not believe his preaching. After a few days, he moved to a small storefront at 26 Second Avenue which was earlier known as Matchless Gifts. He gave weekly classes about Lord Krishna bhakti and started getting attention from many people who were interested in Indian culture.
Finding ISKCON & touring the world
After living in the US for one year, he gained a few followers who spread Chaitanya Mahaprabhu's message and roamed the streets of New York with him doing sankirtanas (religious chanting) and distributing religious books. On 13 July 1966, he registered his movement of Lord Krishna bhakti as The International Society for Krishna Consciousness (ISKCON) as a non-profit tax-exempt religious organisation with the help of a local lawyer, Stephen Goldsmith. He registered the small storefront as a temple and held an initiation ceremony where his followers accepted him as their spiritual master and took vows of Lord Krishna bhakti. His devotees began to do sankirtanas on a daily basis in the streets, and in October 1966, his devotees organised a sankirtana in Tompkins Square Park in New York City which became widely popular, and the sankirtana's details were published in The New York Times the next day. Swami Prabhupada's popularity began to skyrocket after this event, and he started to get a high number of followers. He managed the classes and sankirtanas during the day and wrote books at night and slept only for 3 to 4 hours. Swami Prabhupada then toured various cities in the US, opened many temples, did sankirtanas, and conducted Rath Yatras across different cities in the US. In 1968, he opened a centre known as the New Vrindavana community centre in West Virginia, US, and in 1972, he opened a Gurukula school with a Vedic style of teaching in Dallas, Texas. During the 1970s, he toured the world 14 times, initiated more than 5000 followers, and opened 108 temples. In 1972, he established the headquarters of ISKCON in Mayapur in West Bengal, India.
Swami Prabhupada's Writings
Swami Prabhupada was an exceptional writer and wrote many books on Lord Krishna bhakti and Chaitanya Mahaprabhu's message. In 1944, he wrote a translation of the Hindu text Srimad Bhagavatam and wrote the book Introduction to Gitopnishad. During the final twelve years of his life, he wrote translations of over 60 volumes of classic Hindu scriptures like Bhagavad Gita, Chaitanya Charitamrita, and Srimad Bhagavatam into the English language. He also wrote several books in Bengali like Gita Gyan and Vairagya Vidya. He also wrote the book Bhagavad-Gita As It Is which was published by Macmillan Publishers in 1968. In 1972, Bhaktivedanta Book Trust was established to publish his works, and by February 2014, it had distributed over half a billion books written by Swami Prabhupada since 1965. His books have been translated into more than 85 languages and are regarded as one of Swami Prabhupada's best contributions to the Hare Krishna movement.
Tribute to Swami Prabhupada
Swami Prabhupada is revered by his followers, and many followers have written their stories and mentioned the role of Swami Prabhupada in their lives. His lectures given in many religious congregations have been recorded and published in many books by his disciples. Since he was continuously touring different countries around the world, his disciples wrote letters to him, and he wrote letters back to them. These letters have been compiled and published in different books. More than five hundred morning walk conversations have been published by his disciples in form of books, audio, and videos. Several documentaries have been made on his life which depicts his life and his journey around the world to spread Lord Krishna bhakti. In 2017, a documentary titled Hare Krishna! The Mantra, the Movement and the Swami Who Started It was released which contained archive footage of his tours and travels.
Swami Prabhupada's last days & samadhi
In May 1977, Swami Prabhupada started living in Rishikesh, Uttarakhand, India in a house donated by a disciple. On 17 May 1977, he came to Vrindavana, Uttar Pradesh, India and expressed his desire to his close disciples to leave his body in the holy land of Vrindavana. He formed the Governing Body Commission (GBC) of ISKCON and set up the rules for the Bhaktivedanta Book Trust, and the procedures of initiation. He toured various temples in Vrindavana and paid his obeisances to Lord Krishna. He had become very frail and weak by that time, ate very little and only drank a few sips of liquids. He spent his last three days with his disciples at the Krishna Balaram Temple in Vrindavana. On the last day, he did not eat anything and met disciples for the whole day. At 7:30 pm on 14 November 1977, he breathed his last at the age of 81 years and took samadhi. His body was buried in the Krishna Balaram Temple in Vrindavana.
Controversies
Controversial statements against African-Americans, Jews, and Women
Several people have alleged that Swami Prabhupada gave several statements against African-Americans and women which indicate that he was hateful towards them. It is claimed that Swami Prabhupada referred to African-Americans as demons and believed that dark people are the bottom part of the human race. It is alleged that Swami Prabhupada once said that America is a lost civilisation as in a first-class car like Rolls Royce, third-class citizens (African-Americans) are travelling. In one of his initiation ceremonies, Swami Prabhupada claimed that Hitler was a great student of the Bhagavad Gita, and he killed Jews as these people were financing the communist revolution in Russia and had no interest in religion and nationalism. One of his devotees, Gopagopisvara Das claimed that Swami Prabhupada was a believer in racism. [3]International Business Times It is alleged that Swami Prabhupada believed that women are inferior to men, and during one of his morning walks, he allegedly said that a woman likes a man who is an expert of rape. [4]The B.L.I.S.S.
Protecting child abusers of his Gurukuls
In 2000, Swami Prabhupada was named as an accused in a complaint filed in Dallas, Texas, US by 44 former students of the Gurukuls of ISKCON. It was alleged that in 1972, when Swami Prabhupada controlled the ISKCON gurukuls, he was informed about the physical and sexual abuse of children in gurukuls; however, he protected the wrongdoers and hid this information from the public as well as parents. [5]India Today
Facts/Trivia
His nickname during his childhood was Nandulal.
When Swami Prabhupada was a child, an astrologer visited his house and said that he would travel to different countries after 70 years of age and would establish 108 temples all around the world.
When Swami Prabhupada boarded the Jaladutta ship to go to the US for the first time, there was no one present from his godbrothers to bid goodbye to him except his friend Mr Sisir Bhattacharya and Swami Prabhupada's son Vrindavana Chandra, whom he had met only one year go in Lucknow.
After Swami Prabhupada passed away, his son Mathura Mohan De filed a police complaint and sought control of ISKCON by claiming it as his family's inheritance; however, the decision was given in the favour of ISKCON in 1993.
The documentary titled Hare Krishna! The Mantra, the Movement and the Swami Who Started It won the Feature Competition Jury Prize at the Illuminate Film Festival in Sedona, Arizona, US in 2017.
During his college days, he stopped wearing western clothes and wore only white clothes made of Khadi to support Mahatma Gandhi's call for independence.
He came to the US with only $ 10 dollars, and when he was going to the US via ship, he suffered two heart attacks on the way.
A member of the Beatles band, George Harrison, became his disciple, and the band released an album on the Hare Krishna Mahamantra which is 'Hare Krishna Hare Krishna Krishna Krishna Hare Hare Hare Rama Hare Rama Rama Rama Hare Hare.'
In 1996, the government of India issued a postal stamp in his honour, and in 2015, the Malaysian government on the occasion of the 50th anniversary of his USA visit.
When he went to the USA, he only had Rs40 or $7 with him.
During a religious congregation in Mumbai, a boy proclaimed that Lord Krishna was not god and he was a god. Hearing this, Swami Prabhupada became angry and ousted him from the congregation.
His name Abhay Charan means one who is fearless, having taken shelter at Lord Krishna's feet. His name Bhaktivedanta means one who has realised that devotional service to the Supreme Lord is the end of all knowledge. 'His name Prabhupada means 'he who has taken the shelter of the lotus feet of the Lord.'
India's former PM Atal Bihari Vajpayee attended a function in the ISKCON temple in New Delhi on the occasion of Ram Navmi on 5 April 1998. While delivering his speech, he praised Swami Prabhupada and his followers for their dedicated mission of printing, distributing, and explaining the holy Hindu scripture Bhagavad Gita in different parts of the world and said,


If the Bhagavad Gita, the holy text of the Hindu traditions, is printed in millions of copies and scores of languages and distributed in all nooks and corners of the world, the credit for this great sacred service goes chiefly to ISKCON. For this accomplishment alone, Indians should be eternally grateful to the devoted spiritual army of Swami Prabhupada, the founder of the Hare Krishna movement, and to his followers."
He organised the first Rath Yatra outside of India on 9 July 1967 in San Francisco, US.
Swami Prabhupada was born in a small cottage under a jackfruit tree that was built in his maternal grandparent's house specially to give birth. On 5 May 1977, Swami Prabhupada wrote a letter in Bengali to his grand nephew and disciple Sankarshan Das asking him to acquire the place where he was born. In 2013, his disciples purchased the cottage and are planning to acquire 2 acres area around it.
He suffered from chronic Kidney disease caused due to diabetes.
Swami Prabhupada established Brahmacharini ashrams where single women, who wanted to practice Lord Krishna bhakti, lived.
Once he was distributing his Back to Godhead magazine in Delhi, he was charged by a bull and rendered unconscious. In a separate instance, he was distributing the magazine in scorching heat and fell unconsciously after suffering a heat stroke.
Although Swami Prabhupada was a Mahatma Gandhi supporter during his college day, he later claimed while talking to one of his disciples that Gandhi's ideas were bogus, and India got independence due to Netaji Subhash Chandra Bose. He also revealed that Subhash Bose was his senior in college by one year. He said,


Gandhi, when he started nonviolence, "Within one year" And he dragged for fifty years. Twenty years in Durban and thirty years in India. Could not do anything. If you say that Gandhi could not do anything, people will be angry. But see, study the whole history. What did he do? Did the Britishers care for Gandhi's nonviolent movement? Pat him. "Let this rascal go on with his movement. We'll go on." That was the disagreement with Subhash Bose. Subhash Bose said, "Mahatmaji, they will never go by this nonviolence. You have to take to violence." He said that "I will never have independence, but I will not take it." Therefore he left India. When he organized that INA and when the Britishers felt the (indistinct), "Now the soldiers have joined," all hopes lost. They did not give up India for Gandhi's nonviolence."
When Swami Prabhupada lived in the bowery, he was attacked by a person who was under the influence of drugs. This incident alarmed him about the lack of security, and he subsequently moved to the storefront on second avenue.
He suffered a heart stroke in May 1967 while living in the US. He came back to Vrindavana in Mathura, India in July 1967.