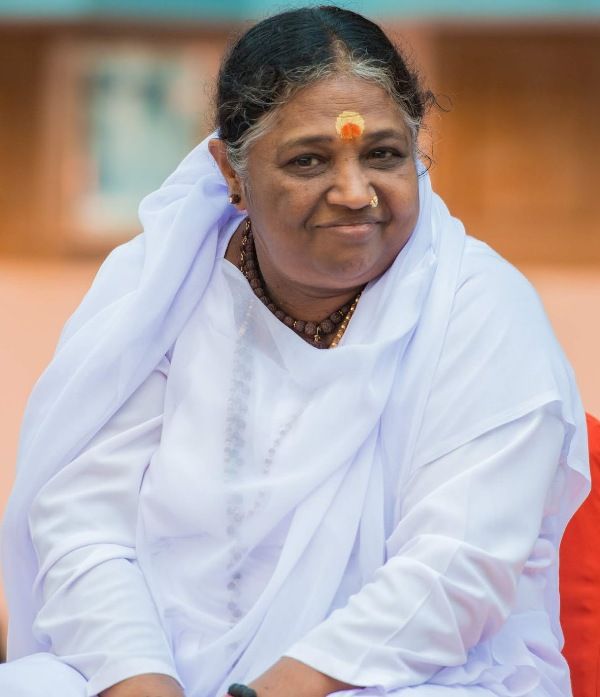 Mata Amritanandamayi Devi is an Indian spiritual Hindu leader, humanitarian, and guru who is worshipped as 'the hugging saint' by her followers. She is the founder of The Mata Amritanandamayi Math, an international charitable organization in Amritapuri, Kerala (India).
Wiki/Biography
Mata Amritanandamayi Devi was born as Sudhamani Idamannel [1]Mata Amritanandamayi Devi on Sunday, 27 September 1953 (age 69 years; as of 2022) [2]Rediff in Alappad Panchayat in Karunagappally, Kollam District, State of Travancore-Cochin (now in Kerala), India. When she was born, unlike other babies, she had a beaming smile on her face, which is why she was given the name 'Sudhamani.' The name signifies the Ambrosial jewel. When Sudhamani was 5 years old, she helped the poor and needy on the way to school, which stood the reason why she was always late for class. In 1962, her mother fell sick and the 9-year-old was withdrawn from her school in order to help with household chores and take care of her siblings. At the age of 15, Sudhamani got engaged in household chores at her mother's elder sister's house and later, she was sent to her uncle's house in Karunagapally. Despite the change of surroundings, her intentions have always stayed the same. She faced the wrath of her relatives for giving out her family's rice to the poor.
Physical Appearance
Height (approx.): 5′ 4″
Hair Colour: Salt & Pepper
Eye Colour: Brown
Family
Sudhamani was born to a family of lower-caste fishermen from Kerala, India.
Parents & Siblings
Her father, Sri Sugunanandan Idamannel, sold fish to make a living. The fishmonger used to perform Kathakali during his young days. On 22 March 2010, he passed away. Sugunanandan's body was cremated on the premises of his Idamannel house near the Amritapuri ashram in Kollam, Kerala.
Her mother, Damayanti Amma, led a simple living life of selfless service and an inclined love for nature. On 22 September 2022, she passed away at the age of 97.
Amritanandamayi is the third child among seven brothers and sisters. Amma's elder brother, Subhakan, was against her divine bhavas. He considered it inappropriate for Amma when she hugged older men or people of a different caste, which is why Subhakan was filled with shame and tried to stab her sister to death. He committed suicide in the June of 1978. Amma's older sister, Kasturi Aamma, celebrated her 70th birthday on 1 July 2018. Amma has two younger sisters named Sajini and Sugunamma, and three younger brothers named Sathish Kumar, Sudhir Kumar, and Suresh Kumar.
Husband & Children 
According to her official website, Amritanandamayi refused to marry. As she refers to calling herself "Amma," which means 'mother,' she considers her devotees/followers as her sons and daughters.
Religion
She follows Hinduism. At the age of 4, Kunju Sudhamani took refuge in Lord Krishna. She spent hours meditating and chanting Krishna's name. She kept his photo in the pocket of her blouse. She perpetually sang his prayers and imagined that all the work she did was for him only. She imagined Lord Krishna arriving at the doorstep, every time she used to sweep the yard. She also imagined that Krishna would appear as a guest at the table while she cooked food. She never resented her duties, nor the abuse her family gave her but only prayed to be given more of the Lord's work.
Address
Amma resides at The Mata Amritanandamayi Math in Amritapuri (originally called Parayakadavu), a village of Karunagappally, Kollam, Kerala (India).
Career
God-realization and enlightenment
During this period, she used to go door-to-door gathering food scraps from the neighbours for the livestock, which was owned by her family. After seeing the people suffer, the 9-year-old Amritanandamayi was deeply affected, so, she got herself engaged in charity work. She used to take food and clothes from her house and distribute them among those in need. For doing so, she was often scolded and punished by her family, who was not wealthy either. [3]Mata Amritanandamayi Devi Talking about her childhood memories, she preached,
If it is one man's karma to suffer, isn't it our dharma (duty) to help ease his suffering and pain?"
In 1970, she started learning to tailor at a Christian Institution, which was attached to a Church. She continued it for three years. At the church, Amritanandamayi used to meditate. Seeing her, the priest of the church was highly impressed. He predicted that she would come up as a great lady in the future. When Amma was 21 years old, she manifested her state of God-realization and enlightenment. By the time Amma turned 27, she turned her home in Kerala into a spiritual headquarter. Then, at the age of 32, she established around 20 ashram branches throughout India and abroad. Amma was 33 years old when she accepted the invitation from her devotees, residing in USA and Europe, for they craved her darshan.
Hugging Saint
Since the age of 22, Amritanandamayi has been continuously comforting people through her hugs, which is why she was deemed the 'hugging saint' by these devotees. People from all over the world crave seven seconds of serotonin. She spends around 10-14 hours a day, meeting and hugging people who come to see her. According to her official website, she has embraced more than 34 million people throughout the world for over 30 years. While talking about how this began, Amritanandamayi said,
People used to come and tell [me] their troubles. They would cry and I would wipe their tears. When they fell weeping into my lap, I used to hug them. Then the next person too wanted it… And so the habit picked up."
Board Member
In 1993, she served as President of the Centenary Parliament of World Religions in Chicago, USA. Amma is also a member of the Elijah Interfaith Institute Board of World Religious Leaders.
The Mata Amritanandamayi Math (MAM)
The Mata Amritanandamayi Math is an international charitable organization whose main objective is the spiritual and material upliftment of humankind. Founded by Mata Amritanandamayi, Math was officially registered on 6th May 1981. Along with its sister organization, the Mata Amritanandamayi Mission Trust, MAM manoeuvres charitable work including healthcare for the poor, disaster relief, environmental programs, fighting hunger, and educational scholarships for underprivileged children. Apart from this, it also runs the seven-campus university, Amrita Vishwa Vidyapeetham, 90 chains of English medium CBSE schools named Amrita Vidyalayam, and classes in yoga, meditation, and Sanskrit. A donation of $1 million (about Rs. 4.5 crores) towards the relief and rehabilitation of 2019 tsunami victims in Japan was made by Amma's organization. [4]The Hindu
The City of Amritapuri 
Amritapuri is located in the state of Kerala, which is 8 km away from, 29 km away from Kollam, about 110 km north of Thiruvananthapuram, and 120 km south of Kochi. Amritapuri is also the name by which the location of the ashram is now known. Amritapuri is spread over 100 acres of land and is also the headquarters, and one of the seven campuses of the Amrita Vishwa Vidyapeetham, alias Amrita University. Amritapuri is located at a distance of 8 km from Karunagappally in Kerala, which is 117 km from Kochi. Initially, it was Amma's family house where she was born and grew up.
Next to this house was a small hut where female disciples used to sleep. Amma's father converted the cowshed into a small temple, where the devotees would come for her darshan. Amma's first temple, known as Kalari, is now used for conducting prayers.
Now, Amma's home is the main ashram to thousands of devotees who practice spiritual sadhana such as meditation, mantra japa, devotional singing, and studying shastras including Bhagavad Gita and Upanishads. This place is also the international headquarters of Mata Amritanandamayi Math.
Healthcare
Amma is involved in various philanthropic activities. The Mata Amritanandamayi Math is the parent organisation of a super-speciality hospital named Amrita Institute of Medical Science (AIMS) in Cochin, Kerala, which was inaugurated by the then Prime Minister, Atal Bihari Vajpayee on 17 May 1998.
She started a hospital named Amrita Hospital in Faridabad, which was inaugurated by Prime Minister Narendra Modi on 24 August 2022.
The Ashram also runs a cancer hospice in Mumbai and an AIDS care home in Trivandrum. The teams of doctors regularly make trips to remote villages to conduct eye camps and health awareness campaigns. Apart from this, she also runs other charitable hospitals, which are located in Mysore (Karnataka)and Pampa, and Kalpetta in Kerala. According to her official website, all the branch hospitals are connected to AIMS via a telemedicine satellite link provided by the India Space Research Organization (ISRO).
Literary Works
Mata Amritanandamayi penned many devotional books including 'Awaken Children, 'Compassion: the Only Way to Peace,' and 'May Peace and Happiness Prevail.' Her entire life has been dedicated to alleviating the pain of the poor, hearing their woes and offering them consolation. In 2014, she authored a book titled 'The Awakening of Universal Motherhood' in which she talked about how the essence of motherhood is not restricted to women who gave birth. Amma's books were published by her disciples. In 1975, Amma got a vision of Devi Parashakthi. She sang her experience and the divine commandment she received from Devi in her song titled 'Ananda Veedhi.'
Smiling, She became a Divine Effulgence
And merged in me. My mind blossomed,
Bathed in the many-hued light of divinity
And the events of millions of years gone by
Rose up within me. Thenceforth,
Seeing nothing as separate from my own Self
And merging in the Divine mother
I renounced all sense of enjoyment
Mother told me to ask people
To fulfil their human birth.
Therefore I proclaim to the whole world
The sublime truth that She uttered
"oh man, merge in your Self!"

In 1985, Amritapuri ashram's monthly album Matruvani was published. As of 2022, Matruvani is published in 17 languages, including 9 Indian languages (Malayalam, Tamil, Kannada, Telugu, Hindi, Marathi, Gujarati, Bengali, and Odiya) and English, French, German, Spanish, Italian, Finnish, Greek, and Japanese. Amma tunes bhajans, which she encourages her children to write. Her own bhajan collection includes songs in 50 languages.
Controversies
Allegations by Sreeni Pattathanam
In 1985, Kerala-based head of the Indian Rationalist Association, Sreeni Pattathanam, wrote a controversial critique titled Matha Amritanandamayi: Sacred Stories and Realities. The book included the allegation about Mata Amma and her disciples to be falsifying all the miracles of Amritanandamayi. Sreeni also wrote about the suspicious deaths in and around her ashram and demanded a police investigation. [5]Matha Amritanandamayi: Sacred Stories and Realities- Sreeni Pattathanam On 9 August 2002, Deshabhimani, a Malayalam newspaper, published a similar account, demanding an investigation into the same deaths Pattathanam found suspicious. On 24 September 2002, Deshabhimani officially apologised for publishing an article with the heading "Report that Suspicious Deaths at Amritanandamayi Math Are Growing Was Incorrect." The article further stated
We now state with conviction that there was nothing suspicious about deaths that happened in the Math. Some of the deaths mentioned in the article did not even take place at the Math."
Accused of Physical Assault 
Gail Tredwell is a former disciple of Mata Amma who resided in the ashram for 10 years (from 1989 to 1999). In 2013, she published a controversial memoir in which she accused Mata Amma of physically assaulting her. According to Gail, she was sexually abused at the ashram where senior inmates had physical relations. [6]The Indian Express Mata Amma and the ashram representatives denied these allegations. The Amritanandamayi Math believed that these accusations were only a part of politics propagated by a few politicians with ulterior motives. [7]The Indian Express
Awards, Honours, Achievements
1993: Hindu Renaissance Award for 'Hindu of the Year'
1998: Care & Share International Humanitarian of the Year Award (Chicago)
2002: Karma Yogi of the Year
2002: Gandhi-King Award for Non-Violence by The World Movement for Nonviolence (UN, Geneva)
2005: Mahavir Mahatma Award (London)
2005: Centenary Legendary Award of the International Rotarians (Cochin)
2006: James Parks Morton Interfaith Award (New York)
2006: The Philosopher Saint Sri Jnaneswara World Peace Prize (Pune, Maharashtra)
2007: Le Prix Cinéma Vérité Award by Cinéma Vérité (Paris)
2010: An honorary Doctorate in humane letters from the State University of New York
2013: Awarded first Vishwaretna Purskar (Gem of the Word Award) by Hindu Parliament (Tiruvananthapuram, India)
2018: Felicitated by Prime Minister Narendra Modi for the largest contribution to the Government of India's Clean India Campaign Swachh Bharat Mission
2019: An honorary Doctorate of Letters from the University of Mysore (Karnataka, India)
Net Worth
As of 2011, her net worth is estimated to be Rs. 1000 crores. [8]India Today
Facts/Trivia
Amma has been known to give darshan for more than 22 hours without any interruption.
Other than thousands of meditating devotees, cows named Gowri, Shivesh, Shankari, Madhavan, Goda, and Nandi also reside in Amritapuri. Amma considers herself a friend of animals.
In 1985, Amma's first biography and teachings in English 'The Mother of Sweet Bliss' was published by Swami Amritaswarupananda Puri, the foremost Sanyasi disciple of Amma.
In August 2005, Amma was attacked by a 47-year-old man named Pavithran, who hailed from the Northern Palakkad district in Kerala. He was sitting among the followers, praying and singing, in front of Amma during the prayer and bhajan event at the Mata's Vallikkav Ashram in Kerala's Kollam district. Then, he rushed towards her with a knife but was hogged by a group of Amma's disciples. While talking about this incident, one of Amma's disciples named Swami Amritaswarupananda Puri stated that Pavithran was of an 'unstable mind.' Superintendent of police Santhosh Varma shared that the knife-wielding attacker claimed to be a sympathiser of the RSS. [9]

The Telegraph [10]

Rediff Amritanandamayi, who pardoned Pavithran, said,


All those who are born will die one day. I am going ahead keeping this reality in mind. I will carry on. I will continue to give darshan to the devotees coming here to meet me."
In 2005, Jan Kounen, an award-winning filmmaker based in France, filmed a documentary about Amma titled 'Darshan: The Embrace,' which was officially selected for showcasing at the prestigious Cannes Film Festival in France. [11]

Hinduism Today
On 1 August 2012, Mata Amritanandamayi was attacked by a 23-year-old undergraduate from the National Law University in Lucknow named Satnam Singh Maan. He was in the queue, waiting for Amma's hugs when he screamed "Bismillah ar-Rahman ar-Raheem." Satnam, who was unarmed, attacked Amma's bodyguards but was overpowered by the devotees. He was later sent to a mental asylum, where he was declared dead after a few days. [12]

YouTube – Amritapuri [13]

Firstpost
In 2012, Amma was listed on Watkins' list of the top 100 most spiritually influential living people in the world. [14]

Watkins Books and in 2014, she was considered one of the 50 most powerful women religious leaders by The Huffington Post.
In 2014, she visited Vatican city to sign a joint declaration of religious leaders against modern slavery. [16]

The Indian Express
Many celebrated people across the globe have shared their notes of admiration for the saint. After meeting Amma, the Padma Vibhushan recipient, Khushwant Singh, said,


In all my life, I have not met a warmer personality than Amma. Even an agnostic like me had great difficulty in holding back my tears."
After meeting Amma, during one of her darshans, NPR Reporter Allison Bryce said,


With great force, she took me in her arms and I was enveloped in a scent of rose. It was a powerful hug, a powerful moment, really. Overcome with a profound sense of comfort, clarity and calm, I staggered off stage and sat down."
Amma's heartfelt warm hugs have also been appreciated by Yolanda King (Rev. Martin Luther King Jr.'s daughter). While talking about Amma, she said,


My father and Amma are kindred spirits. The most profound thing about her is she doesn't preach from the platform of one religion. She touches everybody. So Christians love her, Muslims love her, everybody loves her."
The hugging Saint is a regular blogger for a spiritual publication called Speaking Tree.
Amma is known to have healed many ill people suffering from diseases, who pay their visits to the ashram. She was once visited by a Leprosy-infected patient named Dattan. His acute and deep wounds got cured over a period of time after Amma licked his wounds.