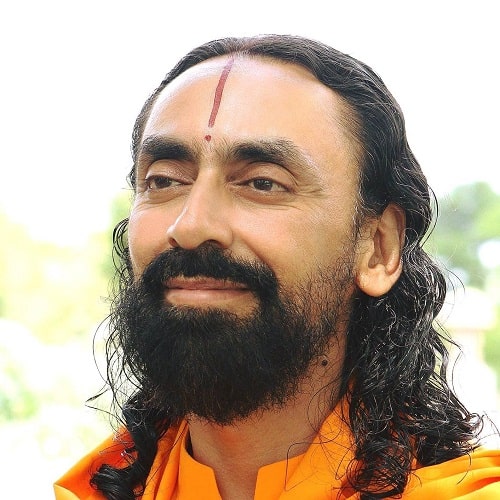 Swami Mukundananda is an Indian spiritual leader, author, bhakti Yog saint, and yoga teacher. He is the founder of the NGO named Jagadguru Kripaluji Yog which works for physical, mental, and spiritual wellness.
Wiki/Biography
Swami Mukundananda was born on Monday, 19 December 1960 (age 62 years; as of 2022) in Cuttack, Odisha. His zodiac sign is Sagittarius. He completed his schooling in Delhi. He did B.Tech at the Indian Institute of Technology (IIT), Delhi. From 1982 to 1984, he did an MBA at the Indian Institute of Management (IIM), Kolkata. While pursuing his MBA, he did summer training at Hindustan Unilever. [1]LinkedIn – Swami Mukundananda
Physical Appearance
Height (approx.): 5′ 11″
Hair Colour: Black
Eye Colour: Brown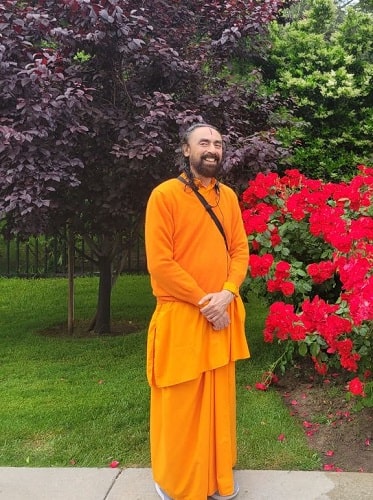 Family
Parents & Siblings
His father is a government employee.
Wife & Children
There is not much information about his marital status.
Religion
He belongs to a Hindu family and follows the principles of Vaishnavism.
Early Life
After completing his post-graduation, he started working at a few private firms including Tata Burroughs. However, after working there for a few years, he left his job there.
Inclination Towards Spirituality
While he was in class 8, he developed an interest in spirituality. Without anyone guiding him, he decided to pick up a book and start following the process of meditation mentioned in it. He continued this practice even when he was studying at IIT. As he delved into philosophical thinking, he realised that his questions about life couldn't be answered by his science courses. In engineering, they taught him various models that were based on assumptions. This made him question the absolute truth. His background at IIT (Indian Institutes of Technology) provided him with an intellectual and rigorous approach to knowledge and logic, which he also applied to his exploration of philosophy. His friends appreciated his logical way of explaining things. He viewed spirituality as a logical form of knowledge, and it helped him develop conviction in his chosen path. During his studies, he was a bit lazy and didn't take them too seriously. He often wondered why that was the case. However, once he delved into spirituality, he found the inspiration he needed. He realized that he was doing everything for God, and that inspiration made everything interesting and exciting. Later, he studied at IIM Calcutta, where he was exposed to humanities subjects as part of his management courses. He studied sociology, psychology, economics, and organizational behaviour. However, he noticed that these subjects lacked precision. They were all theories attempting to understand reality, but none of them provided perfect knowledge. By the end of the MBA first semester, his curiosity to uncover the truth had reached its peak. It was around this time that he met a classmate who was also interested in spirituality. Through his association, he was introduced to spiritual knowledge and started reading the Bhagwad Gita and the Srimad Bhagavatam. His friend was connected to a spiritual organisation, and he then met the devotees of that organization. Sometimes, he would visit the ashram and stay there on weekends. He found the lives of the sanyasis at the ashram fascinating and it appealed him in a special way. Along with attending his regular classes, he would also practice meditation, known as sadhana. This practice, influenced by his upbringing and values, quickly transformed his mindset into a more spiritual one. He strongly believed that what he had discovered through spirituality was the truth he had been searching for. However, he continued with his studies and completed his post-graduation, taking up a job. As his priority was spirituality, he didn't want a job that required too much commitment. He started working in Mumbai, but after three months of working and continuing his spiritual practices, he began questioning the purpose of his life. He wondered why he was putting so much energy into his work and whether it aligned with his intended life purpose. He realized that his life was meant for something more meaningful than just increasing profits for the shareholders of a company like Tatas. Considering the absolute truth he had discovered, he understood that his life held far greater value than that. During that time, he had connections with renunciates in Mumbai, and someone inspired him with their words. They mentioned that there was no shortage of engineers and MBAs in the country, but what the country truly needed were young educated Indians who could comprehend spiritual science and share that knowledge with others. This inspired him to consider aligning his interests with his values and do something closely connected to them. Thus, he made the decision to renounce worldly pursuits and become a sanyasi, dedicating himself to fulfilling his own spiritual journey and serving the Lord. Following this decision, he worked at a renowned industrial company in India for a while. Despite his excellent education and the promising future of his corporate career, he still felt a deep longing to understand the absolute truth. His inclination towards exploring the essence of divine love and devotion, known as bhakti, consumed his thoughts with spiritual contemplation for long periods of time. Eventually, his yearning for a profound connection with God grew so intense that he bravely chose to leave his career behind and embark on a journey as a wandering monk, travelling throughout India. Initially, there was resistance from his family as they believed that they had invested a lot in his education and had high expectations for his future. Suddenly, he changed his mind and pursued a different path, which made his family uncomfortable as they didn't share his convictions. However, his parents noticed the positive impact of spirituality on Swami's life. They witnessed people being inspired by his lectures and giving positive feedback about the DVDs and CDs he produced.
Association with Jagadguru Shree Kripalu Maharaj
While he was visiting the United States, he made the decision to take sanyas (renunciation). Later, as he travelled across India, meeting different people and engaging with various faiths and organizations, he came across a book by the Indian spiritual leader Jagadguru Kripalu Ji Maharaj. The book's cover depicted Kripalu Maharaj in a state of deep meditation (Samadhi), which impressed him greatly and sparked a strong desire to meet him. A few days later, he attended a lecture by one of Kripalu Maharaj's preachers in Bombay, where he was struck by the logical manner in which thoughts were presented. Shortly after that, Kripalu Maharaj himself visited Bombay, and he had the opportunity to meet him.
At that moment, he intuitively recognized Kripalu Maharaj as an enlightened being and realized that he possessed a profound love for God. Since that was exactly what he had been seeking, he decided to surrender him to Maharaj, believing that he could also attain that divine love. Upon asking Kripalu Maharaj, he was assured that he would be taught all the scriptures. He then joined Kripaluji Maharaj at his ashram near Allahabad, where he immersed himself in the study of scriptures and continued his spiritual practices under Kripalu Maharaj's guidance. He delved deep into the ancient Vedic scriptures, Upanishads, Bhagavad Gita, and Bhagavatam, and explored various Indian and Western philosophical systems. Additionally, he became proficient in the practice of "Roopydhyan," a principle meditation technique revealed and taught by Kripalu Maharaj.
After completing his studies, Swami Mukundananda's guru entrusted him with the important task of sharing the timeless knowledge of eternal truth with people all around the world. Since then, Swami Mukundananda has been travelling extensively, reaching out to countless seekers and inspiring their spiritual journeys. He captivates large audiences wherever he goes, offering profound insights into the Vedas, accompanied by the rare privilege of listening to his teachings. Swami Mukundananda's approach provides perspectives on understanding and applying the teachings of the scriptures in daily life. His lectures dispel misconceptions and myths associated with various paths to attaining God-realization, and his clear and accessible presentation style helps seekers gain deeper insights into spirituality.
Swami Mukundananda- A Preacher
Swami Mukundananda's enlightening lectures cover a wide range of teachings from ancient scriptures such as the Vedas, Upanishads, Shreemad Bhagwatam, Puranas, Bhagavad Geeta, Ramayan and other sacred texts from the East. He also draws wisdom from Western philosophies and quotes from scriptures of various religions, showcasing his deep knowledge and catering to the diverse interests of knowledge-seekers.
Although Swami Mukundananda began his preaching in India a few decades ago, his influence has expanded globally. He has inspired numerous devotees in countries like Nepal, Singapore, Malaysia, and Hong Kong. His educational background and fluency in English make his programs particularly engaging for intellectuals and professionals. In India, Swami conducts various preaching programs in various states such as Odisha, Gujarat, Delhi, Uttar Pradesh, and Madhya Pradesh. Swami presents a simple and direct path to realizing God that is accessible to everyone, regardless of their background or beliefs. His teachings resonate with both beginners and advanced spiritual seekers, offering guidance and inspiration throughout their spiritual journey.
KAKE Initiative
The KAKE (Kids Assisting Kids with Education) Initiative is a project that brought together JKYog and the Hope Supply Company to make a positive impact on the education of homeless children. The main goal of the KAKE Initiative is to provide laptops to homeless children in the DFW metroplex, one laptop at a time. The partnership between JKYog and the Hope Supply Company demonstrates their dedication to make a difference in the lives of homeless children by addressing their educational needs.
Jagadguru Kripaluji Yog
JKYog is an organization that aims to bring the authentic teachings of spirituality and Yoga, based on the original Hindu scriptures, to benefit society. Its mission is to help individuals achieve overall well-being in their spiritual, mental, and physical aspects. JKYog has experienced rapid growth as a spiritual and charitable organization in the United States and is officially recognized as a 501(c)(3) non-profit organization. Its headquarters is located in Plano, Texas. Since its establishment in 2009, JKYog has successfully organized spiritual, yoga, and meditation programs in various states across India. JKYog is dedicated to assisting individuals and communities in improving their lives through spiritual enrichment and guidance.
JKYog takes great pride in its support for a prominent women's educational institution in Uttar Pradesh, India. This institution has gained recognition for its rapid growth and excellent reputation. JKYog is committed to help the underprivileged and marginalised communities by actively contributing to providing free education for girls from kindergarten to graduation. The organization provides support to the women's schools and colleges operated by JKP in Kunda, located in Pratapgarh, Uttar Pradesh, India. Swami Mukundananda has also established numerous ashrams, temples, and local congregational centres in India and the USA. These centres serve as platforms to promote authentic Vedic knowledge and provide a supportive community where members can freely practice spirituality and engage in selfless service to society. Some of the ashrams and temples founded by him are:
Ashrams
He has founded various ashrams with the name Radhd Krishna Temple at various places like Delhi, Odisha and Dallas (US).
Institutes
He has also established various institutes like Jagadguru Kripalu University (JKU), Jagadguru Kripalu Chikitsalaya – Allopathy Hospital, JKYog Health and Wellness Center, and Radha Krishna Temple.
Swami Mukundananda- An Author
Swami Mukundananda has penned down various spiritual and motivational books. Some of his books are Bhagavad Gita: The Song of God (English & Hindi), Golden Rules for Living Your Best Life, The Power of Thoughts, 7 Divine Laws to Awaken Your Best Self (English & Hindi), and 7 Mindsets for Success, Happiness and Fulfilment (English & Hindi).
He has also lent his voice to various spiritual bhajans like Om Namah Shivaya, Jai Radhey Krishna Radhey, Shri Ram Jai Ram, Bol Radhey, Radhe Govinda, Shri Radhey Radhey, and Ramnavami Bhajan.
Controversy
Allegations by a Girl
In 2022, a girl named K. Sudha accused that she was locked in a room at Swami Mukundananda's ashram. Later, the girl declines the allegations. [2]YouTube – OTV
Facts/Trivia
From a young age, Swami Mukundananda had an inclination towards spirituality, spending his free time meditating and seeking answers about the purpose of human life.
His father had a transferrable job, so he lived in different cities in his childhood.
Swami loves reading books. He finds great joy in studying religious scriptures such as Ramcharitmanas by Goswami Tulsidas, the Shreemad Bhagavatam by Ved Vyas, and the Upanishads. Additionally, he enjoys playing cricket in his leisure time.
As a guest speaker, he participates in various events, sharing his wisdom and inspiring others.
His Guru invited him to study the Vedic scriptures in the ashram, and after completing his studies, he was given the name "Bliss of Lord Krishna," which holds deep significance.
Swami Mukundananda has a self-titled YouTube channel where he uploads motivational videos and songs. He has around 2.76 million subscribers. He has a few other YouTube channels such as Bhakti Lectures, Swami Mukundananda Hindi, JKYog Music, and JKYog India. These channels serve as platforms for sharing spiritual teachings and devotional content.
In 2023, Swami Mukundananda was honoured with the Ambassador of Peace Award by the Universal Peace Federation.
Swami Mukundananda has been actively involved in numerous philanthropic activities. Through initiatives such as JKYog's charitable programs and support for education, he strives to uplift underprivileged communities and provide essential resources to those in need. His philanthropic endeavours reflect his deep-rooted belief in the importance of compassion, kindness, and making a difference in the lives of others.
He is an avid animal lover and works for the welfare of animals.