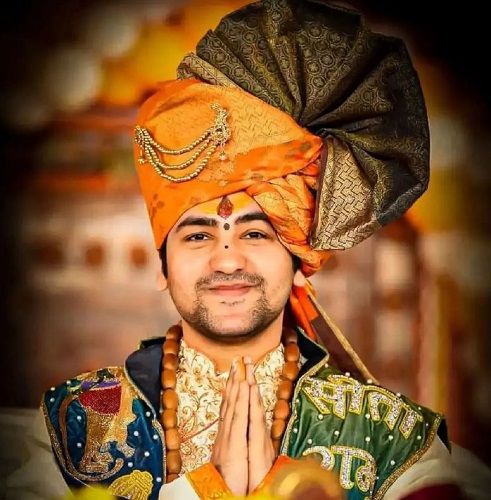 Dhirendra Krishna Shastri is an Indian spiritual orator (kathavachak) and self-styled godman. As of 2023, he is the chief priest and Peethadhishwar at the religious pilgrimage Bageshwar Dham, Chhatarpur, Madhya Pradesh.
Wiki/Biography
Dhirendra Krishna Shastri, popularly known as Bageshwar Dham Sarkar [1]Bageshwar Dham's Official Website or Bageshwar Dham Maharaj [2]Aaj Tak or Bageshwar Baba was born in Gadha village, Chhatarpur District, Madhya Pradesh. According to some sources, he was born on Thursday, 4 July 1996, [3]Bhakti Bharat's Official Website while according to Bageshwar Dham Sarkar's Official YouTube channel, he was born on Wednesday, 10 July 1996 [4]YouTube – Bageshwar Dham Sarkar (age 26 years; as of 2022). His zodiac sign is Cancer. He did his schooling at a government school in his village. Due to the lack of finances, he could not pursue his higher studies. [5]Bageshwar Dham's Official Website
Physical Appearance
Height (approx.): 5′ 7″
Hair Colour: Black
Eye Colour: Black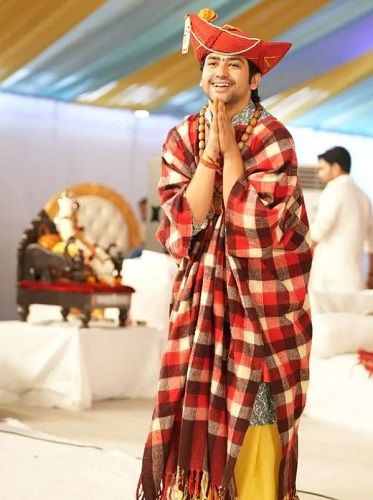 Family
Parents & Siblings
His father, Ram Karpal Garg, is a kathavachak. His mother, Saroj Shastri, used to sell the milk of cows and buffaloes. He has younger brothers named Shaligram Garg Ji Maharaj (kathavachak) and Saurabh Garg. He has a younger sister.
Wife
As of January 2023, he is unmarried.
Other Relative
His grandfather, Pandit Setu Lal Guruji aka Shri Shri 1008 Dada Guru Ji Maharaj alias Bhagwan Das Garg, was a kathavachak.
Relationships/Affairs
In 2022, he was rumoured to be in a relationship with the Indian kathavachak Jaya Kishori. However, he denied the rumours and said that Jaya was like a sister to him and some YouTubers spreaded these rumours. He further shared that he would have an arranged marriage. [6]YouTube – News Tak
Religion
Dhirendra Krishna Shastri follows Hinduism. [7]Bageshwar Dham's Official Website
Caste
He belongs to a Saryupariya Brahmin family. [8]Bageshwar Dham's Official Website
Becoming Bageshwar Dham Sarkar
Dhirendra was born into a poor family of kathavachaks. In their village, there was a small temple of Lord Shiva. His grandfather once decided to build a temple of Lord Hanumana in Gadha Village, Chhatarpur District, Madhya Pradesh and constructed a Hanumana temple near to the Shiva temple. Gradually, the temple gained popularity as Balaji temple or Bageshwar Dham and attracted the attention of village people.
At the age of 9, Dhirendra started accompanying his grandfather in various spiritual events. As his family's financial condition was not good, his grandfather suggested him to begin preaching kathas and from the Dakshina, he could support his family. In an interview, he said that in his teens, he dreamt of doing sadhana of agyaat vaas.
He then talked about his dream with his family, and under the guidance of his grandfather, he started his sadhana. Later, he continued learning sadhanas under his vansh guru Sadhguru Sanyasi Baba. In 2009, he narrated Shrimad Bhagwat Katha for the first time in a village near his home. Dhirendra then started preaching kathas at the Bageshwar Dham and gradually gained popularity among the people. According to sources, Dhirendra once organised a press conference in the local media to promote the Bageshwar Dham temple. He then collaborated with a spiritual TV channel to telecast his kathas on their channel. Soon, people from other states started attending his spiritual events at Bageshwar Dham. In an interview, his devotees shared that they had a deep faith in him because before listening to their problems, Dhirendra wrote their problems on a piece of paper. They even address him as antaryami for this and claimed that without even touching, Dhirendra Krishna Shastri removed negative energies from the people.
His kathas and pravachans are telecasted on various Hindi spiritual channels.
Controversies
Illegally Acquired the Properties
After the Bageshwar Dham gained popularity among people, there was an immense hike in the prices of the land there, and the rent of the shops also reached more than Rs 1 lakh per month. Reportedly, Dhirendra Krishna Shastri and his associates took it as an opportunity to acquire more land under the Bageshwar Dham. It is said that Dhirendra has illegally acquired a crematorium, pond, and mountain in the village and through his influence with higher authorities, he has prepared legal documents for the same. A community building which was earlier built with the funds of the panchayat was also acquired by Dhirendra. Reportedly, he has also threatened a few villagers for acquiring their land. His associates even used the JCB on the houses of a few villagers who refused to give their land to him. It is also said that he was free to do so because of his relationship with many Indian politicians of Madhya Pradesh. [9]Dainik Bhaskar
Accused of Promoting Untouchability
In 2022, one of his YouTube videos went viral on social media in which a man named Jeevan was seen trying to touch the feet of Dhirendra. [10]ABP Live However, Dhirendra refused him and said,
Just don't touch us, we are untouchable people."
Then, one of his associates took the man away from Shastri. As soon as the video went viral on social media, netizens started criticising him for promoting untouchability and started #ArrestDhirendraShastri trend on Twitter. On 27 May 2022, Bageshwar Dham Sarkar (Official) took to Twitter to share that the video was morphed. The tweet reads,
Misleading propaganda was done by posting the edited video."
Promoted Religious Discrimination
In 2022, at a spiritual event, he instigated his devotees to boycott the Hindi film 'Pathaan.' [11]News 18 He connected it with religion and said,
I swear to you, to the people of the whole of India. You have an oath. Whoever opposes Sanatan, whether he is a leader or an actor. Look, you people had boycotted the film of an actor, then everyone started tying kalavas, applying tilak. Take an oath today that you will not watch films of such people by raising both your hands."
At his other spiritual event, he was seen targeting Muslims and Christians. He said,
Stay away from chadar and father."
Accused of Practising Black Magic and Promoting Superstition
In January 2023, Shyam Manav, chairman of the Maharashtra Andhashraddha Nirmoolan Samiti challenged Dhirendra for showcasing his magical powers in spiritual events 'Divya Darbar' and 'Pret Darbar' in Nagpur, Maharashtra. In the challenge, Shyam asked Dhirendra to tell the names of the things which he kept in another room. Shyam even said that he would give Dhirendra a reward of Rs 30 lakh if he won the challenge. Later, the Maharashtra Andhashraddha Nirmoolan Samiti filed a complaint against him for promoting superstition. In an interview, when Dhirendra was asked about the same, he said,
I don't have anything to prove. I just do what he (Bageshwar Balaji) inspires me to do. I am just a servant at the feet of Bageshwar Balaji. I do as he inspires me."
After this, the spiritual event of Dhirendra in Maharashtra which was scheduled to end on 13 January 2023 was wrapped earlier on 11 January 2023. Later, when Shyam was asked about challenging Dhirendra. He said,
Dhirendra Shastri had organized Ram Katha in Nagpur, along with it he also announced to set up a divine court. Even before this, divine court has been held at many places. And its videos are also available on YouTube. There are some things in Maharashtra which promote superstition. I have all those videos with me. I have also made them available to the police. And it is illegal to do superstition and black magic in Maharashtra. It is also a crime to propagate it. In this crime, the punishment can be from 6 months to 7 seven."
Dhirendra accepted the challenge and asked Shyam to come to Raipur where his spiritual event was scheduled on 20 January 2023 and 21 January 2023. In an interview, while talking about it, Dhirendra said,
Earlier, I held a court for seven days but you didn't come. If I get a chance, I will come again. But now, I accept your challenge. You are welcome to Raipur between January 20-21. I will hold the court there. I will pay for your ticket."
He further said that he was guided by Lord Hanumana to help people and he did not possess any supernatural powers. [12]ABP Live
Controversial Bihar congregation
From 13 May 2023 to 17 May 2025, he was in Bihar's Patna for a five-day congregation during which he remarked,
The fire of Hindu Rashtra will be ignited from Bihar."
Bihar Chief Minister Nitish Kumar slammed Shastri for this remark and said that people like him were not even born when the Constitution of India came into existence. Nitish Kumar further said that the state government does not interfere with anybody's faith. Shastri again stoked controversy when he called his followers 'pagal' during his 'Divya Darbar' session as he had to cancel 'aarti' after the venue became over-crowded beyond its capacity. Later, Tej Pratap Yadav, the son of Lalu Prasad Yadav, slammed Shastri's 'Pagal' remark and said,
This Baba is abusing Biharis and calling them 'pagal'. Politics is being done to divide the country." [13]India Today
Net Worth
As of January 2023, he earns around Rs 3.5 lakh per month.
Facts/Trivia
In an interview, he shared that he used to travel 5 km on foot to attend his school. In his childhood, Dhirendra, along with four other members of his family, used to live in one room of kaccha house. Later, at the same place, his family built a two-storey pukka house.
Dhirendra Krishna Shastri has organised various 'ghar wapsi' events. He once shared that ghar wapsi was for the Hindus who have converted to other religions and motivated them to stick to the religion they had at the time of their birth. He said,


Till the time we're alive, we'll make sure of 'Ghar Wapsi' of maximum number of people and stop religious conversion. We've to focus on unity among Hindus and boycott those who speak against Sanatana Dharma."
On 28 June 2019, his associates started his official YouTube channel Bageshwar Dham Sarkar on which the videos of his spiritual events are uploaded. As of January 2023, he has around 3.71 million subscribers on his channel.
Dhirendra Krishna Shastri is involved in various social services. He has started Annapurna kitchen at the Bageshwar Dham which provides free food to people. He has been working for the welfare of poor people and animals.
In an interview, when a reporter addressed him as Baba, he said that he was not a sanyasi, not a baba, and only a kathavacak or shastri. [16]

YouTube – Aaj Tak
On 12 June 2022, his name was entered in the World Book of Records, London for his matchless contribution to the discourse on the story of Bhagwat Geeta.
On 14 June 2022, at The House of Commons, London, he received a certificate of appreciation from Shant Shiromani for his work towards various communities.
In 2022, his name was also entered in the World Book of Records, Europe for his matchless contribution to propagating religious awareness.