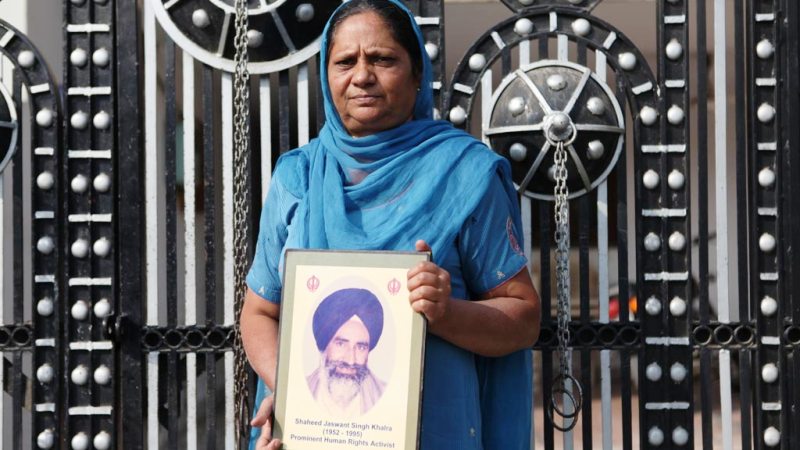 Paramjit Kaur Khalra is an Indian politician and human rights defender associated with the Khalra Mission Organization, which is known for highlighting the massacre of Sikhs in Punjab during and post the 1984 anti-Sikh riots. She is the widow of prominent Sikh human rights activist Jaswant Singh Khalra.
Wiki/Biography
Paramjit Kaur Khalra was born in 1954 (age 69 years; as of 2023), and she hailed from Panj Grain Khurd village in Moga, Punjab. She pursued a Bachelor of Library Science at Guru Nanak Dev University, Amritsar. She obtained an MA in Punjabi from Punjabi University, Patiala in 1981. She was a member of the socialist student union at her college. [1]MyNeta
Physical Appearance
Height (approx.): 5′ 3″
Hair Colour: Salt & Pepper
Eye Colour: Black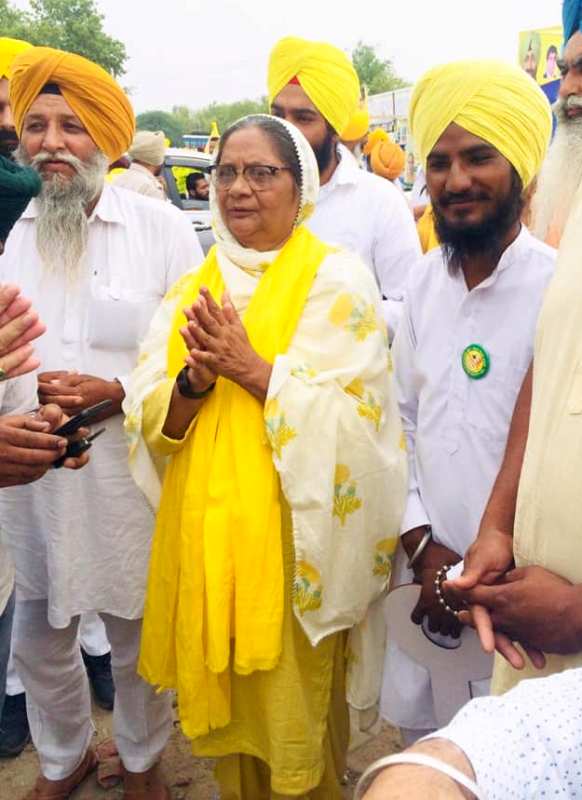 Family
Parents & Siblings
Her mother's name is Gurbachan Kaur.
She has two sisters. She also had a younger brother, Gurbhajan Singh, who died after falling from his tractor while working in the family's fields on 5 July 1981. Gurbhajan was a student union leader at his college, where he made an acquaintance with the well-known firebrand Jaswant Singh Khalra. Gurbhajan was often referred to as "Lamboo" due to his tall height. Friends and family fondly called him Bhej. Although Gurbhajan was eight years younger than Khalra, they clicked right away and became friends. Gurbhajan would speak fondly of Jaswant and his activities at home. One day, he suggested that Paramjit and Jaswant would make a wonderful couple. Paramjit, who was still studying back then, refused to get married saying that she wanted to pursue higher education. However, upon Gurbhajan's death, the family decided to honour his last wish to see Paramjit getting married to Jaswant.
Husband & Children
In 1981, Paramjit Kaur got married to Jaswant Singh Khalra. Together, Paramjit and Jaswant have two children, a son, Janmeet Singh, and a daughter, Navkiran Kaur.
In 1985, the couple moved from Khalra to Amritsar, where Jaswant Singh assumed the position of the director of a bank. In the aftermath of Operation Blue Star (1984) and the assassination of Indira Gandhi, a series of organised pogroms against Sikhs led Jaswant to become a human rights activist. His investigation led to the discovery of 25,000 illegal killings and cremations by Punjab Police in the 1980s and 90s. In 1995, he was abducted and killed for disclosing illegal killings and cremations by the Punjab Police in international forums. Navkiran Kaur works as a Senior Manager at Western Digital in Milpitas, California, United States. Since Khalra's death, the family has been actively working with Khalra Mission Committee to keep the legacy of her father alive by advocating for human rights.
Prolonged Legal Battle to Get Justice for Jaswant Singh Khalra's Murder
On 6 September 1995, the Punjab Police abducted Jaswant Singh Khalra from his residence in Amritsar while he was washing his car. However, the police officials denied that Khalra was arrested or detained. On 12 September 1995, Paramjit Kaur filed a habeas corpus petition in the Supreme Court of India, meanwhile, the police continued to deny Khalra's arrest. In November 1995, SC ordered the Central Bureau of Investigation (CBI) to investigate the disappearance of Khalra. It was discovered that Punjab Police officials killed Khalra during illegal detention and disposed off his body near the Harike Bridge on the Sutlej River. It took ten years to bring Khalra's murder to trial. In 2005, six Punjab police officials DSP Jaspal Singh, ASI Amarjit Singh, SHO Satnam Singh, SHO Surinderpal Singh, SHO Jasbir Singh, and Head Constable Prithipal Singh, were convicted in Khalra's abduction and murder. While Jaspal Singh and Amarjit Singh were sentenced to life imprisonment, the other four were sentenced to seven years imprisonment. Besides the six sentenced by the court, the challan included Tarn Taran SSP Ajit Singh Sandhu, DSP Ashok Kumar and Head Constable Rashpal Singh. Sandhu was found dead on a railway track near Bakarpur village in 1997. Reportedly, Sandhu was murdered, but it was staged as a suicide, while Ashok Kumar died due to illness. Rashpal Singh was later acquitted of the case. In 2007, the Punjab & Haryana High Court enhanced the sentences of Satnam Singh, Surinderpal Singh, Jasbir Singh, and Prithipal Singh to life imprisonment. In November 2011, Supreme Court dismissed the appeal filed against the sentence to life imprisonment for the four accused and upheld the convictions and sentences. Furthermore, DGP KPS Gill's name popped up in the case in 2005 following Kuldeep Singh's testimony. On 6 September 2006, Paramjit filed a petition that called on the High Court to investigate and prosecute KPS Gill for his role in Khalra's torture and murder. However, KPS Gill died in 2017 without facing trial.
Religion
She follows Sikhism. [2]The Times of India
Address
She resides at House No. 8, Kabir Park, Opposite Guru Nanak Dev University, Amritsar, Punjab, India.
Signature/Autograph
Career
After her marriage, Paramjit stayed with her husband in Khalra from 1981 to 1985, where she worked as a teacher in a nearby village called Puhla, Tarn Taran. In 1985, Paramjit and Jaswant moved to Amritsar, where she secured a job as a librarian at Guru Nanak Dev University's Bhai Gurdas Library. After Khalra's death, she became a human rights defender and started working with Khalra Mission Organization to get justice for 25,000 unclaimed bodies and to convict the murderers of her husband. In 1999, she resigned as librarian at GNDU to contest Lok Sabha polls from Tarn Taran on the ticket of Sarb Hind Shiromani Akali Dal (SHSAD), a splinter group of the Shiromani Akali Dal led by Gurcharan Singh Tohra; she lost the seat. In 2019, she contested the Khadoor Sahib Lok Sabha constituency on Punjab Ekta Party's ticket, but she lost the seat. Winning candidate Congress's Jasbir Singh Dimpa polled 4,59,710 votes, while Khalra polled 2,14,489 votes.
Assets & Properties
Movable Assets
Deposits in Banks: Rs 2,40,000
Motor Vehicles:  Rs 60,000
Note: The given estimates of moveable assets are according to the financial year 2018-2019. It does not include moveable assets owned by her husband and dependents.
Immovable Assets
Paramjit Kaur's affidavit for the 2019 Lok Sabha elections mentioned immovable assets of worth Rs 1,10,00,000 in Jaswant Singh Khalra's name.  This included 3 acres of agricultural land in Khalra valued at Rs 45,00,000, 1/2 share of 2700 square feet of non-agricultural land in Chheharta valued at Rs 15,00,000, and 1/2 share of 2500 square feet of residential building in Amritsar valued at Rs 50,00,000. [3]MyNeta
Net Worth
Her net worth in 2019 was Rs 1,13,10,000. It includes the net worth of her husband. [4]MyNeta
Facts/Trivia
In an interview, Paramjit Kaur said that she believed that Ajit Singh Sandhu, an accused in Khalra's abduction and killing case, did not commit suicide. Instead, he was killed by KPS Gill and his group. While talking about the same she said,


Killing Ajit Singh Sandhu had two advantages for KPS Gill and the Indian government. Ajit Singh Sandhu was depressed as his had many cases against him and he had started to threaten KPS Gill, that "If I am not acquitted from the cases then I will tell the court who gave me the orders to kill innocent Sikhs and also to whose order I had killed Jaswant Singh Khalra."

Furthermore, she said,

Anyway some people also tell me, that Ajit Singh Sandhu is still alive and fooling the government and after killing someone, he had thrown the dead body under the train. One man even told me, that he had seen Ajit Singh Sandhu in Germany. I don't belive in that, but the police can't be trusted, they can do anything."

Interestingly, the SAD (Taksali) announced the withdrawal of their candidate former Army chief General JJ Singh from Khadoor Sahib to support Paramjit Kaur's candidature during the 2019 Lok Sabha elections. The move was taken to ensure the defeat of the Akali Dal and the Congress by ensuring that the votes were not split between Paramjit and JJ Singh.
In 2022, it was revealed that a popular Punjabi singer and actor Diljit Dosanjh had been selected to portray Jaswant Singh Khalra in a biographical film. While filming in Amristar, Diljit faced significant backlash and opposition from protestors who claimed that he lacked the required sanctity for the role. They labelled him as "Videshi" (foreigner) and argued that he was too "westernised" to portray the character. In March 2022, Paramjit Kaur took to her social media handles to announce that the Khalra Family had officially given permission to director Honey Trehan for the making of the biopic. The screenshot of the post was later shared by Diljit Dosanjh on his Instagram handle.