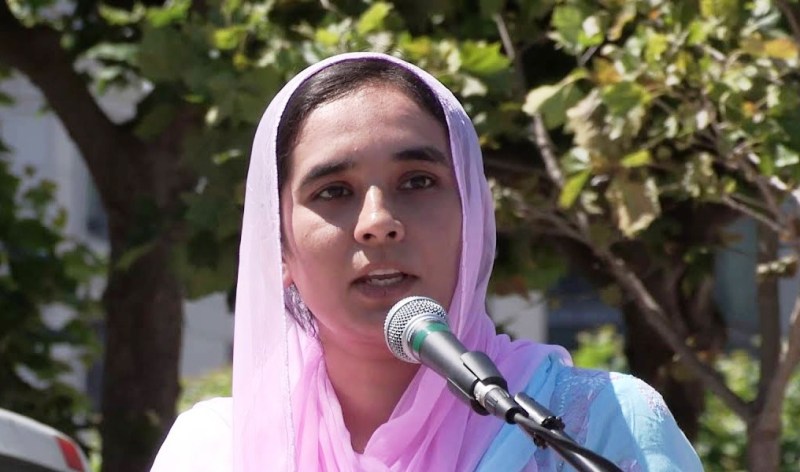 Navkiran Kaur Khalra is an Indian human rights advocate, who mainly highlights the victims of the 1984 anti-Sikh riots in Punjab. She is the daughter of renowned Sikh Human rights activist Jaswant Singh Khalra.
Wiki/Biography
Navkiran Kaur Khalra was born in 1985 (age 38 years; as of 2023) in Amritsar, Punjab. Her ancestral village is Khalra. Her father was abducted and killed by Punjab Police in 1995 when she was ten. Since then, her family has been actively working with Khalra Mission Committee to keep the legacy of her father alive by advocating for human rights. Khalra Mission Committee was founded by her father in 1995 to investigate the extrajudicial killings by Punjab Police during the 1984 anti-Sikh. Growing up in such an environment embedded activism in Navkiran as well. She did schooling in Amritsar, Punjab. Later, Navkiran migrated to the US for higher education. In 2009, he moved to Fresno, California, where she obtained a master's degree in electrical engineering from California State University, Fresno (Fresno State). [1]The Fresno Bee [2]Khalra Mission Organisation – Facebook Navkiran actively represents the Sikh cause to the Sikh Diaspora and other communities and human rights defenders. She actively speaks about her father at various religious and cultural events.
Eventually, she started living in California, US.
Family
Parents & Siblings
Navkiran Kaur's father, Jaswant Singh Khalra, was a notable Sikh Human rights activist who investigated and highlighted the 25,000 unclaimed (Sikh) dead bodies cremated by the security forces of Panjab during the 1984 anti-Sikh riots. In 1995, he was abducted and killed by the Panjab Police led by KPS Gill for disclosing the evidence against Panjab police in International forums.
Navkiran's mother, Paramjit Kaur, worked as a librarian in the library of the Guru Nanak Dev University in Amritsar. After Khalra's death, she became a human rights defender and worked with Khalra Mission Organization to get justice for 25,000 unclaimed bodies and to convict the murderers of her husband. In 2019, she contested the Khadoor Sahib Lok Sabha constituency on Punjab Ekta Party's ticket, but she lost the seat.
Her brother, Janmeet Singh, is married to Itinderjeet Kaur and has a daughter.
Husband & Children
In 2018, Navkiran Kaur got married to Dalbir Singh. Together, they have a son.
Religion
She follows Sikhism. [3]Parliament of the World's Religions
Facts/Trivia
In 2022, it was announced that Punjabi singer and actor Diljit Dosanjh would portray Jaswant Singh Khalra in his biopic. After that, several people staged protests on the film sets of Khalra's biopic objecting to Diljit Dosanjh's portrayal of the character calling him "Videshi" and citing that he was westernised.