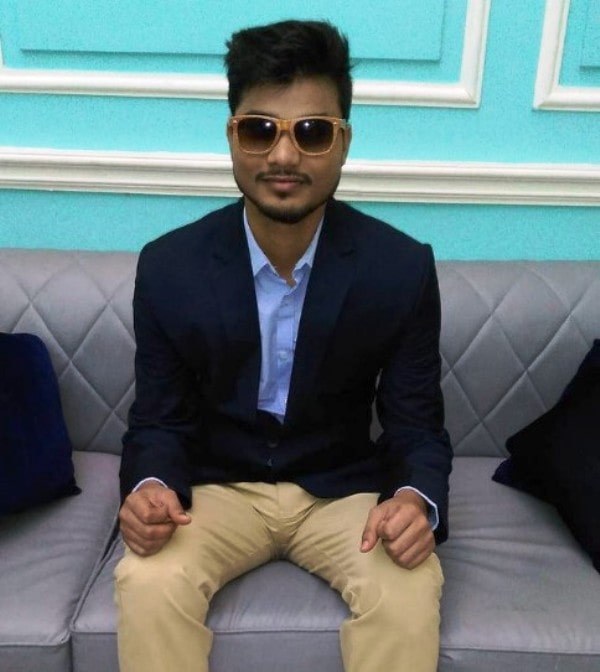 Abhay Sharma is an Indian stand-up comedian, YouTuber, politician, and lyricist, who is visually impaired. He came into the limelight after participating as a contestant in the popular reality TV shows titled The Great Indian Laughter Challenge (2017) and the Indian Laughter Champion (2022).
Wiki/Biography
Abhay Kumar Sharma was born on Saturday, 5 July 1997 (age 25 years; as of 2022) in Village Gordiha, Sonbhadra district, Uttar Pradesh, India. His zodiac sign is Cancer. In 2013, he completed his schooling at Sri Hanuman Prasad Poddar Andh Vidyalaya, Varanasi. In 2016, he earned a Bachelor of Arts (Hons.) degree in Political Science from Banaras Hindu University (BHU). [1]Abhay Sharma's official Facebook page
Family
Parents & Siblings
Not much information is available about his parents and siblings.
Wife & Children
Abhay Kumar Sharma is unmarried.
Religion
Abhay Kumar Sharma follows Hinduism. [2]Abhay Sharma's official Facebook page
Career
After completing his formal education in 2016, Abhay Sharma worked as an under-trainee RJ with a radio station named Radio 90.8 FM – Aap Ki Aawaz. In 2017, after completing his internship with the radio station, Abhay Sharma joined a Non-government Organisation (NGO) named Utsav Trust. In 2017, Abhay Sharma was invited to participate in a live stand-up comedy show named Divyango Ki Shaam, Swachchta Ke Nam. The show was organised by the Madhya Pradesh government in Jabalpur.
In 2017, Abhay Sharma got his first major break when he was selected to participate as a contestant in a reality comedy TV show titled The Great Indian Laughter Challenge, which was aired on StarPlus. In the show, Abhay became one of the seven participants who entered the grand finale.
In 2019, impressed with Abhay Sharma's mimicry skills, Prime Minister Narendra Modi met him. PM Modi appreciated Abhay's performance in his comedy skit titled Mann Ki Baat which was based on the Prime Minister's radio program titled Mann Ki Bat.
In the same year, Abhay Sharma was appointed by the Election Commission of India as the brand ambassador for spreading awareness about voting in the Sonbhadra district during the 2019 Lok Sabha elections.
In 2021, Abhay Sharma was appointed as the President of Utsav Trust, an NGO that he joined in 2017. Abhay Sharma, in 2021, was invited to present an opening speech at the Banaras Film Festival.
In 2021, Abhay Sharma, along with his followers, went on an indefinite hunger strike to protest against the decision of Varanasi's local administration to cancel the admissions from class 9th to class 12th for the visually impaired children at Sri Hanuman Prasad Poddar Andh Vidyalaya.
Later, in the same year, Abhay Sharma was invited as a chief guest to the inauguration ceremony of the BS Film Academy.
Abhay Sharma is also a YouTuber. In 2021, Abhay Sharma posted a comedy skit, Janta Ka Vaccine Tender on his YouTube channel. The video became one of his most viewed and famous YouTube skits.
Abhay Sharma frequently collaborates with Shyam Rangeela, another famous stand-up comedian. On 22 January 2022, Abhay and Shyam released a comedy skit titled UP Ka Vikas Dekha? In 2022, they published another comedy video Jab Mile Yogi, Modi Aur Akhilesh on YouTube.
In the same year, Abhay Sharma published another satirical comedy video titled IPL Aur Corona-Logy. The video was based on Corona Virus and IPL.
Abhay Sharma, as a lyricist, is well-known for making songs based on the prevailing socio-political situation of Indian society. On 18 February 2022, he penned a song titled Jayegi Jumlebaz Sarkar. In 2022, Abhay Sharma got his second major break when he was selected as a contestant in the reality comedy TV show titled India's Laughter Champion. The show was aired on Sony TV. When Abhay was asked about his second-time appearance on a comedy reality TV show, he said,
I think making people laugh is the greatest gift anyone can get and I am just grateful that god blessed me with this talent. I thank Sony TV and India's Laughter Champion for this golden opportunity. The competition is tough, there are many good comedians in the race but I will try my best to be the best among them."
In January 2022, Abhay Sharma auditioned for the talent hunt reality TV show named India's Got Talent.
Facts/Trivia
Abhay Sharma claims that while growing up in his native village, he had to face a lot of hardships and prejudices due to his blindness. He further said that when he was sent to Varanasi for schooling, the residents of his village thought that his parents had abandoned him. During an interview, Abhay said,


I was born a blind kid. People often made fun of me and even mocked me for my disability. When my parents got me admitted to the Sri Hanuman Prasad Poddar Andh Vidyalaya at Varanasi, people believed that my parents had given me away to an orphanage and whenever I came back home on holidays. they would often taunt me for coming back to beg for a few scraps of food. It took a lot of time for me to prove myself, that now people believe that Yes! He too can read and write."
The comedy skits in which Abhay Sharma mimicked famous personalities such as Rajnath Singh, Narendra Modi, and Lalu Prasad Yadav have become widely popular. His comedy skits have also been shared by renowned politicians such as Akhilesh Yadav and Dimple Yadav on their official social media accounts.
Abhay Sharma wants the Parliament to have certain seats reserved for differently-abled candidates, who can represent the paraplegic community at a national level. He even once wrote a letter to the Prime Minister of India, requesting him to reserve a few seats in the parliament. While giving an interview, Abhay said,


I want to work for the over-all development of the specially abled people of India, but our representation in the parliament has been neglected since ever. I had even asked our PM Narendra Modi to present a bill in the parliament for reserving some seats for the handicapped citizens, so that we can have equal representation at the administrative level and contribute towards policy making as well."
While giving an interview to a local news agency, Abhay Sharma once claimed that before venturing into the world of comedy, he was a UPSC aspirant, and he aspired to become an IAS officer.
According to Abhay Sharma, had it not been the COVID-19 Pandemic, he would have established himself as a popular comedian in India sooner than later. He also said that he wants to achieve the desired popularity through his hard work and not by gaining sympathy for his blindness. While giving an interview to a media outlet, Abhay Sharma told,


After my reality show, I had started getting lots of shows. However, then a pandemic happened and everything came to a standstill. Now, that I have again got an opportunity with India's Laughter Champion I would not let this opportunity go. I want to make my own standing in the comedy scene on the basis of my talent and not on anyone's sympathy."
Abhay Sharma once said that he wanted to become a cricketer, and he also wanted to be a sports commentator, but he could not pursue his dreams because of his blindness. During an interview, he said,


Well.. Had I not been born as a blind child, I would have certainly loved to take up cricket as a professional sport. I even want to become a commentator. But my condition does not allow me to do either. Even though I cannot see the players, but I know who is who and does what."
In 2020, Abhay Sharma joined the Aam Aadmi Party (AAP).
In 2021, Abhay Sharma supported the farmers' protest against the government's 3 farm laws and visited the farmers protesting sites on the outskirts of New Delhi to show his support to them. There, while giving a speech in favour of the farmers, Abhay Sharma met Rakesh Tikait, one of the leaders of the farmer's movement.