Satish Vasant Alekar, [1]Dainik Prabhat better known as Satish Alekar, is an Indian actor, theatre director, and playwright who mainly works in the Marathi film and theatre industry. He is best known for his Marathi plays Mahanirvan (1974), Mahapoor (1975), Atirekee (1990), Pidhijat (2003), Micky ani Memsahib (1973), and Begum Barve (1979).
Wiki/Biography
Satish Alekar was born on Sunday, 30 January 1949 (age 72 years; as of 2021) in Delhi. His zodiac sign is Aquarius. While he was a few months old, his family shifted to Pune (where he grew up), a centre of Marathi culture in Maharashtra. He attended The Deccan Education Society's (DES) New English School, Ramanbaug, Pune, and went to Fergusson College, Pune, to pursue B.Sc. After completing his graduation, Satish enrolled himself in the University of Pune to pursue a master's degree in biochemistry. [2]Wikipedia Alekar experienced stage for the first time when he was in college. Later, he joined a theatre group and actively participated in theatre plays. Director Bhalba Kelkar spotted him in one of his plays and impressed by his performance, offered him to join his (Kelkar's) Progressive Dramatic Association.
Physical Appearance
Height (approx.): 5′ 8″
Hair Colour: Half-Bald (Salt & Pepper)
Eye Colour: Aqua
Family
Parents & Siblings
Not much is known about his parents.
Wife & Children
Satish got married to Anita Alekar on 22 February 1976. His wife passed away on 13 March 2007. The couple has a son named Mikin.
Career
Teaching
Satish Alekar worked as a Biochemistry professor at B. J. Medical College, Pune, from 1972 to 1996. In 1996, he joined the Lalit Kala Kendra, University of Pune, as a professor and Head Centre for Performing Arts. He worked there for around 13 years and resigned from his position in 2009. He was then appointed as an Honorary Director at the University of Pune for a program supported by Ratan Tata Trust from 2009 to 2011. The university honoured him by nominating him as a 'Distinguished Professor (Performing Arts)' on the campus in September 2013. Many of his students are working in the film and television industry in Mumbai (as of 2021).
Playwrighting
In 1973, Satish penned the play 'Micki Aani Memsaheb' which was well received by the audience. Alekar then wrote and directed 'Mahanirvan.' Staged in 1974, Mahanirvan is a black comedy that revolves around the story of a dead man and how his family goes about his last rites. The play was an instant hit.
In 1975, he wrote the play 'Mahapoor.' Thereafter, he wrote the scripts of the plays 'Begum Barve' (1979), 'Shanwar Raviwar' (1982), 'Dusra Samana' (1987), 'Atireki' (1990), 'Ek Divas Mathakade' (2012), and 'Thakishi Sanvad' (2020).
Some of his Marathi one-act plays include 'Memory' (1969), 'Bhajan' (1969), 'Ek Zulta Pool' (1971), 'Dar Koni Ughadat Naahi' (1979), and 'Bus Stop' (1980). He has also adapted various one-act plays which includes 'Judge' (1968), 'Valan' (1980), 'Alshi Uttarvalyachi Gosht' (1999), 'Nashibvan Baiche Don' (1999), 'Supari' (2002), and 'Karmaachari' (2009).
Acting
Plays
Satish started his career as a theatre artist in 1971 with the Marathi play 'Ek Zulta Pool.' He played the role of a young man in the play. Next, he acted in the Marathi plays 'Mahanirvan' (1974), 'Begum Barve' (1979), 'Shanwar Raviwar' (1980), and 'Boat Futli' (1982).
Hindi Films
Satish made his Hindi film debut in 1984 with the film "Ye Kahani Nahi" in which he played a supporting role. Subsequently, he appeared in Hindi films like Dumkata (2007), Aiyaa (2012), Dekh Tamasha Desk (2014), and Thackeray (2019).
In 2021, he was cast in the Hindi-language sports film "83." He played the role of BR. Sheshrao Wankhede in the film.
Marathi Films & Web Series
He made his Marathi film debut in 1981 with the film 'Aakrit.' He then went on to feature in many Marathi films like 'Umbartha' (1982), 'Dr. Babasaheb Ambedkar' (1991), 'Ek Hota Vidushak' (1992), 'Dhyas Parva' (2001), 'Kadachit' (2007), 'Chintoo' (2012), 'Aajachaa Diwas Maazaa' (2013), and 'Welcome Zindagi' (2015).
In 2019, he was featured in the web series 'Smile Please' as Appa Joshi. Thereafter, he appeared in the Marathi web series 'Panchak' (2019) and 'Pet-Puran' (2021).
TV Commercials
Satish Alekar has been featured in the TV commercials of many popular brands like Tata Sky, Honda Amaze, New York Life Insurance, Red Label Tea, Snapdeal, and Fiama Di Willis Body Wash.
Other Work
In 1977, Alekar scripted the Marathi feature film "Jait Re Jait." The film was directed by Jabbar Patel and won a National Award for Best Feature Film in Marathi. Satish also scripted the dialogues for the Marathi feature film "Katha Don Ganpatravanchi" (1996). Alekar also directed a Hindi TV serial "Dekho Magar Pyar Se" in 1985 for Doordarshan. In 1989, Alekar launched the book 'The Dread Departure,' which is an English translation of his Marathi play 'Mahanirvan.' The translation was done by Gauri Deshpande.
Thereafter, he launched the book titled 'Begum Barve' (2003). The book is an English translation of his Marathi play 'Begum Barve and was translated by Shanta Gokhale.
In 2009, the English translation of his plays was published as Collected Plays of Satish Alekar by Oxford University Press, Delhi.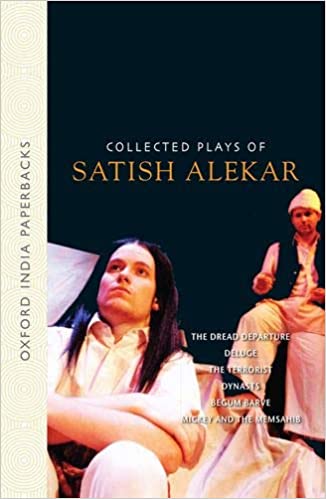 In 2015, Alekar wrote a fortnightly column named 'Gagnika' in Marathi for the Sunday edition of Loksatta. The column was based on Satish's journey as a Performing Artist since 1965. The column became very popular among the readers. Seeing the popularity that the column fetched, on 30 April 2017, Alekar launched a book titled 'Gagnika.' In 2018, he became a part of 'Aparichit Pu La,' a 90 minutes acting reading programme on lesser-known writings of the popular Indian writer P. L. Deshpande.
Awards, Honours & Achievements
His collection of short plays "Zulta Pool" received the best collection of short plays award from Ministry of Culture, Govt. of Maharashtra, in 1974.
His play 'Mahanirvan' was awarded Late Ram Ganesh Gadkari award by the State of Maharashtra in 1975.
Alekar received a fellowship from the Asian Cultural Council, New York, to study theatre in the US in 1983.
He received a fellowship from the Ford Foundation to study Theatre of South Asia in 1988.
Satish received Nandikar Sanman at Calcutta in 1992.
Satish received a Sangeet Natak Akademi Award for playwriting from Sangeet Natak Akademi, Delhi, in 1994.
He was awarded State Award for Best Actor in Comedy Role for the Marathi film 'Katha Don Ganpatravanchi' in 1997.
Satish was awarded the Vi Va Shirwadkar award for playwriting by Natya Parishad, Nasik, in 2007.
He received the Lifetime Achievement Award by Akhil Bharatiya Marathi Natya Parishad, Mumbai, in 2012.
Satish was awarded "Padama Shree" by the then President of India Pratibha Patil in 2012.
He received Balaraj Sahani Memorial Award in 2013 for his contribution as an actor, director, and playwright for over 40 years.
Alekar was awarded Aarati Prabhu Award by Baba Vardam Theatres, Kudal, Dist. Sindhudurg in 2014.
Satish was awarded the Tanveer Sanman in 2017. Tanveer Sanman is a prestigious award for lifetime contribution to the field of Theatre constituted by Dr. Shriram Lagoo through Rupavedh Pratisthan, Pune.
He received Advt Tryambakrao Shirole Award for Best Non-Fiction for his book Gaganika in 2018 by Maharashtra Sahitya Parishad, Pune.
Favourities
Playwrights: Vijay Tendulkar, Girish Karnad, Mohan Rakesh, Badal Sircar
Facts/Trivia
Alekar loves reading, travelling, and spending time with his family in his leisure time.
Satish's plays have been translated into many different languages like Hindi, Bengali, Tamil, Dogri, Kannada, Gujarati, Rajasthani, Punjabi, and Konkani.
In 2001, Alekar's plays were included in the National Anthologies by the National School of Drama and Sahitya Akademi, Delhi.
In 2003, Alekar was invited by the Tisch School of Arts at New York University to teach a course on the Indian Theatre.
In 2005, The Department of Theater and Films Studies, University of Georgia, invited Satish to direct an English production of his Marathi play 'Begum Barve.'
In 2008, Atul Pethe made a 90-minute film on Satish Alekar's life titled 'Natakkar Satish Alekar (Playwright Satish Alekar).'
Satish writes his scripts in his native language Marathi.
He has collaborated in many international play translation projects.
In 2009, During the Edinburgh Fringe Festival in Riddle's Court The Holy Cow Performing Arts Group in Edinburgh, Scotland, performed an English version of his play Micky And Memsahib.
Alekar's play 'Mahanviran' is considered one of the classics of the Indian stage and has been performed more than 400 times in 47 years.

During an interview, when asked about the reason for refusing the post of director at National School of Drama, Delhi, and choosing to work at Lalit Kala Kendra in Pune, Satish said,


Well, the work at Lalit Kala Kendra was more challenging, primarily because, at that time the arts faculty wasn't available in Maharashtra. In retrospect, I do believe that my job at the Pune institution allowed me to return something back to the State, which has given me so much. Now that I have retired from the institution, I have more time in hand. In fact, I am writing a new play called Monologues, but I am not sure when it will be completed."
In an interview, while talking about his play Mahanirvan, Alekar said,


Today, the concept of death is different because it has come close to us. We are watching it every day, without fail, on every channel and on mobile phones, either from social violence, terrorism or disease. Films have become more violent. When I was younger, one's experience of death was less common and was sacred. If there was a death, the whole atmosphere would totally change in office and home. Now, people are in a rush to resume normal life. Even if the bereaved are feeling a sense of loss, they continue with family affairs, office and everyday life."