Rema is a Nigerian musician, rapper, and singer known for his song Dumebi (2019.)
Wiki/Biography
Rema, whose real name is Divine Ikubor [1]BBC and is also known by the name Remy Boy [2]Rema – YouTube, was born on Monday, 1 May 2000 (age 23 years; as of 2023) in Benin City, Edo, Nigeria. His zodiac sign is Taurus. Rema developed an interest in singing and rapping when he was in school. He completed his schooling at Ighile Group of Schools, Edo State. In 2023, he took to Twitter to announce that he enrolled himself in the University of Lagos, Nigeria to obtain a degree which was his mother's dream.
Physical Appearance
Height (approx.): 5′ 8″
Weight (approx.): 70 kg
Hair Colour: Black
Eye Colour: Black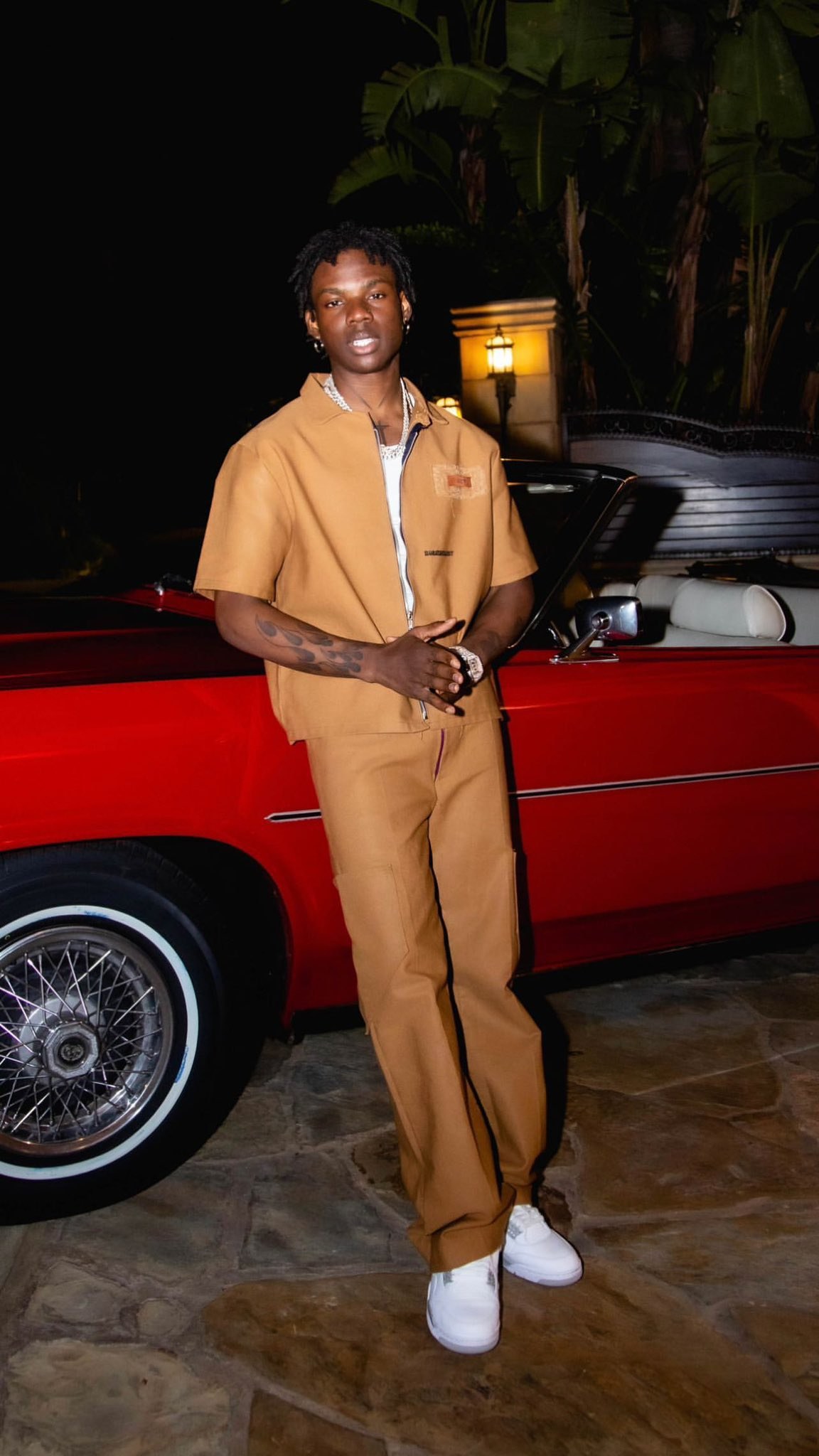 Family
Parents & Siblings
His father was Justice Ikubor (a high-ranking member of the Peoples Democratic Party (PDP) in Edo State and former General Manager of the state-owned Ethiope Publishing Company) who was found dead in a hotel room at Bins Hotel in Benin City in 2008. [3]Daily Post Nigeria His mother is Hamida Nabbosa.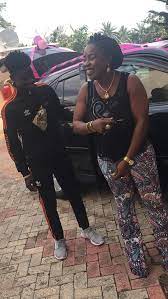 He had a brother (d. 2008) [4]Rolling Stone and two sisters.
Wife & Children
Rema is unmarried.
Relationships/Affairs
Rema was rumored to be dating Ifeoluwanimi Ogunjebe (Nigerian model, influencer, and actor), more popularly known by the name Nimiie after she went out on a one-day fan date with the singer.
In 2022, Rema was rumored to be dating Temilade Openiyi (Nigerian singer), more commonly known by her stage name Tems.
In 2022, he was again rumored to be dating Oyinkansola Sarah Aderibigbe (Nigerian singer) known by the stage name Arya Starr. [5]Naijalebrity
Religion
Rema belongs to a Christian family. [6]The Fader Magazine
Career
Rema started his singing career by singing in the Christ of Mercy church with Alpha P. where he was a part of a program called "Rap Nation" that taught kids how to rap for the congregation. When he was just 14 years old, he was given a phone by the members of the church on which he downloaded the beats to practice his singing and rapping. [7]The Guardian In February 2018, he went viral when he uploaded a video of himself on Instagram freestyling on the beat of afro-pop singer D'Prince's track "Gucci Gang." It caught the attention of D'Prince himself who brought him to Lagos and made him a part of the Mavin Records family.
After a year of training, he became the first artist signed by Jonzing World, the first imprint record label under Marvin Records. In 2019, his debut EP 'Rema' came out which was an instant hit in Nigeria. "Iron Man" was later chosen to be his debut single.
In the same year, his song 'Dumbei' became a global hit. In 2022 he released his debut album, Rave & Roses.
Although 10 of his songs from the album charted on US Billboard Afrobeats Chart, his single "Calm Down", including a sample from fellow Nigerian artist Crayon's track "So Fine", got success five months after its official release. Furthermore, on August 26, 2022, he released a remix of his song "Calm Down" with Selena Gomez which became an instant success and debuted at number 91 on Billboard Hot 100.
Controversies
Accusation over the Death of his Father
Rema took to Twitter to accuse the Peoples Democratic Party (PDP) on 28 September 2020,  over the death of his father Justice Ikubor who was General Manager of Edo state's owned Ethiope Publishing Company. He asked the PDP to come clean and give information about the mysterious circumstances of his father's death. [8]Pulse Nigeria
Tagged 'Materialistic' over N15 Million Diamond Chain
Rema bought a 15 Million Naira Diamond chain and posted about it on Instagram with the caption "15 million naira Yikes!" This was not received positively by the fans who felt that the singer was just boasting. Many users commented that the buy was "unproductive" looking at the poverty in Nigeria and how N15 million could have made a change. [9]Popnable
Alleged DJ Neptune for Releasing Old Track without Consent
Rema took to Twitter in 2021 to accuse DJ Neptune of releasing the song "For You," which was released as a part of the 16-track record Greatness 2.0.
Don't violate the codes, can't drop my song without my notice, can't even remember the last time we spoke big bro, I pleaded with my manager behind the scenes when y'all tagged me before it dropped, y'all still went ahead! c'mon nau!"
Neptune responded to this by sharing some screenshots of the conversation with Sean Okeke (Rema's manager) about the consent for collaboration before a possibility for a music video. He, therefore, denied any wrongdoing and also said that it was the fault on the part of Rema's team.
I would like to categorically state that I am not in any way upset with Rema as it is obvious that proper information was not passed across to him through his available channels, and as a respectable human being, I only felt it was just normal for me to follow due process in anything I do and that was the step taken."
Finally, Rema's manager issued an apology and Rema took to Twitter to tell that everything is fine between him and DJ Neptune.
I tried to stop it all behind closed doors for months and I wasn't listened to, as my record went public so did I," Rema wrote. "Any Agenda held after this statement is based off your personal emotion towards me. Me and [Neptune] are good and we gonna drop dem bangers when it's time." [10]Complex Magazine
Controversial Tweet about his Virginity
Rema spurred a controversy when he tweeted that he was a virgin in July 2022. [11]Rema – Twitter
Pranking his Fans
Rema got into the news in his November 2022 Rave and Rose performance in the UK where he collapsed on the stage. The rescue team took him away and a few seconds after, he returned to the stage with his song "Woman." His fans were confused and many tweeted that such pranks should not be supported. [12]Vanguard Magazine Nigeria
Paying Tithes
Rema got into the news in February 2023 as he claimed that all of his success is because he pays Tithe (one-tenth part of something paid to a religious organization.) [13]Herald Nigeria
Yeah, I actually expected it (success) because I worked really hard for it, having sleepless nights, prayed, gave my seeds, tithes and left the rest for the lord which gave him no other option but to bless me."
'Bounce' Controversy
Rema and Ruger got into controversy over the same name of the song 'Bounce' which they both released at the same time. Many fans suspected a tiff between the two Nigerian singers but later on Ruger revealed that both of them had a conversation about it and decided to "bounce along" and enjoy. [14]News Central TV – YouTube
Comparison with Wizkid
Rema faced a lot of backlash from the fans as he said that it is not he who sounds like Wizkid but it is Wizkid who sounds like him. Many fans commented that it was an "unwanted pride" on the part of Rema to make such comparisons. [15]Guardian Nigeria Here's Rema's actual comment:
I don't sound like anyone actually, they might sound like me but I don't sound like anyone."
Awards
Soundcity MVP Awards for the best new artist (2020)
Best Viewers Choice: International Act on the 2020 BET Awards (Nominated)
Car Collection
Favourites
Musicians: XXXTentacion, Burna Boy, and Tupac
Tattoos and Piericngs
Two Swords on Neck
Rema's double sword tattoo on his neck is inspired by the Biblical passage, Hebrews 4:12, which states that 'the word of God is sharper than a two-edged sword'. With this tattoo, he wanted to show that whatever comes out of the mouth is a powerful tool. He also did not want to ink just one side of his neck, so he got the two swords on either side
A Chariot with a Horse and Soldier on Arm
Rema was called a soldier by his dad when he was a kid. To commemorate this memory, he got a chariot tattoo done in black and grey sharing the effect with a soldier leading the way.
Angel with Bat Wings Holding a Gun on Bicep
Rema has quite a mysterious tattoo of an angel holding an assault rifle. He has not revealed the exact significance behind the tattoo which makes it even more intriguing.
Combination of Father, Son, and Holy Spirit on Shoulders and Chest
The figurines on each side of the shoulders and the cross sign on the middle of the chest together represent the Holy trio – the father, son, and the Holy Spirit. These tattoos are simply done with black ink.
The Tree of Life on his Chest
Rema is a deeply religious person and believes in the cycle of birth and death. Thus he has a Tree of Life tattooed in the middle of his chest which shows that there is a source of life connecting all living beings.
Flames on Arm
Rema has a cool flames tattoo with a bold black outline and yellow tint on his arm.
Raver Tattoo on Lower Abdomen
Rema has the word 'Raver' inked on his lower abdomen to commemorate his song 'Ravers Tune' as well as his fanbase.
Anime Tattoo on Upper Arm
Rema might be a huge anime fan as he has a tattoo of an anime character on his upper arm that is done with black ink.
Mountain Outline Tattoo on Arm
Rema has an outline tattoo done with bold black ink of a mountain.
Portrait Tattoo on Ribs
Rema has a portrait tattoo on his ribs which is yet to be revealed.
Man on Boat Led by a Bird on Lower Abdomen
Rema has a tattoo of a man on a boat who is being led by a bird. This tattoo is very significant for him as it is a representation of showing the direction to a lost soul. For him, it is a symbol of hope and courage.
Piercing on Earlobes
Rema has both his earlobes pierced.
Facts/Trivia
While his teammates did not support his song, Iron Man, much. It gained immense popularity after US President Barack Obama stated that it is on his playlist.
Rema never liked to label himself as following any genre. However, in May 2021, Rema announced that he will be calling his music "Afrorave" which is a subgenre of Afrobeats clubbed with Arabian and Indian. He thinks that his music is in between afrobeat and alternative and he still wishes to explore more options.
That's what's called my sound. I don't want to name it because, when you name it, people will try and put me in a box and compare me with a lot of people. Right now, I just want to be in my own zone, my own world, and just do my thing with no competition."
In September 2021, Rema was made the brand ambassador for the popular soft drink brand Pepsi along with his label mate Arya Starr.
Rema is a huge fan of the football club Manchester United F.C. and could be seen attending the events.
On 15 June 2020 when Rema was nominated as Best Viewers Choice: International Act at the 2020 BET Awards along with Burna Boy and Wizkid, they became the only Nigerian artists to be nominated for the 2020 awards edition.
Rema describes himself as quite a "noisy" child when he was growing up. But he channeled his energy to his music and got influenced by artists such as Michael Jackson, 2Face, TB1, and Frank Edwards. He also took inspiration from Nigerian Label Mo' Hits era which monopolized the afro-pop scene with singers like Wande Coal, Dr. Sid, and D'Prince.
I was influenced by Drake's style. Every day I rehearsed, and the mix of melodies and my flows were a good combination."
He was named "rap nation leader" by the congregation that he attended during his teen years.
It was a proud moment for Rema when his songs were included on the FIFA 21 soundtracks.
Forced to be mature at a young age, he ran away from his house when he was 15 years old. He moved to Accra to work hard and earn money as he had two sisters and a mother to look after. His father and brother died when he was quite young and so he felt that t was his responsibility to take care of his family. "Being the only man to provide for my family, I had to get my hands dirty," he said [18]

Crack Magazine
Rema is extremely religious and a devout Christian so much so that he ascribes all his success to the almighty. He claims that he is not educated professionally in music either.
I cannot personalize it; it's beyond my power. At this point, it's quite tough even singing on normal notes. I don't even know what normal notes sound like anymore. I'm not super musically educated, all I know is how music should sound. I know what a hit song sounds like. I can't give credit to myself."
Rema joined fellow protestors in the #endSARS movement against the killing of an unarmed man and the musician Daniel Chibuike, known as Sleek, by a Nigerian Special Anti-Robbery Squad (SARS) officer. The movement resulted in the killing of a lot of innocent protestors in Lagos by the army. Rema then also released his single, Peace of Mind, where he documented his feelings of anger against this act.
Rema loves to play games on his PlayStation. He admitted that he was not good before at playing games but he improved his skills over time and got better.
Rema made his first million when he was 17 years old and considered it to be his best moment. With his first paycheck, he bought his mom a car. [19]

Amelia Dimoldenberg – YouTube
His favorite childhood memory is when his mother used to make Party Jollof Rice which was rare. She only made it on occasions like Christmas and so it was very special to him.
Rema is a text person and does not like to get on calls frequently.
He prefers iOS over android and mostly owns Apple gadgets.
The Nigerian singer can only cook fries, eggs, and noodles. He says that he knows how to cook but he forgets because of not enough practice. [20]

Lombe Posa – YouTube
His worst movie experience was with a Benin movie called Ozebba because it had weird characters. [21]

Rema – YouTube
In an interview, Rema revealed that he would rather stay at home than go out to party. He is not a party person.
One of Rema's popular songs Why (2019) was actually inspired by a heartbreak that he experienced when he was a kid.
Rema loves to swim and do surfing.
Among the other brands that Rema has collaborated with, Oppo Nigeria, Monster Energy, and Pepsi are among the top.
In an interview, Rema admitted that the inspiration behind the song 'Love' from Raven and Rose is a girl who he was FaceTiming while he was recording the song. He explained that he would record, pause, talk, and then get back to recording again. [22]

Lombe Posa – YouTube
Rema's lookalike got viral on the internet and even got a chance to meet the Nigerian singer. Rema called her his 'twin sister.' He posted a picture of the same on his social media.