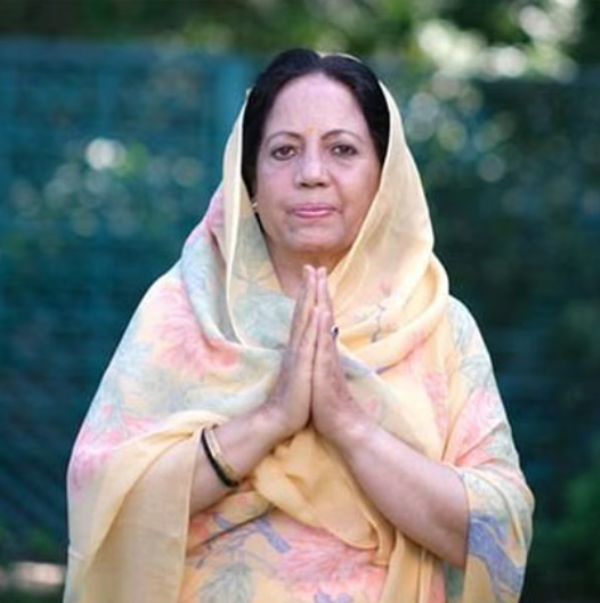 Pratibha Singh is an Indian politician and member of the Indian National Congress (INC). Pratibha is the second wife of the Indian politician Virbhadra Singh who had been a six-time Chief Minister of Himachal Pradesh. In December 2022, Pratibha stoked controversy when her daughter-in-law, Sudarshana Chundawat filed a case against her and her son, Vikramaditya Singh, and accused them of physical, mental and financial harassment.
Wiki/Biography
Pratibha Virbhadra Singh [1]Pratibha Virbhadra Singh – Instagram was born on Saturday, 16 June 1956 (age 67 years; as of 2023) in Junga, Shimla, Himachal Pradesh, India. Her zodiac sign is Gemini. Pratibha completed her schooling at Loreto Convent Tara Hall, Shimla. She pursued a Bachelor of Arts degree [2]My Neta at the Government College for Women, Chandigarh.
Physical Appearance
Height (approx.): 5′ 2″
Hair Colour: Salt & Pepper
Eye Colour: Dark Brown
Family
Pratibha Singh belongs to the royal Rajput family in Keonthal, Himachal Pradesh. [3]Hindustan Times
Parents & Siblings
Pratibha's father's name is Hitendra Sen (deceased) and her mother's name is Shanta Devi (deceased).
Husband & Children
On 28 November 1985, Pratibha got married to Virbhadra Singh. Together, they have a son,
Vikramaditya Singh
, an Indian politician, and a daughter, Aparajita Singh. Aparajita is married to Angad Singh, grandson of Amarinder Singh, who served as the former Chief Minister of Punjab. Vikramaditya, a member of the Indian National Congress, was elected as the Member of the Legislative Assembly from the Shimla Rural constituency in the 2022 assembly elections.
Other Relative
Pratibha's father-in-law, Raja Padam Singh, was the 121st titular Maharaja of Bushahr, and her mother-in-law's name is Rani Shanti Devi. She has four step-daughters, Jyotsna Kumari, Anuradha Kumari (deceased), Abhilasha Kumari (judge), and Meenakshi Kumari from her husband's first wife, Ratna Kumari.
Religion
Pratibha Singh follows Hinduism.
Caste
Pratibha Singh is a Rajput. [4]Wikipedia
Address
Pratibha Singh's permanent address is Holly Lodge, Jakhu, Shimla, Himachal Pradesh.
Signature/Autograph
Career
2004 General Elections
Pratibha contested from the Mandi Lok Sabha constituency and won the seat by defeating the BJP candidate Maheshwar Singh by a margin of 66,566 votes. During her tenure, she was appointed as a member of the Committee on Social Justice and Empowerment, the Consultative Committee and Ministry of Tourism, and the Committee on Public Undertakings.
2013 Bye-Election in Mandi Lok Sabha constituency
Pratibha won the Mandi Lok Sabha seat by defeating BJP candidate Jai Ram Thakur by a margin of 2,16,765 votes.
2014 General Elections
In 2014, Pratibha lost from the same constituency to the BJP candidate Ram Swaroop Sharma by a margin of 39,856 votes.
2021 Bye-Elections in Mandi Lok Sabha constituency
Pratibha contested from the Mandi Lok Sabha constituency and defeated the BJP candidate Brigadier Khushal Thakur by a margin of 8766 votes. Later, she was appointed a member of the Committee on Education, Women, Children, Youth and Sports.
Controversies
Booked under corruption charges
On 3 August 2009, a case was registered against Virbhadra Singh, and his wife, Pratibha Singh, for allegedly being involved in illegal monetary transactions. In 2007, an audio tape, which was recorded back in 1989, during Virbhadra's tenure as the Chief Minister of Himachal Pradesh, was released by his rival, Vijai Singh Mankotia, an Indian politician and member of the Indian National Congress, which had the recorded conversation between Virbhadra, his wife, Pratibha, and Mohinder Lal (deceased), a former IAS officer, regarding some illegal monetary transactions to invest in the cement industry in Himachal Pradesh. They were charged under section 120 B (conspiracy) of the IPC and sections 7, 11, and 13 of the Prevention of Corruption Act (PCA) dealing with bribery and criminal misconduct. On 24 December 2012, Virbhadra and Pratibha got a clean chit from the trial court in Shimla after the prime witness denied their statements against them. [5]India Today
FIR registered for allegedly amassing disproportionate assets
On 23 September 2015, an FIR was registered against the then Chief Minister Virbhadra Singh under the Prevention of Corruption Act in which he was accused of accumulating disproportionate assets of over Rs 10 crores under his name and his family members, while he served his tenure as the Union Minister during the period from 2009-2012 in the UPA government. The charges were levied against his wife Pratibha Singh, his son Vikramaditya Singh, his daughter Aparajita Singh, and seven other associates for allegedly encouraging the crime. The charge sheet filed by the Central Bureau of Investigation (CBI) accused them of cheating and forgery charges as they invested the unaccounted funds in LIC policies under the name of family members, tried to evade income tax, and claimed the funds as agricultural income earned from the sale proceeds of apples. They were booked under sections 109 (abetment) and 465 (punishment for forgery) of the Indian Penal Code (IPC) and Prevention of Corruption Act (PCA). [6]The Economic Times
Slammed for passing controversial remark on Gudiya rape case
In June 2022, Pratibha Singh sparked a controversy when she addressed the Gudiya rape case as "Choti Si Vardat" (minor accident). The Kotkhai rape and murder case, known as the Gudiya rape case, was reported in Kotkhai, Shimla, where a 16-year-old girl from Shimla was brutally raped and murdered by the accused Charani Nilu. During her visit to Keylong in Lahaul and Spiti for a public meeting, Pratibha passed the remarks and said,
Hamari sarkar mein ek chhoti si vardat huyi thi. Ek gaon mein ladki ke saath durvyavahar hua tha… bachi thi school ki….to BJP ke logon ne itna uska halla machaya… police ka daftar jala diya… ye kaha ki iski investigation honi chahiye. Us samay Raja Sahab mukhyamantri the, unhone turant aadesh diye aur dusre din hi CBI uski jaanch partal karne ke liye aayi…itna inhone iska rona roya… jab tak sarkar me badlav nahi aaya tab tak is baat ko bhunate rahe… halanki aisa kuchh bhi nahi tha… log jante the is baat ko." [7]The Times of India
As soon as the video of Pratibha went viral on social media, she received severe criticism for defaming and disrespecting women. On 1 July 2022, the Bharatiya Janata Party (BJP) Mahila Morcha protested against her at Dharamshala, Himachal Pradesh, and asked her to issue a public apology to the general public and Gudiya's family.
Accused of domestic violence
On 17 October 2022, Vikramaditya's wife, Sudarshana Chundawat, filed a case at the Udaipur court against him, her mother-in-law, Pratibha Singh, sister-in-law Aparajita Singh, brother-in-law Angad Singh, and a woman from Chandigarh, Amreen, under section 12 of the Domestic Violence Act and accused them of domestic abuse and financial exploitation. Sudarshana, in her complaint, accused Vikramaditya of having an affair with Amreen, a 38-year-old resident of Chandigarh. She alleged that Vikramaditya installed CCTV cameras in her room to monitor her and threatened and pressurized her for a divorce. When she confronted him about his affair, Vikramaditya revealed that he wanted to marry Amreen, but his father, Virbhadra Singh, who was against his relationship with Amreen, threatened to disown him, and eventually he had to marry Sudarshana. Sudarshana alleged that in April 2021, Pratibha and Vikramaditya visited her in her hometown and demanded a dowry of Rs 10 crore from her parents. In December 2022, it was reported that a non-bailable warrant was issued against Vikramaditya and his mother, Pratibha Singh by the Udaipur court, but Vikramaditya denied the rumours and said,
There was no order passed by the court regarding issuance of non-bailable warrants. Rather, we have accepted the notices. We are not evading the law. There has been no default on our part, so there is no question of issuing warrants against us."
Assets/Properties
Movable Assets
Deposits in Banks, Financial Institutions and Non-Banking Financial Companies: Rs 2,60,38,068
Bonds, Debentures and Shares in companies: Rs 2,11,000
LIC or other insurance Policies: Rs 3,29,87,000
Immovable Assets
Non-Agricultural Land: Rs 85,00,000
Note: The given estimates of movable and immovable assets are according to 2014. It excludes the assets owned by her husband and dependents (minor). [8]My Neta
Net Worth
As of 2014, Pratibha's net worth is estimated to be Rs 7,24,61,068.
Note: It excludes her husband's and dependents' net worth (minors). [9]My Neta
Facts/Trivia
Pratibha is fondly addressed as Maharani [10]

India TV by her supporters and local people of Shimla as her husband Virbhadra Singh belonged to the royal Rajput family of the erstwhile princely state of Bushahr. At the age of 13, he became the 122nd titular Maharaja of Bushahr after the demise of his father Raja Padam Singh in 1947.
Pratibha's hobbies include gardening, reading books, and doing social work.
Pratibha served as the Vice-Chairperson of the Himachal Pradesh Red Cross Society from 1985 to 1990, 1994 to 1998, and in the year 2003.
Since 2003, Pratibha served as a member of the State Women Empowerment Board and the State Planning Board.
Pratibha served as a member of the Central Advisory Education Board since 2004.
On 8 December 2022, soon after the Himachal Pradesh Legislative Assembly election results were announced, the Congress party won seats in 40 states out of 68. Pratibha Singh was considered one of the potential chief ministerial candidates along with Sukhvinder Singh Sukhu and Mukesh Agnihotri. On 10 December 2022, Chhattisgarh's Chief Minister Bhupesh Baghel officially announced Sukhvinder Singh Sukhu as Himachal Pradesh's 15th Chief Minister. While addressing the reporters, Pratibha accepted the decision of not being chosen as the CM and said,


We accept the decision taken by Congress high command." [11]Hindustan Times