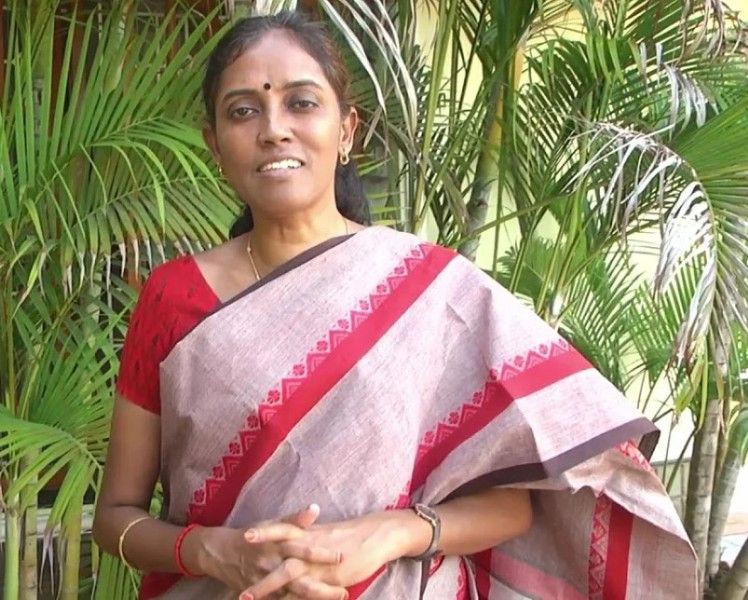 Jothimani is an Indian politician, writer and social worker who is known for being the Congress MP from the Karur constituency.
Wiki/Biography
Jothimani Sennimalai [1]Jothimani – Instagram was born on Saturday, 9 August 1975 (age 48 years; as of 2023) in Dharapuram, Tirupur, Tamil Nadu. Her zodiac sign is Leo. Her hometown is Periya Thirumangalam, Aravakurichi, Karur District, Tamil Nadu. She attended Sri G.V.G Visalakshi College for Women, Udumalaipet, Annamalai University, Tamil Nadu, and Bharathiyar University, Tamil Nadu to pursue a Bachelor of Science in Mathematics, Master of Arts (2003), and Master of Philosophy (2005). [2]Loksabha.nic.in
Physical Appearance
Height (approx.): 5′ 7″
Weight (approx.): 55 kg
Hair Colour: Black
Eye Colour: Black
Figure Measurements (approx.): 34-26-34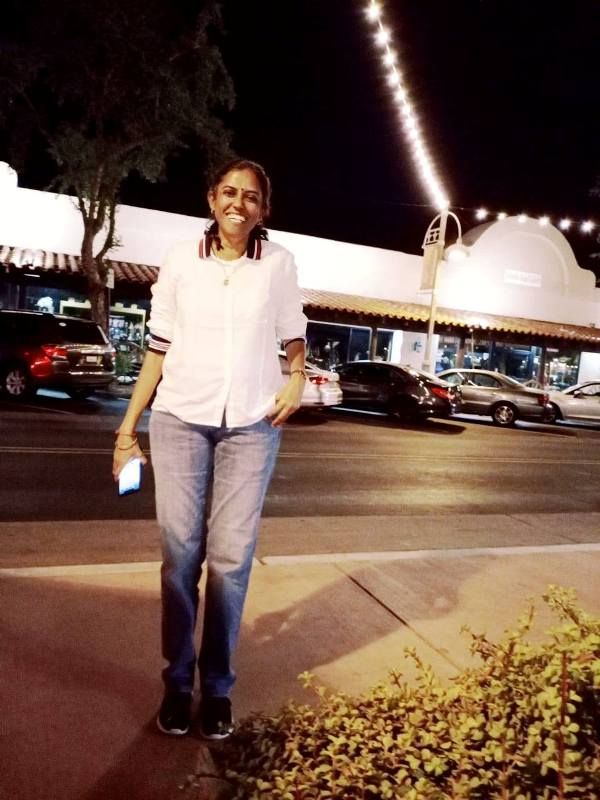 Family
Parents & Siblings
Jothimani's father's name is Sennimalai, who is a farmer. Her mother's name is Muthulakshmi.
Husband
Jothimani is unmarried.
Address
She resides at 47/1, KP Towers, Ramakrishnapuram, Karur, Tamil Nadu- 639001 Tels: 04324232626.
Signature
Politics
Jothimani joined the Indian Youth Congress, a youth wing of the Indian National Congress at the age of twenty-two. In 2011, she contested the Tamil Nadu Legislative Assembly elections from the Karur constituency but could not win the seat. She contested the 2014 General elections but lost again. In 2015, she took out campaigns for the 2016 Tamil Nadu Legislative Assembly election from the Aravakurichi constituency, but later, due to some reasons, she did not elect the elections. In 2019, she became the MP of the Karur constituency after winning the 2019 Indian general elections.
Controversies
Question on Jothimani's dressing style:
In 2019, Jothimani attracted controversy when she was criticized for wearing a saree on some occasions and a jeans top on the others. The criticism came from Tamil Nadu General Secretary, KS Narendiran, who took to Twitter to post a picture of Jothimani in two different outfits. He said that she was a great actor. After his tweet went viral, people on Twitter posted pictures of Narendra Modi wearing a shirt and kurta pyjama on different occasions. In a reply to the criticism, she said that why women's clothes were a topic of discussion for men. [3]The Federal
Quitting a television show:
In 2020, she attracted controversy when she had to face sexist comments by a Bharatiya Janata Party spokesperson, Karu Nagarajan. She was invited to a panel discussion on television, where she started talking about the BJP's carelessness in handling immigrants during the Covid-19 pandemic. After listening to her, Karu made personal comments about her and she left the show in between. Later, many people supported her and used the hashtag #I_standwith_Jothimani on social media. [4]BBC
Accusing members of her own party: 
In 2021, she accused her own party of electing candidates in a different way before the Tamil Nadu Legislative Assembly Election. In a Twitter post, she said,
I am aware of the sentiments that are currently simmering in the minds of Congress volunteers. Selection on Constituency for candidates isn't done in an explicit manner. Lots going wrong. I had knocked repeatedly. Unfortunately no answer. Will the leaders not listen to the voice of justice that erupts from honest candidates?" [5]The News Minute
Accused of Hurting Hindu sentiments:
In 2022, in an interview, Jothimani said that people in her village in Tamil Nadu had never seen Lord Ram temple. After her interview was aired, people accused her of hurting the Hindu sentiments. [6]The Commune
Physically tortured by Delhi Police:
In 2022, Jothimani attracted controversy when she accused the Delhi police of physically torturing her and tearing her clothes while she was protesting against the Centre and the ED for investigating Rahul Gandhi in the National Herald money laundering case. In an interview, she talked about this and said,
The women MPs and office-bearers of our party, including me, were peacefully marching out of our AICC headquarters today. We are women party workers. We were exercising our democratic right to protest. The Delhi police behaved with us brutally. Some paramilitary personnel were also there. They dragged me and others. They used brutal force. Around ten people carried me and threw me and others into a bus. We protested. Some 60-70 police personnel were there. They refused to give us water for an hour. We tried to buy water but they threatened the waterwallah and sent him out. Whether it is a woman MP or a woman or an MP of any political party, this is not the way to behave.This is not the democracy that we want." [7]The Indian Express
Awards
1999: Ilakkiya Chinthanai Award for Best short story
2007: Shakthi Award for Best short story collection
Assets/Properties
Movable Assets
Deposits in Banks, Financial Institutions and Non-Banking Financial Companies: Rs. 3,83,605
LIC or other insurance Policies: Rs. 6,27,450
Gross Total Value: Rs. 21,46,055 [8]My Neta
Immovable Assets
Agricultural Land: Rs. 30,00,000
Residential Buildings: Rs. 9,00,000
Total Immovable Assets: Rs. 39,00,000 [9]My Neta
Net Worth
Her net worth (as of 2019) was Rs. 5,667,055. [10]My Neta
Facts/Trivia
Her hobbies include reading, engaging with children and old age people, and agriculture activities.
Jothimani lost her father at the age of thirteen and her mother in 2018.
She decided to become a politician at a very young age because she saw people mistreating the Dalit community in her village. She felt that if she became a politician, she would have power, and she could change many things in society. When she grew up, she filed an application for the panchayat union elections in 1996, because of which her mother and relatives got upset with her.
She worked as a Panchayat Union Councillor for a decade from 1996 to 2006.
She worked as the General Secretary and Vice President of the Indian Youth Congress and Tamil Nadu Youth Congress respectively before becoming the Congress MP.
When she was in college, she was elected as the chairperson of the College Students Union, and she was an active participant in NSS camps.
She worked in the Tamil Censor Board from 2006 to 2009.
In 2006, she attended the meeting of the American Council for Young Political Leaders in the US and represented the Indian Youth Congress. In 2009, she represented Indian Youth Congress at Asian Young Leader's Summit in Malaysia.
In 2010, she participated in the Asian Women Leaders Meet held in New Delhi.
She has written three books including Ottrai Vasanai, Sithirak Koodu, and Neer Pirakku Munn. In the book, Ottrai Vasanai, she mentioned the time when Dalits were mistreated by her villagers. The book received recognition when it was selected as one of the best short stories by a Tamil weekly in 1996.
Her venture towards the Congress party started when she presented her thoughts to Rahul Gandhi in 2004 during the party's talent hunt programme in Andhra Pradesh. He showed interest in her ideas and asked former Union minister of state Jitendra Singh to guide her.
In 2014, during the General Elections, she made a personal manifesto. In an interview, she talked about this and said, Right-based campaign is basically an attempt to educate women and farmers on their rights, especially to Centrally sponsored schemes like the Mahatma Gandhi National Rural Employment Guarantee Scheme, besides training panchayat presidents to ensure that the funds allotted for the schemes reach the real beneficiaries."
In 2015, she was elected as the secretary of the All India Mahila Congress of Karnataka.
In 2019, she alleged that she was unable to communicate with the district collector of Karur T. Anbazhagan who had blocked her mobile number.
She was the first Congresswoman parliamentarian to be elected from the Karur Lok Sabha seat in 2019.
In an interview, she gave motivation to the young girls and said,


Do join politics, politics is everywhere, women are oppressed, so get into the place where you can make decisions. Go and run the elections, after completing the age of 21, I did the same 23 years ago. Don't think of politics as a dirty word, rather it will help you understand yourself better."
In 2021, she held a protest in Karur against the removal of the old Mahatma Gandhi statue and the building of a new bronze statue. She was arrested by the police for holding the protest.
In 2021, she protested in front of the collector's office for organizing special camps for the disabled. In an interview, she talked about special camps and said,


I have personally visited 6300 out of 6800 village (sic) in my constituency. I was shocked by thousands of differently abled people who have sought our assistance. Will I ask for a camp if there was no need? On what basis is the collector not conducting the camps."
In 2022, she was admitted to Dr Ram Manohar Lohia Hospital because she was suffering from a high fever and severe body pain after the protest against Rahul Gandhi's investigation by the ED.