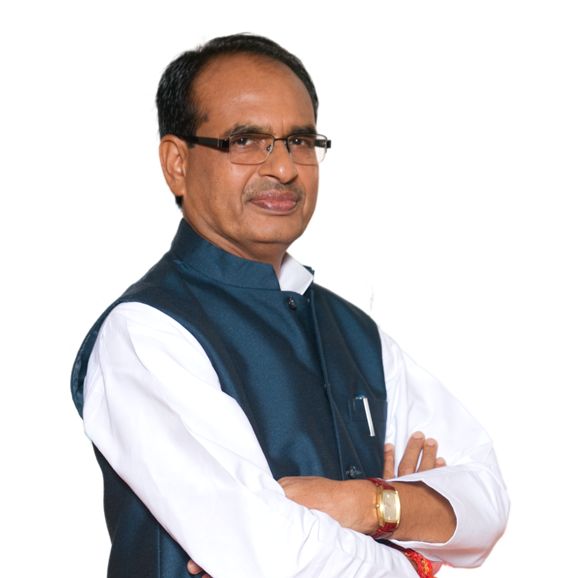 Shivraj Singh Chouhan has been a prominent leader in the politics of Madhya Pradesh. He has served multiple terms as the Chief Minister of the State. Starting his career by joining Rashtriya Swayamsevak Sangh in his teenage, he emerged as a key figure in the state politics later. Having served as a member of Parliament five times, he has proved his knack with great efficiency. Whether it is assembly election or parliamentary election, Chouhan has let his opposition down most of the time.
Biography/Wiki
Shivraj Singh Chouhan was born in a Kirar family on 5 March 1959 (age: 64 years; as of 2023) in Jait village of Sehore district, Madhya Pradesh. His father, Shri Prem Singh Chouhan, was a farmer and in the early years of his life, Shivraj was also a farmer. He studied at the Model Higher Secondary School at TT Nagar in Bhopal where he was the President of the School Students' Union. Chouhan was brilliant at the study, he completed his post-graduation in Philosophy with a Gold Medal from Barkatullah University, Bhopal. When he was 13 years old in 1972, he joined RSS in 1972 and also volunteered in the movement against emergency in 1976. In 1978, he was appointed the Organizing Secretary of Akhil Bharatiya Vidyarthi Parishad (A.B.V.P.). In the same year, he became Joint Secretary of A.B.V.P. In 1980, he was appointed the General Secretary of A.B.V.P.
Family
He was born to Shri Prem Singh Chouhan and Smt. Sundarbai Chouhan. He has two younger brothers: Narendra Singh Chouhan and Surjit Singh Chouhan (Politician).
In 1992, he got married to Sadhna Singh Chouhan.
He has two sons: Kartikey Chouhan and Kunal Chouhan and one adopted daughter Rinky.
Career
Chouhan became the Joint Secretary of Bhartiya Janata Yuva Morcha (a youth wing of BJP) in 1984. The next year, he was appointed the General Secretary of Bhartiya Janata Yuva Morcha. In 1988, he became the President of the same wing. In 1990, for the first time, he contested assembly elections from Budni Constituency and won it.
In 1991, for the first time, he became the Member of Parliament from Vidisha Constituency, Madhya Pradesh and continuously won this constituency for the five consecutive terms till 2004.
In the 2003 state assembly elections, Chouhan fought the election unsuccessfully against the incumbent Chief Minister Digvijaya Singh from Raghogarh.
When Chouhan was the State-President of BJP, he was chosen to become the Chief Minister of the State on 30 November 2005. He won Budhni constituency in a by-election with the margin of 36000 votes in 2006. He retained his Budhni constituency in the 2008 state assembly elections and led his party to second consecutive victory in the State. In December 2013, he won Budhni constituency with the margin of 1,28,730 votes and became the Chief Minister of the State in January 2014 for the third term. On 23 March 2020, again became the Chief Minister of Madhya Pradesh after Kamal Nath's resignation.
Controversies
In 2007, Bhopal Court acted on a complaint of the Congress leader and lawyer Ramesh Sahu and ordered an inquiry against him and his wife, Sadhna Singh in "Dumper Scam." Allegedly, Sadhna Singh had bought four dumpers for ₹2 crore and leased them to a cement factory later. Some other allegations were levelled on her that she provided a false residential address and had given the wrong name of her husband, 'SR Singh.' After that Lokayukta Police registered a case under IPC 420 and prevention of corruption act against the CM and his wife. However, the two were given a clean-chit in 2011 due to lack of adequate evidence.
In 2009, Chouhan was denounced all over the country for trying to promote regionalism and made a comment to employ the local people of Madhya Pradesh and "not Biharis" in the state. However, later, he clarified his point and said that everyone was welcome in Madhya Pradesh.
In 2009, Dr. Anand Rai, an Indore-based doctor and activist, lodged a PIL in Jabalpur High Court highlighting the malpractices in the examination and recruitment process by Vyapam. The PIL led Shivraj Singh Chouhan to establish an inquiry committee. This case was initially handled by Special Task Force (STF) but in 2015, the case was handed over to the CBI and Shivraj Singh Chouhan's name was also dragged into Vyapam Scam. He was heavily criticised for it but, in 2017, he was given a clean chit by the CBI. However, Vyapam whistleblowers called CBI's credibility into question and said that CBI had tampered with the evidence to save him.
In January 2018, during a gathering in Dhar, Madhya Pradesh, Shivraj Singh Chouhan slapped a youngster.
Awards/Honours
In 2012, he received the United Nations Public Service Award for Madhya Pradesh Public Service Guarantee Act. On 13 December 2016, he was conferred with Suryoday Manavta Seva Sanman.
Salary/Net Worth
He receives ₹2,00,000/month as salary and other allowances. As in 2013, his net worth is around ₹6 Crore.
Facts/Trivia
By profession, Chouhan is an agriculturist.
In his childhood, he took up swimming as a hobby and used to swim in the Narmada River.
When he was 9 years old, he showed leadership quality; as he fought for the rights of the agricultural labourers of his village, and managed to raise their wages by twice the previous amount.
During the 1976-77 Emergency, he was imprisoned in the Bhopal Jail.
He met his wife, a Maharashtrian Rajput, for the first time when she was the secretary.
Chouhan was given the Krishi Karman award for delivering highest production of wheat in the year 2011-12.
In 2011, he received the Indian of the Year award by NDTV.
Chouhan was regarded as "Mr. Clean" by the party workers. However, his personality shattered with the certain scams that got disclosed in media.
His favourite politician is Narendra Modi.
On 5 July 2023, he posted a video on Twitter in which he was seen washing the feet of Dasmat Ravat, a 36-year-old tribal individual from Karaundi in Madhya Pradesh. This video was shared as a response to a widely circulated video in which a person named Pravesh Shukla was seen disrespecting Dasmat Ravat by urinating on him while smoking a cigarette. The viral video received significant criticism on social media, leading the Chief Minister to take firm action against Shukla. Consequently, Shukla's house was demolished, and he was arrested on 4 July 2023, under the National Security Act. [1]

NDTV
यह वीडियो मैं आपके साथ इसलिए साझा कर रहा हूँ कि सब समझ लें कि मध्यप्रदेश में शिवराज सिंह चौहान है, तो जनता भगवान है।

किसी के साथ भी अत्याचार बर्दाश्त नहीं किया जायेगा। राज्य के हर नागरिक का सम्मान मेरा सम्मान है। pic.twitter.com/vCuniVJyP0

— Shivraj Singh Chouhan (@ChouhanShivraj) July 6, 2023