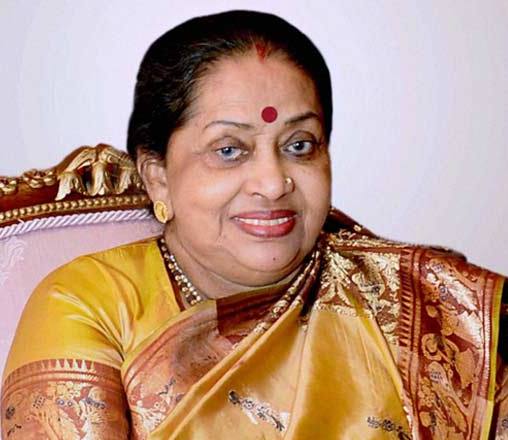 Suvra Mukherjee was the First Lady of India (serving from 2012 until her death in 2015); the wife of the thirteenth president of India, Pranab Mukherjee. She passed away from respiratory illness at the age of 74 years on 18 August 2015.
Wiki/Biography
Suvra Mukherjee was born on Tuesday, 17 September 1940 (age 74 years; at the time of death) in Jessore, Bengal, British India (Now in Narail district, Khulna division, Bangladesh). She had migrated to Kolkata at the age of 10 in 1950, after the partition of India in 1947. She held two post-graduate degrees, in Political Science and in History.
Physical Appearance
Height (approx.): 5′ 0″

Hair Colour: Black

Eye Colour: Black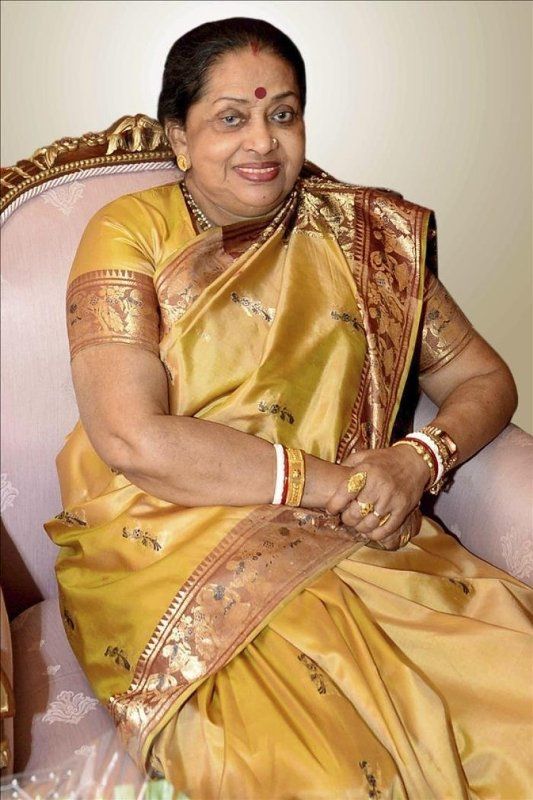 Family & Caste
Suvra Mukherjee got married to former Indian president, Pranab Mukherjee on 13 July 1957
Talking about her relationship with her husband in an interview to the Times of India in 2012, she said,
"We are not like today's couples. It's not a lovey-dovey relationship and we don't express our emotions overtly. It's all in the mind and heart. We don't really indulge in small love talk. At our age, it's more about depending on each other wholeheartedly. His love for me is different. Every day, after his bath, he comes to me, touches my forehead and recites some mantras. He does this every day of the year and yesterday was no exception. This is how he expresses his love. We've been married for 55 years and we haven't fought for a single day!" [1]The Times of India
The couple had three children; two sons and a daughter – Abhijit Mukherjee (Politician), Indrajit Mukherjee (Technical Analyst) & Sharmistha Mukherjee (Dancer & Politician).
Books
Suvra had also tried her hand at writing. She wrote two books:
Chokher Aloey: Chokher Aloey is a personal narrative of her close interaction with Prime Minister Indira Gandhi.
Chena Achenai Chin: is a travelogue recounting her visit to China.
Death
Suvra Mukherjee was suffering from prolonged respiratory illness. She took her last breath on 18 August 2015 at Army Research and Referral Hospital, New Delhi. After her death, her body was taken to the Lodhi Road electric crematorium, at 13 Talkatora Road in New Delhi where her last rites were performed.
Many prominent political personalities including Narendra Modi, Manmohan Singh, Sheikh Hasina attended her last rites.
Facts/Trivia
Suvra Mukherjee admired the philosophy of the great Bengali polymath, Rabindranath Tagore, and persuaded people to know about its truth or benefits.
She was a vocalist and dancer of Rabindra Sangeet and globally performed in dance-dramas of Rabindranath Tagore's for many years.

Being a dancer, she started 'Gitanjali Troup', a dance group in the late 70s to propagate the work of Bengali polymath, Rabindranath Tagore. She guided and lead the dance group for a long time.
Along with being inclined towards music, she was also a talented painter who had many successful groups and solo painting exhibitions to her credit.
She also worked as a teacher at the Birsinghpur Vidyasagar Balika Vidyalaya in West Midnapore's Ghatal for six months from February 1971 to August 1971. After her demise, the school remained shut for a day as a mark of respect to the former First Lady.  [3]

The Times of India
Even after being the First Lady of India, she was an apolitical person who liked to stay away from politics. [4]

The Times of India
She revealed in an interview given to the Times of India that she lost a child just after birth. [5]

The Times of India
Suvra went on to her last foreign trip in March 2013, to her birthplace in Bangladesh. She and Pranab Mukherji, who visited his in-laws for the first time, were welcomed in a traditional Bengali way, with Shankha blowing and local 'uloo dhoni' and 'mangal deep' aarti being sung by the people.