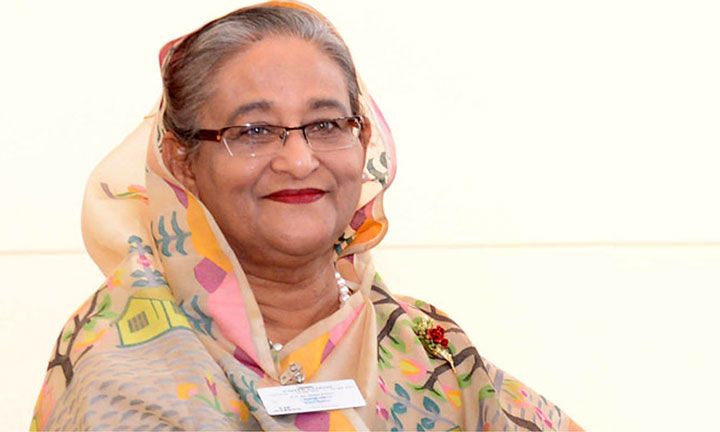 Sheikh Hasina Wazed is a Bangladeshi Politician and the present Prime Minister of Bangladesh. She is the first democratically elected Prime Minister in Bangladesh and to complete the tenure in the office. She was re-elected to the office for the third straight term in 2018.  Let us look into the interesting details about Sheikh Hasina's life, her family, biography and other facts.
Biography/Wiki
Sheikh Hasina was born on 28 September 1947 (age 72; as in 2019) in Tungipara, Gopalganj District, East Bengal, Dominion of Pakistan (Now, in Bangladesh). She did her schooling from Ajimpur Girls' School in Dhaka. In 1973, she graduated from Eden Mohila College, The University of Dhaka. Hasina was an active participant in the mass movements and political affairs since her student life. She was elected to be the vice president of the 'College Students Union' with her opponent, Motiya Chowdhury, who later joined Awami League and became the member of Hasina's cabinet. She was also the member of the Bangladesh Chhatra League (BCL) which was considered to be the student wing of Awami League. 
Hasina is the daughter of late Sheikh Mujibur Rahman who served as the 'First President of Bangladesh' and also, played an integral role in the separation of Bangladesh and Pakistan. Sheikh Mujibur Rahman is regarded to be 'Father of Nation for Bangladesh.' While being a student at the University of Dhaka, Hasina worked as her father's political liaison while he was imprisoned by the Pakistani Government. The unstable political affairs in Bangladesh during the period of 1971, resulted in political discord and Hasina left her country for a few years.
In 1975, Hasina's family was assassinated in their home by several military officers. However, Hasina, along with her younger sister, Sheikh Rehana, were in West Germany during the assassination. After this, Hasina was forced to live in exile for around 6 years in New Delhi, India. In 1980, she initiated a movement against the arbitrary rule in Bangladesh and to reinforce democracy. In 1981, she was elected to be the President of 'Bangladesh Awami League' in her absence. After 6 years in exile, Hasina returned to her home country, Bangladesh, on 17 May 1981.  On her return, she dedicated herself to attain democracy to Bangladesh. 
Family, Husband & Caste
Sheikh Hasina was born into a Sunni, Islamic Family to Sheikh Mujibur Rahman and Sheikh Fazilatunnesa Mujib. She had 3 brothers (Sheikh Kamal, Sheikh Jamal and Sheikh Rasel) and 1 sister (Sheikh Rehana). Hasina was the eldest of the five children. Her father, mother and the three brothers were killed in a coup d'état on August 15, 1975.
In 1968, Hasina married a prominent Bangladeshi Nuclear Scientist, M.A. Wazed Miah. The couple has one son, Sajeeb Wazed Joy (a Bangladeshi businessman and a politician) and one daughter, Saima Wazed Hossain (a Bangladeshi Autism activist). Hasina's husband, Miah, died on 9 May 2009 after suffering from a long time illness.
Career
 In 1981, Hasina was elected to lead the 'Awami League Party' in Bangladesh. In 1983, Hasina formed the 15-party coherence to launch a movement against the Martial Law declared by the then General 'Hossain Mohammad Ershad.' She was house arrested during February and November of 1984, and again in March 1985, for her unfavoured opinions. In 1990, Hasina granted a 24-hour ultimatum through a constitutional process, to General Ershad in order quit him from his power. In 1991, through the first democratic elections, Bangladesh National Party led by Khaleda Zia stood the triumph and Hasina's Awami League was held to be the largest opposition party. In 1991, Hasina contested for the elections from 3 constituencies but was only elected to the Parliament from her home constituency in Gopalganj. Hence, Khaleda Zia, who led the BNP was elected to be the first female Prime Minister of Bangladesh.
In 1994, Awami League lost its seat in the by-elections held in Magura due to the death of the MP of that constituency (Awami League Member) against the BNP candidate who ought to have won through manipulation. The Awami League along with the other opposition parties demanded a caretaker government for the next elections. This was strongly opposed by the ruling Bangladesh National Party. After a long resentment and strikes by the opposition parties, which lasted for weeks; the next parliamentary election was held under a caretaker government headed by Justice Habibur Rahman on June 30, 1996.
In 1996 Parliamentary elections, Awami League won ten seats and Hasina took the oath as the second female Prime Minister of Bangladesh. Hasina delegated Justice Shahabuddin Ahmed, who led the first caretaker government, to assume the post of President of Bangladesh. In her authority, Hasina's government signed 'The Ganges Water Sharing Treaty' between India and Bangladesh with respect to Farakka Barrage built in the 1960s and also Chittagong Hill Tracts (CHT) Peace pact with the Parbatya Chattagram Jana- Samhati Samiti (PCJSS). These treaties resulted in environmental peace and harmony in Bangladesh. 
During Hasina's reign, there was much criticization from the opposition parties, demand for early elections and also, Bangladesh was declared to be the most corrupt country in the world by Transparency International. Even after all such turmoil, she became the first Prime Minister to be elected democratically and to complete her term. 
In 2001 Parliamentary elections, Awami League was defeated by the Four Party Alliance led by Bangladesh National Party. Following this, Hasina became the leader of the opposition from 2001 to 2006. The Government of Bangladesh declared an emergency and cancelled the parliamentary elections in 2007. During this time, Hasina was arrested on charges of extortion and murder (killing of four supporters of a rival political party); she was released a year later. In 2008 Parliamentary Elections, Hasina contested with the Jatiya Party led by Hussain Muhammad Ershad and won with a two-thirds majority of 230 seats out of 299. Hasina took the oath for the second time, as the Prime Minister of Bangladesh on 6 January 2009.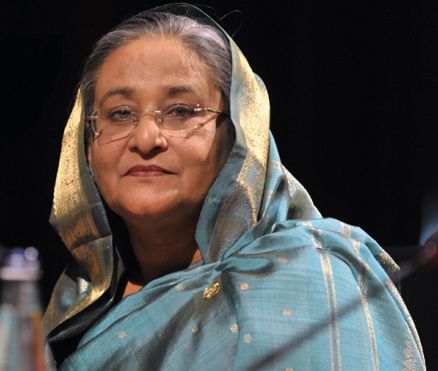 During her second tenure of Prime Ministership, Hasina helped to stabilize the Politics in Bangladesh. Even though she faced major revolts and civil unrest, she committed herself to restore the democracy. Hasina became the Prime Minister of Bangladesh for the third time, in January 2014 against the main opposition, Four Party alliance, led by BNP. In the 2018 general elections, Awami League won an overwhelming majority of 96% of seats. Subsequently, Hasina became the 10th Prime Minister of Bangladesh and the longest-serving leader till date. 
Net Worth
As in 2017, Hasina's Net Worth is around ₹100 crore.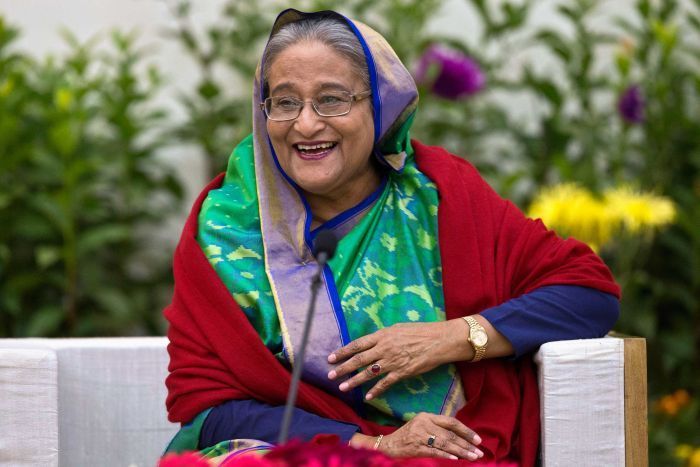 Awards & Honors
In 1997, Hasina along with the Queen of Spain and Hillary Clinton became a part of 'Micro-credit Summit', an essential humanitarian movement.
She was bestowed with Degree of Doctor of Law by the Boston University & Honorary Doctor of Law by the Waseda University in 1997.
She was also conferred the Honorary Doctorate of Philosophy in Liberal Arts by University of Abertay Dundee of the United Kingdom in 1997.
In 1998, 'All India Peace Council' awarded Hasina with the 'Mother Teresa Award' for her peace efforts involving the tribes of Bangladesh and to prohibit the use of anti-personnel mines.
In 1998, she was awarded the UNESCO Houphouet-Boigny Peace Prize, for her work in ending the conflict and bringing peace in the Chittagong Hill Tracts with political courage and statesmanship.
For her significant contribution in promoting peaceful democracy in Bangladesh, Hasina was awarded the 'M K Gandhi Award' in Norway's 'Mahatma M K Gandhi Foundation.'
In 1999 she conferred honorary doctorates from Australia National University & Dhaka University.
She was honoured the prestigious Pearl S. Buck Award '99 on 9 April 2000 by Randolph Macon Women's College of USA.
In 2009, she was bestowed with 'Indira Gandhi Prize' for her creative efforts toward promoting international peace.
In 2014, she received 'UNESCO Peace Tree award' for her commitment towards women's empowerment and girl's education.
In 2015, Hasina was rewarded 'UN environment prize' in New York, for leadership on climate change.
In 2015, The International Telecommunication Union (ITU) awarded Sheikh Hasina with 'ICT in Sustainable Development Award' for her contributions towards harnessing Information Communication and Technologies with sustainable development in Bangladesh.
In 2016, Hasina was awarded with "Agent of Change" award and "Planet 50-50 Champion" honour for her outstanding contributions to women empowerment.
In 2018, Hasina was crowned 'Global Women's Leadership Award' for her outstanding leadership in women's education and entrepreneurship in Bangladesh

.
Controversies
In 2007, Hasina was charged with extortion

by the Anti-Corruption Commission wherein it was stated that; Hasina took a bribe of 30 million takas concerning to a contract for the construction of a power plan in 1997.
In 2007, she was charged with murder, alleging her to be the mastermind behind the killing of four supporters of a rival political party in October 2006. 
She was involved in the 'Padma Bridge graft scandal' and was alleged to have borrowed a large monetary amount from the Canadian construction company 'SNC-Lavalin' in exchange for a construction contract. But the allegations were later declared to be false and frivolous. 
Subsequently, alleging corruption concerns, The World Bank abandoned the construction of Bangladesh's largest bridge, cancelling a $1.2bn (£764m) credit for a road-rail bridge over the Padma River. However, an Ontario Superior court justice dismissed these bribery charges for lack of any proof in 2017.
Facts
In 2004, while being the opposition leader, Hasina was targeted in an assassination attempt wherein, she was aimed by a grenade attacker; which resulted in the death of 21 Awami League members.
Her father's political dealings and imprisonment provoked her to live in fear and she was not allowed to attend school.
Hasina converted her own home in Bangladesh into a Museum, the "Bangabandhu Sheikh Mujibur Rahman Memorial Museum."
Hasina is the Chairperson of "The Father of the Nation Bangabandhu Sheikh Mujibur Rahman Memorial Trust" where she helps in educating needy boys and girls.
She is the author of several books including "Why are they Street Children", "The Origin of Autocracy", 'Miles to go "Elimination of Poverty and Some Thoughts", "People and Democracy", "My Dream My Struggle" and "Development for the Masses."
Till date, her biggest rival is believed to be 'Khaleda Zia' of Bangladesh National Party and are often referred to be Battling Begums of Bangladesh.