Manoj Rajapaksa is a Sri Lankan-born engineer living and working in the United States of America (USA). He is the son of the former Sri Lankan President Gotabaya Rajapaksa, who fled Sri Lanka amid the Sri Lankan economic crisis in July 2022.
Wiki/Biography
Daminda Manoj Rajapaksa was born on Thursday, 16 December 1982 (age 39 years; as of 2021) in Sri Lanka. [1]Manoj Rajapaksa's LinkedIn profile His zodiac sign is Sagittarius. After completing his school studies at Covina High School in the US, he double majored in Electrical Engineering and Computer Science at Duke University, US. Manoj Rajapaksa also earned a master's degree in Systems Engineering at the University of Southern California. [2]The Lanka Leader
Physical Appearance
Height (approx.): 5′ 10″
Weight (approx.): 65 kg
Hair Colour: Black
Eye Colour: Dark Brown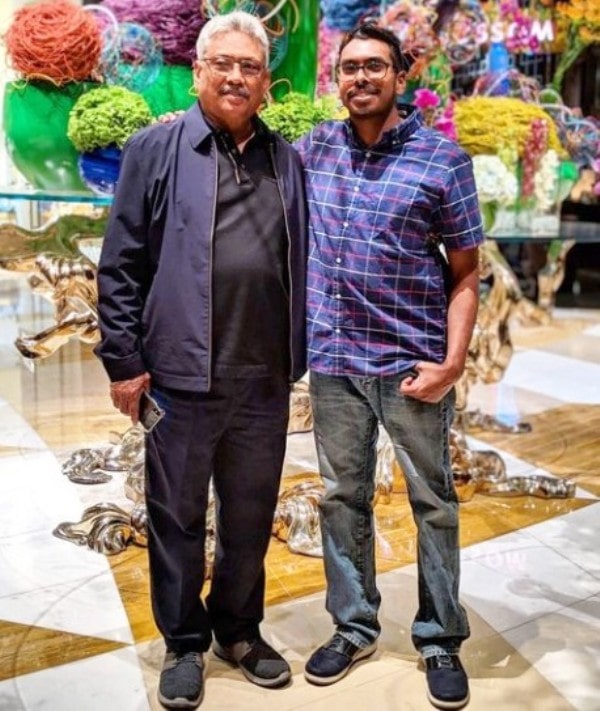 Family
Manoj Rajapaksa belongs to the Sri Lankan Rajapaksa family of affluent politicians.
Parents & Siblings
His grandfather, D. A. Rajapaksa, was a freedom fighter and a politician.
His father, Gotabaya Rajapaksa, is a retired Sri Lankan Army lieutenant colonel and the former President of Sri Lanka. His mother, Ioma Rajapaksa, remained the first lady of Sri Lanka from 2019 to 2022. He is the only child of his parents.
Wife & Children
His wife's name is Sewandhi Liyanarachchi. They both got married to each other on 30 June 2011.
The couple has a daughter named Dulanya Rajapaksa.
Address
He resides at House number 1866, Houston Ave, Clovis, CA 93611, United States of America.
Career
After completing his formal education, Manoj Rajapaksa started working as an engineering consultant with a Malaysian-based telecommunication company named Celcom, where he worked from 2013 to 2014. After changing a few more jobs, Manoj Rajapaksa began working with the National Aeronautics and Space Administration (NASA) as a principal investigator and systems engineer at NASA's Jet Propulsion Lab.
Facts/Trivia
Manoj Rajapaksa has also served with the Los Angeles Metropolitan Area municipality as a member of its advisory board.
On 17 July 2022, after Manoj Rajapaksa's parents fled Sri Lanka during the economic crisis in Sri Lanka, the Sri Lankan Americans held a protest outside Manoj Rajapaksa's residence in the US. Reportedly, they demanded that Gotabaya should return the money that he had stolen from the Sri Lankans. The protestors also questioned the means through which Manoj acquired several costly properties throughout the United States in such a small time. While giving an interview, a protestor said,


We are in the Los Angeles Sunland neighborhood. We are in front of the house of Gotabaya Rakapaksa's son, Manoj Rajapaksa. He has stolen money from the people of Sri Lanka and bought this luxury property. This is our money. This is our property. There are only a few of us here today but if your father will not leave his office, we will come here in the thousands. Manoj Rajapaksa had no place to stay when he first arrived in the United States of America, but now he owns several big houses within the US itself, how is it possible to buy such properties that value so much within a very small time period? This is a very peaceful protest and the son has to tell the father to step down as soon as possible." [3]ThePrint
After the protests, which took place on 17 July 2022, many Sri Lankans criticised the protestors, who had protested outside Manoj Rajapaksa's house in the US and said that Manoj and his wife were apolitical and had never interfered in the politics of his father in Sri Lanka. The supporters also said that it was wrong to link Gotabaya's Presidentship in Sri Lanka with Manoj's life in the United States of America. [4]

ThePrint