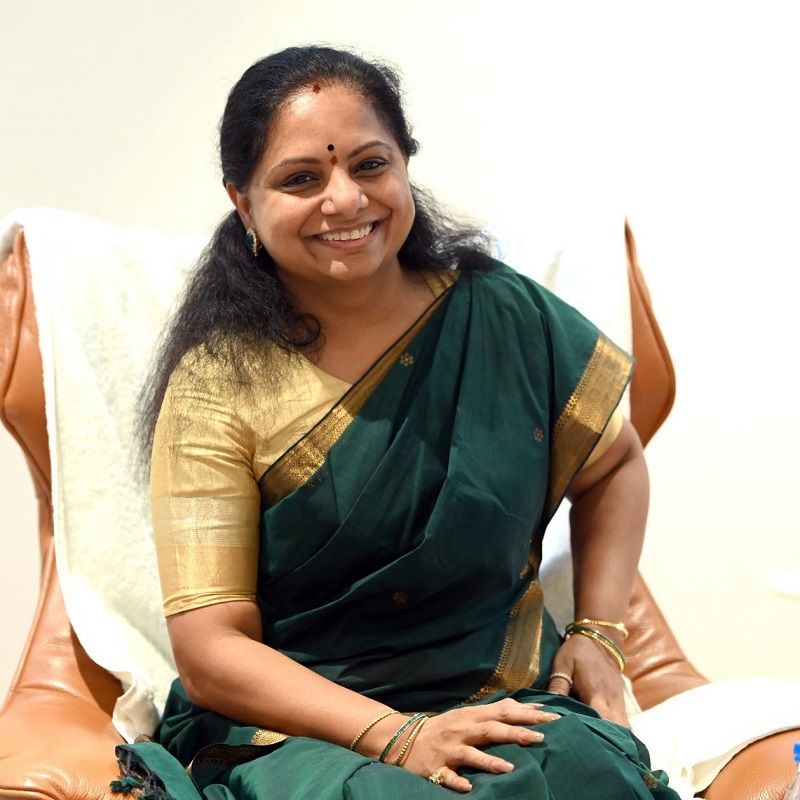 K. Kavita is an Indian politician who is serving as a Member of the Legislative Council, Nizamabad since 2020. She is also a member of Bharat Rashtra Samithi. She is known for being the daughter of the Chief Minister of Telangana, K. Chandrasekhar Rao.
Wiki

/Biography

Kalvakuntla Kavitha [1]Kalvakuntla Kavitha – Facebook was born on Monday, 13 March 1978 (age 46 years; as of 2023) in Karimnagar, Andhra Pradesh (now Telangana). She did her schooling at Stanley Girls High School, Hyderabad. She pursued B.Tech in CSE from VNR Vignana Jyothi Institute of Engineering and Technology, Hyderabad and a master's degree in science at the University of Southern Mississippi. [2]shethepeople
Physical Appearance
Height (approx.): 5′ 6″
Hair Colour: Black
Eye Colour: Black
Family
Parents & Siblings
Kavita's father's name is Kalvakuntla Chandrashekar Rao, who is also known as KCR. He is an Indian politician serving as the first Chief Minister of Telangana since 2 June 2014.
Her mother's name is K. Shobha.
Her brother's name is K. T. Rama Rao, who is an Indian politician serving as the Minister for Municipal Administration & Urban Development, Industries & Commerce, and Information Technology of Telangana.
Husband & Children
Kavita got married to Devanapalli Anil Kumar, who is a businessman in 2003.
Together they have two sons, Aaditya and Aarya.
Religion/Religious Views
Kavita follows Hinduism.
Caste
She belongs to the Velama caste.
Address
She resides at Plot No. 214, Road No. 14, Banjara Hills, Hyderabad, 129/74.
Signature/Autograph
Career
In 2003, she shifted to the USA with her husband and worked as a software engineer there. In 2006, she returned to India to work for the people of Telangana. In 2006, when her father resigned from the Union Cabinet because he was upset with the Central Government for not keeping up their promise of helping with the formation of Telangana, she joined him in the movement. She visited most of the remote villages in Telangana to know about the problems affecting people. She got to know about the magnitude of poverty, lack of basic needs like power, potable and irrigated water, and unemployment. She also learned that the people of Telangana had great love and enthusiasm for indigenous art and culture, so she thought that by celebrating festivals, she would be able to bind all sections of the society. She celebrated the Bathukamma festival on a large scale that involved people from different sections coming together. Bathukamma is now celebrated in more than 30 countries. She decided to work for the welfare of people in the state and formed the Telangana Jagruthi party in August 2006.
Telangana Jagruthi
Telangana Jagruthi was formed in 2006 but got registered in November 2007. In an interview, she explained the meaning of her party name and said, that the meaning of Jagruthi is awakening, which focused on awakening the Telangana society to be proud of their state and remain united, and the word Jagruthi focused on bringing the women & youth of Telangana together. The party made a huge contribution to gaining the support of women and youth for a peaceful and non-violent Telangana movement. She started Telangana Jagruthi Skill Centers to train youngsters in Telangana and help them provide employment. These centres train around 8500 students across Telangana and help them with placements.
Politics
In 2014, after Telangana was formed, she contested the general elections from the Nizamabad Lok Sabha constituency and won with a majority of over 1,64,184 votes. In 2019, she contested the MP 2019 general elections from Nizamabad but lost to Arvind Dharmapuri with a margin of 70,875 votes. In October 2020, she was elected to the Member of Legislative Council from Nizamabad Local Authorities' Constituency. She won 727 votes out of 823. In 2021, she was again elected from the Nizamabad Local Authorities constituency in the biennial polls to the Telangana Legislative Council. She took oath as MLC on 19 January 2022. In 2015, she was the Member of Parliament of the Estimates Committee, the Standing Committee on Commerce and also on the Consultative Committee, the Ministry of Rural Development, Panchayati Raj and Drinking water and Sanitation. She was also nominated for the Steering Committee of Commonwealth Women Parliamentarians (CWP) India Region which works to bring more women representatives to Parliaments.
Controversies
Case filed for wrong comments
In July 2014, a case was registered by the police against Kavita for making some wrong comments about Jammu and Kashmir and said,
Jammu and Kashmir and Telangana were both forcefully and at the same time annexed to the Indian Union."
The case was registered under Sections 124-A (sedition) and 505 (statements conducing to public mischief) of IPC. [3]The Economic Times
Inquired by the CBI in the Delhi liquor policy case
On 7 February 2023, Kavita's ex-auditor, Butchi Babu was arrested by the CBI in connection to the Delhi liquor policy case. According to CBI, he was not cooperating with the agency and his answers were doubtful. In December 2022, Kavita was also questioned in the same case. The ED said that Kavita was part of the "South Cartel" that was causing irregularities while modifying Delhi's excise policy.  The group comprised Kavitha of Telangana's ruling Bharat Rashtra Samithi, Magunta Srinivasalu Reddy, an MP from Andhra Pradesh's ruling YSR Congress, and Sarath Reddy of Aurobindo Pharma. According to the ED, the licence fee was reduced. They also accused them of paying Rs. 100 crore to AAP leader Vijay Nair. In a statement given by ED, it said,
Kickbacks to the tune of Rs 100 crore (approximately) was given by the South group (Ms K Kavitha, Sh Raghav Magunta, Sh MS Reddy and Sh Sarath Reddy) to the Sh Vijay Nair on behalf of AAP leaders in exchange of undue favours in the excise policy 2021-22." [4]The Indian Express
On 8 March 2023, she received a summon from the ED to report at its Delhi office to investigate her connection with the Delhi excise scam. [5]The Times of India
Assets and Properties
Movable Assets
Bank Deposits: Rs. 37,12,847
Bonds, Debentures and Shares in companies: Rs. 17,88,56,113
LIC or other insurance Policies: Rs. 1,92,26,014
Personal loans: Rs. 7,00,00,000
Motor Vehicles: Rs. 7,58,450
Other assets: Rs. 88,66,596
Immovable Assets
Agricultural Land: Rs. 3,32,00,000
Non-Agricultural Land: Rs. 1,10,00,000
Commercial Buildings: Rs. 3,00,00,000
Residential Buildings: Rs. 3,45,00,000
Note: The given estimates of movable and immovable assets are according to the year 2019. It includes the assets owned by her husband. [6]My Neta
Net Worth
Kavita's net worth for the financial year 2019-2020 was estimated to be Rs. 18 crores. It includes the net worth of her husband. [7]My Neta
Facts/Trivia
She is often referred to as Kavithamma by the people of her state.
She is the honorary President of Telangana Rashtra Vidyut Karmika Sangham (TRVKS ) which is an electricity employee union and Telangana Anganwadi Workers and Helpers Association (TAWHA), for Anganwadi workers.
She was elected as the first state chief commissioner of the Telangana chapter of the Bharat Scouts and Guides (BS & G) Association which made her the youngest person to hold this position in the country. She also became the second woman state chief commissioner in India.
In 2001, her father was the leader who started the Telangana movement. In May 2014 elections, her father won the Telangana seats both for the state assembly and the national parliament and became the first Chief Minister of Telangana.
During the movement in Telangana, she actively participated in the protests and demonstrations which made her the people's leader and got a lot of votes from the people.
In April 2022, when she was a member of Parliamentary committees including rural development, drinking water and sanitation, she said that the Union government did not fulfil its promise of buying paddy from the farmers of Telangana. She also said that the government should not refuse the farmers to purchase paddy. In an interview, she said,


Paddy procurement from Telangana is nil. We demand the Union government's support for Telangana farmers. Food Corporation of India doesn't have a proper procurement policy. We request FCI to release a yearly calendar so that states can direct farmers to sow crops accordingly and that there should be uniform procurement."
In July 2022, she participated in the 17th Convention and Youth Conference of ATA in Washington DC, USA, and inaugurated the Telangana Pavilion.
In August 2022, when she was linked in the Delhi liquor policy case, she filed a defamation case in a Hyderabad court against Bharatiya Janata Party (BJP) leaders Parvesh Varma and Manjinder Singh Sirsa.
In August 2022, she wrote a letter to the Chief Justice of India NV Ramana to intervene in the Gujarat government's decision to release 11 convicts in the Bilkis Bano gang rape and murder. In the letter, she said that the Gujarat government did not give the decision keeping in mind the guidelines issued by the Ministry of Home Affairs which says that prisoners convicted for the offence of rape, and human trafficking should not be released.
In December 2022, when she was called by the CBI for interrogation, she wrote a letter to them telling them about her schedule and requested that she would not be able to come for interrogation on her work days. In the letter, she wrote,


I have carefully gone through the contents of the FIR, the list of accused persons as well as the contents of the complaint. I wish to place on record that my name does not figure in any manner whatsoever. As proposed by you, I am not in a position to meet on December 6 because of my preoccupied schedule, I will be able to meet you either on December 11, 12, 14, or 15, whichever is convenient to you, at my residence in Hyderabad. I am a law-abiding citizen and will cooperate with the investigation."
In December 2022, the Enforcement Directorate accused her of holding a 65% stake in liquor company Indo Spirits, which is involved in the Delhi liquor scam.
On 6 February 2023, she requested Prime Minister Narendra Modi to address the issue of the fall of the Adani Group's stock prices and set up Joint Parliamentary Committee (JPC) to investigate the matter. She also criticized Union Finance Minister Nirmala Sitharaman's statement in which she said that Adani's issue would not affect the economy. In a statement, she said,


Today in the country, we are facing a huge crisis. We can definitely call it a crisis as the fall of Adani Group's shares and the value of the company will impact the country's economy. The value of shares of SBI and LIC that invested in the Adani Group has fallen sharply since January 23 till date. It has caused a severe loss to the common man. The share value of Adani on January 23 was Rs 3,436. Now, the share value of the group has fallen to Rs 1,483 on February 6."