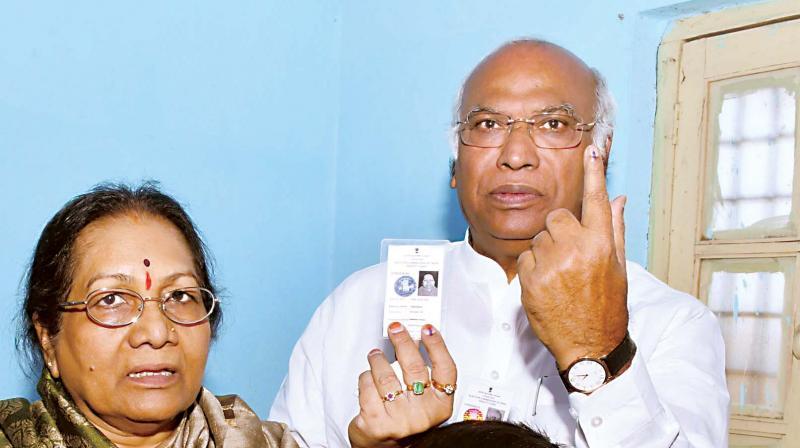 Radhabai Kharge is the wife of Indian politician Mallikarjun Kharge.
Wiki

/Biography

Radhabai Kharge lives in Kalaburagi (formerly known as Gulbarga), Karnataka. She is a homemaker.
Family
Parents & Siblings
Not much is known about her parents and siblings.
Husband & Children
On 13 May 1968, she got married to Mallikarjun Kharge, an Indian politician and member of the Indian National Congress. He belongs to a Dalit family. [1]The Hindu He became a Member of Parliament, Rajya Sabha on 16 February 2021. Previously, he served as the Minister of Railways and Minister of Labour and Employment in the central government and Leader of opposition in the Karnataka Legislative Assembly. Together, they have 3 sons, Priyank Kharge, Rahul Kharge, and Milind Kharge, and two daughters, Priyadarshini Kharge and Jayashree Kharge. Priyank Kharge is a politician. Rahul Kharge was a civil servant, who later started working as an advisor for IT companies; his wife, Arundhati Kharge, is an Electrical Engineer. Priyadarshini Kharge is a doctor.
Address
Gulbarga Address
"Lumbini" Aiwan-e-Shahi Area, Gulbarga, Karnataka-585102
Bangalore Address
289, 17th Cross, Sadashivnagar, Bangalore-560080
Assets/Properties
Moveable Assets
Deposits in Banks, Financial Institutions and Non-Banking Financial Companies: Rs 66,39,538
Bonds, Debentures and Shares in companies: Rs 25,9,982
Immoveable Assets
Agricultural Land: Rs 62,06,000
Non Agricultural Land: Rs 35,18,200
Commercial Buildings: Rs 2,63,76,375
Residential Buildings: Rs 2,55,53,174
Note: The given estimates of movable and immovable assets are according to the financial year 2017-2018. It excludes the assets owned by her husband and dependents (minor). [2]My Neta
Net Worth
As of 2018, her net worth is Rs 6,96,16,768. It excludes the net worth of her husband and dependents (minors). [3]My Neta
Facts/Trivia
In 2019, Radhabai Kharge and Mallikarjun Kharge were slammed by the BJP unit of Karnataka for entering the polling station together to cast their votes. BJP also filed a complaint with the Election Commission against Mallikarjun Kharge stating,


The code of conduct mandates that only one person shall go near the ballot machine to vote to maintain secrecy. The returning officers' manual also directs extra care to be taken to safeguard the secrecy of voting"

 

In 2011, Radhabai Kharge's daughter Priyadarshini Kharge made headlines for a 3280 sq. ft. plot of land, which she purchased on 15 January 2002, allegedly in violation of Society's bye-laws. In 2002, Mallikarjun Kharge was serving as the Home Minister in the SM Krishna-led Congress government. She secured the plot for Rs 1,96,837 at Yelahanka (Allalasandra) Judicial Layout while its market value ran in crores. In light of the allegations, she returned the land in question to the Karnataka State Judicial Department Employees House Building Co-operative Society (KSJDEHBCS) in 2011. Priyadarshini availing the land would have been a direct violation of Clause-10 of the Model Bye-laws of HBCSs, which deals with members' rights. Clause-10(B) says: "He/she in the case of Employee House Building Society is an employee of the organisation for which the society has been organised and has put in a minimum continuous or intermittent service of five years in Karnataka." Priyadarshini was not eligible to become a member as she is a doctor by profession while the land was reserved for judicial employees. [4]

Money Control