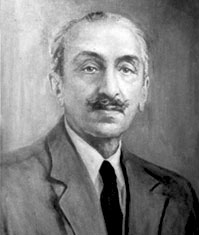 Ratanji Dadabhoy Tata was an Indian businessman and a pioneering industrialist who made a significant contribution to the growth of the Tata Group. He was a partner in Tata Sons and one of the directors of Tata Steel who steadied its operation at tough times. [1]Tata Central Archives People still remember him as the proud father of J.R.D. Tata.
Wiki/Biography
Ratanji Dadabhoy Tata (R.D. Tata) was born in 1856 (age 70 years; at the time of death) in Navsari, Gujarat. He was the first cousin of Jamsetji Tata, the founder of the Tata Group. He did his schooling at the Cathedral & John Connon School, Bombay, and graduated from the Elphinstone College, Bombay. After completing his graduation, he went to Madras for pursuing a course in agriculture. [2]Tata Central Archives
Family
Ratanji Dadabhoy Tata belonged to a family of Parsi Priests.
Parents & Siblings
He was the son of Dadabhai Kavasji and Bhikhibai Tata and had no siblings. [3]Tata Central Archives
Wife & Children
Ratanji got married at an early age to a Parsee girl. She died soon after marriage, and the couple had no children. Later, R.D. Tata went on a business trip to Paris, and that is when he fell in love with Suzanne (Sooni) Briere. They dated each other for a while before getting married to each other in 1902. [4]Tata Central Archives She was a French woman, and the couple spent much of their time living in France after marriage. They had five children, Rodabeh, Jehangir, Jimmy, Sylla, and Dorab. He was also a great father and once wrote a letter to J.R.D. Tata to give him some valuable life lessons.
Career
He joined his father's firm, Tata & Co., and was sent to Hong Kong, China, to operate the opium trade (legal at that time) in China for Tata & Co. He worked for this firm even after his father died in 1876. In 1883, he took complete charge of the operations of this firm and displayed his capability by bringing it back to stability. In 1884, Jamsetji got influenced by R.D. Tata's work and asked him to join Empress Mills.
The Express Mills was headed by Sir Bezonji Dadabhai Mehta, who looked after the managerial and technical aspects and R.D. Tata, who took care of the financial aspects of the mill. At that time, he was given the task of commencing a ginning factory at Yavatmal with Dorabji Tata. He also received the charge of handling the finances of the Svadeshi Mills, which was not performing well. He, along with Dorabji Tata, worked on improving its position. Later R.D. Tata handled Tata & Co. and went to Hong Kong to work for its success. He proved his caliber by opening new branches in Kobe and Shanghai, which dealt in silk and rice. He expanded the business further and opened branches in New York and Paris, trading in silk and pearls. After the death of Jamsetji Tata, R.D. continued participating in the workings of Tata & Sons. He supported Jamsetji's sons and played an important role in setting up the Tata Steel company in Jamshedpur. In 1907, Tata & Co. operating in Hong Kong was also merged with Tata & Sons, and the enterprise was renamed as Tata Sons & Co. [5]Tata Central Archives This company supplied steel for the First World War. Just after this war, Tata steel went through a crisis when steel was dumped in India from Belgium and Britain. Along with other directors in the Tata group, R.D. Tata handled the situation for safeguarding the business against possible losses. In 1917, the company was renamed as Tata Sons Ltd. In the later years of his life, R.D. Tata took care of the trading and financial side of the business from its head office in Bombay. He played a significant role in realising Jamsetji's dreams of setting up the hydroelectric scheme, iron and steel project, and research universities. He handled various aspects of the firm during wartime. He also helped the House of Tatas to emerge out of their most critical financial phase after the First World War. Due to his contribution in such tough times, he is still remembered as a great industrialist in Indian history.
Contribution to Indian Industry  
R.D. Tata was a member of the Imperial Legislative Council who secured protection for the iron and steel industry. He had an association with Japan since 1890, and this association helped him develop Indo-Japanese trade relations.
Honours
R.D. Tata was honoured with the highest distinction of the third Order of Rising Sun by the Emperor of Japan. [6]

Tata Central Archives
Death
R.D. Tata died in Hardelot, France on 26 August, 1926. [7]Tata Central Archives
Facts/Trivia
R.D. started his career working for an enterprise running into loss.
He married twice, and his first wife was Parsi while the second one was french.