Cyrus Mistry (1968-2022) was an Indian-born Irish businessman and a scion of the Shapoorji Pallonji Group. He served as the chairperson of the Tata Group, an Indian multinational conglomerate headquartered in Mumbai, from 2012 to 2016. Cyrus died in a fatal car crash near Mumbai on 4 September 2022.
Wiki/Biography
Cyrus Pallonji Mistry [1]Times Now News was born on Thursday, 4 July 1968 (age 54 years; as of 2022) in Bombay (now Mumbai), Maharashtra. His zodiac sign is Cancer. He did his schooling at Cathedral and John Connon School, Fort, Mumbai, Maharashtra. Cyrus pursued a Bachelor of Engineering in civil engineering from Imperial College, the University of London in 1990. Thereafter, he obtained an International Executive Master in Management from the London Business School, the University of London (1996). He was a fellow of the Institution of Civil Engineers. [2]News18
Physical Appearance
Height (approx.): 5′ 9″
Hair Colour: Black
Eye Colour: Black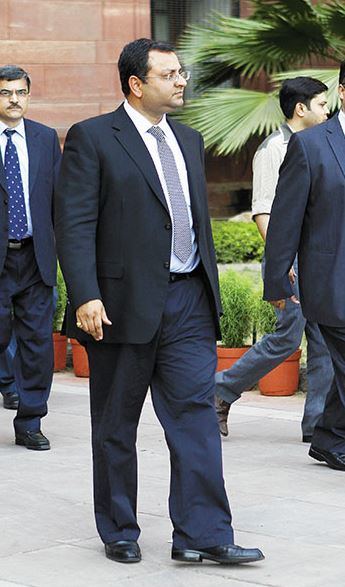 Family
He belonged to a Parsi family. Both his parents followed the Zoroastrian faith. As his mother was a citizen of Ireland, his father also decided to take up Irish citizenship.
Parents & Siblings
Cyrus Mistry was the younger son of the construction baron Pallonji Shapoorji Mistry. His father died at the age of 93 on 28 June 2022. His mother, Patsy Perin Dubash, was born in Ireland. Patsy was of Indian origin. His elder brother, Shapoor Mistry, is a businessman (involved in the real estate and textile business). Shapoor is also an Irish citizen. Shapoor is married to Behroze Sethna, the daughter of Parsi lawyer Rusi Sethna. He had two elder sisters, Laila Mistry, Aloo Mistry. Laila is married to Rustom Jehangir, a London-based portfolio fund manager and Aloo is married to Noel Tata, half-brother of Ratan Tata.
Wife & Children
On 2 January 1992, Cyrus Mistry got married to Rohiqa Mistry, the daughter of a prominent Indian lawyer Iqbal Chagla and the granddaughter of the popular Indian Indian jurist, diplomat, and Cabinet Minister Mohammadali Carim Chagla (popularly known as M. C. Chagla). He had two sons with Rohiqa, Zahan Mistry and Firoz Mistry.
Religion
Cyrus Mistry followed Zoroastrianism. [3]Mint As per the letter written by Shapoorji Pallonji Group after Mistry's demise, he followed Zoroastrian principles of righteousness. The letter read,
Cyrus Mistry was deeply committed to the Zoroastrian principles of righteousness, honesty, and ethical dealings with all. He was known for his transparency and integrity in all his business dealings."
Career
Cyrus Mistry began his corporate career in 1991 by joining his family construction company Shapoorji Pallonji & Co. Ltd as a director. Cyrus was appointed as the Managing Director of the Shapoorji Pallonji Group in 1994. In September 2006, Cyrus joined the board of Tata Sons (a year after his father, Pallonji Mistry, retired from the company), representing his family's 18.5 per cent stake in the company; His grandfather had bought the shares in Tata Sons for the first time in the 1930s. Earlier, he had held non-executive positions on boards of several other Tata companies like Tata Elxsi Limited and Tata Power Co. Ltd. In November 2011, he resigned from Shapoorji Pallonji & Company after he was appointed as the deputy chairman of the Tata Group. He worked under the guidance of the Indian industrialist Ratan Tata for around a year.
A year later, upon the retirement of Ratan Tata, who had headed the Tata Group since 1991, Cyrus was appointed as the chairman of the group. Apparently, he was initially reluctant to take up the job, but after some persuasion from Ratan Tata, he agreed to take up the position. In addition, he also headed all the key businesses of the Tata group like Tata Motors, Tata Steel, Tata Consultancy Services, Tata Teleservices, Tata Power, Tata Global Beverages, and Tata Chemicals.
On 24 October 2016, the Board of Tata Sons voted to remove Cyrus from his position as the chairman after providing him with an opportunity to resign from his post voluntarily. On his departure, Ratan Tata took over as the interim Chairman of the Group for a few months and later, the position was occupied by Natarajan Chandrashekharan. After his dismissal from the Tata Sons, Cyrus returned to his family business and under his guidance, their construction business did exceedingly well. The company which was earlier dealing only with the construction part started executing projects under design and build and EPC delivery methodologies, implementing complex projects in the marine, oil and gas, and rail sectors. The company also undertook large road projects. The company also forayed into agriculture and biofuels.
Legal Battle- Mistry Vs Tata Group
After Mistry was replaced in a boardroom coup in October 2016, his relationship with the Tata Group and its patriarch Ratan Tata began to sore. In December 2016, Mistry, along with his family-backed firms Cyrus Investments Pvt Ltd and Sterling Investments Corporation Pvt Ltd dragged the Tata Sons to the National Company Law Appellate Tribunal (NCLAT). He alleged oppression and mismanagement by Tata Sons and claimed that his work was appreciated a few months before. He also asked the group for the reasons that led to his sudden removal from the position of chairman. In July 2018, the National Company Law Tribunal (NCLT) ruled the verdict in Tata Sons' favour. In December 2019, The National Company Law Appellate Tribunal (NCLAT) overturned the NCLT judgment and stated that Cyrus' dismissal as the Chairman of Tata Sons was illegal. He reinstated Cyrus as the Chairperson of Tata sons for his remaining term.
In January 2020, Ratan Tata and Tata Sons challenged National Company Law Appellate Tribunal's decision before the Supreme Court and the court stayed NCLAT's decision to reinstate Cyrus as the Chairman of Tata Sons. Subsequently, Cyrus Mistry filed a cross-appeal in the Supreme Court, demanding more relief from the tribunal. Later, the Supreme Court restrained Shapoorji Pallonji Group from pledging its shares in Tata Sons to raise funds. In March 2021, during the final hearing of the court, the Supreme Court ruled that Cyrus Mistry's removal from the position of 'Chairman' of Tata Sons was legal. [4]Firstpost
Death
On 4 September 2022, Cyrus Mistry died in a car accident while he was travelling from Gujarat's Udwada to Mumbai in his Mercedes GLC Sports along with three other people. Apparently, their car was speeding and when the driver tried to overtake another vehicle from the wrong side, she lost control of the car and the car hit a road divider on a bridge over the Surya river at Charoti Naka. [5]India Today Apparently, Cyrus was sitting in the rear seat and wasn't wearing a seat belt. The accident took place at around 2.30 pm. Cyrus' autopsy report revealed that he suffered a head injury, which led to a haemorrhage (heavy bleeding), besides a severe chest injury.
Mourning his untimely death, Prime Minister Narendra Modi wrote on social media,
The untimely demise of Shri Cyrus Mistry is shocking. He was a promising business leader who believed in India's economic prowess."
Later, Shapoorji Pallonji Group wrote a heartfelt condolence letter on LinkedIn, addressing Mistry's family. In the letter, the group referred to him as a visionary businessman and a low-profile person. It read,
CPM, as he was fondly known, was a voracious reader, committed to a journey of lifelong learning across multiple disciplines. Despite his success, he always kept a low profile, away from the limelight. Cyrus Mistry was deeply committed to the Zoroastrian principles of righteousness, honesty, and ethical dealings with all. He was known for his transparency and integrity in all his business dealings. He was extremely humble, approachable to all, and always lent a helping hand to the less fortunate."
Car Collection
He had a massive car collection which included Mercedes-Benz GLC 220d 4MATIC, Honda CR-V, Jaguar XF, Tata Safari Storme, and Tata Aria. [6]CarToq
Net Worth
As per some media reports, Cyrus Mistry's net worth in the year 2018 was Rs. 70,957 crores. [7]Navbharat Times
Expensive Things/Valuables
An 80-metre superyacht Tatiana worth $100 million
Plush houses in London, Dubai, Ireland, and Mumbai.
Favourites
Cuisine(s): Parsi, Maharashtrian
Food: Thecha, Prawn Curry
Holiday Destination: Europe
Facts/Trivia
Cyrus Mistry loved reading and playing golf in his leisure time. He shared his family's love for horses.
An avid foodie, Cyrus loved tasting different cuisines.
In an interview, some of his close friends described him as a soft-spoken, candid, and down-to-earth person.
He had an undying love for luxury cars, especially SUVs.
Cyrus had acquired Overseas Citizenship of India and was a permanent resident of India. He viewed himself as a global citizen. [11]

Independent.ie
In 2012, Cyrus became the sixth chairman of the Tata Group. He was the second chairman of the group who did not bear the surname Tata, the first one being Nowroji Saklatwala.
In an article published by The Economist in 2013, he was named 'the most important industrialist in both India and Britain.' [12]

The Economist
In an interview, while calling Cyrus her twin, NCP leader Supriya Sule said,


We were like twins as we had a lot of common habits. We always talked on the phone while eating. This habit irked his wife Rohiqa who used to point out that it was rude to eat and talk at the same time. Just going to Pune and eating simple food was what he liked. He was as comfortable in Matheran and Mahabaleshwar as he was in Switzerland and Paris."

Further, sharing Mistry's childhood habits, she said,

He hated being photographed, flashlights and any sort of attention. He was always punctual and valued time and people. He had all the good qualities of leadership and management. He read a lot of books, was very respectful and soft-spoken."