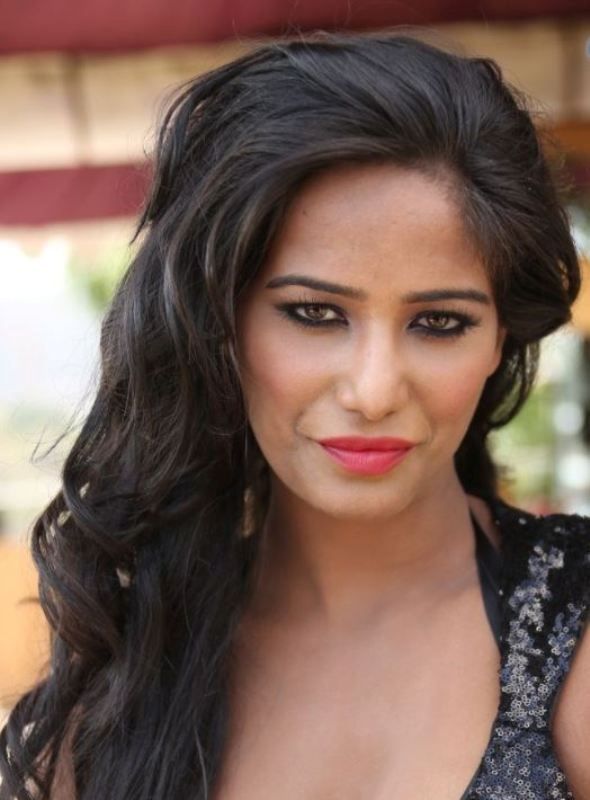 Poonam Pandey is an Indian actress and model, who has worked in Bollywood and South Indian films. Poonam is known as the controversial queen for many of her controversies.
Wiki/Biography
Poonam Pandey was born on Monday, 11 March 1991 (age 31 years; as of 2022) in Kanpur, India. Her zodiac sign is Pisces. Poonam grew up in Mumbai.
After completing her schooling, Poonam started her modelling career. She became more popular through social media accounts, where she posted her adult pictures and videos.
Physical Appearance
Height (approx.): 5′ 7″
Weight (approx.): 56kg
Hair Colour: Black
Eye Colour: Brown
Body Measurements (approx.): 36-26-34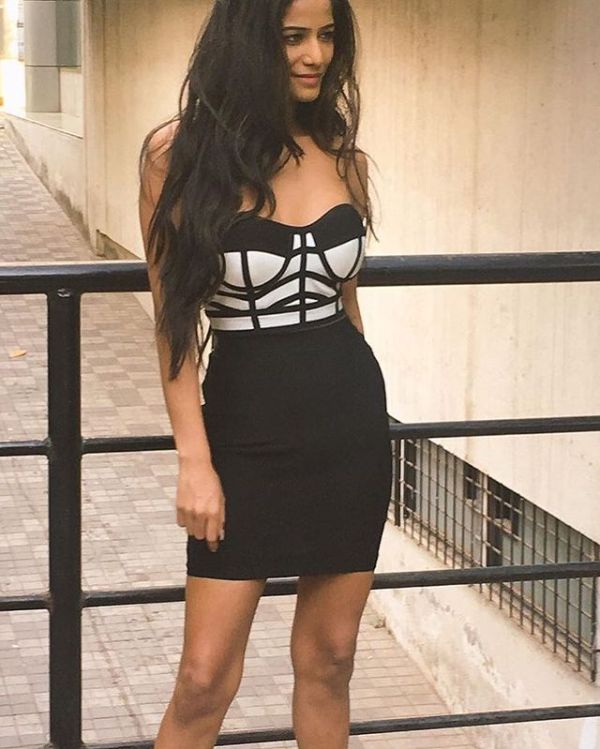 Family
Poonam belongs to a Hindu brahmin conservative family [1]The Indian Express
Parents & Siblings
Poonam's father's name is Shobhanath Pandey and her mother's name is Vidhya Pandey. Poonam has one sister, Shraddha Pandey, who is a chartered accountant and a brother, Nilesh Pandey.
Husband
On 1 September 2020, Poonam married her long-term boyfriend, Sam Bombay, in Mumbai. The wedding was private because of the COVID-19 pandemic.
Poonam and Sam were dating each other since 2017. On 11 September 2020, in Canacona village, South Goa Poonam filed a complaint against her husband, Sam Bombay, claiming that he molested, threatened and assaulted her. Sam was arrested and later, he was released on bail.
Relationships/Affairs
In 2014, during the investigation of the complaint against DIG Paraskar, it was revealed that Poonam Pandey and DIG Paraskar had an affair.
Career
As a Model
According to Poonam, she always desired to be a part of Bollywood. [2]YouTube- Ronak Kotecha Poonam was 16 when she started her career as a model. Poonam appeared on the cover page of various fashion magazines. In 2010, she became one of the top eight contestants of Gladrags. In 2011, Poonam did a photoshoot for 29 calendars, including the most-awaited Gladrags Calendar.
In 2012, Poonam was also featured in Kingfisher Calendar.
As an Actress
In 2013, Poonam debuted in a Bollywood film, Nasha, for which she was criticized for her acting skills.
In 2017, Poonam acted in the movie Galti Sirf Tumhari.
In 2018, she also appeared in the movie, Karma.
In 2017, Poonam was seen in the song, UP Ki Don, with actor, Govinda, in the movie, Aa Gaya Hero.
Poonam also appeared in the South Indian film Malini & Co. in 2015.
In 2015, Poonam made her first tv debut in the serial, Total Nadaniyan, where she played the role of Jalebi Bai. [3]Telly Chakkar
In Reality Show
In 2011, Poonam came into a reality show, Khatron Ke Khiladi, season 4. As per the news, she was paid 50 Lakh to participate in the show.
In 2022, Poonam Pandey appeared as a contestant in the reality show, lock upp, which was hosted by actress Kangana Ranaut and directed by Ekta Kapoor. According to Poonam, she always desired to work with Ekta Kapoor [4]Facebook- Lehren Poonam also said that working with Kangana Ranaut was another reason to be in Lock Upp she also quoted
She has inspired me for a very long time. I really like women who are opinionated and not scared of anyone. Honestly, we girls are conditioned and trained to be a certain way. And when someone breaks that image and becomes who they want to be, that's so beautiful. She has broken past the prejudiced system and I can't wait to interact with her."
Controversies
Often making an obscene statement
On 14 March 2011, Poonam Pandey announced on Twitter that she would get naked if India won the cricket World Cup. After India won the World Cup, Poonam didn't do any such thing, and later, in an interview, she stated that BCCI did not give her permission to do so. [5]Zoom An FIR was also lodged against Poonam Pandey on the charge of obscenity at Balrampur Dehat police station after Chief Judicial Magistrate Subhash Chandra issued an order to this effect. [6]NDTV
In 2011, a morphed picture of Poonam Pandey with Sachin Tendulkar went viral on the web and showed her completely nude picture holding a framed picture of Lord Vishnu with cricket legend Sachin Tendulkar's face morphed on the God's and a Pakistani cricketer bowing in front of the photo frame. On this Poonam wrote
TweetHrts & All my Fans round d World i do appreciate ur Love towards me but such edited pix really hurt me as for me Cricket is a RELIGION"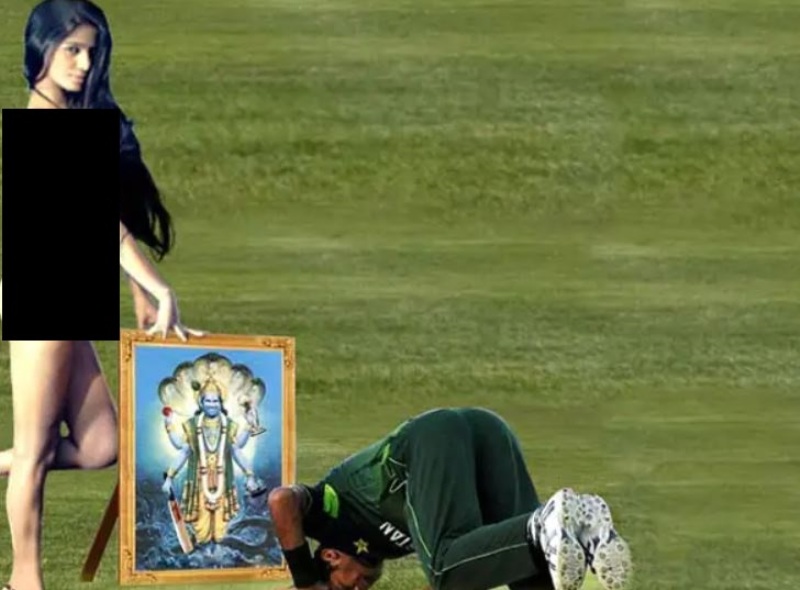 In 2012, a fake social media account of Chitrangada Singh was made, in which an image was shared of Poonam saying,
How do you compete with Poonam Pandey when she is ready strip for kabbadi matches?'

On this Poonam tweeted to her fans that

"'Tweethearts!! it really feels gr8 when people use ur name to garner Publicity! it reminds me a dialouge from the film GURU. "Jab Log tumhare khilaf bolne lage Samajh lo Taraki kar rahe ho" – GURU.' and "'Its so funny how the people who know the least about you, have the most to say. Jealousy: That's what makes a b talk.'
In 2012, Poonam Pandey stripped naked after Kolkata Knight Riders (KKR) won their first IPL trophy defeating the defending champions Chennai Super Kings (CSK) in the final match at the M A Chidambaram stadium. [7]The Indian Express
Bold Posters
In 2013, after the release of the Bollywood movie, Nasha, the bold posters from the movie created anger in the people of the Mahim area in Mumbai. On July 20, a group of protestors tore the posters and set them on fire. [8]The Indian Express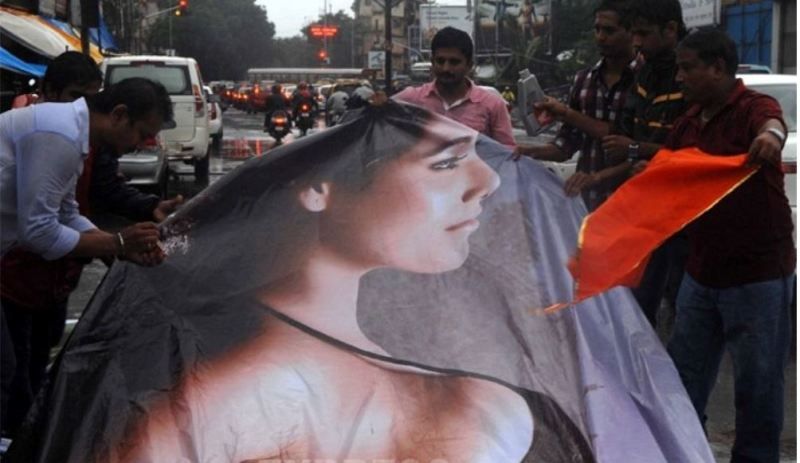 Bathroom Secret Series
In 2019, a series named, Bathroom Secret Series, started by Poonam Pandey on youtube, was later banned by the platform due to controversial content. [9]Hindustan Times
Complaint against Raj Kundra
In 2019, a complaint was filed against Raj Kundra by Poonam Pandey. Poonam said that her phone number along with the tagline 'Call me, I will strip for you, was published on her application, which was managed by Raj Kundra's company. she filed a petition in the Bombay High Court when the police refused to file a complaint. Poonam also revealed that she was facing a lot of trouble as people across India were calling her, requesting her to "strip". Poonam also said that
I will approach the cyber-crime cell, too. I am going through this nightmare just because I refused to work with them.I am living under constant threats of abduction, rape, murder and acid attack. My right to live and privacy has been affected. Just because I am Poonam Pandey, you can't subject me to this treatment." [10]India Today
Unlawful Application
On 17 April 2017, Poonam Pandey launched an application that contained information about her. Later, the application was removed by google. On which Poonam tweeted
Google has suspended the app but Android users can directly download #ThePoonamPandeyApp from my website. [11]Poonam Pandey- Twitter
In 2019, Poonam Pandey shared an adult video of her own on her Instagram account which was later deleted.
Arrested for Filming Adult Video on Government Property
On 5 November 2020, Poonam Pandey was arrested in North Goa for filming a nude video on government property. The complaint was filed by the Goa Forward Party and was stated to the media that Poonam's video was an assault on the women of Goa.
Saved From Elimination
In 2022, Poonam Pandey came as a contestant in the reality show Lock upp, she promise her viewers that if they would save her from elimination by voting for her she would give her viewers a surprise. Poonam's fans voted for her and saved her, to keep her promise she took off her T-shirt live on camera when none of the jail mates was there. Taking to the camera she also said that
Zyaada nahi kar sakti, I can't break rules. This is a very beautiful platform and is watched by different age groups and I don't want to do something which can make people unhappy. I wanted to fulfil the promise, but at the same time I didn't want to cross any limits. I kept that in mind. People who are waiting to see me take off my t-shirt completely, I promise when I come out I will do everything. I promise this entire week I will give you a full dose of entertainment. Remember you seductress princess, I'll keep entertaining you." [12]E Times
Favourites
Food(s): Italian and Sabudana Vada
Actor(s): Aamir Khan, Hrithik Roshan, Salman Khan, Shah Rukh Khan, Akshay Kumar and Rajinikanth
Actress(s): Sridevi, Rekha, Madhuri Dixit, and Kajol
Film(s): Dilwale Dulhania Le Jayenge and Yeh Jawaani Hai Deewani
Colour(s): Yellow and pink
Travel Destination: Cape Town
Facts/Trivia
Poonam Pandey claims in her Twitter bio that she is among the most searched celebrities on the internet.
Poonam Pandey on telling the media about the idea of the announcement during the time of the India world cup came to her mind. On this she said


I was sitting with my journalist friends and we were discussing about doing something really big. I had done some 25-30 calendar shoots. All were big enough, but that recognition was missing. Then I saw there were so many girls in this industry who had worked with the Khans and the Kapoors, but people still did not recognise them as they know only Khans and Kapoors. In such a scenario, it's very difficult to get your own identity, especially if you come from nowhere. Hence, to get that identity and recognition, I thought only controversy could help"
According to Poonam, her parents never wanted her to be a part of the film industry.
In an interview, Poonam Pandey expressed her desire to see herself in a role where she is in a sari and in a ghoonghat. [14]

The Indian Express
Poonam Pandey in an interview said that she enjoys all the publicity, good or bad. She also quoted


Log mere bare mein achcha bole yah bura bole lekin bole toh sahi. For me all publicity is good publicity. Unfortunately my parents don't agree. They don't approve of the things I say and do. They are embarrassed by my image. Every day when I go home after work I wonder if they've seen or read something more about me that has upset them. It's a constant conflict. But they've now come to terms with what I am." [15]The Indian Express
Once Poonam said that she desires to complete her graduation but due to her hectic schedule she couldn't find the time. [16]

Times of India
In an interview, Poonam revealed that when she announced that she would go naked if India won the cricket World Cup, her parents were surprised, but later they expressed their happiness. She also said that her parents, and everyone else too, were very happy with her decision.
Poonam said in an interview that during the pandemic time she watched the movie, Dil Chahta Hai, fifteen times.
Poonam Pandey in an interview revealed that she got many offers from many types of reality shows but couldn't participate in them. She also said that when she got the offer of the show, Lock upp, without taking anyone's advice she said yes to this show.
During an interview, Poonam Pandey said that she regrets not being able to raise her voice about the statements made about relationship assaults with her.
In an interview, Poonam confessed that she made many wrong decisions but she also claims that she realised the importance of acquiring success through work.
In an interview, Poonam Pandey said that Katrina Kaif is her inspiration.
Poonam Pandey said that after her movie, Jism, she got many more offers from Bollywood, however, the offers she got were not as per her expectation.
Poonam Pandey revealed in the show Lock Upp that she tried to commit suicide multiple times due to the constant physical abuse by her ex-husband, Sam Bombay. [22]

Hindustan Times