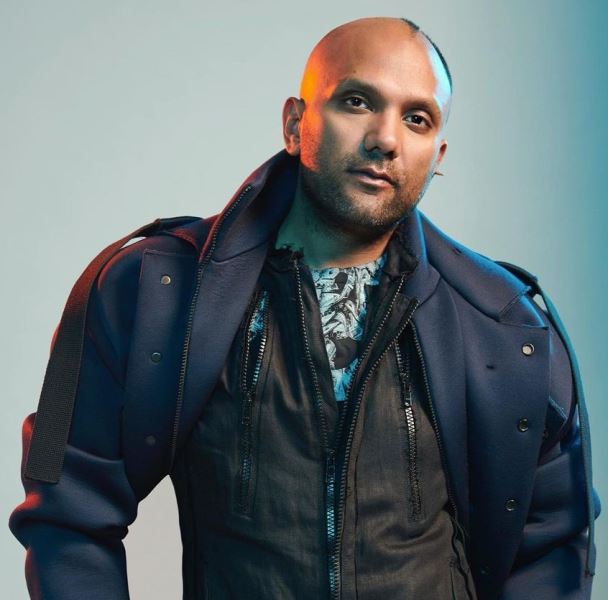 Gaurav Gupta is an Indian couturier and fashion designer who is known for his eponymous clothing brand. The avant-garde designer has carved a niche in the fashion business with his unique sculpture-like garments.
Wiki/Biography
Gaurav Gupta was born on Wednesday, 17 January 1979 (age 44 years; as of 2023), and he hails from New Delhi. His zodiac sign is Capricorn. He did his schooling at Springdales School Dhaula Kuan, New Delhi. Growing up, he was an extremely creative child. He loved to draw, sculpt, and dance, but he was poor at academics. In an interview, he said,
Art was an outlet for me; I had taken up sculpture in the eighth and ninth grade. I was in awe of the art of making sculptures, and I still am…One of my most memorable report cards was in sixth grade, when I actually flunked with a C in Maths and Science, but got an A+ in Art."
Eventually, he became studious and was a straight-A student for the most part, securing 90 percentile in 12th grade.  He was born into a family that wasn't artistically inclined. While citing his source of inspiration for fashion in an interview, the designer did not mention any magazine or a family member who worked as a seamstress, instead, he said,
It's drawing, imagining, daydreaming. All of that is the real beginning of the process of a creative mind. It was just about getting lost in flowers and clouds and just being a dumb kid who didn't know anything. I was just with these thick spectacles, like, what is happening in the world?"
Gupta's fashion journey began with fashion school in 1997. After he graduated from the National Institute of Fashion Technology in India (NIFT) in 2000, he worked for a while before enrolling in Central Saint Martins College of Art and Design, London, England, in 2001. He pursued a bachelor's degree in Women's Wear Fashion [1]Gaurav Gupta – Official Website [2]Fashionista After graduating from the prestigious program in 2003, he wasn't able to obtain work visas, so he returned to India and launched his namesake brand in 2004.
Physical Appearance
Height (approx.): 5′ 7″
Hair Colour: Bald
Eye Colour: Black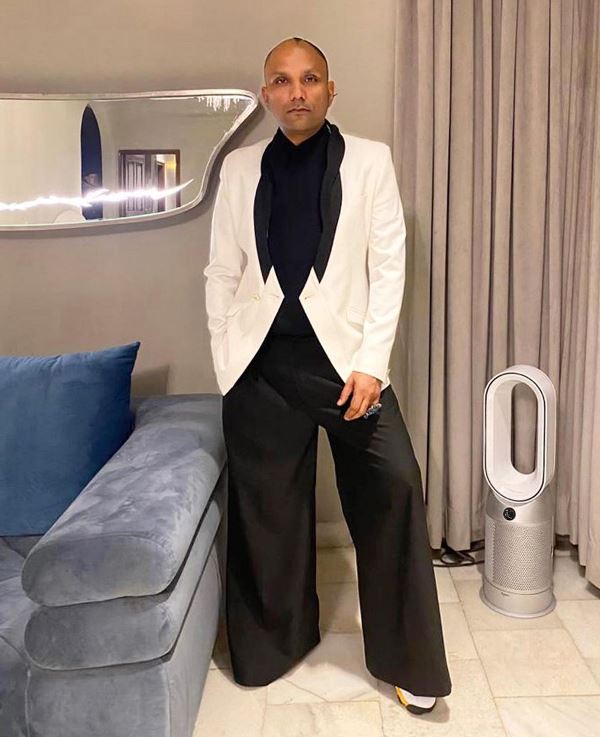 Family
Parents & Siblings
His family is engaged in an iron and steel business. His brother, Saurabh, is a co-director at Gaurav Gupta Couture.
Wife & Children
He is unmarried.
Modern Family
Gaurav Gupta shares a bungalow with his boyfriend, Vijendra Bhardwaj, GQ's fashion director, and Navkirat Sodhi, a poet and writer, in New Delhi.  Although Gupta is gay, he shares a platonic relationship with Sodhi, a woman whom he calls his soulmate and life partner. The two first met when Sodhi was 14 years old while attending Springdales School. [3]The Week [4]Vogue India Talking about his relationship with Sodhi in an interview, Gupta said,
Navkirat is my soulmate and life partner…We don't understand concepts of marriage or gender, we just have a feeling of pure love, so we decided to be life partners. It is like we are twin flames."
Gupta met Bhardwaj while attending NIFT when he was 20. Their friendship eventually transitioned into a familial bond which later extended to work. In an interview, while describing his modern living arrangement, he said,
It may seem unconventional, but this is our family."
Sexual Orientation
Gaurav Gupta belongs to the LGBTQ community. Growing up as a homosexual boy in the 90s, Gupta was bullied at school. He came out as gay to his brothers early in his teens. However, he disclosed his sexuality to his parents when he was attending Central Saint Martins College of Art and Design in London. [5]Vogue India
Career
After completing his formal education, he went on to work with designers like Hussein Chalayan and Stella McCartney before starting his label. In 2004, he founded his eponymous label with his brother Saurabh Gupta. In the beginning, he took some time away from his brand and worked as an art director for a company in Istanbul, but he returned to India and properly launched it in 2006. His exhibit at India Fashion Week 2006 was dubbed "the most innovative show" by media houses. He boosted the cultural shift in clothing in India by inventing the sari-gown which later became a staple in every Indian designer's collection. He opened his first store in 2009. In 2013, a turning point came in Gupta'slife when he showcased his collection 'Lightfall' in India. Talking about the same in an interview, he said,
Another turning point was in 2013 when I did a collection in India called 'Lightfall'…The first look was a mask of a half-naked woman covered with only embroidery on one side. Imagine, this is a bridal fashion week in India. I wanted to shock the cultural state of it. It was a big hit. I sold 200 of those dresses in India."
Gupta's couture 2021/22 collection titled 'Universal Love' promoted inclusivity by casting curvy women in campaigns and shows and putting two male models as protagonists in a same-sex love narrative.
In India, Gupta is recognized not only for his expertise in designing ballroom attire but also for his talent as a bridalwear designer. One of the most highly desired pieces from his brand is the pre-draped cocktail sari. He first forayed into bridal wear in 2022 with his collection Gaurav Gupta Bride. He gained international visibility when celebrities like Lizzo, Megan Thee Stallion, Deepika Padukone, Priyanka Chopra, Mary J. Blige, Jennifer Hudson, Saweetie, Mexican singer Thalia, Kylie Minogue, Violet Chachki, Olivia Culpo, Maluma and Fan Bing Bing graced the brand's sculptural silhouettes for various magazine covers, billboards, music videos, and red-carpet events. One of his career highlights includes Aishwarya Rai Bachchan wearing the pink sculpted creation by Gupta to Cannes 2022, which was included in The New York Times's 15 iconic looks from Cannes over the years.
Another epic moment in his career was when he exhibited at the Animal Ball 2019 in London, which was organized by The Prince of Wales and The Duchess of Cornwall. Twenty-four fashion brands from across the world were invited to curate special limited edition animal-inspired masks and raise funds towards the conservation of all Asia's endangered. His flagship stores in India include DLF Emporio and Mehrauli in New Delhi, Kala Ghoda in Mumbai, Banjara Hills in Hyderabad, and Galleria 1910 in Kolkata.
Gaurav's couture shows feature light design,  sculptures, immersive theatre, and experiential poetry. Gaurav's art installation "Tunnel of Infinity" was included in Santati, a travelling art exhibition honouring 150 years of Mahatma Gandhi. The exhibition debuted at the National Gallery of Modern Art in Mumbai. In 2017, he collaborated with Vogue and IBM's cognitive system Watson to create India's first garment based on artificial intelligence. The AI sari-gown was made of white fabric with integrated lighting that covered the entire dress. The lighting used AI technology to make the colours, and patterns made by the lighting changed depending on the mood of the person who is interacting with the wearer of the gown.
In 2018, Gaurav Gupta's collection for men, Gaurav Gupta Man, gained popularity with an opening show in collaboration with GQ India. The fluid yet sharp designs have been modelled by celebrities like Ranveer Singh, Ayushmann Khurrana, Shahid Kapoor, Varun Dhawan, Siddharth Malhotra, film director Karan Johar, rapper Wyclef Jean and the Latin boy band CNCO. In 2019, he launched his jewellery line Gaurav Gupta Occasions Fine Jewellery, which gained recognition for its kinetic design. The year 2023 became a breakout year for the couturier who had his first Paris couture show, hosted by the Chambre Syndicale de la Haute Couture in January 2023. He made his debut at Haute Couture Week with the collection Shunya, a Sanskrit word that translates to "zero." He is the third Indian designer to showcase at Paris Haute Couture Week; Rahul Mishra was the first followed by Vaishali Shadangule. In February same year, Cardi B attended the 65th Annual Grammy Awards wearing a sculptural cobalt-blue gown by Gupta, which became one of the evening's most viral outfits. The gown earned widespread acclamation for Gupta.
In July 2023, Gaurav Gupta showcased his Autumn/Winter 2024 collection 'Hiranyagarbha' at the Paris Haute Couture Week in Palais de Tokyo, Paris, France.
The event saw big names in attendance, including American rapper Cardi B (in a lemon green gown) and Chinese actor Fan Bingbing (in a black ensemble) wearing gorgeous structural ensembles by Gaurav Gupta himself.
Awards
Designer Of The Year- Menswear, Vogue; Power List, 2019
Ecopolitan: Designer of the Year, GQ Men Of The Year Awards, 2019
Excellence in Fashion, HELLO! Awards, 2019
Designer of the Year, Harper's Bazaar Fashion Awards, 2019
Designer of the Year, India Fashion Awards 2019
"Rule Breaker" GQ Style Awards, 2018
Designer of the Year, Elle India, 2016
Distinguished Alumni Award, Diamond Jubilee Year, Springdales School 2015
Singapore Indian Icon of the Year, 2014
Best Designer Indian Wear, Marie Claire Fashion Awards 2010
Breakthrough Designer of the Year, MTV Lycra, 2006
Root of Creativity Award, Mittlemoda, Italy, 2003
'Future of Couture' Trophy at AltaRoma Altamoda, Rome Couture Fashion Week, 2003
Makuhari Grand Prix, Fashion Award, Tokyo 2000
Facts/Trivia
In an interview, he revealed that he saw a recurring dream during his childhood in which he was a bird. He would dream of flying over skyscrapers and school playgrounds, and when he woke up, he would feel tired, as though from a long night of flying. Interestingly, he wasn't the only one who was having this dream, his father and brothers too dreamt of being a bird. He said,


I was once reading out a blog I wrote about it to my father and he was like: 'Don't tell me. You too?' Apparently, my dad also had these recurring dreams of being a bird. We discovered that my dad, my brothers and I―we were all birds. I have not gone deep into why this happens."

In 2021, Gaurav Gupta partnered with GiveIndia, an integrated online donation platform that set up oxygenation plants and provided oxygen concentrators and cylinders to patients suffering from Covid.