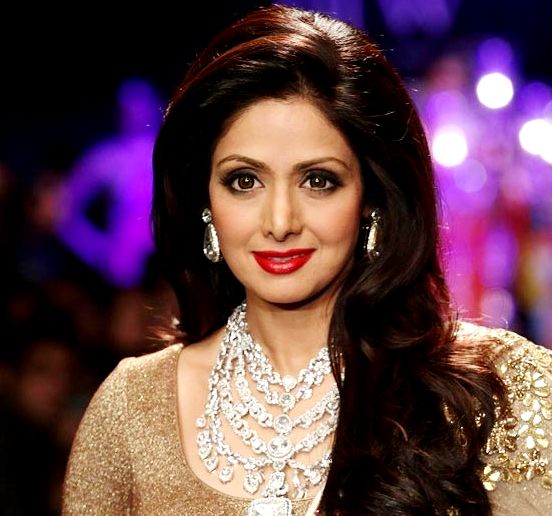 Sridevi was a versatile Indian actress who was known to be the female superstar of the Indian film industry. She was known by some other names like Hawa-Hawai and Chandni. She worked in different languages like Hindi, Tamil, Telugu, Malayalam, and Kannada. She was one of the highest paid actresses in the 1990s. Check out Sridevi Wiki, Age, Boyfriend, Family, Husband, Children, Biography, Facts & More.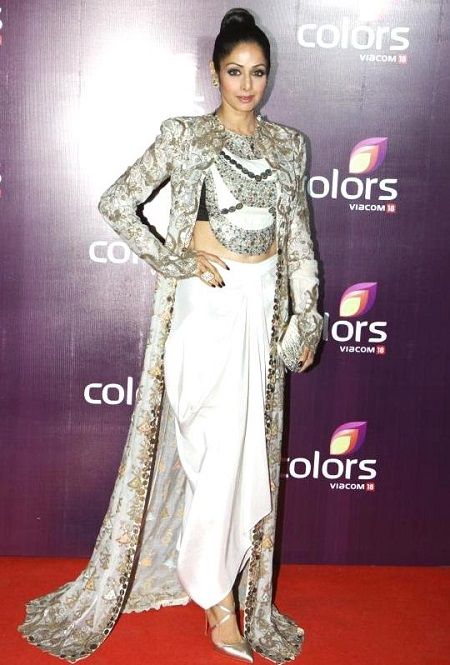 Biography/Wiki
Sridevi was born as Shree Amma Yanger Ayyapan on 13 August 1963 in Meenampatti, Sivakasi, Tamil Nadu, India. She was honoured with the Padma Shri in 2013 by the Government of India and received this award from the President of India Pranab Mukherjee. She was well-known for her acting skills and received numerous famous awards for her contribution to the film industry. During her acting career, she worked with so many popular actors like Jeetendra, Kamal Hassan, Rajinikanth, Nagarjuna, Dharmendra, Sunny Deol, Amitabh Bachchan, Sanjay Dutt, Anil Kapoor, etc.
Family, Caste & Boyfriend
Sridevi belonged to an OBC (Naidu community & Nadars) caste and was born to lawyer Ayyapan Yanger and Rajeswari Yanger. She has two stepbrothers Anand & Satish and a sister Latha.
In 1985, she got married to Indian film actor Mithun Chakraborty to whom she divorced in 1988.
She re-married on 2 June 1996 to film producer Boney Kapoor. She has two daughters actress Jhanvi Kapoor and Internet celebrity Khushi Kapoor. She also has a step-daughter Anshula Kapoor and a step-son Arjun Kapoor, who is an actor by profession.
It was once reported that Janhvi was born out of wedlock; however, Boney Kapoor denied such claims in an interview later. [1]India Today While talking about this, in an interview, Boney Kapoor said,
My second marriage, my marriage with Sri (took place in Shirdi). We got married on June 2. We exchanged vows, we spent a night there and it was only in January when her pregnancy was seen that we had no choice, but to marry publicly. It took place in Shirdi, on June 2. (But), in public, we were married only in January (1997). That is why some scribes still write she (Janhvi) was born before marriage, something like that."
Career
She made her first on-screen appearance when she was just 4 in 1967 in the Tamil film Thunaivan in which she played the role of young Lord Muruga; however, she was noticed after her role as the adopted daughter of Sivaji Ganesan in the film Babu (1971). Her performance as a child artist in the Malayalam film Poompatta (1971) also gave her a huge fame and received the Kerala State Film Award for the category of Best Child Artist. She worked in numerous famous films in different languages as a child artist like Nam Naadu (Tamil, 1969), Maa Nanna Nirdoshi (Telugu, 1970), Badi Panthulu (Telugu, 1972), Vasantha Maaligai (Tamil, 1972), Prarthanai (Tamil, 1973), Bhakta Kumbara (Kannada, 1974), Julie (Hindi, 1975), etc. She made her acting debut as an actress in 1979 with the Bollywood film Solva Sawan. The film is the remake of Tamil film 16 Vayathinile (1977), in which she starred opposite Kamal Hassan and Rajinikanth.
After marriage, she took a break of approximately 6 years from the film industry and made her come back in 2004 by featuring in the Hindi TV serial Malini Iyer. In 2005, she judged the TV show Kaboom. In 2008, she started working as a fashion model and did several modelling assignments. In 2009, she along with her husband Boney Kapoor appeared on Salman Khan's popular reality game show 10 Ka Dum. In the same year, she appeared as Showstopper in the HDIL Couture Week 2009 for several designers like Queenie Dhody, Neeta Lulla, and Priya-Chintan. In 2012, she appeared in an Indian TV talk show Satyamev Jayate, hosted by Aamir Khan. During that show, she signed a letter to the government for passing a law against criminals who sexually abuse children.
Her last Bollywood film was Mom (2017), in which she played the lead role of Devki Sabarwal. She made her last appearance in the Bollywood film Zero (2018), whose shooting was completed just a few days before her death.
Controversies
Initially, it was considered to be rumoured that she secretly got married to actor Mithun Chakraborty in 1985 but when Fan magazine published their marriage certificate, it was cleared and created a huge controversy.
She was accused of being a homewrecker after she married to Boney Kapoor as at that time, Boney was already married to Mona Shourie Kapoor.
Death Cause
On 24 February 2018, Sridevi died in Dubai, UAE due to accidentally drowned in the bathtub of her hotel room at the Jumeirah Emirates Towers. She went there along with her husband Boney Kapoor and daughter Khushi Kapoor to attend the marriage of her nephew Mohit Marwah.
Boney Kapoor, who was initially considered the prime suspect in Sridevi's death, once talked about Sridevi's health, in an interview. He revealed that she used to follow a strict diet for her on-screen appearance. He added that Sridevi had fainted many times, which was once brought to his attention by actor Nagarjuna, and a doctor had diagnosed her with low blood pressure. He mentioned that even when dining out, she would opt for salt-free food. According to Boney Kapoor, Sridevi's death was not natural but accidental. [2]Outlook Boney Kapoor said,
She wanted to make sure she's in good shape, so that on-screen, she looks good. From the time she was married to me, she had blackouts on a couple of occasions, and the doctor kept on saying she had a low BP issue. It was unfortunate. Later, when she passed away. Nagarjuna had come home to offer his condolences, and he told me that during one of her movies, she was again on a crash diet, and that's how she fell in the bathroom and broke her teeth."
Facts
In her childhood, she loved to visit the Tirupati temple with her grandfather.
She was a member of the film school Asian Academy of Film & Television (AAFT) located in the Noida Film City of India.
After her great performance in the film Himmatwala (1983), she earned the nickname Thunder Thighs.
Sridevi used to paint during her free time. Some of her paintings were sold in 2010 by an International art auction house with the purpose of money raising for being donated.
She appeared on the cover of fashion magazines like Hi Blitz, Marie Claire, L'Officiel, Vogue, etc.
Though she was not professionally trained in dancing, she was considered to be the finest dancer.
As she was born to a Tamil family, she initially couldn't speak Hindi well. During that time, her dialogues were dubbed in several films by some other actresses like Kumari Naaz and Rekha.
Chandni (1989) was her first Bollywood film in which she got her original voice. The film received the National Award for the Best Popular Film that year and she earned the household name Chandni.
Her Bollywood starring film Roop Ki Rani Choron Ka Raja (1993) was one of the most expensive films in India. Her performance in the film was outstanding but the film failed at box office.
Shah Rukh Khan was her all-time favourite actor.
The first ever acting shot of popular actor Hrithik Roshan was with Sridevi for the film Bhagwaan Dada (1986).
She has done 16 films with actor Jeetendra and among that, eleven films were hit.
The American director Steven Spielberg offered her role in his film Jurassic Park but she rejected as it was not a lead role.
She was also offered roles in so many hit Hindi films like Rangeela (1995), Baazigar (1993), Mohabbatein (2000), and Baghban (2003) but she rejected.
As a Bollywood actress, she has done maximum double roles and was known as the Queen of Double Roles.
Her mother Rajeswari Yanger also made her appearance (special uncredited cameo) in the famous Telugu film Shanti Niwaasam, directed by S.S. Vasan. Later, the film was remade in the Hindi language with the name Gharana.
In the 1980s, Amitabh Bachchan and Sridevi were the two superstars, however, they together have seen in only 3 films, Inquilaab (1984), Aakhree Raasta (1986), and Khuda Gawah (1992).
She had undergone some cosmetic surgeries in the 1990s like botox, facelifts, facial enhancement, etc.
In 2012, she was declared as the most-admired Bollywood actress during the mobile survey conducted by the largest mobile research company of the world, Vuclip.
In 2013, Sridevi was voted India's Greatest Actress in 100 Years in a CNN-IBN national poll that was conducted on the occasion of the Indian cinema's centenary.
In 2015, she was awarded the Ultimate Diva award at the Ciroc Filmfare Glamour & Style Awards.
After a long break of 15 years, she made her comeback in 2012 with the film English Vinglish. She received positive reviews from the audience and the film was shortlisted for the Academy Awards in the category of Best Foreign Language Film.
She is believed to be the most versatilite actress of Bollywood ever. Watch compilation of her famous roles here: Sridevi's famous roles video
In September 2019, a wax statue of Sridevi was unveiled by her daughters Janhvi and Khushi and husband Boney Kapoor at Madame Tussauds Singapore.
According to Boney Kapoor, Sridevi was very religious. In an interview, he revealed that on each of her birthdays, Sridevi would walk to the Tirupati Balaji Temple in Mumbai. Boney further shared that whenever he faced any trouble, she would walk barefoot from Juhu to Siddhi Vinayak as a form of prayer.