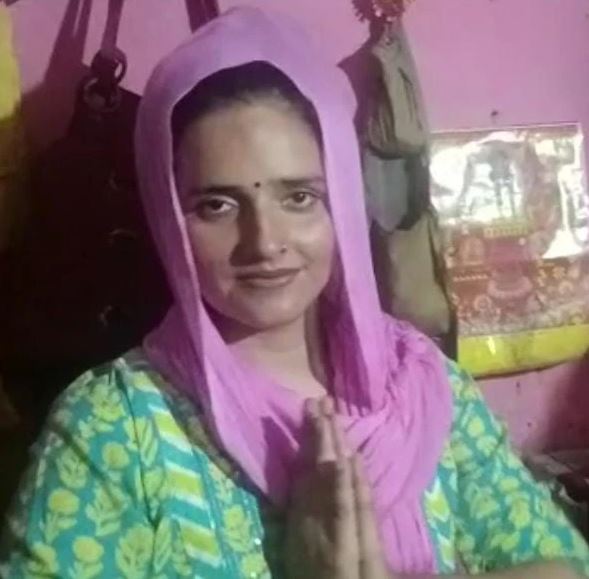 Seema Haider is a Pakistani woman who became viral in July 2023 when it was reported that she entered India illegally in May 2023, with her four children, to live with her alleged lover-turned-husband, Sachin Meena, after meeting him on PUBG.
Wiki/Biography
Seema Haider aka Seema Ghulam Haider [1]Hindustan Times aka Seema Rind [2]The Express Tribune aka Seema Jakhrani [3]The Express Tribune was born in a village in Kot Diji district of Sindh Province in Pakistan. As per one source, she was born in 1995 (age 28 years; as of 2023), [4]Hindustan Times and as per another source, she was born on Tuesday, 1 January 2002 (age 21 years; as of 2023). [5]The Express Tribune According to her husband Ghulam Haider, she did not attend any school for formal education; however, she studied under various NGOs which provide education to underprivileged children.
Physical Appearance
Height (approx.): 5′ 7″
Weight (approx.): 55 kg
Hair Colour: Black
Eye Colour: Black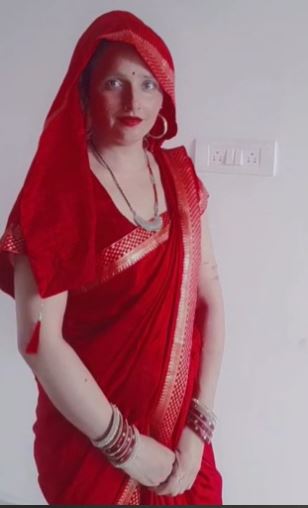 Family & Ethnicity
She belongs to a middle-class Baloch family. [6]ABP News
Parents & Siblings
Her father's name is Ghulam Raza Rind. She has two sisters and a brother named Asif who serves in the Pakistan Army.
Husband & Children
She first married Ghulam Haider, a resident of a village in Garhi Khairo taluka of Jacobabad district in Sindh Province of Pakistan on 16 February 2014. Ghulam initially worked as a labourer and auto rikshaw driver in Pakistan; however, in 2019, he moved to Saudi Arabia and started working as a labourer.
She has four children with him including a son named Farhan Ali, renamed Raj (age 8 years; as of July 2023) and three daughters named Farwa, renamed Priyanka (age 6 years; as of July 2023), Fariha Batool renamed Munni (age 4 years; as of July 2023) and Farha Batool renamed Pari (age 2.5 years; as of July 2023). She claimed that Ghulam divorced her several times on the phone. Allegedly, her second husband is Sachin Meena of Greater Noida, Uttar Pradesh, India whom she married at Nepal's Pashupatinath Temple as per Hindu customs and traditions in March 2023. After her marriage to Sachin, she renamed her children Raj, Priyanka, Munni, and Pari.
Relationships/Affairs
Ghulam Haider
Seema initially got in touch with Ghulam Haider when he called her back inadvertently in response to a missed call. They subsequently started talking and fell in love with each other. Seema's family was against her marriage to Ghulam; however, she went against her family's wishes and married him in February 2014. They started living in the Bhittaiabad area of Karachi after their marriage, where she gave birth to her four children. Allegedly, Ghulam has two children from a previous marriage.
Sachin Meena
Seema said while talking to the media that she first met Sachin Meena in July 2020 while playing PUBG. She used to talk to a lot of strangers as she used to keep the mic on. She liked Sachin's way of playing and his accent, and after four months, they exchanged their numbers and started talking on WhatsApp and Instagram via voice calls and video calls. Later, they developed a friendship that turned into love, and both confessed their love for each other in January 2021 and started to find ways to meet each other.
She applied for an Indian Visa in February 2023; however, it was rejected as the visa application had a document that required the signature of a gazetted officer on the invitation of an Indian person. Sachin submitted his Aadhaar card copies for the same; however, she could not get the signature of a gazetted officer. She then found out that Indian citizens do not need any visa to travel to Nepal, hence they decided to meet in Nepal in March 2023; she left her children in Pakistan and met Sachin alone. In Nepal, they met for the first time on 10 March 2023 following which they got married at Pashupatinath Temple and spent a week together at a hotel in Nepal after which she went back to Pakistan, and Sachin came back to India.
Journey to India
After realising that she would not be able to go to India legally, she made up her mind to go to India via Nepal. According to one source, she sold her parents' house at her ancestral village to undertake the journey, and as per another source, she sold her first husband's house. After selling the plot for Rs 12 lakhs, she boarded a flight from Karachi to Sharjah in the United Arab Emirates (U.A.E.), then a connecting flight to Nepal. In Nepal, she took a van to Pokhara and entered India on 11 May 2023 after taking a bus to Delhi. After reaching Delhi's Kashmere Gate ISBT, she took a bus to Jewar and left the bus at Faleda intersection near Rabupura, Sachin Meena's village, in Uttar Pradesh. Sachin met her there and took her to a rented room, which he rented for Rs 2500 per month, in Ambedkar Colony, about one km from his village Rabupura.
They maintained utmost secrecy to such an extent that Sachin's father, Netrapal Singh, who works at a plant nursery near the village, his mother, Ritu, and his five siblings did not know anything about the rented room or Seema until 30 June 2023, when the police knocked at their home in Meena Thakurain colony of Rabupura.
Religion/Religious Views
Seema Haider initially followed Islam; however, after getting married to Sachin Meena in 2023, she started following Hinduism. In an interview, she said that she liked Hinduism, and after her marriage to Sachin, she started following all Hindu practices. [7]Aaj Tak
Caste/Ethnicity
She belongs to the Baloch community. [8]ABP News
Arrest & Bail
Sachin and Seema started living together on 13 May 2023. Sachin worked at a ration shop during the day and earned Rs 13000 monthly and visited his family daily. On 29 June 2023, the couple visited an advocate in Bulandshahr to get married legally; however, the advocate was shocked upon seeing Seema's Pakistani passport and alerted the police. When the police officials raided their rented room, they found that the couple had already vacated the room and were trying to flee the city. As per one source, the police arrested them on 30 June 2023 in Ballabgarh, and as per another source, she was arrested on 4 July 2023. [9]Hindustan Times
The FIR number 159/2023 was filed at Rabupura Police Station against Seema for illegally entering India, Sachin Meena and his father, Netrapal Singh aka Nittar for illegally helping and sheltering an illegal immigrant. They were subsequently jailed at Luksar Jail in Uttar Pradesh. Netrapal was given bail on 6 July 2023, [10]Court Verdict and Sachin and Seema were given bail on 7 July 2023 by Justice Nazim Akbar of the Junior Division of the Jewar Civil Court; they were subsequently released from jail at 8:30 am on 8 July 2023. [11]Court Verdict [12]Court Verdict Court ordered them to stay at the same house until the final judgement. Their lawyer, Hemant Krishna Parashar, told the media that all three of them have to visit the Rabupura Police Station daily to sign an undertaking and cannot leave the town without the police's permission.
Reaction in India & Pakistan
After the news of Seema and Sachin's love affair became viral, the public came in support of Seema and requested the government to provide Indian citizenship to her and her four children. Many Hindu organisations visited their house and provided assurance and monetary support to the couple. Some people questioned Seema's credentials and doubted that she could be an ISI spy as well. When asked about whether Seema would return to Pakistan, she said that she would be killed if she ever returned to Pakistan, hence she would prefer dying in India instead of Pakistan. Sachin Meena's parents, Netrapal and Ritu, said that they would wholeheartedly welcome the foreign daughter-in-law to their house and praised Seema's bravery in crossing the borders.
Her first husband, Ghulam Haider, released a video in which he requested the Indian government, especially the Indian Prime Minister, Narendra Modi, to send back Seema and their children to Pakistan. He even claimed that his father, Ameer Jan, has filed a police complaint at Malir Cantt after Haider was unable to get in touch with Seema and his children. Seema alleged that her ex-husband Ghulam Haider used to beat her and even applied chilly powder to her face. While debating him on a news channel, Seema said that she would even give him a divorce as per the legal procedure, and alleged that Ghulam was releasing videos to gain sympathy.
The Pakistani public condemned Seema's actions and said that she should have gone to India through a legal channel. Seema claimed that she has also received death threats against her and Sachin from a few Islamic clergies (Maulanas) of Pakistan. A few Pakistani people belonging to the Jhakrani tribe of Balochistan released a video in which they threatened of killing every Hindu woman in Sindh if Seema and her children are not returned to Pakistan.
10 July '23 Jacobabad, Sindh, Pakistan:
Dacoit belong to Baloch Jhakrani tribe issued a death threats & threat to rape Hindus in Sindh if India fails to send their daughter-in-law #SeemaHaider Jhakrani back along with her children.
Seema d/o Ghulam Raza Rind married Ghulam Haider… pic.twitter.com/KRHIP6DsFh

— Mahesh Vasu (@maheshmvasu) July 10, 2023
Facts/Trivia
Seema and Sachin were inspired by Sunny Deol's blockbuster Bollywood film, Gadar: Ek Prem Katha. In an interview, Seema said that she has made several reels on TikTok and Instagram from the film's songs. They watched the film during their stay in Nepal in March 2023.
She said in an interview that Bollywood should make a film on her and Sachin's love story like Veer Zara.
Allegedly, Seema got so crazy in love with Sachin that if he ever got angry with her and stopped talking to her, she would cut her hands; she claimed that she has cut her hand many times when she was in a relationship with him.
In August 2023, Seema received an offer to star in a movie centered around the murder of Udaipur tailor Kanhaiya Lal by Islamic radicals. According to reports, representatives from Jani Firefox Production House met with Seema in Greater Noida and conducted an audition for their upcoming film titled 'A Tailor Murder Story' in which she was selected to portray the character of a RAW agent. [14]

The Times of India
In August 2023, Yashraj Mukhate made a short video on her which became very viral.
On 22 August 2023,  Seema Haider sent Rakhis to some prominent Indian politicians including Prime Minister Narendra Modi, Home Minister Amit Shah, RSS Chief Mohan Bhagwat, Defence Minister Rajnath Singh, and the Chief Minister of Uttar Pradesh Yogi Adityanath. [15]

Hindustan Times In an interview, she talked about this and said,


I have posted these (rakhis) in advance so that they reach well in time to my dear brothers, on whose shoulders lie this country's responsibility. I am very happy. Jai Shri Ram. Jai Hind. Hindustan Zindabad."