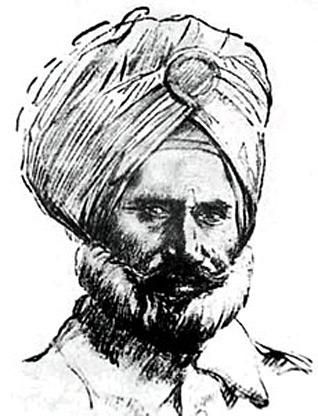 Havildar Ishar Singh remains an iconic personality for his absolute bravery during the "Battle of Saragarhi," and for being a true leader who would strive just for the comfort and safety of his own troop.
Wiki/

Biography
Havildar Ishar Singh was born into an agricultural family in Jagraon tehsil, Ludhiana district, Punjab. He was married to Gurinderpal Singh Josan.
Career
Ishar Singh dreamt about becoming a soldier and got a chance to fulfill his dream by joining the Punjab Frontier Force at the age of 18 years. For the most part of his life, he remained on the battlefield under regimental number 165. Soon after the establishment of 36th Sikhs Regiment in 1887, he was enlisted in it.
In August 1897, the 36th Sikhs Regiment led by Lt. Col. John Haughton was divided into 5 groups and were sent to the North West Frontier Province. The groups of soldiers were posted at Samana Hills, Kurag, Sangar, Sahtop Dhar, and Saragarhi. A group of 21 soldiers of the 36th Regiment, led by Ishar Singh, was posted at Saragarhi. A small village in the border district of Kohat, Saragahi, was a modest location as it connected Fort Lockhart and Fort Gulistan. Being the common link of communication between all the three posts, it was a target of the Afghans and Orakzai tribesmen.
On 12 September 1897, a signalman of the regiment, Gurmukh Singh, warned Lieutenant Colonel John Haughton about the Afghans (more than 10,000) moving towards the Fort Lockhart. Haughton was unable to do anything in that situation and could not send any additional forces.
At this point, the leader Ishar Singh and his men decided not to retreat and decided to fight "Battle of Saragarhi" to death. During this battle, around 200 Afghans were killed by these 21 soldiers who fought with great zeal and enthusiasm.
The grievously injured soldiers fought for 8 long hours without any break. When they were out of bullets and shells, they engaged in hand-to-hand combat. Their sacrifice did not go in vain as eventually, the enemies were defeated.
Awards
Indian Order of Merit Class III
Death
On 12 September 1897, Ishar Singh martyred after fighting the "Battle of Saragarhi" at Tirah, North-West Frontier Province, British India(now Pakistan).
Facts
British historian Major General James Lunt said that Ishar Singh was a somewhat turbulent character whose independent nature had brought him more than once into conflict with his military superiors. Thus, Ishar Singh —in camp, a nuisance, in the field magnificent.
In order to honor the 21 Sikh soldiers of the 36th Sikh Regiment, two Saragarhi Memorial Gurudwaras were made in Ferozepur and Amritsar.
As a tribute to the 21 brave Sikh soldiers, 12 September is celebrated as the "Saragarhi Day."
After his martyrdom, none of his family members joined the army.
Numerous biopics have been made on Havildar Ishar Singh but 'Kesari' (2019), where Akshay Kumar portrayed his role has been the most famous film and has been able to grab the attention of the masses to the real heroes.
He is often confused with Captain Isher Singh, a soldier in the British Indian Army.
After Havildar Ishar Singh's death, his brother killed his wife and got imprisoned at Kala Pani (Andaman and Nicobar).