Vikas Khanna is an Indian chef, restaurant owner, TV show host/judge, writer, and filmmaker who got recognition for hosting six seasons (seasons 2,3,4,5,6 & 7) of the Indian competitive cooking reality TV series MasterChef India. He is a Michelin Star winner (an award given to the top quality restaurants).
Wiki/Biography
Vikas Khanna was born on Sunday, 14 November 1971 (age 52 years; as of 2023) in Amritsar, Punjab, India. His zodiac sign is Scorpio. Vikas Khanna completed his schooling at St. Francis School, Amritsar. In 1991, he attained a bachelor's degree in Hotel Management from the Welcomegroup Graduate School of Hotel Administration, situated in Manipal, Karnataka, India. After moving to the United States in 2000, Vikas Khanna studied at The Culinary Institute of America, New York University, Le Cordon Bleu (Paris), and Cornell University (New York). Vikas Khanna is settled in New York City, United States.
Physical Appearance
Height (approx.): 5′ 8″
Hair Colour: Natural Black
Eye Colour: Dark Brown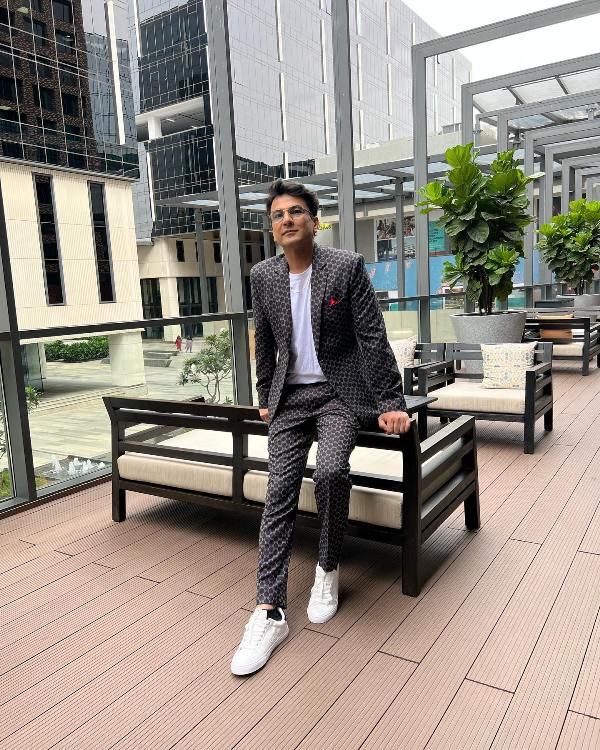 Family
Parents & Siblings
Vikas Khanna's father, Davinder Khanna, was a businessman who owned a video cassette library named 'Dilagi' in Amritsar. After closing down his shop, Vikas' father started a factory of making woollen blankets. Davinder Khanna passed away on 31 January 2015 in Amritsar due to cardiac arrest. Vikas Khanna's mother, Bindu Khanna, is a homemaker who helped Vikas start his first-ever restaurant business.
Vikas has a brother, Nishant Khanna, who is an education consultant and the owner of a company named Webberz Educomp Limited. Vikas had a sister, Radhika Khanna, who was an Indian American fashion designer. She passed away on 28 February 2022 due to multiple organ failure after suffering from a long illness of Lupus, Atypical Hemolytic Uremic Syndrome (aHUS), and Renal failure.
Wife 
Vikas Khanna is unmarried.
Relationships/Affairs
Vikas Khanna is rumored to be dating Padma Lakshmi, an Indian American writer and actress. Padma Lakshmi is the ex-wife of Salman Rushdie, an American-British-Indian novelist. [1]The Times of India
Religion
Vikas Khanna follows Hinduism.
Signature/Autograph
Career
Catering Business
In 1989, at the age of 17, Vikas Khanna started his first catering business with his mother, Bindu Khanna. The business was known as 'Lawrence Gardens,' which was started in the backyard of his house in Amritsar, Punjab. He used to organize kitty parties for the local ladies and cook food for them.
Restaurant Chef
Vikas Khanna's first job was at the Taj Palace Hotel in Delhi in 1991.
My first professional job was at Taj Delhi in 1991.
I still got emotional as I saw the staff entrance & entered the lobby.
Taj hotels is a legacy brand that belongs to each one of us.
Love it. @TajHotels @tajpalacedelhi pic.twitter.com/s0ot4l5IDT

— Vikas Khanna (@TheVikasKhanna) June 9, 2023
Vikas Khanna has also worked as an intern and a chef at various five-star hotels in India like Welcome Group of Hotels, Leela Group of Hotels, and Oberoi Group of Hotels. In 2001, Vikas Khanna worked at the Salaam Bombay Restaurant and The Café near the World Trade Centre in Manhattan, New York.
Television
In 2007, Vikas Khanna was featured on Gordan Ramsay's TV series 'Kitchen Nightmares.'
In 2009, Vikas Khanna made an appearance in the American cooking TV Series 'Hell's Kitchen,' hosted by the famous chef Gordan Ramsay. Vikas Khanna was the judge of the show along with Thomas Ortega and Eddie Won. [2]Hell's Kitchen Wiki
In 2011, Vikas Khanna appeared as a guest chef on The Martha Stewart Show. [3]The New Indian Express In the same year, Vikas Khanna started hosting and judging the Indian competitive cooking reality TV series MasterChef India. He has hosted a total of six seasons until now (seasons 2,3,4,5,6 & 7). Other celebrity chefs like Sanjeev Kapoor, Kunal Kapur, Ranveer Brar, Ajay Chopra, and Surjan Singh Jolly also judged the show.
Vikas Khanna launched his own cooking show 'Twist of Taste' in 2014 on the Fox Life channel. He hosted four seasons of the show. [4]Firstpost
In 2015, Vikas Khanna hosted the show 'India's Megakitchens,' which premiered on the National Geographic channel. The show was all about showcasing the giant kitchen of India, where tonnes of food are prepared in a single day for the masses. [5]The Economic Times
Restaurant Owner
In 2009, Vikas Khanna, in collaboration with an India-born food service businessman, Rajesh Bhardwaj, founded an Indian restaurant, 'Junoon,' in Manhattan, New York. [6]The Economic Times With Vikas' hard work and skills, 'Junoon' was able to win the prestigious Michelin Star in the year the restaurant was launched. It won the Michelin Star for 8 consecutive years. [7]Junoon Vikas Khanna left the restaurant as one of its co-founders in 2016 due to unknown reasons.
In 2019, Vikas Khanna launched his restaurant 'Kinara' in Jebel Ali Beach Hotel, Dubai. The restaurant serves authentic regional Indian dishes with a modern twist. [8]Jebel Ali Beach Hotel
In 2020, Vikas Khanna inaugurated his second restaurant, 'Ellora' in Dubai. It is a seasonal culinary restaurant with a modern Indian touch, and it brings a new food menu every season. [9]Time Out Dubai
Author
In 2005, Vikas Khanna published his first book, 'Ayurveda: The Science of Food & Life.' The book was based on 5000-year-old Ancient Indian principles for life and living. It was published by Infinity Publishing, a global distribution and publishing company. In 2006, Vikas Khanna published 'New York Chefs Cooking for Life.' The book highlights the diverse food culture of New York City, which serves a variety of cuisines like Soho, Upper East Side, Lower East Side, Brooklyn, and Queens.
In 2013, Vikas Khanna published 'Return to the Rivers – Recipes and Memories of the Himalayan River Valleys.' The foreword (introduction) of the book was given by the Dalai Lama. Vikas Khanna's travel to the great Himalayas and his learning of different food recipes inspired him to write the book.
In 2017, Vikas Khanna published 'UTSAV – A Culinary Epic of Indian Festivals.' This book took 12 years to complete. The book was launched at the 68th Annual Cannes Film Festival and is a compilation of 280 plus recipes inspired by Indian festivals. [10]India Food Network
Philanthropy
In 2001, Vikas Khanna established the foundation 'South Asian Kids Infinite Visions (SAKIV), a foundation to help children with blindness in South Asia. The foundation hosts many vision exhibitions all around the world to support the cause of the prevention of blindness. [11]My Hero In 2014, Vikas Khanna joined the Smile Foundation as a goodwill ambassador for the 'Nutrition For Better Literacy' initiative. Vikas and the foundation, in collaboration, hosted an outdoor cooking event, 'Cook For A Smile,' at the Grand Hyatt, Mumbai, on 18 May 2014. The funds raised with the event were used to sponsor education and nutrition for more than 4,000 children. [12]Smile Foundation
In 2020, during the COVID-19 outbreak, Vikas Khanna started the 'Feed India' campaign to help and feed people who were stuck in different places in India during the pandemic. The campaign fed and delivered food supplies to more than 18 million people across the nation. The campaign was also supported by multinational companies like the Hyatt Regency, Quaker Oats, and Pepsi. [13]NDTV Food
Filmmaker
Vikas Khanna produced a documentary titled 'Holy Kitchens' [14]Culture Unplugged which was released on 11 February 2010. The documentary was about the Sikh tradition of community kitchens, and it showcased the connection between food, faith, and service. This was a collaboration with the Pluralism Project at Harvard University. In 2016, Vikas Khanna released his documentary 'Kitchens of Gratitude,' which was solely based on the healing power of food. This cinematic journey featured the Dalai Lama. The documentary was premiered at The Cannes Film Festival on 14 May 2016. [15]The Indian Express
In 2019, Vikas Khanna released his feature film 'The Last Color,' which was based on the orthodox taboos of widows living in Vrindavan and Varanasi. [16]India Today The film featured actors like Neena Gupta and Aqsa Siddiqui.
In 2021, Vikas Khanna released his Indo-American short film 'Barefoot Empress.' [17]Barefoot Empress The film is based on an elderly woman who goes to school for the first time at the age of 96. The funds raised from this film were used to educate more than 4 million girls in India. The film was also selected for the Chicago South-Asian Film Festival 2022.
Controversies
Bigg Boss 13 
In 2020, Vikas Khanna appeared as a guest in the famous Indian reality TV show 'Bigg Boss Season 13,' where he was blamed for favouring Asim Riaz. The chef posted a story on his Instagram, expressing how happy he felt when Asim fed him the cake baked by Vikas before anyone else could have it. However, the fans of other Bigg Boss contestants started blaming Vikas Khanna for taking Asim's side. [18]Mumbai Mirror To handle the situation, Vikas Khanna made a tweet to explain and clear out the confusion.
Yesterday I posted a pic on my Insta Story of #AsimRiaz feeding me cake that how that moment moved me. Many people left extremely rude comments and questions.
Here is why that moment was important for me to express. pic.twitter.com/DiE0HxqAXd

— Vikas Khanna (@TheVikasKhanna) January 12, 2020
Review Scandal
In 2021, Vikas Khanna revealed how he was asked to pay a hefty amount of money to get a good rating for his movie 'The Last Colour.' Vikas's experience with favouritism and nepotism made him praise actress Kangana Ranaut for his bold statements about critics. [19]Hindustan Times
Awards, Honours, Achievements
In 2005, Vikas Khanna received the 'Access To Freedom Award' from The Society for Accessible Travel & Hospitality.
In 2011, Vikas Khanna was awarded the 'Rising Star Chef Award' by Star Chefs for shaping the future of American Cuisine.
In 2012, Vikas Khanna won The Benjamin Franklin Award for his book 'Flavours First' (2014).
In 2012, Vikas Khanna won the 'GQ India Men of the Year' award.
In 2014, Vikas Khanna's book 'Return to the Rivers' was nominated for The James Beard Foundation Awards.
In 2020, Vikas Khanna was awarded 'The Asia Game Changer Award' for feeding millions of people across India in the COVID-19 pandemic.
In 2022, Vikas Khanna was ranked at the sixth position on the list of 'The Top 10 Chefs In The World' – The Best in 2022 by Gazette Review. [22]

The Indian Express
In 2022, Vikas Khanna received the 'Philanthropist of the Year Award' from the Global Spa Magazine for his 'Feed India' initiative.
In 2023, Vikas Khanna received the 'Style Icon of the Year Award' from Just Urbane Magazine.
Car Collection
He owns a red Mercedes-Benz car.
Favourites
Cuisine(s): Bhutanese and Tibetan
Book: Jonathan Livingston Seagull by Richard Bach
Travel Destination: Morocco
Movie(s): The Shawshank Redemption (1994), Before Midnight (2013), Dilwale Dulhania Le Jayenge (1995)
Facts/Trivia
Vikas Khanna failed his interview round twice before getting admission into Welcomegroup Graduate School of Hotel Administration, Manipal.
In 2001, Vikas Khanna opened a restaurant near the Twin Towers in New York. After the terrorist attack of 9/11, he had to shut his restaurant down due to a shortage of business.
Vikas Khanna learnt to cook from his grandmother, who he also addressed as 'Biji.'
Vikas Khanna appeared in MasterChef Australia Season 6 as a guest chef.
Vikas Khanna knows how to make woollen quilts from scratch, which he learnt from his father in childhood.
Vikas Khanna used to knit woollen sweaters with his mother and his grandmother when he was 15 years old.
Vikas Khanna was born with misaligned feet, also known as 'club feet.' He was not able to run and walk properly due to his condition. Vikas underwent multiple surgeries and got normal after the age of 13.
Vikas Khanna was inspired by his brother and initially wanted to pursue Engineering.
Vikas Khanna used to deliver cassette orders of his father's video cassette library named 'Dilagi' in Amritsar.
Vikas Khanna, along with his mother and grandmother, made 580 woollen sweaters for Vivek Public School in Amristar. They earned around Rs. 10,000, which he invested in his first catering business, 'Lawrence Gardens.' With that money, Vikas bought a tandoor (clay oven), chairs, boards, and utensils.
Vikas Khanna's nickname is 'Vikku.'
Vikas Khanna was featured on the list of Sexiest Man Alive by People Magazine in 2011.
Vikas Khanna was employed at a Michelin-starred restaurant in Paris before becoming a chef, and he had to wash dishes due to the recession.
In 2016, Vikas Khanna had a surgery on his left arm due to a massive lump.
Vikas Khanna had an eye accident during his teenage years, which caused partial blindness in his left eye. He still has a blood clot in his left eye due to the injury.
Vikas Khanna works with many old age homes, Leprosy centres, and orphanages.
Vikas Khanna cooked for Barack Obama and Michelle Obama at a fundraiser event held at the Rubin Museum of Art on 14 May 2012. [23]

Hindustan Times
Vikas Khanna presented the national flag of India to Narendra Modi on which Modi put his autograph to be later gifted to Barack Obama. This turned out controversial and was picked up by many media houses, claiming it was disrespectful towards the Indian flag. [25]

The Indian Express
Vikas Khanna owns a pet dog, Plum, and he often shares pictures of him on social media.
In 2022, Vikas Khanna converted his 2021 Indo-American short film 'Barefoot Empress' into a children's book.
In 2022, Vikas Khanna launched his first perfume, 'Vikas Khanna by Zighrana,' in New York.
In 2022, Vikas Khanna collaborated with the pet food company 'Drools Pet Food' to create gourmet chicken meals for pet dogs. [26]

Drools Pet Food
Vikas Khanna loves travelling and often shares pictures of different travel destinations on social media.