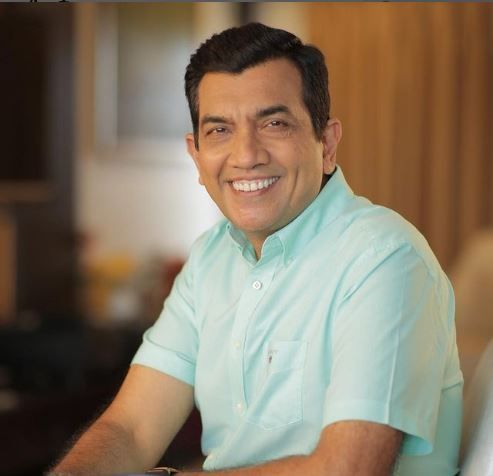 Sanjeev Kapoor is an Indian celebrity chef, entrepreneur, and author. He is well known for his cooking shows like MasterChef India (2010), Khana Khazana (1993), and Sanjeev Kapoor Ke Kitchen Khiladi (2013).
Wiki/Biography
Sanjeev Kapoor was born on Friday, 10 April 1964 (age 58 years; as of 2022) in Ambala, Haryana, India. His zodiac sign is Aries. Sanjeev studied till the fourth standard at St. Thomas School. Sanjeev went to Kendriya Vidyalaya, Punjab Regimental Centre in Meerut Cantt for the fifth, sixth, and seventh standards. He completed his eighth standard at St Marry's Academy in Saharanpur. Later, Sanjeev studied at Government Senior Secondary Boys School in Rajauri Garden, New Delhi. In 1984, Sanjeev completed his Diploma in Hotel Management from the Institute of Hotel Management Catering and Nutrition, Pusa, New Delhi.
Physical Appearance
Height (approx.): 5′ 10″
Hair Colour: Black
Eye Colour: Black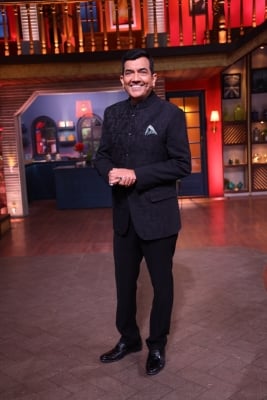 Family
Parents & Siblings
Sanjeev Kapoor's father's name is Surinder Kapoor who was an employee of the State Bank of India. Sanjeev's father passed away 18 years ago on 22 February 2004.
His mother's name is Urmila Kapoor.
Sanjeev has a brother, Rajeev Kapoor, who is a chartered accountant, and a sister, Namrata Kapoor.
Wife & Children
Sanjeev Kapoor is married to Alyona Kapoor.
They dated for around four years and then got married on 5 October 1992.
Alyona is a chef and Sanjeev's partner in his venture 'Sanjeev Kapoor Restaurants Pvt. Ltd.' In an interview, she said,
We met through my elder sister. Sanjeev and she were working together. I got to know him as my sister's friend. She too was a chef and was posted to ITDC, Varanasi. On one of my trips to meet her, Sanjeev and me travelled together. Slowly we got to know each other better. We started to meet more often and then finally after our courtship of 4 years, we tied knot."
Sanjeev has two daughters, Rachita Kapoor and Kriti Kapoor.
Rachita has studied Law and Kriti is a National level athlete (sprinter). [1]Parentcircle
Signature/Autograph
Career
Chef
In 1982, Sanjeev started his career as a management trainee at India Tourism Development Corporation (ITDC).
He was posted as a trainee in 'Hotel Varanasi Ashok' and got promoted to Chef by the General Manager of the hotel in a span of two months.
He serviced there for 6 years. In 1989, Sanjeev moved to New Zealand for two years, where he was the Chief Chef at 'Zanzibar,' which is New Zealand's first African restaurant, and he later served at Shamiana restaurant in Wellington. [2]The Times of India
Later, he joined ITDC Hotel Samrat in Delhi and served there for a period of 7-8 months. Sanjeev shifted to Mumbai and joined Centaur group of hotels and served there for around 5 years as the Head Chef. [3]Sanjeev Kapoor
In an interview, he talked about being promoted to head chef and said,
Head chef was the highest benchmark, so naturally, I wanted to get it as early as possible. I was shocked and it was definitely a cause of worry because I had peaked so early, but I never ran out of options to explore."
 Television
While working at Centaur Hotel in Mumbai, Sanjeev was approached to host the cookery show Khana Khazana on the channel Zee TV. The show was launched in 1993, and its last episode was aired on 8 September 2012.
Khana Khazana is the longest-running cookery show in Asia, which ran for around 18 years with a collective viewership of over 500 million. In an interview, when Sanjeev was asked about his experience of being the host of the show, he said,
"I do not act, I just cook and the cameras just happen to be there. I keep the audience, who is looking for a simple way to make the most exotic dishes, as my target. That understanding has to be there to gauge attention in a world where people's attention span is barely 30 seconds. I take my time to cook instead of rushing."
In 2012, Sanjeev participated as a contestant in 'Jhalak Dikhlaa Jaa' Season 5 with choreographer Nicole Alvares on Colors TV.
In 2013, Sanjeev Kapoor launched a cooking reality show "Sanjeev Kapoor Ke Kitchen Khiladi" on Sony TV in which he was seen as chief judge and host of the show. Sanjeev appeared as a judge in the show Masterchef India season 3 (2013) and season 4 (2015) on StarPlus.
Restaurateur
In 1995, Sanjeev Kapoor established his own company Khana Khazana India Pvt Ltd. In 1998, Sanjeev unveiled his first restaurant "Khazana" in Dubai. [4]Sanjeev Kapoor Restaurants
In 2010, Sanjeev launched another venture 'Sanjeev Kapoor Restaurants Pvt. Ltd. (SKRPL),' which has launched various restaurant franchises like The Yellow Chilli, Hong Kong, Signature, Options, Sura Vie, Jimmy Hu, The Brooklyn Shuffle, Grain of Salt, India Green, and Gold Leaf Banquets. Sanjeev Kapoor Restaurants has made its presence in 10 countries: India, The USA, The UK, Canada, UAE, Oman, Qatar, Saudi Arabia, Jordan, and Tanzania.
Author
Sanjeev Kapoor is the writer of top cookbooks and has published around 150+ books in multiple languages like English, Hindi, Marathi, and Gujarati. Sanjeev's book 'The Yellow Chilli Cookbook' got the award for Best International Cookbook at the International Book Awards 2012. His book 'aah! Chocolate' was awarded the Gourmand Best Cookbook Photography award at the Gourmand World Cookbook Awards 2013 in Paris and the Best in the World award at the Gourmand World Cookbook Awards 2014 in Beijing. [5]Sanjeev Kapoor
Food Apps
In 2017, 'Tinychef' was launched, which is a cooking and meal planner, co-founded by Sanjeev Kapoor. It offers its users over 20,000 healthy food recipes. The app provides a feature where one can cook meals with voice guidance on smartphones and smart speakers. Tinychef has over 100,000 active monthly users in India. [6]Business Today. In 2020, he launched 'Cooking Empire: Sanjeev Kapoor Made In India Game app,' which is a free game app to learn and cook new recipes under the mentorship of Sanjeev Kapoor.
Entrepreneur
In 2009, Sanjeev Kapoor launched 'Wonderchef,' which is a cookware brand with Ravi Saxena, co-founder and former CEO of Sodexo India. [7]The Economic Times
Wonderchef is a premium brand, which deals in cookware, bakeware, and kitchen appliances. In January 2011, Sanjeev Kapoor became the first chef to launch an Indian food and lifestyle channel "FoodFood." He hosts a show 'Sanjeev Kapoor's Kitchen' and 'Cook Smart' on the Food Food channel. The channel is also available in India, Mauritius, UAE, Qatar, USA, and Canada. In 2020, Sanjeev Kapoor launched an online academy 'Sanjeevkapooracademy.com,' which is specifically designed to help aspiring cooking enthusiasts learn from the available courses on launching a food business or creating healthy and tasty meals. [8]The Tribune The academy has more than 10,000 tried & tested recipes, videos, and articles on cooking in both English and Hindi language.
Commercials
Sanjeev Kapoor has featured in various advertisements for popular brands like Wonderchef, Ariel, Tata I-Shakti Dal, ITC Nimwash, Daawat Rice, and many more.
Controversy
Trolled for an experimental dish 'Malabar Paneer'
Sanjeev Kapoor has been badly trolled with his experimental recipe Malabar Paneer. Malabar is a traditional cuisine of Kerala, which is usually prepared out of chicken, beef, or fish. The fusion of traditional Malabar cuisine with Paneer was not favoured by the people on social media, and they slammed him for giving a north Indian twist to the dish. [9]Hindustan Times In an interview, talking about his dish, he said,
I was sad and disappointed over the unwanted controversy but I have not tried to defend myself amidst all the allegations because I know I have not done anything wrong. My father had once told me not to waste my energy in trying to pull people down." [10]DNA India
Awards, Honours, and Achievements
1993: The Mercury Gold Award at IFCA (Indian Federation of Culinary Associations), Geneva for Best Meal Concept and Creation
1995: Best Executive Chef in India by Food Service India
2002, 2004, and 2010: ITA Award For Best Cookery Show Khana Khazana
2006: Brand Leadership award at 5th Indira Awards for Marketing Excellence
2008: National Award for Best Chef of the Year by the Government of India
2015: ITA Award for Popular Chef and Entrepreneur
2015: Most Celebrated Chef of The Year Award at Hozpitality Excellence Awards
2017: Padma Shri award, the fourth highest Indian national honour, for his contribution to uplifting Indian cuisine
2017: Achieved the Guinness World Record by cooking 918 kg khichdi live at World Food India Event, New Delhi
2017: Hall of Fame Award by The Institute of Hotel Management
2017: Times Chef of the Year Award by Times Food Awards
Net Worth
As of October 2017, Sanjeev Kapoor's ventures were valued at over Rs 1,000 crore by his existing investors. [11]The Economics Times
Favourites
Food(s): Mishti Doi, Biryani, Laksa, and Thai curry
Travel Destination: New Zealand
Facts/Trivia
While pursuing graduation at the Institute of Hotel Management Catering and Nutrition, Sanjeev Kapoor took part in the catering and food service department for about 6000 athletes in the Asian Games held in Delhi in 1982.
In September 2005, Sanjeev Kapoor was selected as one of the top five celebrity chefs in the world along with Gordon Ramsay, Jamie Olivier, and Wolf Gang Puck by Richard Quest to feature in his programme "Quest" on the CNN channel.
In 2010, Sanjeev Kapoor was ranked 31st on the list of India's 100 Most Trusted Persons by Reader's Digest.
In 2010, Sanjeev Kapoor was selected as one of the members of the board of Singapore Airlines International Culinary Panel along with eight other chefs. [12]

The Hindustan Times
Sanjeev Kapoor has been featured twice (2009 and 2011) on the American TV show 'The Rachael Ray Show,' where he launched his book "How to Cook Indian."
Sanjeev Kapoor is famous for doing live food events and cooking demonstrations all across the globe.
Sanjeev is also known as the 'Rachel Ray of India.'
Sanjeev Kapoor was one of the chief speakers at the "Worlds of Flavour", an international conference and festival organized by the Culinary Institute of America at Graystone, California in 2014.
In 2015, Sanjeev Kapoor was chosen to cook a royal vegetarian feast for Prime Minister Narendra Modi at a dinner hosted by the Abu Dhabi Investment Authority. [13]

The Hindustan Times
In 2015, Sanjeev represented India as a Food Ambassador under the Spanish government's Indian Future Leaders Programme (IFLP).
In 2016, Sanjeev Kapoor was chosen to create a special menu exclusively for the students of all the 598 Jawahar Navodaya Vidyalayas (JNV) across the country.
In July 2016, Sanjeev Kapoor inaugurated the Symbiosis School of Culinary Arts at the Symbiosis International University (SIU) in Lavale, Pune. [14]

The Times of India
Sanjeev was ranked 73 in 2016 and 34 in 2017 on Forbes India Celebrity 100 list.
The cooking show Khana Khazana hosted by Sanjeev Kapoor was originally named 'Shriman Bawarchi.'
Sanjeev Kapoor is the brand ambassador for Sweekar Advanced, a sunflower oil brand in India, Tata i-Shakti Dals, Dalda Vanaspati, Washington Apples, and Leonardo Olive Oil.
Sanjeev is associated with Forum for Autism, an NGO that works to fund autistic persons. He also employs people with autism in his company to support them and their families.
In the first episode of Khana Khazaana, Sanjeev cooked two dishes, Shaam Savera and chicken breast stuffed with saffron cream cheese.
Apart from cooking, Sanjeev Kapoor has a special interest in music. He loves to play the drum or guitar, and he often shares his videos of playing the guitar and drums on social media. [15]

Sanjeev Kapoor Khazaana- Youtube
Harvard Business School has devoted a case study to chef Sanjeev Kapoor. [16]

Brandequity It is titled 'Sanjeev Kapoor: The Recipe for Success,' and is written by Boris Groysberg and Mahima Rao Kachroo.
Sanjeev Kapoor was appointed as the Indian Ambassador of the 'Clean Cookstoves Campaign' by The United Nations (UN), which aims at uplifting the deprived in developing countries.
Sanjeev Kapoor has a YouTube channel titled 'Sanjeev Kapoor Khazana,' where he posts various recipes; the channel has more than 7M subscribers.