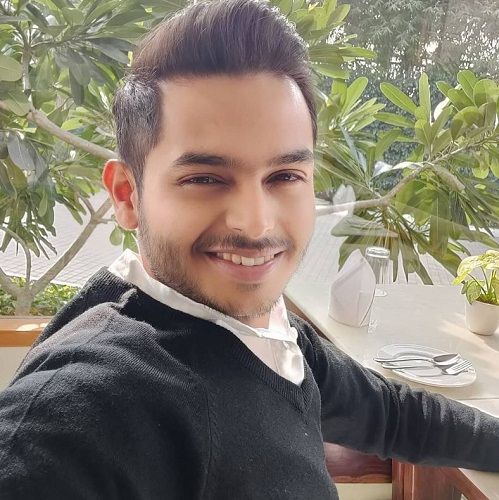 Sidharth Sagar is an Indian comedian, mimicry artist, and actor who gained immense popularity with his role as 'Selfie Mausi' in the Hindi TV comedy show 'Comedy Classes' (2014).
Wiki/Biography
Sidharth Sagar also spelt as Siddharth Sagar [1]Siasat Daily was born on Tuesday, 15 June 1993 (age 29 years; as of 2022) in Delhi, India. His zodiac sign is Gemini. He did his schooling at Ahlcon International School, Delhi.
Physical Appearance
Height (approx.): 5′ 7″
Hair Colour: Black
Eye Colour: Dark Brown
Family
Parents & Siblings
His father's name is Sirish Sagar, and his mother's name is Alka Sagar. Both are artists and do the painting. In 2018, Alka started an NGO named MAA (Mumbai Animal Association), and she is designated as the chairperson of the NGO. He has an elder sister named Karuna Sagar.
Relationships/Affairs
While he was shooting for the TV show 'Comedy Classes' (2014), he met the Indian actress Subuhi Joshi. Soon, they became friends and fell in love with each other. Later, problems started arising between the two, and they decided to part their ways. One day, when Subuhi got to know that there were some problems in Sidharth's life, she decided to contact him. She messaged him on Instagram, and after a few meetings, they decided to give second chance to their relationship.
In November 2018, Sidharth and Subuhi got engaged in a private ceremony in Delhi. However, a few months later, they called off their engagement. In an interview, when Sidharth was asked about it, he said,
Subuhi and I are no longer together, we have called off our engagement. We had parted ways in 2016, because of my mother, as she wasn't in favour of this relationship. However, Subuhi reconnected with me last year, and we got back together. Everything was going good, but then compatibility issues cropped up. We called off our engagement two-and-a-half months ago."
During an interview, when Subuhi was asked about the same, she said,
When we separated in 2016, he blamed his mother for it. However, she wasn't entirely responsible for what happened; I realized it only after staying with him post our engagement. The problem is with his attitude and behaviour, but I did try my best to save the relationship. I have seen his dark side; he loses his cool over petty issues and can get violent. Woh haath uthaata hai aur cheezein phekta hai."
Career
Comedian
At the age of 8, he started performing as a stand-up comedian at various stage shows. He made his debut as a child artist in the Sony TV Hindi comedy show 'Comedy Circus- Chinchpokli To China' in 2009.
He then appeared in a few other Hindi comedy shows like 'Chhote Miyan Bade Miyan' (2009), 'Laughter Ke Phatke' (2010), and 'Comedy Ka Daily Soap' (2010). He came into the limelight with the Sony TV comedy show 'Comedy Circus Ke Ajoobe' (2012) in which he was paired with the Indian comedians Krushna Abhishek and Sudesh Lehri.
He gained immense popularity with his role as Selfie Mausi and Nasser in the Life OK's TV show 'Comedy Classes' (2014).
He then appeared in a few other TV comedy shows such as 'Comedy Nights Live' (2016), 'The Kapil Sharma Show' (2017), 'Gangs of Filmistan' (2020), and 'Zee Comedy Show' (2021).
View this post on Instagram
He has also performed at various comedy shows organised at SAM Workshops.
In 2022, Sidharth played the character of Gharchoddas- Ustaad Ji in the popular TV comedy show 'The Kapil Sharma Show 4' which aired on Sony TV.
Actor
Sidharth made his debut as an actor in the 2014 TV horror-comedy show 'Pritam Pyare Aur Woh' in which he played the role of Pritam.
In 2022, he made his Bollywood debut with the Hindi film 'Vellapanti' in which he played the character of Shampy.
Other Work
He owns a broadcasting & media production company Sidharth Sagar Productions.
Controversies
Slapped the Indian Comedian Bharti Singh
Siddharth has worked with the Indian comedian Bharti Singh in many comedy shows. In 2016, while they were working on the TV comedy show 'Comedy Nights Live,' Sidharth slapped Bharti a bit too hard while practising for their act. [2]India Today In an interview, when he was asked about the same, he said,
While performing, we sometimes experience overflow of emotions. Thus, I might have hit Bharti hard but it was never intentional. There have been times when she threw me on the ground while performing an act but I never complained. It is a sad misconception that Bharti has and thus the overall misunderstanding. Her boyfriend Harsh (also the writer of the show) came up to me and told me never to touch Bharti again. That was uncalled for. Who's he to talk to me that way? How did he dare to be rude to me? I was just part of an act. I was truly hurt, when I was hurled with accusations but I am not at fault, and I maintain that."
Thereafter, there were rumours that Sidharth was asked to quit the show. In an interview, while talking about it, he said,
About them throwing me out, well they offered me shows but I denied. I do not want to work with the Optimystix team. There have differences at the creative and casting level, hence I would like to maintain my distance. I have a nine year relationship with Optimystix and they will never let any injustice happen to me. As far as projects are concerned, I have reached a point where I want to do solo shows and not be a supporting cast. If they are ready to give me that I will oblige whole heartedly."
Rehabilitated for Drug Abuse
On 18 November 2017, Sidharth went missing, and after almost 4 months he was found. He then uploaded a vie on a social media site in which he said that he was in trouble. In April 2018, he held a press conference in which he shared the whole story. At the conference, he said,
I have been in a tough phase for past 4 years, I even posted a video of the same. In 2012, I returned back to the entertainment industry, before that I was inclined towards spirituality and joined a spiritual group in Delhi. I used to perform at their stage shows. My guru motivated me to return to Mumbai to make career as a comedian. My family was against guruji as they had a belief that I would take sannyasa. After guru ji took samadhi, I started feeling very low. I was away from meditation. My parents used to give me medications of bipolar disease without letting me know and I used to feel very low. I used to take coffee shots before performing my act in the comedy shows."
He further shared that he used to feel that he was depressed. He further talked about his parents and said that his parents were separated for almost 20 years. Sidharth said,
I have to take care of my mother as well as she was a single parent. My mother was my only best friend. My mother then met a man named Suyyash Gadgil and I was happy that she has some support now. My mother soon started remaining disturbed and whenever I used to ask her about the expenses, she used to get offended. Suyyash then asked me to leave the house in the midnight. I used to sleep in my car. I was in frustration."
Sidharth then started taking drugs, and soon, he became addicted to it. Later, he asked his mother to help him in getting out of the drug addiction. She then sent him to a rehab centre. Sidharth said,
She immediately sent me to a rehab and I came out clean after two months. However, my mom had lost her trust in me. She continued to suspect me, though I told her that I am willing to go in for a blood test. The way my family behaved was very hurtful — they would often taunt me, saying that they had made a mistake by taking me out of the rehab. That's the worst thing to do to an addict, who has resumed normal life."
Sidharth further shared that his days at the rehab centre were the worst days of his life. He was ill-treated at the rehab centre, but somehow, he contacted his managers and came out of the rehab centre. He then returned to his home. By that time, Sidharth's bungalow, cars, and other properties were sold off by his mother and her friend Suyyash. To meet the financial expenses, he did a few TV shows, and one day his mother's friend Suyyash again asked him to leave his home. He then came out of his home and started living separately. While talking about it at a press conference, he said that in 2014, his mother started sending him money for financial expenses, but Sidharth felt that there was some motive behind it. A few days later, his mother asked him to give his car to her. He was frustrated with his mother's behaviour. He then decided to work on his mental peace and started doing meditation. In 2014, he launched his TV show 'Comedy Classes' which he had to shut down abruptly. At the press conference, he shared the reason behind it. He said that while he was shooting for Comedy Classes, his friends planned a Goa trip for him. After returning from Goa, a few men came near his apartment and picked him up in a car. They took him to a rehab centre in Mumbai. Later, he got to know that he was sent to rehab on the instructions of his mother and Suyyash. A few days later, his mother came to the rehab and asked the rehab officials to shift Sidharth to some other rehab which was less expensive. He was then shifted to 'Asha Ki Kiran' rehab centre in Mumbai. [3]Spotboye [4]The Indian Express At the press conference, the founder of Asha Ki Kiran, Bashir Qureshi, said,
Sidharth's mother and a man who was her boyfriend came to our rehab and said that Sidharth has gone mad. His mother said that Sidharth broke the AC of the house. Sidharth was then brought to rehab and I kept him under observation. I then consulted doctors and they said that Sidharth was normal and his indifferent behaviour was because of the bipolar medicine. We then stopped his medicine and he came back to normal. I then talked to Sidharth, then Sidharth told me the whole story that his mother and his mother's boyfriend were harassing him for money. Asha Ki Kiran helped him in every possible way. He used substance two years back but he quit it later."
In an interview, when Sidharth's mother was asked about Sidharth's press conference. She said,
No one understands the basic problems of Sidharth, nobody can handle him. He was a very good boy but drugs took him on a different track. His behaviour changed only after he fell to drugs. We put him in a rehab but the rehab guys in cahoots with him, let him escape. No, we don't even know where he is. We haven't had any contact with him. He staged a fake press conference. He staged a fake respect for us, by showing he was falling on our feet. But he was nowhere near to returning to normal life. Let me also tell you that the rehab guys were hand-in-glove with him on even the conference dais, they started asking us to pay up Rs 1.5 lakh for the conference expenses after it all ended. They even kept taking money from Sidharth after he was out from rehab; Sidharth kept depositing money in their account… we don't know if he continued consuming drugs after coming out of rehab. Can I also tell you that we put him in rehab as many as 3 times?"
A few years later, Sidharth reconciled with his parents. In an interview, while talking about it, he said,
Galti toh maine bohot kee hain. My biggest mistake was going away from my parents. Yeh galti main dobara zindagi mein kabhi nahi karunga. I was going through a tough phase — I was battling depression and fell very sick in January this year. My neighbour informed my mother about my deteriorating condition, and she came to Mumbai overnight, sent me to rehab and got me treated. I returned home after four months. I finished the shoot of a film and took up the show, 'Gangs of Filmistan'. I am back on my feet and the credit for that goes to my mother. That's how we reunited."
During an interview, when his mother was asked about the reconciliation, she said,
Siddharth hua tha alag, hum kabhi nahi hue. He was blinded by success and listening to only his friends. Siddharth has a limited circle of people in his life now and I will make sure that something like this doesn't get repeated. He has learnt things the hard way. Of course, I was hurt with what he had said against me, but I am a mother, and happy that he is back with us and has recovered fully. I have always been around him and never let him be alone, but unfortunately, I had to travel to Delhi for my pet who was unwell and later passed away. We came here and we got a call about Sidharth. I am yet to figure out what exactly went wrong."
Favourites
Travelling Destination: Goa
Song: Enna Sona from OK Jaanu (2017)
Facts/Trivia
At the beginning of his career, after doing a few comedy shows, he returned to Delhi from Mumbai. He then joined a spiritual group named Divya Jyoti Jagrati Sansthan and learnt meditation under his guru Shri Ashutosh Maharaj.
According to Sidharth, at the age of 14, he started his restaurant named 'Nukkad Bhukkad' where he used to cook food as well.
He can sing very well although he does not have any professional training in singing.
Sidharth has won many awards for his various TV comedy shows.
He is a pet lover and has a few pet dogs and a parrot at his home. One of his dogs' names is Chulbul.
In 2022, he bought a Kia Carnival car.
View this post on Instagram