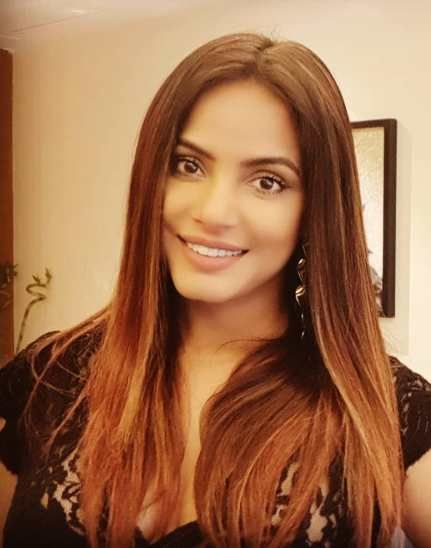 Neetu Chandra is an Indian actress, sportsperson, theatre artist, and producer who primarily appears in Bollywood and Tamil films. She is well-known for her appearance in the Bollywood films Garam Masala as Sweety (2015) and Traffic Signal as Rani (2007).
Wiki/Biography
Neetu Chandra Srivastava [1]Neetu Chandra – Instagram was born on Wednesday, 20 June 1984 (age 39 years; as of 2023) in Patna, Bihar, India. Her zodiac sign is Gemini. Her hometown is Dumraon, Patna in Bihar. Neetu completed her schooling at Notre Dame Academy, Patna. Neetu pursued her graduation at Indraprastha College, New Delhi.
Physical Appearance
Height (approx.): 5′ 7″
Weight (approx.): 55 kg
Hair Colour: Brown
Eye Colour: Black
Figure Measurements (approx.): 34-28-34
Family
Parents & Siblings
Neetu's father's name is Umesh Chandra Shrivastava. He passed away in 2009 after battling cancer.
Her mother's name is Neera Chandra.
Neetu has two brothers, Nitin Chandra and Abhishek Chandra. Nitin is a film director, while Abhishek is a fashion designer.
Relationships/Affairs
In 2010, it was rumoured that Neetu Chandra was in a relationship with Indian actor Randeep Hooda.
Reportedly, after dating for almost six years, the couple parted ways and called off their relationship. In an interview, Neetu talked about her break-up with Randeep and said,
See, when you're in a relationship, you cannot just talk about the whole relationship because there's another person involved. Also, I don't feel comfortable enough to discuss my personal life. I feel that my work will not be spoken about. As it is, I choose to do quality work which comes lesser. But, I would always say that even in my relationship in the past, I have learnt a lot.
Religion
Neetu Chandra follows Hinduism.
Career
Sportsperson
Taekwondo
In 1997, Neetu represented India in the World Taekwondo Championship held in Hong Kong. She has participated in various martial arts tournaments at the district, national, as well as international levels. In 2012, Neetu Chandra became the first Bollywood actress to get a Taekwondo second dan black belt from Grandmaster Jimmy R Jagtiani, who is known as the Father of Taekwondo in India.
In August 2016, Neetu Chandra represented India as a brand ambassador at the second Korean Ambassador's KORUS Taekwondo World Championship in Washington.
Basketball
Neetu is a state-level basketball player, and she represented Maharashtra in an All-Star Basketball Championship in April 2011.
Film
In 2003, Neetu Chandra made her acting debut with the Telugu film Vishnu in which she played the role of Teju.
In 2005, Neetu made her Bollywood debut with the film Garam Masala alongside Akshay Kumar and John Abraham in which she played the role of Sweety.
In 2008, Neetu played the role of Sonal in the Bollywood film Oye Lucky! Lucky Oye!. In 2009, she made her Tamil debut with the film Yavarum Nalam as Priya Manohar.
In 2011, Neetu made her Bhojpuri debut with a special appearance in the film Deswa.
Neetu is known for her role as Rani Sampatha in the Tamil film Aadhi Baghavan (2013). In 2016, she made her Greek debut with the film Block 12 in which she played the role of an Indian goddess.
In 2021, Neetu made her Hollywood debut with the film Never Back Down: Revolt in which she played the role of Jaya.
Television
In 2017, Neetu Chandra made her television debut with the show Rangoli in which she appeared as the host on DD National.
Producer
Neetu Chandra owns a production house, Champaran Talkies. She has produced two films, Deswa and Mithila Makhaan. Deswa is a Bhojpuri film, while Mithila Makhaan is a Maithili language film; both the films were directed by her brother, Nitin Chandra.
Controversies
Neetu Chandra's 'Lesbian Photoshoot'
In 2009, Neetu attracted controversy when she did an erotic photo shoot for the cover page of The Man magazine. The shoot was held outside the lobby of a 3-star hotel along with model Krishikha Gupta. During the shoot, a few men, who were believed to be members of Raj Thackeray's MNS party, opposed the theme of the photoshoot and harmed the crew members, alleging that the shoot promoted homosexuality. In an interview, Neetu talked about her photoshoot and said,
Though the concept about two girls getting very intimate was a bit outrageous, we were doing it very aesthetically. But these men were a frustrated lot and couldn't take the heat. They only saw nudity." [2]Hindustan Times
Accused South actor Rajasekhar of unprofessional behaviour
In 2009, while shooting for her Telugu film Satyameva Jayate in Hyderabad, Neetu Chandra accused her co-actor Rajasekhar of threatening and screaming at her. She claimed that Rajasekhar came drunk on the sets of the film and carried a licensed revolver. Later, Neetu filed a case against him at the Human Rights and Women's Rights Commission. However, his wife, Jeevitha, denied the allegations, and she accused Neetu of being unprofessional on the sets. [3]Bangalore Mirror
Accused of match-fixing allegations
In 2010, Neetu was accused of being involved in cricket match-fixing, and she was linked to Pakistani bowler Mohammad Asif of spot-fixing allegations. The call records of Asif were scanned by Interpol and Scotland Yard, which claimed that Neetu had made two phone calls and exchanged suspicious messages with Asif. Later, in an interview, Neetu denied the allegation against her and said,
I haven't watched a single cricket match throughout my lifetime. I am not a cricketer. I am a basketball player. There is absolutely no base for whatever is being spoken about me. There are hundreds and crores of people who know me… my fans do call me… I don't know where they are and with whom they are connected." [4]The Indian Express
Offered to become a 'salaried wife'
In 2022, Neetu Chandra, revealed in an interview that she was offered by a businessman to become his salaried wife on a monthly compensation of Rs 25 lakhs. Further, she said,
Having worked with 13 National award winners and in such big films, today I have no work. I was told by a big businessman that he will give me Rs 25 lakh per month and that I have to become his salaried wife. I neither have money nor work. I have become worried. I feel unwanted here after doing so much work." [5]The Indian Express
Awards
2009: Nominated for Jury's Choice Best Actress Award for the Bollywood film Oye Lucky! Lucky Oye! at Stardust Awards
2012: 4th dan black belt by Korean Embassy, New Delhi
2014: Best Performance by an Actor in a Negative Role for the Tamil film Aadhi Bhagavan at South Indian International Movie Awards
Favourites
Travel Destination(s): Kashmir, Goa, New York, and Dubai
Colour(s): Green and Black
Basketball Player: Kobe Bryant
Facts/Trivia
Neetu Chandra has a great interest in travelling, dancing, bike riding, and swimming.
Neetu Chandra is the brand ambassador of Teen Cancer America and the Cancer Patients Aid Association, Mumbai.
In 2010, Neetu had the honour to run with the Commonwealth Games torch in her hometown, Patna.
In an interview, Neetu revealed that she was replaced by Sonakshi Sinha for the lead role of Rajjo Shreshawat in the Bollywood film Dabangg (2010). In 2011, she was offered to play the lead role of Tanuja Trivedi in the Bollywood film Tanu Weds Manu, but later she was replaced by Kangana Ranaut.
In 2013, Neetu appeared in the theatre play titled Umrao Jaan for which she was paid Rs 1,000 for a houseful show.
In 2014, Neetu criticized novelist Chetan Bhagat for the character of a Bihari boy in his novel Half Girlfriend, who lacks basic English conversational skills. Neetu slammed Chetan for stereotyping the Bihari community that they lack conversational skills in the English language and posted on her Facebook account, which read,


He makes his Bihari protagonist, incidentally from my town Dumraon, as someone who is bad at English. But to Chetan Bhagat's disappointment, let me tell you guys, the first ever English novel in this country was written by Dean Mohammad from Bhojpur region in Bihar in 1793. Better luck next time Chetan. Biharis have better English than your imagination. Bhagat Bhai, Bihar ke aankh se dekha ja ke, khali kaan se maat suna." [6]India Today
In 2016, Neetu Chandra took part in the UN initiative 'Planet 50-50 by 2030: Step It Up For Gender Equality,' which was held in New York.
Mithila Makhaan, a film produced by Neetu Chandra's production house, Champaran Talkies, became the first film from Bihar that won Best Maithili Film in the language section at the 63rd National Film Awards in May 2016.
In 2018, Sidharth Malhotra and Manoj Bajpayee promoted their movie 'Aiyaary' on the Indian reality show Big Boss. During the show, Sidharth Malhotra made fun of the Bhojpuri language and said that speaking Bhojpuri gave him a latrine feeling. Neetu criticized Siddharth fiercely for his comment. Later, Sidharth took to Twitter and apologized for the same.
So disappointed @S1dharthM some1who is so fortunate 2 work wd d best. Who despite being an outsider has made a name 4 himself,4 U 2 use ur words so loosely.2 disrespect #Bhojpuri on national TV. SHOCKED! How on earth does speaking in #Bhojpuri gives u a latrine feeling.Shame on U pic.twitter.com/dQqarHZRqM

— Nitu Chandra Srivastava (@nituchandra) January 22, 2018
I recently tried speaking a new language while I was on a TV show. In the process if I inadvertently hurt anyone's feelings or sentiments, I apologise and assure you that no disrespect was meant in any way.

— Sidharth Malhotra (@SidMalhotra) January 22, 2018
Neetu is a trained Kathak dancer. She received training from the Kathak dancer Sitara Devi in Mumbai who choreographed the song 'Jab Pyar Kiya Toh Darna Kya' picturised on Madhubala from the Bollywood film Mughal-E-Azam. [7]

The Times of India
Neetu learnt the Greek language to prepare for her film Block 12. In an interview, she talked about learning a new language for her film and said,


I've dubbed for myself in Greek for this film. After learning Tamil, I find it easier to speak in other languages. Greek has no tongue-twisters, and is more like English." [8]The Times of India
Neetu, along with her brother, did a few odd jobs to source extra income after her father went into a coma for around 3 years due to an accident. In an interview, she talked about the reason behind becoming financially independent and said,


We used to literally throw pamphlets in Pragati maidan and worked in McDonald's literally frying fries or washing dishes and all of these things. Even though we came from a well to-do and well-established family, we decided not to take a single penny from our parents after 10th standard, since such a disaster had happened in our family. [9]The Times of India
Neetu Chandra has appeared in a commercial for the brand New Boop Jewellery.
Neetu is a fitness enthusiast and often shares her pictures of workouts on social media.
In an interview, Neetu talked about nepotism in Bollywood and said,


I feel every industry has nepotism and I personally don't think it's wrong. Today, I am an actor and tomorrow if my kid wants to be one, I don't feel there's anything wrong in it. However, I feel happy that I made it here without any Godfather." [10]DNA India
In April 2022, Neetu Chandra was appreciated by the Chief Minister of Bihar Nitish Kumar for her work in the Hollywood film Never Back Down: Revolt.
Neetu received an award for the 'Best Student of the year, all rounder' in her college by the then Prime Minister Atal Bihari Vajpayee.
Neetu Chandra has been featured on the cover of various magazines like Passion Vista, Exhibit, Interiors, Maxims, etc.