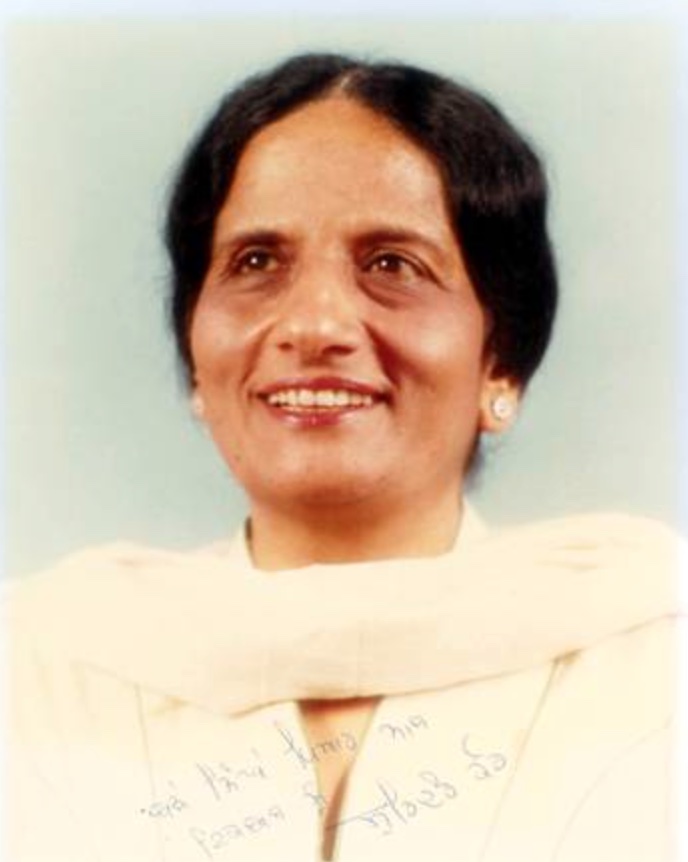 Surinder Kaur (1929-2006), popularly known as 'The Nightingale of Punjab,' was an Indian singer and songwriter who was prominent in the Punjabi Music Industry. Surinder Kaur was known for her superhit songs like 'Maavan Te Dheeyan,' 'Jutti Kasoori,' 'Ek Meri Akh Kashni,' and 'Akhiyan Ch Tu Vassda.' Surinder Kaur was the younger sister of Punjabi singer Prakash Kaur. Surinder Kaur passed away on 14 June 2006 after suffering from a prolonged illness at the age of 77. [1]The Tribune
Wiki/Biography
Surinder Kaur was born on Monday, 25 November 1929 (age 77 years; at the time of death) in Mohalla Bhatti Gate (Walled city of Lahore), Lahore (the capital of the undivided state of Punjab), Punjab, Pakistan. Her Zodiac sign is Sagittarius. Surinder Kaur completed her studies and music training in Lahore before migrating to Ghaziabad, Delhi NCR, after the partition of India in 1947.
Physical Appearance
Height (approx.): 5′ 5″
Hair Colour: Natural Black
Eye Colour: Dark Brown
Family
Parents & Siblings
Surinder Kaur's father, Bishan Dass, was a daily wager in Lahore, and her mother, Maya Devi, was a homemaker. Surinder Kaur had eight siblings including her sister Prakash Kaur, a popular Punjabi singer.
Husband & Children
Surinder Kaur got married to Joginder Singh Sodhi in 1948. Joginder Singh Sodhi was a Professor of Punjabi Literature at Delhi University. He passed away in 1975. The couple was blessed with three daughters, Rupinder Kaur Sodhi (popularly known as Dolly Guleria), Nandini Singh, and Promodini Jaggi. Dolly Guleria is a famous Punjabi folk singer, and she is carrying forward her mother's legacy.
Surinder Kaur's grandaughter (Dolly Guleria's daughter) Sunaini Sharma is a professional singer and musician as well.
Religion
Surinder Kaur followed Sikhism.
Career
Punjabi Songs
Duet with Prakash Kaur
In 1943, Surinder Kaur made her singing debut with her sister Prakash Kaur with a duet song, 'Mawan Te Dhiyan.' The song was released by the His Master's Voice music label (HMV), and the track was a huge hit across the entire Indian subcontinent. The sister-duo sang many famous songs together like 'Kaala Doria,' 'Sarke Sarke Jaandiye Mutiyare Ni,' 'Suhe Ve Chirreya Waleya,' 'Bajre Da Sitta,' and 'Ajj Di Diharhi Rakh Doli Ni Maa.'
Singles
Surinder Kaur released many superhit Punjabi solo songs like 'Juti Kasoori,' 'Akhiyan Ch Tu Vassda,' 'Mainu Heere Heere Aakhe,' Agg Paaniyan Ch,' and 'Daachi Waleya.' The song 'Ni Main jaana rabb de kol' was written and composed by Surinder Kaur.
Albums
In 1970, Surinder Kaur featured in a collaboration album with Punjabi singer Asa Singh Mastana. The album 'Surinder Kaur & Asa Singh Mastana' was a folk album, which consisted of 10 tracks in total.
In 1980, Surinder Kaur released a cassette album titled 'Vehrhe Sajna De' with singer Jasbir Kaur. The side A of the cassette consisted of 4 songs by Surinder Kaur, and side B consisted of 4 songs by Jasbir Kaur.
In 1995, Surinder Kaur, along with her daughter Dolly Guleria and grandaughter Sunaini, released a collaboration cassette album, '3 Generations.' The cassette includes 10 tracks sung by all three singers. The album was a huge hit.
Bollywood Playback Singing
Surinder Kaur moved to Bombay (now Mumbai) in 1948 with her husband, where she made her Hindi film playback singing debut with the songs 'Badnaam Na Ho Jaaye' and 'Hum Kahan Aur' for the film 'Shaheed,' which starred actors like Dilip Kumar and Kamini Kaushal. In 1948, Surinder Kaur sang 2 songs, 'Han Main Apne Dil Ke Haathon,' and 'Itne Door Hain Huzoor Kaise Mulaqat,' for the film 'Pyar Ki Jeet,' which starred actors like Suraiya and Rehman. In 1950, Surinder Kaur sang a few songs like 'Meir Galiyon Ki Nishani Woh Paani' and 'Saanwra Salona Koi Meri Gali Aaya Hai' for the movie 'Khamosh Sipahi,' which starred actress Nigar Sultana.
Awards, Honours, Achievements
In 1984, Surinder Kaur received the 'Sangeet Natak Akademi Award,' also known as the 'Akademi Puraskar,' for Punjabi Folk Music.
In 2002, Surinder Kaur was honoured with a doctorate degree by Guru Nanak Dev University, Amritsar, India.
In 2006, Surinder Kaur received the prestigious 'Padma Shri,' the fourth-highest civilian award by the government of India, for her contribution to the field of art.
Death
Surinder Kaur suffered from a heart attack on 22 December 2005 from which she recovered gradually. However, the heart attack affected her health majorly for which her family decided to take her to the U.S. for further treatment. While travelling from India to the U.S. with her daughter Dolly Guleria, Surinder Kaur suffered from pneumonia mid-flight due to the cold air conditioning. As soon as they landed in the U.S., Surinder Kaur was rushed to the Hospital in New Jersey, where her health worsened. She went into a coma for a few days and passed away on 14 June 2006, after spending 40 days in the hospital. [2]Oneindia
Favourites
Dessert(s): Gulab Jamun and Ras malai
Facts/Trivia
After Surinder Kaur's death in 2006, a Doordarshan documentary, 'Punjab Di Koyal,' was released, which highlighted the singer's musical journey and accomplishments. The documentary won a national award from Doordarshan in 2006. [3]

The Tribune
Surinder Kaur's first-ever live performance was on Lahore Radio on 31 August 1943, when she was just 13 years old.
Initially, Surinder Kaur's parents were strictly against her decision to sing; however, one of her brothers supported her.
Surinder Kaur's Guru (mentor) were Master Inayat Hussain (nephew of Ustad Bade Ghulam Ali Khan) and Pandit Mani Prasad who started training her in Indian Classical Music when she was 13 years old.
Surinder Kaur's husband, Professor Joginder Singh Sodhi, used to select the lyrics of Surinder Kaur's songs. The couple used to compose many songs together. Surinder Kaur credited her husband for her successful career.
In her career, Surinder Kaur tried to sing in many languages including Chinese and Uzbek.
Surinder gave utmost preference to singing poetries of famous Punjabi writers such as Baba Bulleh Shah, Amrita Pritam, Nand Lal Noorpuri, Mohan Singh, and Shiv Kumar Batalvi.
Surinder Kaur paired with Asa Singh Mastana for duet songs. She went to Russia in 1954, where they met for the first time.
Surinder Kaur left the Bollywood playback singing after 5 years of working in Mumbai as she was more interested in stage performances and wanted to give her undivided attention to her roots, which is Punjabi Music.
Surinder Kaur sang more than 2000 songs in her more than five-decade-long career.
Surinder Kaur was the very first folk singer of India to perform at the India-China Border.
Surinder Kaur was insisted by Pandit Jawaharlal Nehru to perform at the Ladakh Border for the Indian Army.
Nusrat Fateh Ali Khan considered Surinder Kaur as the preserver and torch bearer of the Punjabi Folk tradition.
Dolly Guleria, daughter of Surinder Kaur, founded a music academy, 'Nightingale Music Academy,' named after Surinder Kaur. The academy is situated in Panchkula, Haryana, India.
In 1953, Surinder Kaur was appointed as the Permanent Representative of Cultural Delegations Going Abroad by Pandit Jawaharlal Nehru.
Surinder Kaur performed in many countries like England, Russia, Poland, China, the U.S., and Canada.
In 1964, Mohammed Rafi dedicated a song to Surinder Kaur while performing at The Chelmsford Club, Delhi, on the occasion of Baisakhi. Surinder Kaur's husband, Joginder Singh Sodhi, was the stage secretary at the event. As soon as Surinder Kaur entered the venue, Mohammed Rafi started singing 'hum kaale hain to kya hua dilwaale hain, hum tere tere tere chahnewaale hain' to which Surinder Kaur replied by singing the same song for him. [4]

The Tribune
Surinder Kaur sang duets with Punjabi Singers like Asa Singh Mastana, Harcharan Garewal, Rangila Jat, and Didar Sandhu.