Antara Nandy is an Indian singer and social media influencer. In 2022, she lent her voice to the Tamil song Alaikadel from the film Ponniyin Selvan: I in which she collaborated with A. R. Rahman.
Wiki/Biography
Antara Nandy was born on Saturday, 11 December 1999 (age 23 years; as of 2022) in Sivasagar, Assam. Her zodiac sign is Saggitarius. In the early 2000s, Antara and her family moved to Kolkata, to try her luck at singing. Subsequently, Antara, at the age of four, started her classical music training under the Indian musician Ustad Rashid Khan in Kolkata. According to Antara, during her childhood,  she used to perform in various school events and cultural events.
Antara did her schooling at Budding Buds School, Tinsukia, Assam and Delhi Public School, Ruby Park Kolkata. Soon after completing her schooling, she pursued a bachelor's degree in mass communication. Later, in 2020, she pursued a Master of Arts degree in music. In an interview, Antara talked about her career in music and said,
I have been singing since the time I gathered senses. Music is an indispensable part of my life – like an organ that I wouldn't function without. At the tender age of four, I started training under Padmashree Ustaad Rashid Khan." [1]Passion Connect
Physical Appearance
Height (approx.): 5′  5″
Hair Colour: Black
Eye Colour: Black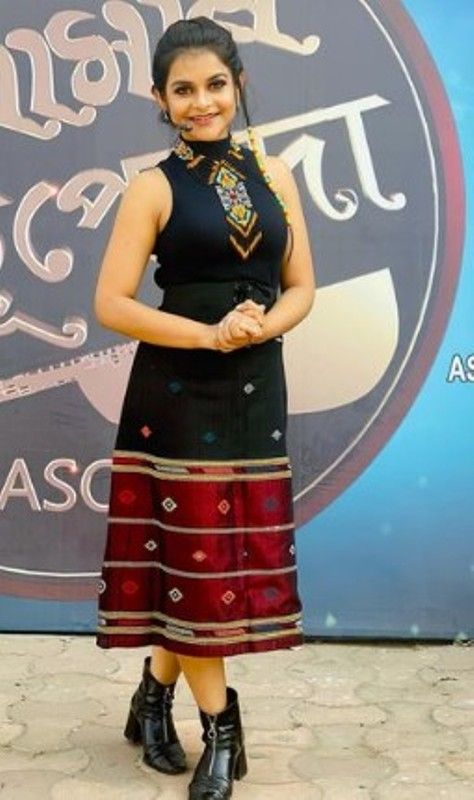 Family
Antara Nandy belongs to a Bengali family.
Parents & Siblings
Antara Nandy's father, Animesh Nady, is an employee at a Swedish company, Epiroc.
Antara Nandy's mother, Jui Nandy, is an engineer. In an interview, Antara Nandy talked about her mother and said that her mother left her job for Antara and her sister Ankita Nandy's music career. She said,
Ours is a family of engineers. But the fact that I was pursuing music never bothered my parents. Rather, they have been my backbone throughout. Ma have up her job so that she could aid us with the best of education and musical training. She's the most equipped woman with the best direction skills, styling tips and fresh ideas. While my mother is one who makes up the home, my father is the pillar our home stands upon. "Yaar Bina Chain" is a product of our combined efforts."
Antara's younger sister, Ankita Nandy, is a musician.
Religion
Antara Nandy follows Hinduism. [2]Antara Nandy – Facebook
Career
Television Show
At the age of ten, Antara Nandy made her television debut with the Hindi reality show Sa Re Ga Ma Pa L'il Champs (2009). In an interview, Antara talked about the reality show Sa Re Ga Ma Pa L'il Champs and said,
Back then we had a driver bhaiya who drove me to school and tuition with whom I planned to go the auditions in Sa Re Ga Ma Pa L'il Champs show and sent him to stand in the queue so when my turn comes, he would call my mum and we would have to go for it."
Films
In 2015, she lent her voice to the Assamese song Nixati Joto Ronge from the film Khel The Game. Subsequently, in 2022, she made her playback debut with the Tamil song Alaikadal from the film Ponniyin Selvan Part 1. In the same year, she sang the song 'Alaikadal' in three other languages, Hindi (song 'Doobi Doobi'), Kannada (song Baradane Chandra), and Telugu (song Alanai Neekai).
Music Albums
Antara Nandy has lent her voice to various music albums like Ei Jibon Nohoi Xuna Bondhu (2010), Gouri Elo (2020), Aayi Re Badraa (2020), and We'll Be Okay – The Corona Song (2020).
Awards
In 2012, she was awarded Star Wars Award 2012, which was conferred to her by the Dream Catchers, Singapore.
In 2013, her Assamese music album 'Najanu' won the Ramdhenu Viewers Choice award.
In 2014, she won the Young Achievers Award.
In 2015, her music album 'Ya Devi' won the title of "Best Music – Music Video" at the Delhi Shorts International Film Festival.
In 2022, she was awarded the title 'ambassador of Indian culture' by the Indian government.
Favourites
Food: Biryani, Roasted Chicken
Facts/Trivia
In 2020, Antara Nandy and her younger sister Ankita Nandy started a YouTube playlist titled 'Balcony concerts' which gained attention nationwide. In the YouTube playlist, the sister duo recreated popular songs, accompanied by the musical instrument Ukelele.
Antara along with her sister Ankita is popularly known as 'The Nandy Sisters.'
According to Antara, at the age of fourteen, she went through a voice change that gave her a downfall in her singing career. Later, she joined A. R. Rehman's institute in Chennai (KM Music Conservatory), where the faculties helped her in improving her voice. [3]

Film Companion
In an interview, Antara Nandy recalled an incident when she was slammed by a renowned music composer for not having a good voice, and he also discouraged her from pursuing a career in music. She quoted,


I was undergoing a transitional phase due to which my voice was affected and it was around this time that I also recorded a piece for a well-known composer in the city.He slammed me for not having a sweet, witty voice and discouraged me from singing thereafter. This intimidated me somewhat and I refused to try my luck out in Kolkata. Luckily it was also around this time that I got an opportunity to train at A R Rahman's academy. [4]Indulge Express

In an interview in 2022, Antara Nandy revealed that she used to worship Indian musician A.R. Rahman's poster. She quoted,


I remember since I was 3 or 4 years old I used to worship his poster but it always felt like an unattainable dream to meet him in person. I belong to Assam and stayed in Kolkata and then Chennai, the idea of myself getting spotted by him is like achieving the dream. The feeling hasn't yet sinked in. I am incredibly grateful to him for considering me. [5]The Statesman

In 2018, Antara participated in a YouTube reality show ARRived. In the reality show, A. R. Rahman, Shah Rukh Khan, Shaan, Clinton Cerejo and Vidya Vox appeared as the judges.
In 2019, Antara Nandy lent her voice to the song 'Nis Din' for the TV show Jammin; the song was composed by A. R. Rahman. According to Antara, before she received the opportunity to sing alongside A. R. Rahman, she had her second-year final exams; however, she ended up not appearing in her exams because she wanted to focus on her career in music.
According to Antara Nandy, she sang the song 'Alaikadal' for the first time as a scratch in 2020; a scratch is a song that is sung by a singer before its actual recording. In an interview, Antara talked about this and said that when she was informed that her scratch had been selected for the film Ponniyin Selvan: Part 1, she was unable to recall it because it was recorded by her two years back, in 2020. In an interview, she talked about this and said,


Two years passed. Just before the audio launch of Ponniyin Selvan: Part 1 on September 6, I was told that the scratch I had recorded got selected for the film. Initially, I couldn't recall as I had done it two years back. I was very happy and extremely surprised as it has been a dream. In the past year, there were moments when I had felt that this playback singing wasn't going to happen. I was doing my stuff, which worked as well. But this has been a dream-come-true moment for my parents. After that, I was told to drive down to Mumbai as I had to record in three other languages — Hindi, Telugu and Kannada." [6]The Telegraph

Antara Nandy follows a non-vegetarian diet.